Get wedding planning advice and free tools that cover big milestones
Weddings are no doubt exciting, but wedding planning can be overwhelming. From budgeting and guest lists to wedding favors and thank you cards, there are so many tasks that need to be done before the big day.
But what's the best way to make sure your dream day becomes reality? You plan it out, of course!
Creating a detailed plan helps ensure everything goes exactly how you want it to go. Plus, having everything laid out in an orderly fashion can make all the tasks seem less daunting.
To help you out, we've put together some wedding planning tips to make sure your day goes as smoothly as possible. Plus how to use free Avery templates and design software to bring beauty and inspiration to your special event.
Other resources you might like: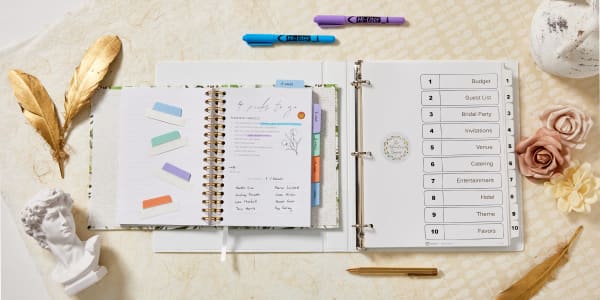 Prepare your wedding planning strategy
The first thing you'll want to do is get organized. Create a dedicated wedding planner or binder just for wedding materials. Use it to store your notes, guest list, vendor information, invoices, and other paperwork.
You can also organize the ideas you find online by creating a Pinterest board. Pin images of dresses, favors, and décor for inspiration or save links to websites and articles you want to reference later.
When you're ready to start, come up with a wedding planning timeline. Whether your wedding is a year away or you only have a few months to plan, this schedule will help you keep your big tasks and milestones on track.
Identify the biggest obstacles on your timeline
Once your timeline is laid out, spend a moment to go over your wedding planning list and note the errands or decisions that may take more time, effort, or problem solving to complete.
A few examples of areas that may require extra time or research include:
Gathering mailing or email addresses for your extra-large guest list
Finding out if any guests have dietary or religious food restrictions that will affect the menu
Interviewing and picking vendors
Checking out ceremony or reception venues that are far from home
Give yourself enough time for each task, including the spare time needed for solving potential problems that might occur. Have plans in place to reach out to friends, family, or any professionals for help.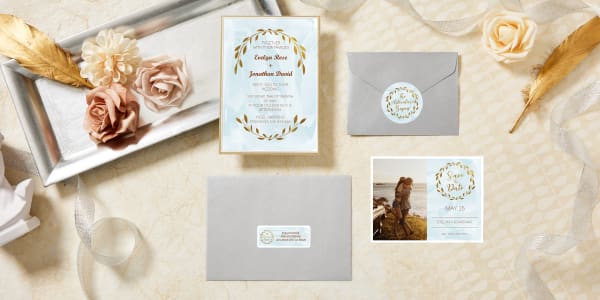 Look for DIY options that make wedding planning easier
You can simplify some of your tasks by going the DIY route. Making things yourself can often save you time and money and will ensure you're getting exactly what you want for your big day.
However, try not to go overboard. It's easy to get wrapped up in DIY wedding projects, so don't let yourself get too caught up crafting all the little details on your own.
Look for resources that make it easy to show off your style and creativity without having to dedicate a lot of time and effort that would take away from other tasks on your wedding planning checklist.
Things like design-yourself save-the-date cards and invitations or customizable labels and tags you can print at home are great options that make it easy to add your own special touch to your wedding.
Use free tools to create your own wedding cards, labels and tags
A great way to add personalized details to your wedding is by using Avery Design & Print Online (ADPO). Our free design tool makes creating and customizing your projects quick and easy.
Personalize everything from labels and tags to invitations and programs. There is no software to download or buy, and you can save or share your designs via email when you create a free account.
ADPO offers hundreds of free Avery templates designed by professionals that are perfect for weddings. Easily customize the templates with your own text or images to save on hiring a graphic designer.
Get inspired by browsing our wedding card gallery and find all the items you need to get your wedding planning started.
Create save-the-date post cards 9 months out
Save-the-date cards inform your guests of your wedding date ahead of time so they can keep their schedule free. Nine months before the big day should be plenty of time for guests to make any needed arrangements.
These cards are oftentimes the first wedding-related item your guests see, so have your wedding theme or design already picked out. This ensures that all your stationery, décor, and other elements coordinate nicely.
Remember, everyone you send a save-the-date to should also get a wedding invitation, so your guest list should be finalized by this time. Use ADPO to easily print the cards at home or let us print them for you.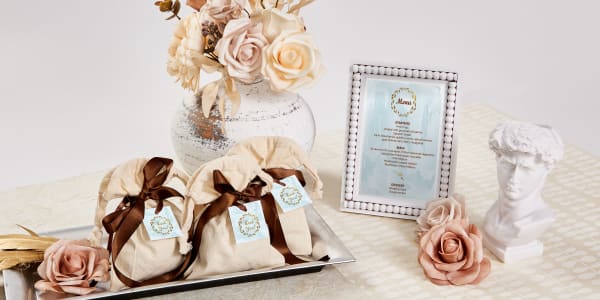 Send wedding invitations and brainstorm favors 3 months out
Aim to send out your wedding invitations three months before the big day with an RSVP date one month before. This gives your guests enough time to respond before you need to give a final count to the venue and caterer.
Use ADPO to easily apply the same design on your save-the-dates to your invitation cards, address labels, and envelope seals. And don't forget to use the mail merge tool to help save time and effort.
You can also start brainstorming wedding favor ideas. Thank your guests with small gifts that are special to you and your future spouse, and make sure to add a matching personalized tag to pull it all together.
Take care of small items and décor 2 months out
With two months to go until your wedding, it's time to start putting together little details and finishing touches. Make sure to ask friends and family for help if you need it.
Here are some tasks you should start crossing off your wedding to-do list two months before your special day:
Rehearsal Invitations: You can include your rehearsal dinner invitations with your wedding invitations or send them two months before the event. Make sure to specify the dress code if it's different from the wedding.
Wedding Programs: Use your wedding program to introduce your wedding party and lay out the schedule of the event. This lets your guests know what to expect and what's coming up next.
Menu Cards: Once your menu is set with the caterers, go ahead and make your menu cards. Postcards are the perfect size to put on each place setting.
Centerpieces and Table Markers: Create a centerpiece for each table with your wedding theme in mind. Accent your centerpieces with unique and memorable table markers.
Assemble wedding favors and finalize details 1 month out
With one month left and your final guest count in, you can start finalizing your seating chart and print your place cards. Again, save time by using mail merge on ADPO when creating your wedding place cards.
Once you have an exact guest count you can also finish putting together your wedding favors. Add the perfect finishing touch by printing or ordering personalized tags or labels that match your theme.
Consider ordering your thank you cards before the wedding as well. You can personalize your note cards beforehand with your new monogram and a short but sincere message.
For a personal touch, add a handwritten thank you note for each guest after the wedding. Don't forget to mail the cards out one to three months after your special day.
Have fun and enjoy your wedding day
Planning a wedding can be stressful, but staying on track and keeping organized can relieve some of that anxiety. And hopefully, when the big day finally comes, there won't be much for you to worry about.
Just remember, it's your wedding, so enjoy it! Soak in all of your hard work and have fun celebrating with your friends, family, and new spouse.
Visit our Instagram, Pinterest page, or blog for more ideas and inspiration for your wedding or project!
Have any good wedding planning tips or stories you want to share? Let us know below!