Wedding place cards give your guests a warm welcome to the reception while adding a decorative touch to every table. Whether your wedding style is romantic, vintage, or ultra-glamorous, it's easy to create your own unique place cards to compliment the style. Just choose the card, tag, or label you want to use, and design it with Avery Design & Print Online. Choose from thousands of printable design templates, or import your own design. And with the mail merge feature, it's simple to add the names of your guests on all your cards at once.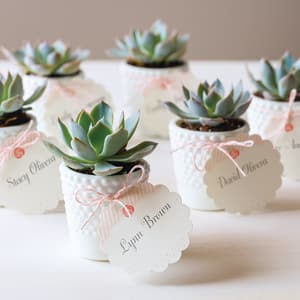 Here are some ideas to add a creative, personal touch to your celebration.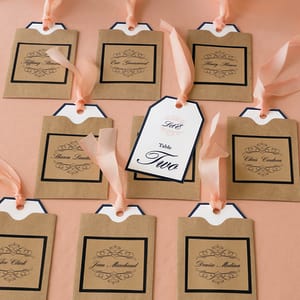 A little romance
All you need to create these lovely little escort cards are some printable tags, square labels, paper sleeves and ribbon. Personalize the tags with a beautiful monogram or other design and add each table number. Print each guest's name on the square labels and stick them to the sleeves. Tie on a strand of satin ribbon for an elegant final touch.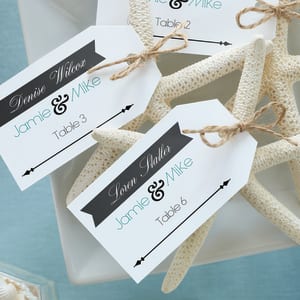 By the seashore
Beach weddings can be a fun way to get creative with your place cards, while adding some natural décor to your tables.
For a playful beach chair place card, print a business card with fun colors and horizontal stripes. After printing, slightly bend the card to resemble a lounge chair and then place the finished cards in tray full of sand and stick a cocktail umbrella through each card and plant in the sand.
For something elegant, printable tags make lovely seaside place cards when tied to a starfish or tucked in a seashell.
Regional favorites
Treat your guests to tasty local favorites such as a small bottle of wine, olive oil or syrup. These wedding favors double as place cards and are easily personalized with a printable label and hanging tag.
A little bit rustic
For the casual outdoor wedding, mini fruit and cheese baskets with tags make a delightful place card and appetizer all in one. Fill the baskets with some of your favorite goodies and print out hanging tags with each name and table number. Add some twine for a charming finish.
It's show time
For a smaller, more intimate wedding, gather digital images of your guests and print them right on their place cards. Get humorous photos or pictures of when they were young to get fun conversations started at every table. The fans will go wild!
For the holidays
Create festive place cards with a little holiday cheer. Tie a hanging tag to a sprig of pine or holly, or insert personalized cards into mini pine cones. Holiday ornaments can also make wonderful holders, as the ring for the hooks holds a business card perfectly in place.