Wedding date set? Check! Now let's make sure your family and friends have plenty of advance notice to join the celebration. Sending your save-the-date cards (about four to six months before your wedding) is a thoughtful gesture of etiquette to remind guests to mark it on their calendar. Here's how to create your own beautiful, personalized announcements for your big day.
Step 1: Go to Avery Design & Print Online
Open the free Avery Design & Print Online software at avery.com/print. To start a new project, enter your Avery product number for postcards or note cards and click GO.
Step 2: Choose the layout
Select your card layout and click to select.

Step 3: Choose your design
Select your design theme from the menu on the left, and view the design(s) on the right. Or to use your own graphics, choose the blank template which is the first option displayed.
Step 4: Customize the design
Whether you choose a blank template or pre-designed template, you can personalize the content and make it your own. Rearrange the design if you wish, add a personal photo or graphic and enter your custom text.
To change the existing graphic, click on the design to select it, and use the menu on the left to select another image from the Avery Gallery or from your own computer file.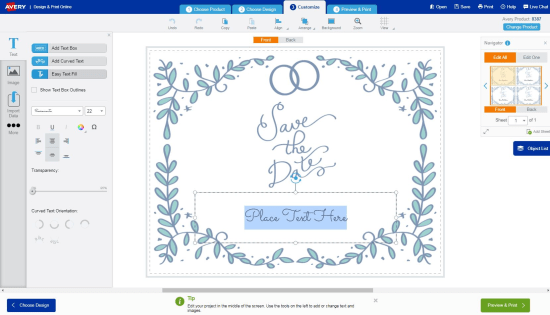 To customize the text, click to select the text area and type in your text. Use the menu on the left to choose a different typeface, type size or color.
Include information such as your names, the occasion (such as a wedding, renewal of vows, or anniversary party), the date, time and location.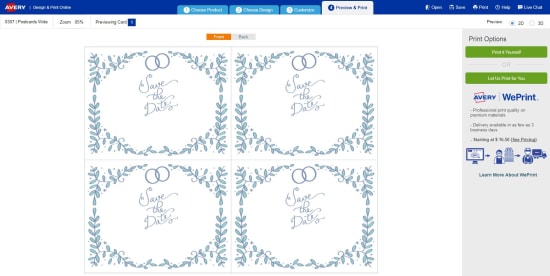 Step 5: Preview & print
Click Preview & Print to review your design. To make adjustments, just click the Customize button at the bottom of your screen to go back to the previous screen. When you're finished, just click Print.
Step 6: Save
To save your design, click the Save button. In the pop-up window, create a file name and save to either "MyAccount" or your computer.