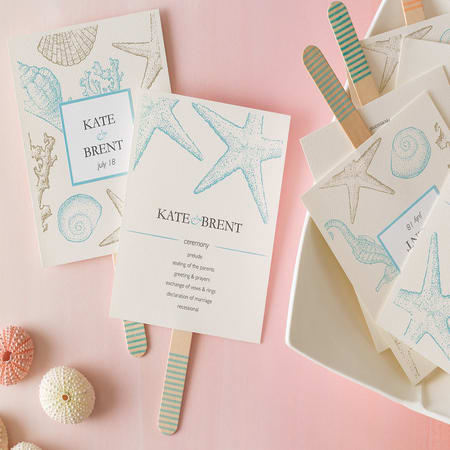 Let your wedding guests know this won't be any ordinary wedding with beautiful programs you can design and print yourself. Whether you want to go traditional or create something that will start a buzz, with a little inspiration you can design a wedding program that's sure to wow your guests. From elegant and traditional to fun-loving or themed, let your imagination run wild. It's your wedding day after all.
With our free Avery Design & Print Online wedding templates, it's easy to customize your perfect program just the way you want. And the beauty of DIY is that last-minute changes are a snap. There's no minimum order quantity, so you can print only as many as you need. We've put together a few ideas to help inspire you to create something that is sure to impress your guests.
Going traditional
Design the wedding program you've always dreamed of on a two page or tri-fold brochure. Pick fonts and colors to match your wedding theme and add special graphics or designs for some extra elegance. For a personal touch, punch a hole in the top, corners or sides of the program to add a beautiful ribbon, lace or twine accent.
Make it picture perfect
It's never been easier to add personal photos or graphics to make your programs really pop and create a memento worth framing. Whether you use a postcard, note card or greeting card, you can easily print your program in vibrant colors and clear text.
It's a breeze
Worried about over-heated guests? Then a wedding program/fan is the perfect answer. Use a postcard for the program and line the back with colored paper to match your theme. Personalize your program with all the wedding day essentials, and then glue wooden stick inside the two pages to create a fan. Many companies sell wooden handles for just this purpose. Add a bow or other embellishments for a one-of-kind look.
Carry the theme
Did the happy couple meet at the theater? Then how about a program that looks like a playbill, with the ceremony split into acts. Is humor what keeps you together? Then go funny and lead with a humorous anecdote, story or even a joke. For the couple that met on an airplane, pre-folded paper airplane programs could be the answer. The sky's the limit with a little imagination.
Go Interactive
Keep your guests involved and awake with a program featuring fun interactive games. Create a crossword puzzle with clues and answers pertaining to the wedding party or design a word search or multiple choice quiz with fun facts about the happy couple.