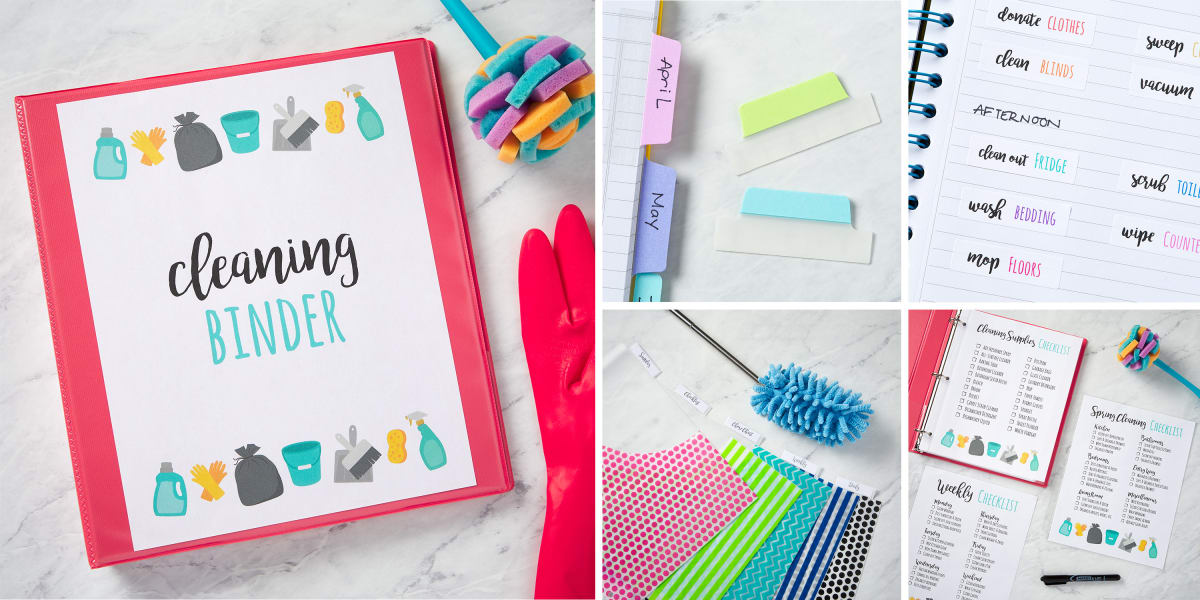 Busy parents, you deserve a home that re-energizes you
You open the door to the fresh scent of lemons. The floors are spotless, counters and tables are free from clutter. There's not a pile of laundry or kids' toys in sight.
Nothing feels more calming and refreshing than relaxing in a clean house. Yet sometimes, getting the whole family on board to pitch in can seem overwhelming. A good cleaning schedule can help you distribute household chore responsibilities so everyone can participate.
Try these 8 tips to create the ultimate family cleaning schedule for achieving the well-organized home and calm oasis you deserve.
1) Incorporate small tasks into daily cleaning schedules to instill good cleaning habits
Research done at Brown University indicates that kids develop habits early, and tend to stick with those habits by age nine. Creating a daily cleaning schedule, for small tasks that don't take much time, is a great way to teach young kids life-long good cleaning habits.
Whether it's simply picking up their toys, making their bed or helping clear the table, small tasks add up to big wins when it comes to teaching valuable cleaning habits.
2) Give your kids agency by making it easy for them to participate in the cleaning schedule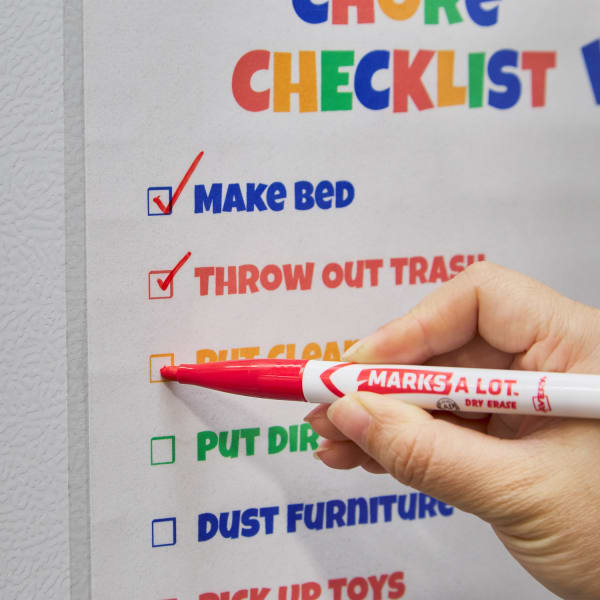 Turn any chore chart into dry erase with a self-lamination sheet. No need for heat!
Getting kids involved in the house cleaning schedule means more than just telling them what to do. Being responsible for a job well done makes you feel good, right? The same is true for your kids. Give them agency to participate in the cleaning and be responsible for their tasks.
Laminated cleaning checklists are the perfect tactile way to give younger kids ownership of their portion of the household chores. It doesn't have to be a huge project either. You can simply slip your kids' checklist into a sheet protector or use a self-adhesive laminating sheet and boom— instant dry erase cleaning schedule.
3) Spread your bigger tasks throughout the week instead cramming everything into the weekend
It can be tempting to think your family is too busy for cleaning beyond the basics during the week. However, it's important to resist letting your house cleaning schedule take over the entire weekend. Making time for crucial rest, relaxation and exercise helps your family stay happy and healthy.
Breaking up the entire house cleaning checklist into a weekly cleaning schedule helps make chores less daunting. By chipping away at bigger cleaning projects Monday through Friday, your family gets more weekend time to do the activities that help them rest, relax and recharge for the coming week.
4) If you don't know where to start, cleaning schedule templates and examples can help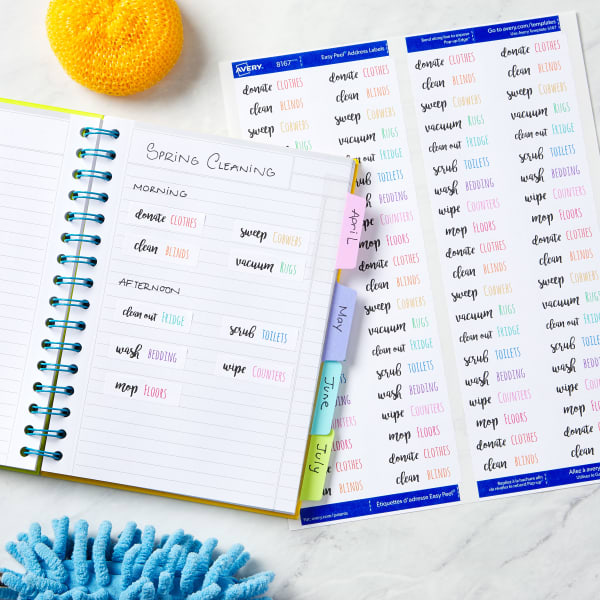 Create your own planner stickers to jazz up your cleaning schedule.
Stay motivated with cleaning schedule formats that are neat, orderly and visually appealing. Whether you're starting with these examples or you're starting from scratch, use Avery cleaning schedule templates for chore charts, checklists and planner stickers to pull everything together.
Pro tip: Use our free online software to add your own personal touch to any Avery template. Customize and print out cleaning schedules that are both fun and functional so every time you look at them, you'll get a little motivational mood boost.
Daily cleaning schedule example:
Make your bed as soon as you get up
Put dirty clothes in the hamper when getting dressed
Wipe down bathroom sink after getting ready
Wipe down kitchen sink and counter after meals
Wash dishes or load the dish washer as dishes are used
Hang up jackets, sweaters, scarves and other re-wearable items
Spend 5-10 minutes picking up and putting away other clutter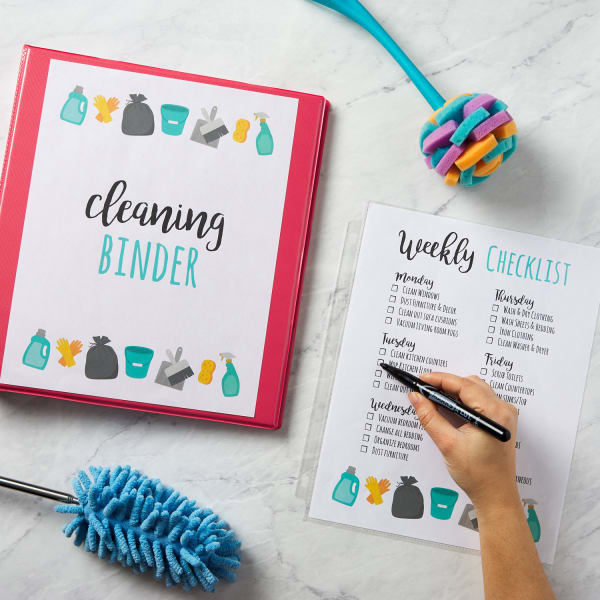 Get started on your cleaning schedule by customizing our free weekly checklist template.
Weekly cleaning schedule example:
Monday: Dust and vacuum living spaces
Tuesday: Clean kitchen counters and floor
Wednesday: Change all bedding and dust bedrooms
Thursday: Laundry day
Friday: Wipe down doorjambs, knobs, spot clean walls
Saturday: Clean bathrooms
Sunday: Vacuum furniture, clean windows
5) Make sure you leave space for seasonal tasks in your cleaning schedule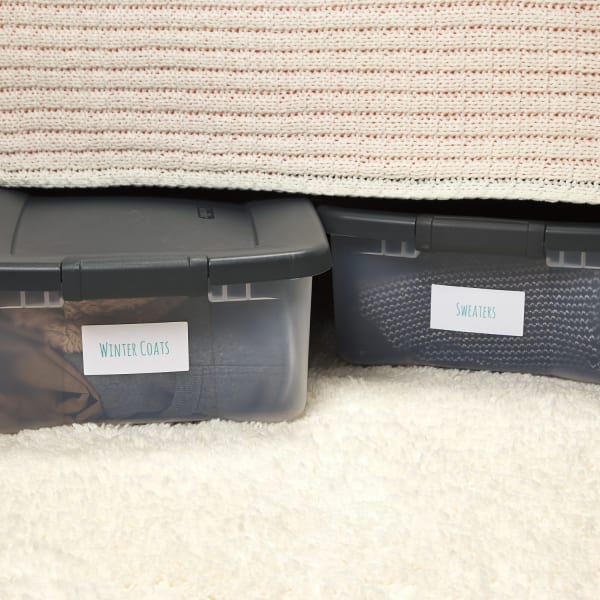 Get tidier closets! Plan for sorting, labeling and storing seasonal clothes.
Planning ahead for seasonal cleaning goes a long way to making cleaning your house feel less hectic. Use your cleaning schedule to set aside time to clean the gutters before the rainy season hits and never have to scramble when the news predicts a big storm coming in.
Storing away winter clothes in the spring and summer clothes in the fall is another seasonal must-have for your cleaning schedule. It's so much easier to keep closets neat and tidy without extra items that aren't being used.
A few more seasonal tasks to consider for your house cleaning checklist:
Cleaning/organizing outdoor spaces in the summer
Sorting, cleaning and organizing sports equipment at the end of the season
Cleaning out old school projects before the new school year starts
6) Organize all your cleaning schedule checklists in one convenient place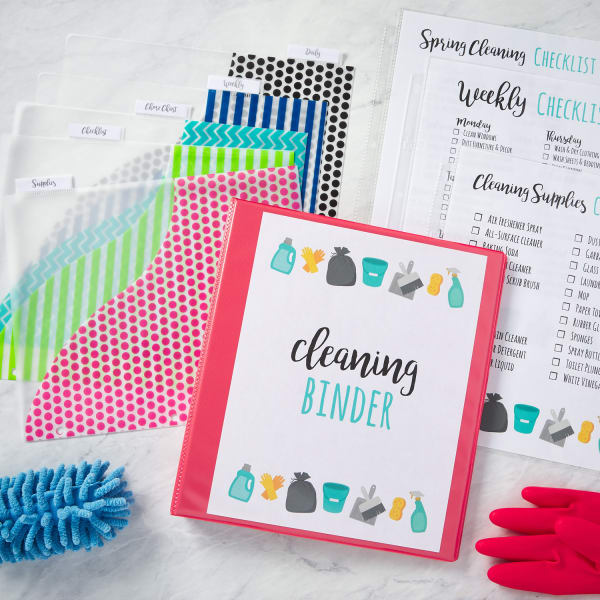 Organize your ultimate family cleaning schedule in one binder that's easy to find.
Juggling daily, weekly and seasonal cleaning schedules plus cleaning checklists for the whole family (and everything else that you do) is no easy feat. Things can become more complicated, especially as your family and possibly your living space expands.
It's important to keep everything neatly organized in a cleaning schedule binder that's easy to get to and easy to use. More than mere efficiency, organizing your cleaning schedule helps you feel in control and makes it less stressful to get started.
How to create your own cleaning schedule binder: Start by gathering your daily, weekly and seasonal cleaning schedules and checklists.
Don't scrimp on accessories. Make sure you have all the tools you need to organize whatever you put in your cleaning schedule binder. Dividers, sheet protectors and repositionable tabs are key.
7) Find small ways to help your family get excited about the new cleaning schedule
Start with the really small stuff. Colorful planner stickers and sparkly repositionable tabs make the work of organizing more enjoyable. It's fun to express yourself and give your cleaning schedules a little personality, especially for kids.
Next, find easy ways to reward cleaning superstars. A great example would be creating an opportunity for kids to earn an extra hour of tablet time if they complete their cleaning checklist without being reminded.
Then create positive associations with the family cleaning schedule by adding a fun activity to the checklist. Maybe Saturday's checklist concludes with pizza night, a matinee movie or an afternoon at the park.
8) Teamwork makes the dream work; make it easy for family members to share chores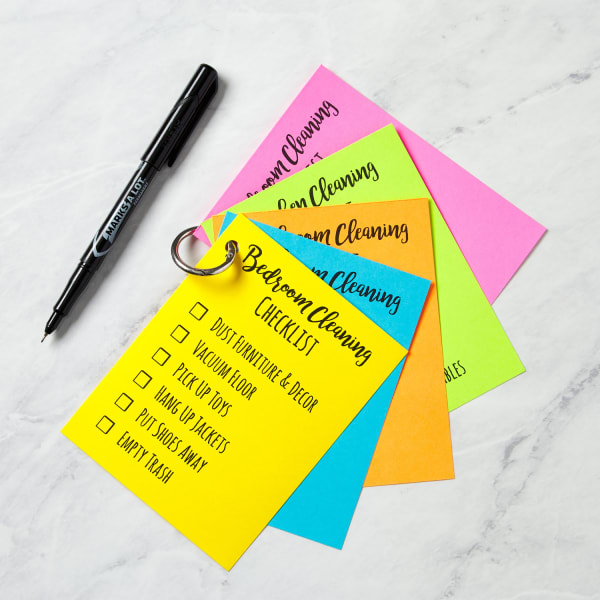 Make it easy to share chores with checklists for individual rooms or spaces.
One way to make chores easy to rotate between family members is to create a custom cleaning checklist for different areas, zones or rooms. This is especially appealing for dividing work among teenagers, that way no one feels trapped into an endless loop of tasks they dislike.
Younger kids may not be able to handle a whole room by themselves, but they can team up to tackle a cleaning checklist together. Try making older kids the "Captain" of a room. They're in charge of helping siblings check everything off the corresponding list.
The Takeaway
School, work, soccer practice, drama club, homework and all of the other Monday-through-Friday activities your family takes on can easily dominate daily life. Incorporate small tasks that don't take too much time into daily cleaning schedules.
Find joy where you can! Spread out the weekly cleaning schedule to make sure you're reserving some weekend time to re-energize. Keep you and your family motivated to stick to your cleaning checklists by using fun accessories, adding special treats and incorporating fun time to1gether.
Don't sweat the seasonal stuff. Plan ahead for seasonal tasks so they won't sneak up on you. Most of all, remember (and reinforce) that you're all in this together. The ultimate family cleaning schedule is only as good as the family effort put into it.
Now that you're all set with cleaning schedule tips to create the calm oasis of your dreams, keep the momentum going. Check out our tips for de-cluttering your kitchen.