Disinfecting for back to school is a must for reducing germs
Labeling personal school supplies so that they can be kept separate and easily be cleaned will help parents and teachers reduce the spread of germs at home and in classrooms. It can also help everyone cut down on costs from lost or misplaced supplies.
Between sharing toys, playing in groups at recess and not-so-proficient nose wiping, we all know little hands are really great at spreading germs. As we head back to school for the fall semester, reducing the spread of germs in the classroom and at home will be more important than ever.
While sharing supplies used to be the norm in the majority of elementary school classrooms, pressure to provide personal school supplies for your student is going to be intense in the coming school year. Mainly due to CDC recommendations for schools, which include limiting the use of shared supplies.
With classroom budgets stretched thin, it may not be possible for schools to provide individual supplies for all students. In fact, in an interview in Education Week, one teacher estimated she spent $750 from her own pocket for shared classroom supplies during the previous school year.
Kids labels you can actually clean will help keep track of your students' school supplies and make it easy for you to clean and disinfect them as needed.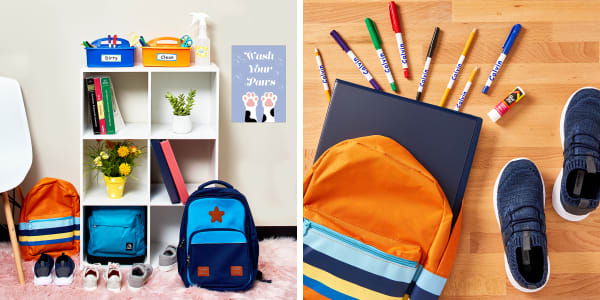 Make sure you can disinfect school supplies. Use durable labels for school supplies that will be cleaned with common cleaners like bleach wipes. Upgrade to chemical-resistant industrial ID labels for alcohol based cleaners.
When and how should you be disinfecting your kids school supplies
According to the CDC, frequently touched surfaces should be cleaned daily to help protect yourself and others from COVID-19 by reducing the spread of germs. Schools may require that personal school supplies are taken home and cleaned at least once a week.
An easy way to help your family adjust to regularly cleaning school supplies is to create an after-school routine. Mark your entry way as a "germ check point" for school supplies. As soon as they come through the door, supplies are left with a parent for cleaning and disinfecting and the kids go wash their hands.
Fabric face masks and coverings are most likely to carry germs and will need to be washed daily. They can be adequately cleaned and disinfected by machine or by hand using the warmest water appropriate for the fabric and your regular laundry detergent.
For other supplies like binders, backpacks, lunch bags/boxes, markers, glues sticks, etc., wiping them down with common household cleaners and disinfectants will help reduce surface germs. The CDC has a really informative post about cleaning your home that includes DIY surface disinfectants.
What you need to know about ink and disinfecting school supplies when labeling
Make sure your ink is water-resistant. Whenever you're printing school supply labels, make sure you're using a laser printer or an inkjet printer with pigmented ink and choosing the label setting on your printer. For school labels you'll write on, permanent marker is by far the superior choice.
Be aware of how cleaners and disinfectants affect ink. Common household cleaners will remove (or severely smear) ballpoint pen, gel pen and pencil on most labels. With permanent markers, using common cleaners and household disinfecting wipes with bleach is no problem. However, alcohol-based disinfectants on labels can smear or remove permanent marker ink.
What if I want to use an alcohol-based disinfectant?
For printing labels that can be disinfected with alcohol-based solutions, think outside of the box with industrial ID labels. They're generally designed with chemical resistance (including rubbing alcohol) in mind. Don't forget to use a laser printer on the label setting.
If you don't have a laser printer or want to write on labels by hand, self-laminating ID labels will do the trick. They come with adhesive lamination to protect whatever you've printed or written on the labels.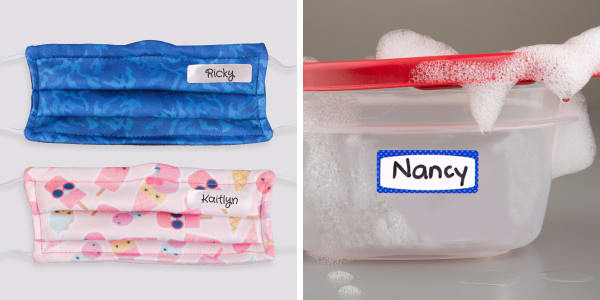 Face masks and lunch containers are a special challenge since they need to be cleaned daily. Machine-washable labels for face masks and dishwasher-proof labels are such a time-saver.
Kids labels that can be cleaned in the washing machine and dishwasher
Kids' school supplies that need to be washed daily are a challenge to label. Take the stress out of keeping your kids' lunch gear and face masks clean by using labels made specifically to go in the washing machine or dishwasher.
For fabric school supplies that are machine-washable, our fabric transfers and no-iron clothing labels can all be washed in a washing machine. Washable labels for face masks will be especially important in the coming school year to keep track of them and help keep them sanitary.
For lunch boxes and water bottles use our dishwasher-proof kids labels you can simply write their name on with a permanent marker. They're designed to also be microwave safe, so you won't have to worry about labels coming off of plastic food containers if lunches need to be reheated.
For fabric and hard surfaces, our versatile no-iron clothing labels are the MVP of washable labels. They're easy to write on with permanent marker and safe for washing machines, dishwashers and microwaves.
Printable vs. write-on labels for school supplies
Whether printable or write-on, you need durable labels that can take whatever your kids throw at them. Sometimes literally. That means labels made with a strong adhesive and synthetic material that doesn't tear easily.
This year, labels that are only water resistant won't be enough. For labeling school supplies, you'll need durable labels that stand up to common household cleaners and disinfectants as well. Here's a quick breakdown of the best labels that can be cleaned using disinfectant wipes with bleach and common cleaning products.
Printable fabric labels. Fabric transfers that are ironed on to fabrics are the ideal choice for making your own custom labels for clothing and face masks. They can be washed in a machine and they're easy to customize with cute graphics and designs.
Printable hard-surface labels. Industrial durable ID labels are super versatile for labeling household items that need to be disinfected regularly. Not only are they great for labeling your kids' school supplies, but you can also use them to organize your pantry, home office or crafting supplies.
Write-on labels for fabrics. No-iron fabric labels not only work for items going in the washing machine, they're also perfect for labeling backpacks and cloth lunch bags that will need to be wiped down.
Write-on labels for hard surfaces. Our dishwasher-safe kids labels can be used on any hard surface you need to label and be able to disinfect. Just grab your permanent marker and go!
Tips for labeling school supplies for younger kids
Help younger kids learn how to identify their school supplies with color-coding and pictures. Making labels in their favorite color and letting them help pick out a graphic will help them remember which supplies are theirs even when teachers aren't by their side.
It's easy to customize free templates or add simple graphics and colors to any label using our online design software.
How to pick the right size labels for school supplies
Labels that are about 3/4″ by 1-3/4″ or 1/2″ x 1-3/4″ are big enough to be visible, but small enough to fit on glue sticks or markers. If you can only get one package of labels, choosing something in that range would work in a pinch.
Another option is to shop labels by the sheet. You can mix and match blank label sheets in different sizes, shapes and even different materials. Waterproof blank labels by the sheet give you endless options for labeling kids' school supplies with labels that can be easily cleaned and disinfected.
More back-to-school resources for parents
Whatever the new school year looks like, you can do this! We're here to help you make learning fun, organized and less stressful for your family.
Get help creating a homeschooling schedule for kids on a hybrid or full-time distance learning schedule and get back-to-school shopping done fast with shoppable BTS lists for every age. Or just take a break and make yourself some cute bookmarks for whatever precious "me-time" you can get. You deserve it.
Products featured in this article:
Durable Dishwasher-Safe Kids Labels 3-1/2″ x 1-1/4″ (41413)
Chemical-Resistant Industrial Durable ID Labels (61501)
Removable Adhesive Wall Decal (61516)
Free Wash Your Paws Template
Machine-Washable No-Iron Labels 1/2″ x 1-3/4″ (40720)
Durable Dishwasher-Safe Kids Labels 3/4″ x 1-3/4″ (41442)