What is a bookplate?
A bookplate, or "ex libris," is a personalized label that can be found on the inside cover of a book. Many have custom designs and can show the author's signature, the owner's name or a special dedication. The first bookplates appeared in Germany shortly after the invention of moveable type by Johann Gutenberg around 1440-1450. The earliest known bookplates were stamped with woodcut designs but the creation of labels simplified the process.
Why are bookplates popular?
For many people, bookplates let them add a little bit of their own personality to their collection. Although eBooks and audiobooks are convenient, there's something special about holding your favorite story in your hands.
No matter how many times you move or where you go, there's a good chance you always have space to bring your favorite books with you. And personalized bookplates help make your collection feel extra special.
What is a bookplate used for?
Bookplates are most often used to note ownership, display the author's signature or to show a dedication. These personalized bookplates also have specialized designs that are unique to the person or institution they belong to.
In most cases, individuals and libraries use bookplates to show proof of ownership. The phrase "ex libris" is something you will often find on the bookplates of personal libraries, which translates to "From the library of."
When an author needs to sign hundreds of books at once, it's much easier to sign a stack of bookplates than a stack of books. You can then sell and ship these bookplates individually, rather than having to pack and ship books.
You can also use bookplates as a dedication for an achievement or event. For example, commemorative bookplates are great rewards for students but can also be used to remember loved ones.
Are signed bookplates valuable?
Many bookplates are extremely valuable. Authors use collectible bookplates when signing their work and many notable people use bespoke bookplates for their personal libraries.
In 2015, the historian and collector James M. Goode auctioned off thousands of priceless bookplates from notable historical figures. His floor-to-ceiling collection included bookplates printed by Paul Revere, wolf-design bookplates for Jack London and bookplates from Albert Einstein's personal library that showed a man surrounded by a swirling cosmos.
But apart from historical and collectible value, bookplates can hold personal value for your friends and family as well. Just imagine your great-grandchildren discovering your favorite book and finding your signature in the distant future.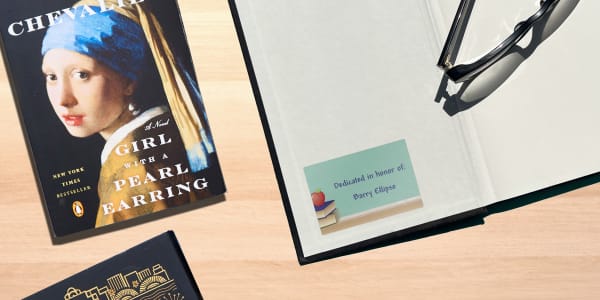 Where do you put a bookplate?
In general, bookplates are usually found inside the front cover (on the "front end sheet") or on the blank page at the beginning of the book (also known as the "front flyleaf"). They will usually be positioned towards the bottom third of the page.
But feel free to be creative and put your bookplates wherever you'd like. For example, you could put your bookplates on the inside back cover or end sheet so that you only see it once you're finished reading.
If you need a little help knowing exactly which part of the book to place your bookplate, we'd recommend checking out a guide on book anatomy and definitions. Hardcover and paperback books are assembled differently so the terms and placement can vary.
Best labels to use for bookplates
The best bookplate material will vary depending on your books and needs. Traditionally, the best size of label for a bookplate will be around 4″ x 3″. However, they can also be 1″ x 2″ or a 2″ x 2″ square.
Also, choosing the right label material can add an extra dimension. If your library has a rustic or boho vibe, kraft brown labels can add an earthy quality. Or if your place has a modern aesthetic, glossy clear labels can bring a futuristic sheen.
If you need some inspiration, here's a couple different ways to pair different materials with different aesthetics:
You can also browse our labels by material to compare them side-by-side. On our Materials page you'll be able to imagine how the colors and textures will work with the design you have in mind.
How to make personalized bookplates
Historically, bookplates have been drawn by hand, embossed on cards, or stamped with wood-carved designs. However, nowadays it's much easier to make bookplates with design software and a printer.
Using a computer, smartphone, or tablet with an internet connection, you can use Avery Design & Print Online to get started. With our software, you can import your own bookplate designs or use our tools to make something from scratch.
Once your design is ready, you can either print it yourself at home or have our team print it for you with WePrint. For larger quantities, WePrint is a great choice to make sure every bookplate is printed at the best, consistent quality.
How to find Avery bookplate templates
There are a few different ways to search for our bookplate templates. If you have one of our products in hand, the easiest way will be to search for the 4 or 5-digit product number on the packaging.
With the Avery product number, you can use our Templates page to find every downloadable template option. You can also use the product number in Avery Design & Print Online to instantly begin working in our online software.
Need a little more help? Talk to our Consumer Care team for step-by-step instructions. You can also browse our Template Support page in our Help Center for FAQs and info.
Personalized bookplate templates for authors
Bookplate templates for your personal book collection
DIY bookplate template for libraries and dedications
Make your personalized bookplates special
The best part of a bookplate is thinking of a design that only you could make. Maybe it's an elaborate self-portrait like Woodrow Wilson's bookplate or a simple but menacing image like the wolf in Jack London's bookplate.
Whether you're creating bookplates for your personal library, as gifts for students or as collectibles for fans, bookplates are special because each one is unique. Because, while books tell their own stories, your bookplates will tell yours.
Ensure that your bookplates are printed perfectly with our WePrint printing service. Our expert team will make sure your labels are printed at the highest quality and precisely aligned.
Also, we'd love to see your bookplate designs! Share some of your favorites with our community on Facebook and with #averyproducts on Instagram.