You deserve form and function in the heart of your home
The kitchen truly is the heart of the home. Pantry organization is essential to reducing clutter so you can get started on the kitchen of your dreams.
So what better way to spend extra time indoors than organizing your pantry cabinet? Especially when doing it beautifully will make you smile every time you open the cabinet door.
Try these 7 pantry organization ideas to spark your kitchen-planning inspiration.
More articles you might like:
1) Sort items by matching like with like
Whether you're organizing a pantry, your closet, or the garage, sorting is always the first step. Most people's first instinct is to dump everything out into one big pile, sort, and then put items back.
Resist the mega-pile instinct! A huge jumbled pile can make you feel like you "made a mess" and make the task seem more intimidating.
Instead, here's an organization game changer you can use for any project: sort like items with like items as you empty out the space.
First set up four pantry organization bins for matching items that require the same action: toss, donate, keep or condense.
Toss expired items that are not safe to eat
Donate items that are safe to eat but you will never use (or use before they expire)
Keep canned goods, preserves in jars, and other items that can't be condensed in any way
Condense dry goods that can be condensed or combined into smaller containers such as flour, coffee, cereal, sugar, rice, beans, and snacks
As you empty the contents of your pantry, place items into the appropriate bins. Once your pantry shelving is completely empty, dispose of items to be tossed and set donation items aside.
Then, repeat the like for like sorting process for the individual "keep" and "condense" bins. This time matching items by food type as well as packaging and/or can size.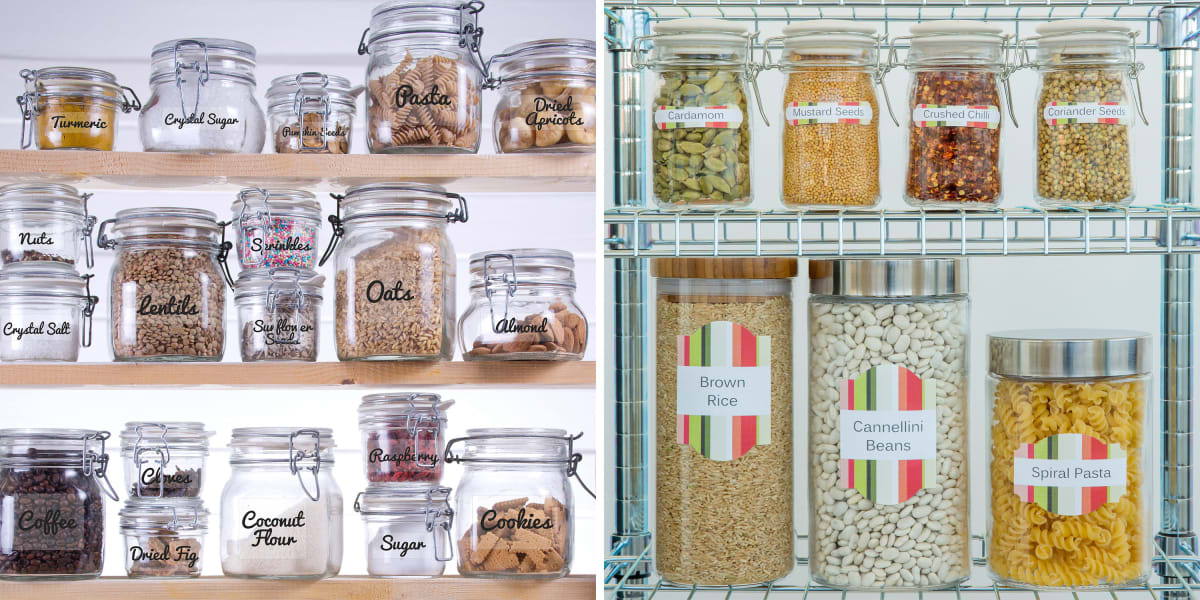 2) Make use of vertical space with pantry organization bins & containers
Sorting pantry items and grouping like with like is important so you can start condensing and implementing space-saving kitchen storage ideas. For example, making use of vertical space with tiered pantry shelving inserts and wire shelving.
Clear pantry storage containers and glass jars with rubber seals are ideal for condensing items to reduce bulky packaging and/or duplicate items. And as a bonus, they do a much better job at keeping food fresh than cardboard packaging.

3) Add joy with beautifully labeled pantry storage containers
Labels make it easy to do a quick inventory of what you have and are a nice visual element to pull everything together. You might be surprised at how much small pantry organization details like eye-catching labels can do to boost your mood.
Remember, you're organizing your pantry for daily use, so it should be neat, easy to navigate, and something that you want to look at every day. Custom container labels are the perfect way to inject your own style and personality into the project.
Using printable clear sticker paper it's easy to print your own custom pantry labels with your home printer. If you've never made your own labels before, there's no need to be intimidated, we have instructions to guide you through the process stress-free.
4) Consider who, why, and when for pantry organization layout
Making the most of space isn't the only reason to organize your pantry. A good pantry organization system helps make it easier to accomplish meal planning and prep, as well as just whip up something on the go.
Keep items used more often on pantry shelving at eye level and towards the front. Think about who uses them most. Kids ' cereal and "grab and go snacks" on lower shelves they can reach. Baking supplies you only use around the holidays? Top and back of shelves. Canned tomatoes used in several weekly dinner recipes, to the front!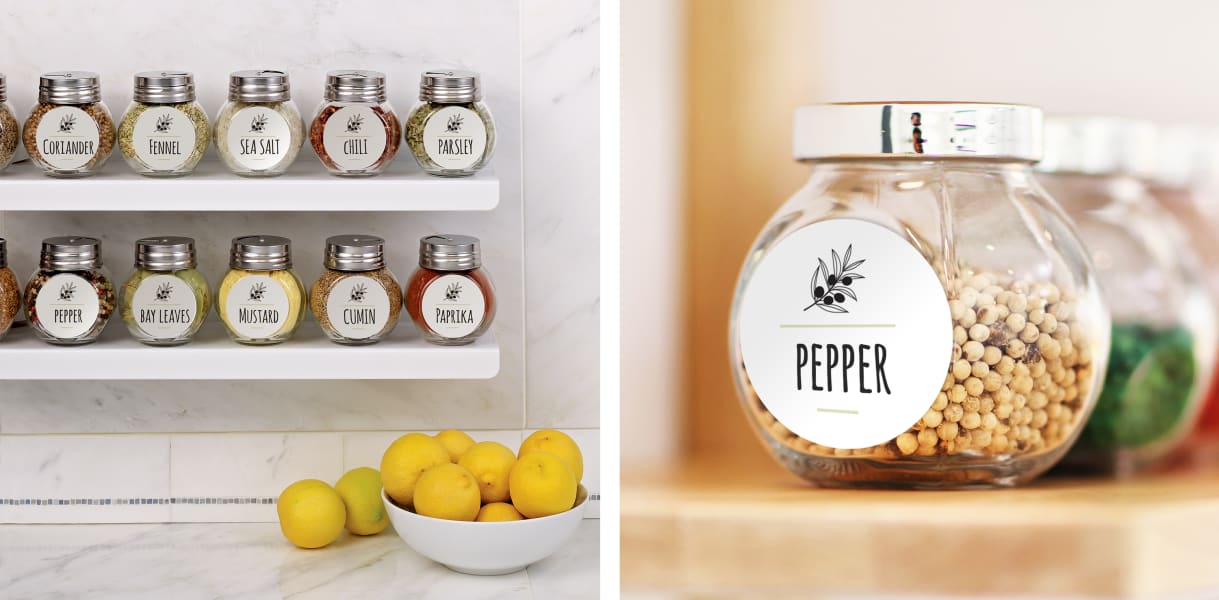 5) Try display shelving to make cooking easier and free up extra pantry storage
Sometimes the best pantry organization is just knowing when to migrate items from your pantry to display shelving. This frees up extra pantry storage and keeps frequently used ingredients close to your cooking and meal prep areas.
One of our favorite space-saving small kitchen ideas is to make cooking essentials do double duty as kitchen décor. Use glass jars and personalized pantry labels to organize and display cooking essentials like spices, cooking oils and pasta. Why waste precious space with regular decorations when your ingredients look so good?
6) Set yourself up for success by making your pantry organization easy to maintain
Once you've done the hard work of clearing out your pantry, sorting items, and labeling them, you're already on the right track to maintaining it. Keeping everything visible and labeled makes it easier to do quick pantry organization touch-ups on a weekly, biweekly, and monthly basis.
Quick pantry organization:
Weekly: Do a quick inventory; jot down items for your grocery list
Biweekly: Check expiration dates and toss
Monthly pantry organization:
Take inventory and donate anything you aren't likely to use
Wipe down pantry shelving, bins, and containers
Condense new items into pantry storage containers
Label new containers, jars, or bins
7) Save your pantry label designs to maintain your new pantry aesthetics
Any organization system, including pantry organization, should have some flexibility built. That way you can adapt it as your needs change. For example, when your picky toddler outgrows animal crackers, or your partner gets on a pretzel-craving kick for a few months.
It's a good idea to have your pantry label design ready to apply any time you need it. Not only are Avery label templates easy to customize, but you also don't even need to download or install anything— you can design online from any device.
Your free Avery account automatically gives you access to Avery Design & Print Online (ADPO). When you're signed in you can create and save designs that can be applied to any pantry organization label or tag so your look is easy to keep cohesive.
The takeaway: pantry organization ideas you can apply to the entire kitchen
The kitchen of your dreams is not out of reach— everyone has to start somewhere. Even if it's something small, it's important to do things that make you happy in your space.
That's why pantry organization is the perfect first step to achieving an Insta-worthy kitchen. It helps get groceries off the countertops and it's a manageable project you can accomplish in a single weekend.
The process of organizing your pantry helps you practice tips that make any organization process easier. First, sort items as you empty your space. Then make use of vertical space wherever you can.
Use custom labels to identify items you're keeping while also adding a dash of your own personal style. As you put items back in your pantry, consider how items are used when you decide where to store them.
Once your pantry is filled, try display shelving to free up space. Indeed, items like kitchen utensils and copper pots make excellent décor. Then set yourself up for success by identifying maintenance tasks to do on a weekly, biweekly, and monthly basis.
Finally, save your custom to your free online Avery account so you can easily label new items/containers with a cohesive aesthetic.
Check out more home organization ideas right here on our blog. Or, follow us on Instagram and Pinterest for more inspiration.