How to label sports equipment
When labeling sports equipment, durability and adhesion are the most important factors to consider. In other words, will this label stay on and still be easy to read even when it gets a lot of rough use? To effectively label sports equipment you should:
Pick the best material for the item/use
Choose a label size that fits the equipment
Personalize the design of your sports labels
Print your labels or have them printed
Prep equipment surface and apply the labels
This article will explore each of these steps along with answers to some FAQs that will help you create sports labels that are in a league of their own.
What do I need to create my own sports labels?
You can start designing sports equipment labels right now with Avery Design and Print Online (ADPO). In fact, all you need is a free Avery account and a couple things you likely have on hand. Namely a computer, laptop, or smart device and an internet connection.
Of course, if you're going to print the labels yourself you'll also need a laser or inkjet printer and compatible printable products. Otherwise, we can print sports equipment labels for you through our WePrint® service. Indeed, WePrint orders are printed on industry-leading digital printers and ship in as few as three business days.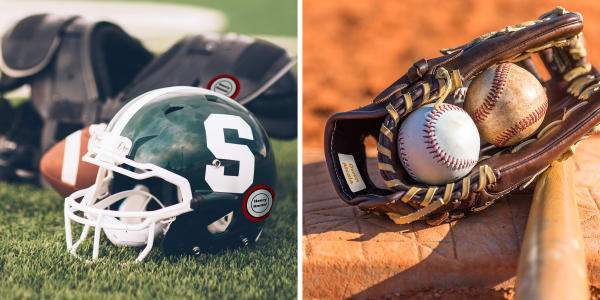 How can I put my name on a helmet?
The best way to put your name on a helmet is with a conformable vinyl sticker like the kind made for hard hats. "Conformable" is super important because that means that the sticker material is able to wrap around curves— especially spherical curves. Think of the curve of a bowling ball (sphere shaped) versus the curve of a tube (cylinder shaped).
But conformability isn't the only thing to look for when you need to label a helmet. Helmets typically have a lot of wear and tear and are out in the sun for long periods of time. Sports equipment labels for helmets also have to be waterproof in case of rain, and so you can wipe them down from time to time. Not to mention if you put your name inside the helmet, the sticker will need to hold up to sweat.
Luckily, we make our hard hat stickers with durable conformable vinyl and strong permanent adhesive. We engineered them to be extremely durable, waterproof, resistant to UV rays, and chemical resistant (so you can clean them). The best part is that you can print them on any standard laser printer and the ink will also be waterproof and resist smearing!
1) Pick the best material for the item/use
In many cases, choosing a label material can simply be a matter of preference. However, as illustrated above, some sports labels have more specific requirements. First and foremost you'll need labels made of durable materials. For example, film or vinyl versus paper. You'll also need to decide whether you need waterproof or water-resistant sports equipment labels.
Breakdown of best Avery labels for different sports equipment
Vinyl labels are ideal for creating sports equipment labels that will be used mostly outdoors. For instance, on equipment for football, cheerleading, soccer, lacrosse, baseball, and tennis.
Waterproof labels should be used on any sports equipment that may be submerged in water and/or get very wet or sweaty. Water bottles and equipment that's close to the body like shoulder pads, shin guards, and baseball gloves are all great examples.
UltraDuty® GHS labels are recommended for water sports equipment labels. For example, swim team, water polo, or rowing. Why? Because we designed UltraDuty labels to be chemical resistant and used in extreme marine conditions. As a result they can handle many hours of water sports.
Self-laminating labels are paper labels with a clear protective self-adhesive cover. They're water-resistant and durable so they stand up to wear and tear. Self-laminated equipment labels are ideal for indoor sports such volleyball, basketball, and gymnastics.
Durable removable labels are great for borrowed or shared equipment. We make them from durable polyester film that's water-resistant so it can easily be wiped down when needed. However, the adhesive is what is so special. It sticks securely, yet removes cleanly from recommended surfaces with no residue or damage.
No-iron fabric labels are perfect for labeling jerseys, uniforms, inside shoes, cloth bags, undergarments, padding and more. They're laundry safe and all you do is peel and apply so there's no damage to polyester or wool uniforms.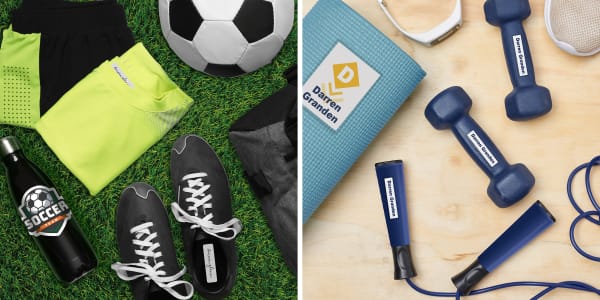 2) Choose a label size that fits the equipment
First inspect your equipment and decide where to place the label. You'll want to make sure it's a smooth surface that doesn't interfere with performance. Then, measure the available space to determine the right size. We even have a helpful guide that walks you through how to choose the correct label size in greater detail.
Once you determine the size you need for your sports equipment labels you can shop in-store label packs or blank labels by the sheet. Both routes make it easy to find the right printable Avery label for your equipment. In-store packs can be filtered by label size and shape using the filters on the left hand side of the screen on desktop, or the filter button on mobile. Or, use the blank labels page to choose sheet labels by shape and size. You can even enter custom sizes at no extra charge.
Get custom-shaped sports team decals & stickers
You can also create vinyl die-cut sports stickers in custom shapes and sizes with our custom printing service. As a matter of fact, if you already have a team logo you can create custom sports team stickers and decals in a matter of minutes.
First, upload your logo or design, next, enter your sticker size. Then pick matte or glossy vinyl. Finally, choose the quantity you want, add to your cart and you're done! The best part is that there's no minimum. Order one sticker or thousands.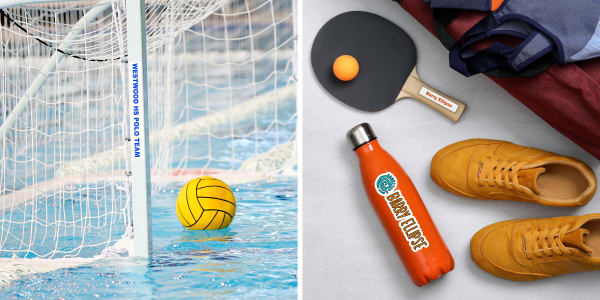 3) Personalize the design of your sports labels
Avery Design and Print Online makes it easy to design your own sports equipment labels using blank or predesigned templates. You can find templates for Avery products in three ways. The first way is to use our template finder page and search by product number, or browse by the product category.
The second way to start your sports labels is to go to the product page on the Avery website. Click the template link underneath the product feature list, then click the big red "Start Designing" button. If you're not logged in, you'll be prompted to do so or sign up for a free Avery account. If you're already logged in, you'll go straight to a wide variety of predesigned templates to modify and a blank template to design from scratch.
Thirdly, open ADPO and enter your product number in the search bar. If you don't have your product number handy we can help! We have a template support page and our excellent Customer Care team is always happy to assist by chat or by phone at (800) 942-8379 during regular business hours.
Avery design tools for customizing labels
Once you've opened your template, you'll see the ADPO editing screen with standard image editing tools in the left-side menu. If you are using a predesigned template, editing text is probably the tool you'll use the most. However, you can also add images, colors, and shapes too. To make changes to existing elements, simply click the element. Then you'll be able to edit, move, or delete it. If you're creating sports equipment labels for a whole team, you can also import your list to personalize individual labels. Check out our Mail Merge/Data Import video for a full walkthrough.
4) Print your labels or have them printed
Once your sports label designs are complete, it's time to print them. To begin, it's important that you double check the type of printer that you have and make sure that you're using labels that are compatible. You can read more about choosing the right printer and labels, but in a nutshell you should always use only laser labels for laser printers and inkjet labels for inkjet printers. Unless the labels are clearly marked laser/inkjet, which means that they are compatible with both.
When printing labels yourself we have two basic tips to make your project a success. Firstly, always print a test sheet on regular paper so that you double check the alignment and make sure you're happy with the design. Secondly, change your printer setting to "labels" or "cardstock" so that the printer "knows" that the sheets will be thicker than regular paper. For more printing help, check out our printing tips video, or troubleshoot printing issues using the Avery Help Center.
You can also have us print them for you through our WePrint service. With WePrint your sports equipment labels are printed on industry-leading digital printers and ship in as few as three business days. Custom printing is a great option for projects with saturated color images or high quantities.
5) Prep equipment surface and apply the labels
It's a common misconception that labels and stickers can just be slapped on any object, at any time. Of course, some generic labels simply don't stick very well. However, the majority of the time when an Avery label won't stay on it's because there was dirt, dust, grease, oil, or some other residue getting in the way.
To make sure your sports equipment labels stay on, start by using a damp cloth to wipe away any obvious dirt or grime. Next, use a lint-free cloth to wipe the surface with isopropyl alcohol (the regular kind in your medicine cabinet is fine). Lastly, let the surface air dry or gently dab it with a lint-free cloth to dry. Once your equipment surface is clean, smooth on the label starting from center and firmly press down all the edges.
Creating sports equipment labels for your gear
In summary, effectively labeling your sports equipment requires 5 steps. First pick a material that's durable enough for the sport. Second, choose a label size to fit the equipment. Third, personalize the design. Fourth, print the labels or have them printed for you. Fifth, clean the surface and press down the labels firmly.
You can easily accomplish these 5 steps using Avery labels, tools, and templates. Firstly, our label material selection includes durable film and vinyl options that stand up to a variety of challenges such as rough use and exposure to water and sun. Secondly, our free online design software and predesigned templates give you a leg up on personalizing sports ID labels.
The best part is that you don't need much to get started designing, just a free Avery account, a smart device, and an internet connection. You can print your sports equipment labels from your desktop or let us print them for you. Custom-printing is especially helpful for leagues or school teams.