Avery experts answer questions about using different printers for labels
"What kind of printer do I need to print my own labels?" is a common question for anyone printing labels for the first time. For the most part, the short answer is that the type of printer you use is not as important as making sure you have the right kind of labels to use with it. Specifically, using inkjet labels for inkjet printers and laser labels for laser printers.
Of course, if you already know the type of printer you have, you can pick up the labels you need and get started printing labels now.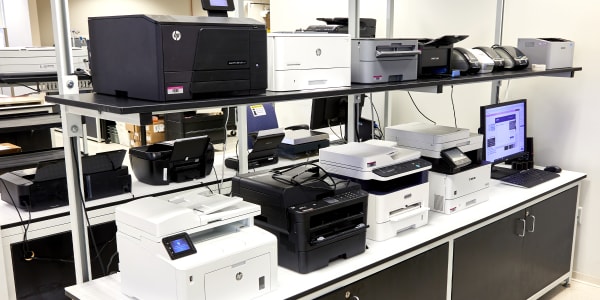 Printing labels is kind of our thing
Today, Avery is much more than labels, for example, we sell more than 30 million binders and dividers (each) per year. However, our label expertise goes all the way back to 1935 when Stan Avery created the first modern sticker. Now we sell not only our original retail store packs but blank labels you can buy online by the sheet and our custom printed labels from Avery WePrint.
Indeed, our research and development (R&D) team carry on the innovative spirit of Stan Avery every day. Particularly by testing Avery printable labels with different printers. In fact, the Avery R&D team puts roughly 5 hours per day into print-testing different types of labels. That's 1,300 hours per year!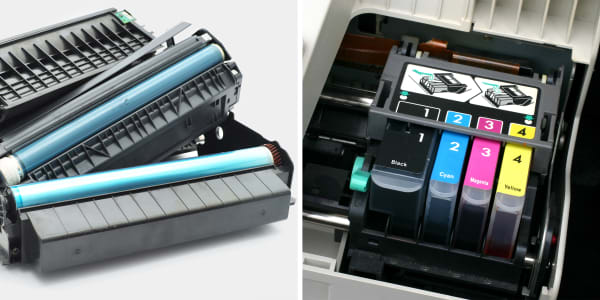 Laser vs. inkjet printers
The main difference between laser and inkjet printers is the type of ink they use and how it sets or "dries." Inkjet printers are pretty straightforward in that they use tiny nozzles to spray wet ink directly on paper. Or, on inkjet-printable label sheets. Products that are inkjet-printable absorb ink allowing it to sink in and dry.
Whereas laser printers use "dry ink," static electricity and heat. To explain, laser printers use static electricity to move toner powder ("dry ink") onto printable products. Then heat is applied to set the print.
How to tell if your printer is inkjet or laser
In general, your printer manual should indicate whether your printer is laser or inkjet. However, if you don't have the manual then the easiest way to tell what kind of printer you have is to look inside.
Laser printers have toner cartridges with distinctive long pale blue cylinders. In contrast, inkjet cartridges are containers with wet ink inside. In a color inkjet printer, you will see CMYK (cyan, magenta, yellow, and black) ink cartridges.
Otherwise, refer to the printer manufacturer's website, or contact them directly.
How to tell what kind of Avery labels you have
There are several ways to tell what kind of Avery labels you have and what type of printer they work with. First and foremost, check the packaging, it should be listed right on the front. If not, then try using your purchase history to view the label product page wherever you purchased your Avery labels.
Additionally, you can always look up Avery products on Avery.com as long as you have the product number. Label product pages on Avery.com certainly will list what kind of printer to use. Otherwise, give our Customer Care team a call at (800)462-8379 and they'd be happy to let you know what kind of Avery labels you have.
Why does the printer type matter?
Matching label and printer type is not just a matter of slight differences in quality. In truth, using mismatched printers and labels will ruin your labels and in some cases even damage your printer.
On one hand, laser printable label sheets are coated and treated to work with high heat and powdery toner. Ink sprayed from an inkjet printer will never absorb into the sheet and thus never dry. The ink will bleed, smear, and smudge.
On the other hand, inkjet printable label sheets (and other inkjet products) are not treated to work with heat. The heat from the laser printer can cause discoloring and melted materials. You definitely want to avoid melted materials that can get stuck in the printer and cause damage!
When printer type does NOT matter
Of course, there is one case when it doesn't matter whether you have a laser or inkjet printer. Some Avery labels and other printable products are uniquely designed to work with both laser and inkjet printers. These are always listed as laser/inkjet or inkjet/laser on the packaging and product pages.
How to search Avery labels by printer type
When you're printing your own labels, you can shop Avery blank labels in packages (like you find in your favorite retail stores) or by the sheet. When shopping for packaged blank labels you can filter results by printer type.
Here is a step-by-step guide to buying the right Avery labels for your printer: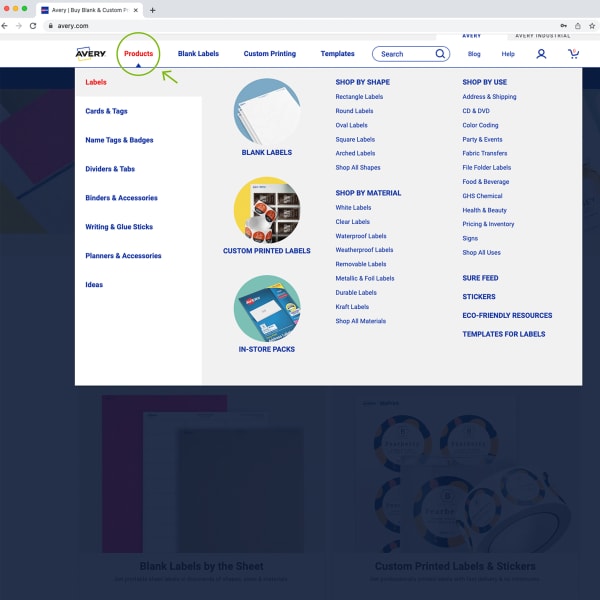 1. Go to "Products" in the main menu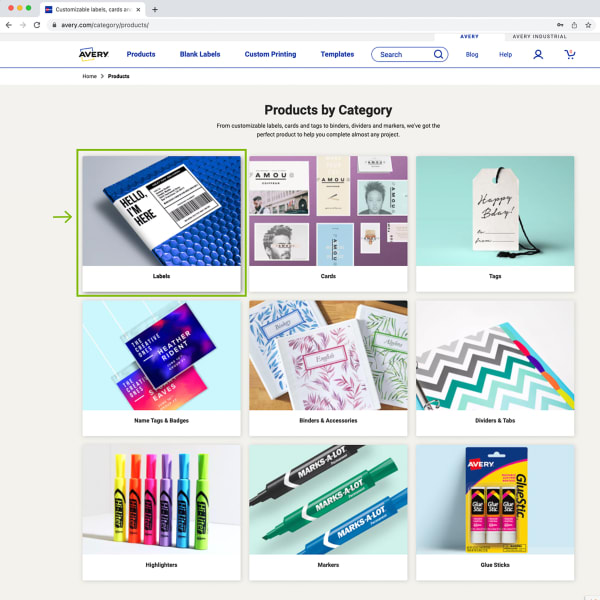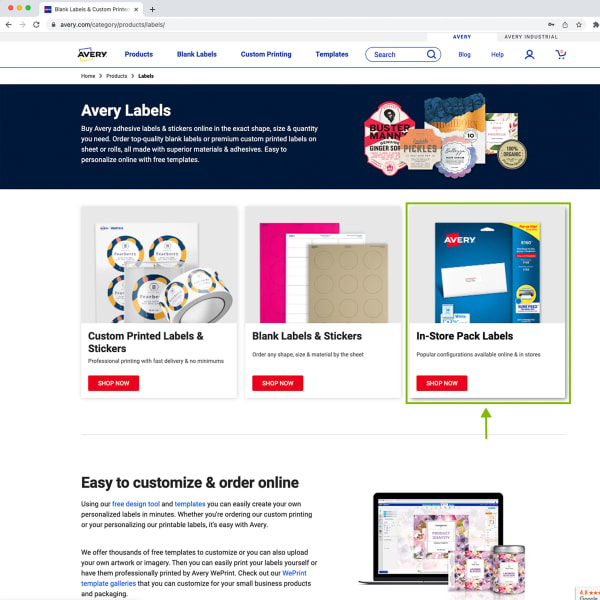 3. Choose "In-Store Packs"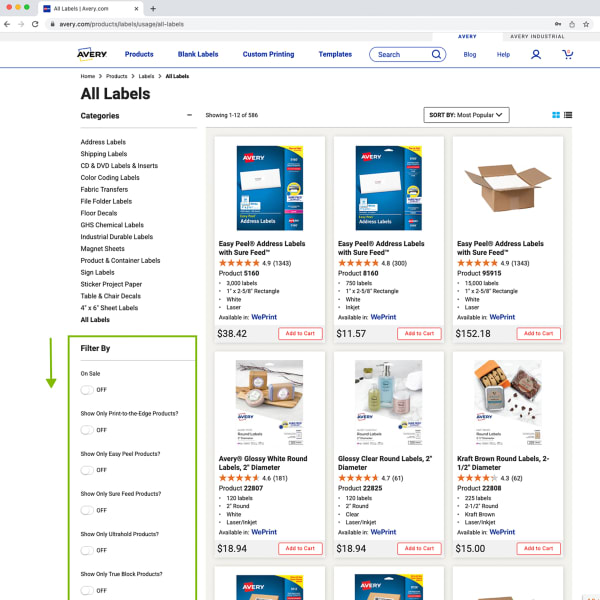 4. Desktop: Scroll down to view the filter section on the left side menu
4. Mobile: Click the "Filter" button for filter options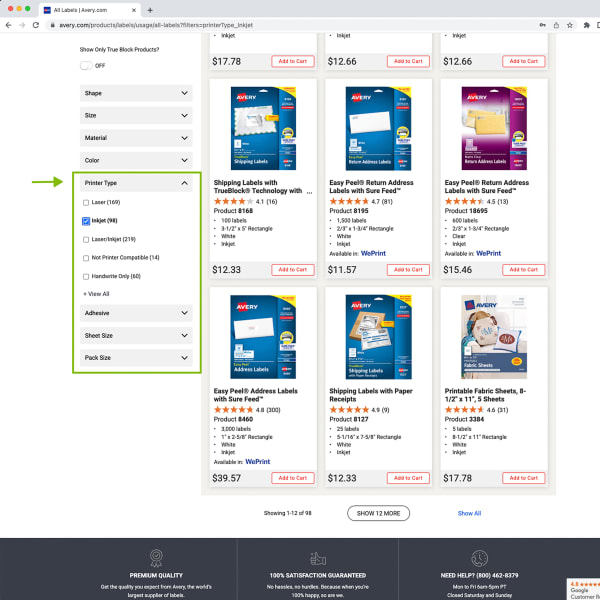 5. Click the "Printer Type" filter
The "Laser" filter shows only printable labels designed to work in laser printers. The "Inkjet" filter will show only printable labels designed for use with inkjet printers. The "Laser/Inkjet" filter will take you to printable labels that can be used in either laser or inkjet printers.
Is inkjet or laser better for printing labels?
It really depends on the type of label material you choose and how you'll use them. If you're not sure what material you want to use, we wrote an awesome post on how to choose the right label material for product packaging. Even if you don't make products, it's a great overview of the different types of label materials.
In general, laser printers are better for printing waterproof labels or a large quantity of labels with medium-quality color. In contrast, inkjet printers are better for photos and images with color depth and tonal range (i.e. photo quality).
Which type of printer is best for stickers?
Although "stickers" and "labels" mean two different things, the process & equipment for printing labels and printing stickers are essentially the same. It all comes back down to the material you're printing on and end-use.
For example, if you want to print water-resistant removable stickers for decorating water bottles then printable removable decal sheets are the way to go. And, you can use them with both laser and inkjet printers! However, if you want to print waterproof vinyl stickers, we've got printable vinyl sheets for that. For truly waterproof stickers, use our vinyl sheets with laser printers only so that water won't affect the print.
If you're printing something like planner stickers or regular decorative stickers, there are two things to consider: quantity and quality. Firstly, how many stickers are you printing? Both laser and inkjet printers are great for printing stickers in small batches. However, if you're planning on printing large quantities a laser printer is the better way to go.
Secondly, how many colors are in your artwork, and what is the desired quality? An inkjet printer is best if you plan on printing photo stickers or designs with complex color depth and tonal range.
What kind of printer do I need for 4″ x 6″ label sheets
Generally speaking, both laser and inkjet printers can be used to print 4" x 6" labels. It's not so much about the type of printer, but whether the specific model supports non-standard sheet sizes.
Likewise, the steps for printing non-standard sheets can vary by both make and model. Some printers may require that you change settings or simply adjust the printing guides.
To print on 4″ x 6″ label sheets, first, confirm with the manufacturer or the printer manual that the printer is compatible. Then follow the steps to check alignment, which we've covered in the video below.
Learn more about printing Avery products
If the one thing you take away from this article is to match the label type to the printer type, you are already on the road to printing success!
However, we have a lot more resources to help you print every project perfectly. For example, our printing tips video and the best printer settings for Avery labels and cards.
You can even find more tips and answers to the most frequently asked questions in our searchable help center, or send us your question in the comments on this post. And, of course, our expert Customer Care team is always happy to answer your questions when you give them a call.