Create stunning DIY Christmas cards and get them in the mailbox fast
Christmas is just around the corner, and what better way to spread the joy of the season than with a personalized Christmas card to send to family and friends? Whether you're looking for a quick DIY project or a more elaborate yet still easy design, Avery has the products and tools you need to create stunning holiday cards in just minutes. We'll even share some of our favorite quick Christmas card ideas for making holiday cards at home.
In this article, we'll cover everything from choosing the perfect paper to saving time and money while creating spectacular cards sure to make your loved ones smile. Whether you're a seasoned DIYer or a total beginner, you'll be able to find the perfect Christmas card ideas for your needs. And who knows, you might even have some fun in the process!
Other helpful articles you might like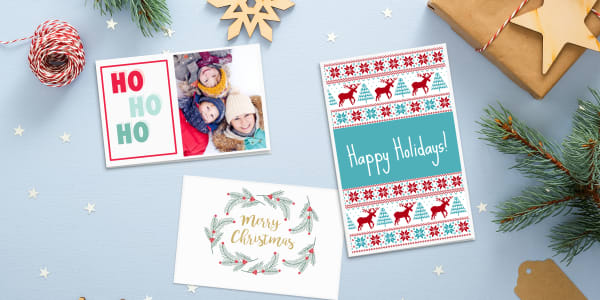 How to make holiday cards at home in just minutes
In the whirlwind of holiday preparations, crafting your own DIY Christmas cards might feel like too much of a challenge. However, that doesn't mean you have to settle for the picked-through boxes of cards left at the store. In fact, with a little time and creativity, you can create spectacular, personalized cards at home in no time.
Easily make holiday cards at home with these quick and easy steps:
Gather your supplies
The first thing you'll need to do to create holiday cards at home is collect all the materials you'll need to create and personalize your cards. What you'll need will depend on whether you want to print your cards or make them all from scratch. Think of the overall theme or look you want to create, and work from there. Here are a few supplies you should have before you start crafting
Blank cards: choose cards that are high-quality and have a nice weight to them.
Blank envelopes: be sure to get enough envelopes to fit all of your cards.
Printer & printer ink: before printing, double check to ensure you have enough ink.
Pens, pencils, or markers: use these to decorate your cards and write personal messages.
Stickers, stamps, glitter, etc.: use cute, holiday-themed embellishments.
Mailing labels & postage stamps: make sure you have enough labels and stamps for each of your cards.
Choose a design
When it comes to choosing a design for your holiday cards, make sure it reflects your style and personality. And remember, there are no rules when it comes to Christmas card design, so have fun and be creative!
For those who prefer the hands-on approach, handmade cards are a great way to have fun and let your creativity soar. You can use markers, stickers, glitter, and any other supplies that inspire you. This approach will likely result in amazingly unique, personalized designs.
If you're planning to print out your cards, Avery Design & Print Online offers hundreds of professionally designed card templates and easy-to-use tools to help you get started. Our design software makes it easy to personalize your cards online: just click, customize, save, and go. You can even upload your own design and use our editing tools to crop, size, and position it perfectly on your card.
Assemble your cards
Now that you've chosen the perfect Christmas design, it's time to start crafting your cards. If you're creating your cards by hand, make sure to decorate them with a personal touch; maybe add a custom drawing or reference a shared experience. These personalized touches make your cards truly one-of-a-kind.
If you choose to print your cards, make sure you are using the best cards for your printer. For example, Avery 8315 note cards are great for creating holiday cards on your inkjet printers, while Avery 5315 note cards are optimized for laser printers. The right match between your printer and cardstock will ensure that your images and text come out crisp and vibrant.
It's also good to note that Avery greeting cards and note cards come pre-scored for precise and easy folding. This feature makes assembly a breeze, allowing you to achieve that polished, professional look without much hassle. Plus, each pack includes blank envelopes designed to perfectly fit with your cards.
Write your message
Once your holiday cards are assembled, you can start writing in your messages. As you sit down to write, remember to take the time to write a personal message to each of your loved ones. Instead of opting for a generic "Merry Christmas!" in your cards, make sure your messages convey your warm wishes and eagerness to create more wonderful memories together.
Express your appreciation for your loved ones by letting them know how much they mean to you. Maybe share a cherished memory, an inside joke, or something you're looking forward to doing with them this season. This extra step will transform your holiday cards and make your loved ones feel truly cherished.
Mail your cards
Before sending your beautifully crafted Christmas cards on their merry way, be sure all your envelopes are addressed and have proper postage. Once your mailing labels and stamps are on, don't delay; mail your cards as soon as you can. The post office can get backed up around the holidays, so sending your cards well in advance is a surefire way to guarantee they'll arrive in time.
To make the mailing process even more efficient and less stressful, read up on our expert tips on holiday mailing and shipping. These insights can help you navigate this sometimes overwhelming holiday task, so your cards and packages reach their destinations on time and intact.
What paper is best for DIY Christmas cards?
When crafting holiday cards, the choice of paper is paramount to creating cards that not only look fantastic but also stand up to the wear and tear of the mail. The best paper for DIY Christmas cards is thick cardstock, which is a sturdy paper that provides the necessary durability to ensure your cards arrive in pristine condition.
Cardstock comes in a variety of colors and textures, allowing you to choose the perfect paper that complements your card design. Whether you prefer a classic white or ivory cardstock for a timeless look or you want to experiment with vibrant, textured options for a more creative touch, the possibilities are endless.
Avery offers a variety of printable cards made from heavyweight cardstock, including Avery 3265 greeting cards, made from 80lb cover, 216 gsm premium cardstock. With these high-quality cardstock options, you can confidently send out your cards knowing they will not only look stunning but also endure the journey to your loved ones.
What is the cheapest way to make Christmas cards?
If you're looking to spread holiday cheer without straining your budget, consider a more cost-effective approach. One of the most wallet-friendly ways to make Christmas cards is to use recycled materials. You can breathe new life into old greeting cards, repurpose colorful pages from magazines, or even utilize leftover wrapping paper from previous celebrations. This can not only save you money, it's also an eco-friendly and sustainable practice, reducing waste while creating heartfelt greetings.
Another budget-conscious and convenient option is to take advantage of free card templates, like the beautiful, predesigned holiday card templates you'll find on our gallery page. These templates make it easy to craft charming and personalized cards without the need for expensive design software or professional assistance. Simply choose a template that resonates with your holiday spirit, customize it to your liking, and print your cards at home. This approach not only saves you money but also ensures that your cards are both cost-effective and meaningful.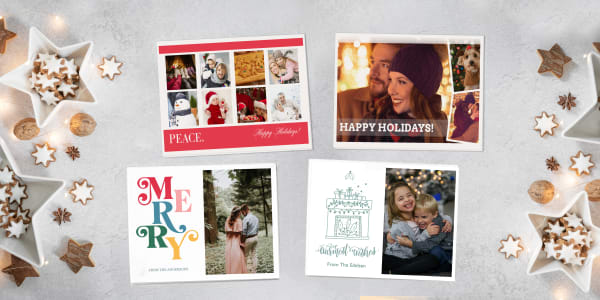 1) Create Christmas cards with photos of your family and friends
One of the most timeless and heartwarming Christmas card ideas is to feature a photo of your family and friends. This classic approach never goes out of style because it's a genuine reflection of the love and togetherness that the holiday season represents. To bring this idea to life, just upload an image to any Avery card template, transforming it into a personalized photo card that captures your unique holiday spirit.
To ensure your photo cards look their best, make sure to select a high-resolution image that you love. If you're unsure about working with images in your card design, watch our helpful video on using images on Avery Design and Print Online, or check out our helpful article with images to walk you through the process step by step.
To add an extra layer of uniqueness to your photo cards, consider using a photo collage or photo strip layout. This way, you can showcase multiple cherished moments on a single card for a one-of-a-kind holiday greeting that will no doubt warm the hearts of your recipients.
2) Get the kids involved with DIY Christmas cards
The holiday season is a perfect opportunity to engage children in the joy of creative expression, which brings us to our next quick Christmas card idea. Encourage the kids to be part of the card-making process by letting them decorate the cards with their own drawings, stickers, or a sprinkle of glitter. Allowing kids to contribute their artistic flair not only adds a delightful touch of innocence to the cards but also makes the recipients appreciate the effort and love that went into each creation.
To make the experience even more exciting for children, explore Avery's range of Christmas card templates specially designed with kids in mind. These templates are not only fun and colorful but also easy to customize. Kids can pick their favorite design, add their own personal touches, and watch their creations come to life.
3) Save time and effort with custom-printed cards
If you're short on time and supplies or your Christmas card design features vivid photos and rich colors, our next Christmas card idea can help: try custom-printed cards instead. Our WePrint® service offers a hassle-free solution for creating professionally printed holiday cards and labels that truly stand out. Best of all, your order will be shipped in as few as three business days, ensuring your cards reach your loved ones on time, even during those last-minute moments of holiday hustle.
Whether you're crafting cards with cherished family photos or vibrant, intricate designs, our custom printing service guarantees exceptional print quality. Say goodbye to the stress of adjusting printer settings or worrying about running out of ink—everything is expertly taken care of for you. With custom-printed cards, you not only save valuable time and effort but also elevate your holiday greetings to a whole new level of professionalism and visual appeal. It's the perfect choice for those seeking efficiency without compromising on quality.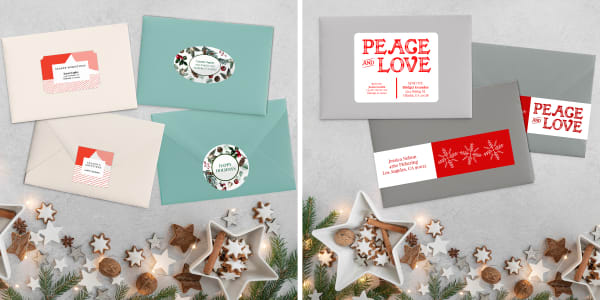 4) Design & print matching address labels for your holiday cards
Writing out addresses by hand—and trying to do it quickly—will likely turn to scribbles by the end. Instead, create printed address labels for your holiday cards using our predesigned holiday label templates. It's a great hack for getting them done quickly without looking sloppy.
Most of our templates are created for use across a full suite of products, making it easier to create a custom, coordinated look on all your Christmas card labels. To see how the same design can be applied to different products, just filter the designs on our gallery page by categories, shapes, and sizes. If you are using your own design, you can check out our resource article on how to apply your design to another project or template.
If you have printable blank cards and address labels on hand, you can quickly print your holiday cards and labels and have them in the mail the same day. Use our helpful tips for making the best Christmas card labels to pull the whole project together.
Did you know? There's even a way to quickly autofill your holiday card address labels. The Mail Merge tool in our free online software pulls your addresses from any spreadsheet.
Basically, you start with a spreadsheet of your addresses, which you can quickly type up or import from digital contact lists. Then click the Mail Merge/Data Import button in Avery Design and Print Online, and it fills your label sheet with addresses.
For detailed instructions, check out the short video tutorial above or this article with step-by-step Mail Merge instructions, which includes pictures.
5) Send a holiday video card
Another fun and unique way to spread Christmas cheer is with a holiday video card. This creative approach allows you to connect with loved ones in a personal and engaging way. Simply record a heartfelt video message where you wish your friends and family a Merry Christmas. Once you've captured your warm greetings and festive spirit, share the video via email or through your preferred social media platforms. It's a modern twist on the traditional holiday card that adds an extra layer of warmth and personality to your seasonal greetings.
To take your holiday video card to the next level, consider adding some musical magic or special effects. A cheerful holiday tune playing in the background or a sprinkle of snowflakes falling gently in the video can make your greetings even more delightful. Whether you're tech-savvy or a newcomer to video creation, there are user-friendly tools and apps available to help you add that extra touch of festivity to your holiday message.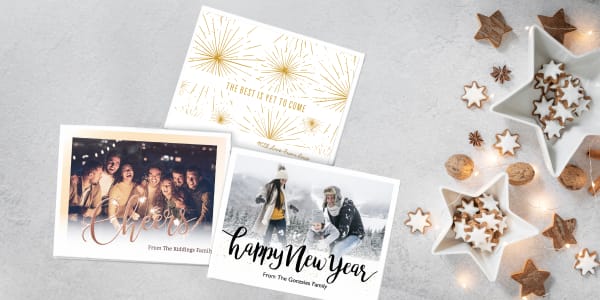 6) Make a New Year's card instead
If you find yourself pressed for time as the December holidays approach, don't worry—we have a wonderful alternative: make it a New Year's card instead. Our free New Year's templates for Avery cards, labels, and tags are just as beautiful and user-friendly. By choosing to send New Year's cards, you gain the flexibility of extending your warm wishes well beyond the Christmas rush, allowing you to connect with loved ones until the end of January.
New Year's cards offer a fantastic opportunity to reach out to friends and family with heartfelt good wishes for the upcoming year. Whether you're running a bit behind on your holiday plans or simply want to spread positivity as the new year dawns, these cards are a wonderful choice. Additionally, New Year's cards can serve as a platform to announce exciting news, such as the arrival of a new family member or an upcoming wedding later in the year. They are versatile, meaningful, and a perfect way to kick off the year with love and well wishes.
Finish your holiday cards faster and enjoy the season
Of course, the holiday rush can be overwhelming at times. While it's understandable to want to do your best to make the holidays magical for your loved ones, it's important to remember that you deserve to relax and enjoy yourself too. Save time by using our quick and easy Christmas card ideas.
Add your photo to predesigned Avery templates to create personalized holiday cards in minutes, or let your kids get creative with DIY Christmas cards of their own. You can also print your cards using our professional printing service and take advantage of our fast turnaround and exceptional print quality, plus discover how quick addressing envelopes can be with Mail Merge. Go virtual with a fun video Christmas message, or save your warm winter wishes for the New Year.
No matter what kind of holiday card you choose, make sure it comes from the heart. Your loved ones will appreciate the thought and effort you put into sending them a special card this holiday season.
Don't worry if you get stuck; you're not in this alone. Find the help you need to conquer any project with the online Avery Help Center, or give our Customer Care Center a call. And don't forget to follow us on Pinterest and Instagram for more Christmas project inspiration and ideas.