Free designs and online editing tools for making your own gift tags
Whether you're wrapping gifts for friends and family or putting together business gifts, Avery has some amazing tools to help you create personalized gift tags. After your gifts are all wrapped up, it's easy to add that finishing touch with DIY gift tags or custom tags from Avery WePrint. This article will walk you through how to make gift tags for all your special occasions.
More articles you might like:
How to make gift tags
First, you'll need tags. Our printable tags come in trendy square and scalloped-edge shapes, and of course, the classic rectangle shape. You can also shop our professionally printed gift tags for even more shapes, sizes, and finishes.
Whether you want to print tags yourself or have us print them for you, we also offer free tools for designing and personalizing your gift tags. First and foremost, Avery Design and Print Online (ADPO) is our free software for designing tags, labels, cards, and more.
With ADPO you can design from scratch on blank Avery templates that are perfectly formatted for Avery products. Or, modify free predesigned Avery templates with custom text, graphics, logos and so much more.
Best tips for printing personalized gift tags
If you're printing at home, there are a couple of Avery printing tips everyone should know. Firstly, always print a test sheet on plain paper to make sure your design prints in the right direction. Secondly, choose the cardstock setting on your printer for cards and tag products if available.
However, without a doubt, our top tip for printing personalized gift tags is to use Avery printable tags. Not only are our tags and templates designed to work together, but all of our printable tags feature Sure Feed® technology.
Sure Feed technology is a patented "grip" strip that's designed to help printable sheets move more smoothly through average desktop printers. Tags with Sure Feed technology print with fewer misalignments and paper jams, which translates to less wasted product and less frustration!
Of course, if you're looking for the ultimate "hands-off" printing experience, let our experts do the printing for you. Our WePrint® service uses professional digital presses and ships orders in as few as 3 business days. Just design your tags and we'll take care of the rest.
Step 1: Go to Avery Design & Print Online
Start a new project for printable tags by opening a template in Avery Design and Print Online. You can find templates for any Avery product by entering the product number in the Avery template finder or by browsing all tag templates by product shape.
Once you find the template for the product of your choice, click Start Designing to begin to create personalized gift tags. For custom-printed hang tags, simply click your desired shape and size to begin.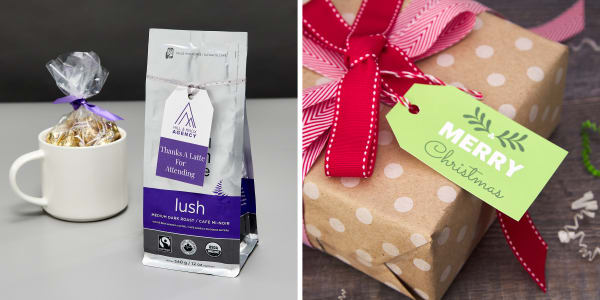 Step 2: Select the layout of your tags
The variety of layout options for printable tags depends on the product you choose. This can include the orientation (the direction of your images and text) as well as whether your design will be on one side or both sides of your tags.
You will need to choose an orientation for any tags that do not have even sides. For example, rectangle (or banner) tags and banner tags with scalloped edges. This determines whether the hole will be at the top of the tag (tall orientation) or on the side (wide orientation).
For printable rectangle tags, choosing whether your design will be on one side or both will also be determined by the layout. All custom-printed tags can be printed on both sides.
Step 3: Choose the design
Next, select a predesigned template or choose a blank template to start designing from scratch. The first option displayed will be the blank template, followed by predesigned templates that you can modify.
You can scroll through all the designs or use the menu on the left to browse designs by theme categories.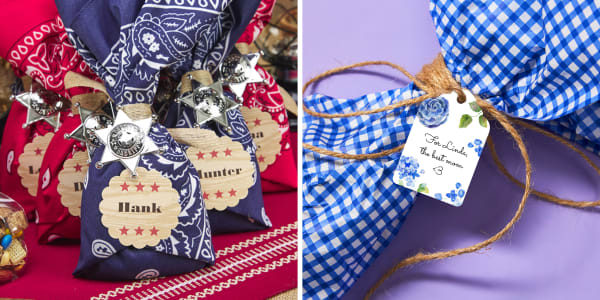 Step 4: Personalize your tags
Once you've chosen your design, you'll see a closeup of the tag on the editing desktop. You can use many predesigned templates as-is, or give them your own personal twist.
We've created some of our predesigned templates with placeholder text so that you can easily create personalized gift tags. However, you can make changes to any pre-designed template as well.
You can add custom text, graphics, or personal photos to any Avery template. What's more, the navigator on the right-hand side has an Edit All and Edit One feature. This allows you to make changes to all your tags or just one.
Check out this helpful video for using Edit One and Edit all in Avery Design and Print Online.
If you want your changes applied to all of your tags, click Edit All. Edit all is great for making changes to your overall design or adding your logo to all your Christmas gift tags for corporate gifting.
If you want to make changes to individual tags, click Edit One. This is ideal for adding individual names to Christmas gift tags or personalizing favor bags with guests' names for kids' birthday parties.
Another great way to use the Edit One feature is to design personalized gift tags for family members' birthdays. Print them all at once and you're set for the year!
To change an existing graphic
Click on the design to select it, and use the menu on the left to select another image from the Avery Gallery or from your own computer file.
How to personalize text
Click on a text area to select it, then type in your text. Use the menu on the left to choose a different font, font size, or color.
Step 5: Preview, print and save
Click Preview & Print to review your design. You will see a simple preview of your entire sheet of personalized tags and two printing options on the right: Print it Yourself and Let Us Print For You (custom printing with Avery WePrint).
To print on your home printer, click Print It Yourself. This will open advanced printing options and a button to Get PDF to Print. You can use the advanced printing options or just skip to getting the PDF.
Saving your designs
When you click Get PDF to Print you will be prompted to save your design. This is awesome because saved designs can be accessed from your Avery account at any time and from any smart device. You can also share them with friends and family via email.
Preview & printing tips
At this point, there are four important notes for a successful project. Firstly, follow the print directions carefully. Secondly, always review your PDF file thoroughly. Your PDF displays an exact preview of how your tags will print. If you need to make any changes click Edit My Design to go back to the editing screen.
Thirdly, change your printer settings to "Cardstock," "Heavy Weight," or "Labels," or "Specialty." This will communicate that the sheets you are printing on are thicker than regular paper. Lastly, keep in mind that the exact steps for printing tags depend on the browser you are using. Use our helpful how-to video for printing Avery products to get step-by-step printing instructions for different browsers.
How to print gift tags in Microsoft Word
With Avery Design and Print Online (ADPO) you can design and print gift tags right from your desktop. There is no need for additional software as ADPO has all the standard design tools, and you can even upload your own designs and photos. However, if you prefer to work in Microsoft Word, we have a detailed article that walks you through how to download Avery templates for Microsoft Word.
Of course, using Avery templates when designing in MS Word ensures that your gift tag designs are formatted to fit Avery printable tags perfectly. Once you're happy with your design and are ready to print open the file in Microsoft Word. First, select "File" at the top left of the page, then select "Print." This will open a print dialog where you can choose the printer that you want to use. Advanced settings for the paper type (i.e. cardstock, paper, labels, etc.) and which feed tray to use are available under "Printer Properties."
Create and print or order your own personalized gift tags
Personalized gift tags are the perfect finishing touch for any gift. Free tools like Avery Design and Print Online and Avery templates make it easy to design and print your own tags or let us print them for you. When printing your own tags at home or the office use the cardstock setting on your printer and printable tags with Sure Feed technology for the best printing results.
Follow the step-by-step instructions in this article for designing and printing your own personalized gift tags for any occasion. Or subscribe to our YouTube channel for printing tips and so much more!