Label school supplies with labels that last
If you're a teacher or have kids in school, chances are you have tons of school supplies. Between sharing toys, playing in groups at recess, and not-so-proficient nose wiping, we all know little hands are really great at spreading germs. To say nothing of the seemingly magical way that little kids can make anything they touch sticky. However, big kids and teenagers get germy too, especially during flu season. In this article, we're covering how to label school supplies and still be able to clean them.
More articles you might like
Why you should label personal and classroom school supplies
When you label school supplies, it's much easier to keep track of them and keep them from going missing. This is significant, especially for teachers, because the fewer items that go missing, the fewer you will have to replace throughout the school year. With classroom budgets stretched thin, many teachers pay for their classes' school supplies themselves.
In fact, an article posted by the National Education Association asserts that out-of-pocket spending on school supplies is straining educators in general. The article states that more than 90% of teachers spend their own money on school supplies, spending on average $500 each year. One way to make sure that students return items to their proper owners is to label school supplies. This is true whether you're a parent or a teacher.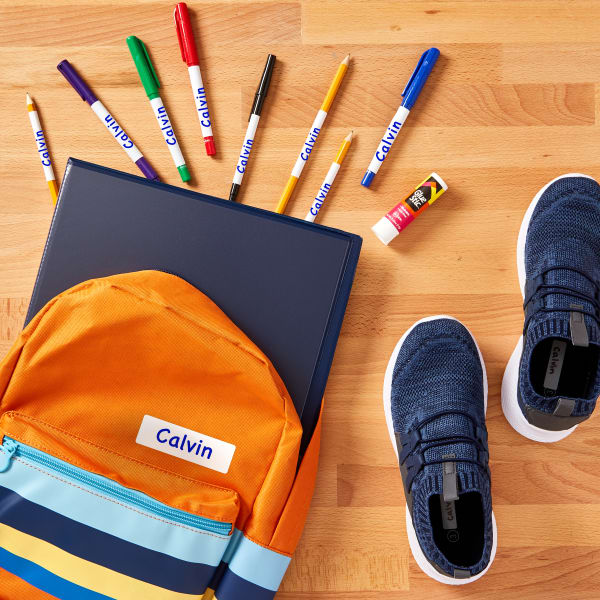 What kind of label materials can be cleaned?
In general, you will need labels made with strong adhesive and synthetic material that doesn't tear easily. For the most part, this means labels made of film or vinyl versus paper labels, which we wrote about here. Paper labels are wonderful for many applications, but they simply don't hold up to liquids.
However, it's also important to consider how you will need to clean the school supplies you want to label. Lunch boxes and fabric items that will go in a dishwasher or washing machine require labels designed for that purpose. For all other school supplies, durable, water-resistant labels are a great place to start.
Additionally, the ink on some labels may smudge when wiped with common cleaners that include alcohol. Common household bleach cleaners are generally fine, but in most cases, printing and/or the ink you use are very important to resist cleaning damage. Skip ahead to read about that in more detail.
In the meantime, check out our table of labels for school supplies, complete with links to browse products. This list is based on item surface, printing options, and cleaning methods.
School supply labels you can clean
Quickly find the right labels for your school supplies.
Best labels for washing machines and dishwashers
Machine washable (for soft items)
You can use our fabric transfers and no-iron clothing labels for fabric school supplies because both types of products are machine washable. This is the easiest way to identify items like face masks for flu season, reusable lunch bags, backpacks, and the like. They're also great for personal items like scarves, gloves, jackets, and toys.
Dishwasher-proof and microwave-safe
For lunch boxes and water bottles, use our durable dishwasher-safe labels. Quickly identify lunch gear by simply applying the label and writing on it with a permanent marker. These labels are microwave-safe too, so you don't have to worry about labels coming off if you need to reheat lunches.
Dishwasher, microwave, and washing machine safe
For fabrics and hard surfaces, our versatile no-iron clothing labels are the MVP of washable labels. They're easy to write on with permanent marker and safe for washing machines, dishwashers, and microwaves.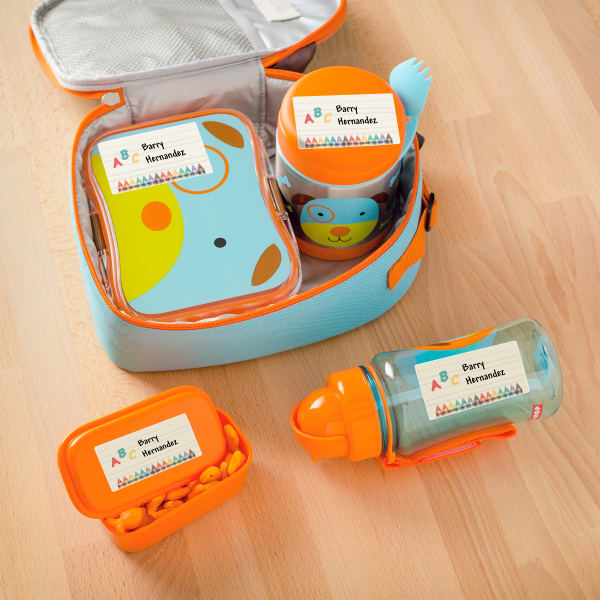 Printable vs. write-on labels for school supplies
Printable labels are awesome because you can use our free online software and templates to create personalized designs, but let's be real. Sometimes you just need to write on the label and go, and our write-on labels are perfect for that.
However, if you choose to go the printable route, we have tools that make it easy and fun to create personalized labels. Avery Design and Print Online (ADPO) is cloud-based software with all the standard design tools—and then some! For example, you can save projects to your Avery account and share them via email (great for teachers). You can also apply saved projects to other Avery products. If you've never used ADPO before, start with this helpful walkthrough video.
Printable labels for school supplies
If you want to print fabric labels, fabric transfers that you iron on are the ideal choice. You can design and print your own custom labels for soft lunch boxes, backpacks, clothing, and more. You can wash fabric transfers in a machine, and they're easy to customize with cute graphics and designs.
For hard surfaces, industrial-strength, durable ID labels are super versatile when it comes to any items that you want to disinfect or wipe down regularly. Not only are they great for labeling school supplies, but you can also use them to organize around the house. For example, we used them to organize a pantry, which we wrote about here, and also in this article about organizing garden supplies.
Write-on labels for school supplies
When you want to just write on the label, no-iron fabric labels are perfect for both fabrics and hard surfaces. As a matter of fact, our favorite no-iron fabric label (product 40720), which you can find here, is the perfect size for most items. You can write on all of our no-iron labels with permanent markers, put them in the washing machine or dishwasher, or wipe them down with common household cleaners.
For hard surfaces that need to be cleaned, use Avery dishwasher-safe durable labels. Our favorite is product 41441, which features fun primary colors that are great for color coding. Just grab your permanent marker and go!
How to avoid smudged labels from cleaning
1) Make sure your ink is water-resistant
Whenever you're printing labels for items you intend to clean, make sure you're using a laser printer or an inkjet printer with pigmented ink. Then choose the label setting on your printer. For labels you'll write on, permanent marker is by far the superior choice.
2) Use the correct labels for your printer
Most of the time, when labels smudge, the cause is that the labels are not right for the type of printer that was used. You should always use laser-printable labels for laser printers and inkjet-printable labels for inkjet printers. In general, if you follow that rule of thumb, you'll be okay, but we wrote an entire article about printers and labels that provides a deep dive and more resources.
3) Be aware that cleaners and disinfectants affect ink
Common household cleaners will remove (or severely smear) ballpoint and gel pen ink as well as pencil markings on most labels. With permanent markers, using common cleaners and household disinfecting wipes with bleach is no problem. However, using alcohol-based cleaning solutions on labels can smear or remove permanent marker ink.
What if I want to use alcohol-based cleaners?
If you want to print labels that will go on items you intend to clean with alcohol-based solutions, consider our line of Avery Industrial ID labels. We designed them with chemical resistance (including rubbing alcohol) in mind. Don't forget to use a laser printer and choose the setting for labels.
If you don't have a laser printer or want to write on labels by hand, self-laminating ID labels will do the trick. They come with adhesive lamination to protect whatever you've printed or written on the labels.
How to pick the right size labels for school supplies
Labels that are about 3/4″ by 1-3/4″ or 1/2″ by 1-3/4″ are big enough to be visible but small enough to fit on glue sticks or markers. If you can only get one package of labels, choosing something in that range would work in a pinch.
Another option is to buy labels by the sheet. You can mix and match blank label sheets in different sizes, shapes, and materials. You can even order custom sizes. We recommend browsing waterproof blank labels by the sheet so you have the most size options for labeling supplies you want to be able to clean.
Key takeaways for labeling supplies you want to clean
At the end of the day, parents and teachers all know that sometimes "gunk happens" and you need to clean school supplies. Using durable film labels and following the proper methods for printing and/or writing on them is the answer. While paper labels are amazing for all kinds of labeling projects, they simply can't stand up to liquids, let alone common cleaners.
The surface you want to apply labels to also matters. Adhesive doesn't work the same on fabrics and hard surfaces, so you have to make sure you have the right label for the job. Likewise with items that will go in the dishwasher, washing machine, or microwave.
Luckily, Avery labels come in a huge variety of materials, including many that are perfect for labeling school supplies. This includes materials that work even if you want to wipe them down or toss them in the washer from time to time. Additionally, our free software and templates make it easy to personalize and print school supply labels when you want to go that route. Or, choose write-on labels and one of our vibrant permanent markers to label supplies quickly. Whatever you need, we've got you covered.
What is the school item that you find yourself having to clean the most? Shout it out in the comments and let us know, or join the conversation on Facebook. You can also find more ideas for back-to-school on our Pinterest page, or share your projects and find inspiration on Instagram.