Businesses just getting started often create product labels, ingredient labels, warning labels, and stickers using label sheets that they print themselves or have professionally printed. And when you only need small quantities, this can make sense.
But as the business grows and orders increase, you may find hand-labeling products is no longer an option. Or maybe you are ready for premium materials and finishes that aren't often available on sheet labels. Then it's time you should consider ordering roll labels instead of labels by the sheet.
What are sheet labels?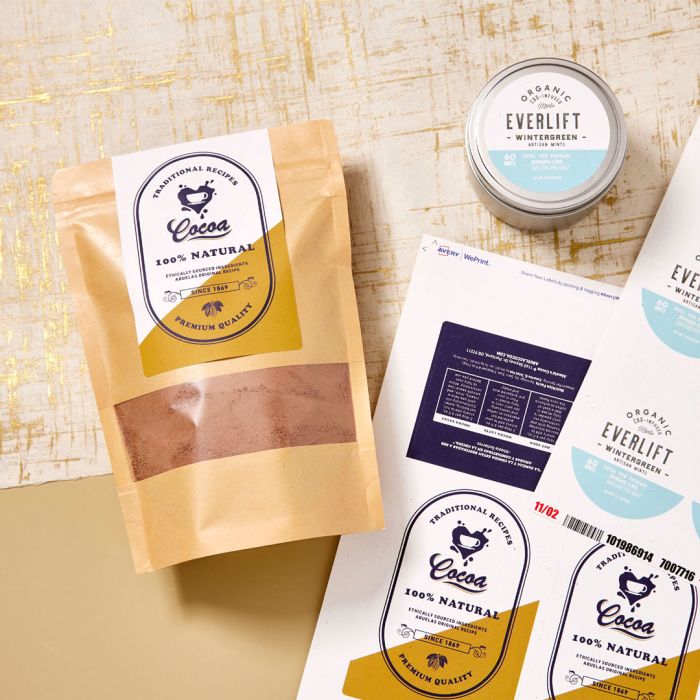 Well, the obvious conclusion is that sheet labels are labels that come on a sheet. Think of a piece of paper. You can order printable blank sheet labels from many companies that you can run through a standard inkjet or laser printer. But some companies, like Avery, also offer professionally printed sheet labels.
Professional printers such as Avery WePrint that use digital presses shouldn't have extra charges for plates or four-color printing. If you use flexographic printing, chances are good you'll incur extra charges. Printers with digital presses can provide small quantities of labels by the sheet for a more affordable option and low minimums.
When should you use sheet labels?
Sheet labels are perfect not only for small businesses just getting started, but they're also an ideal option for specific situations.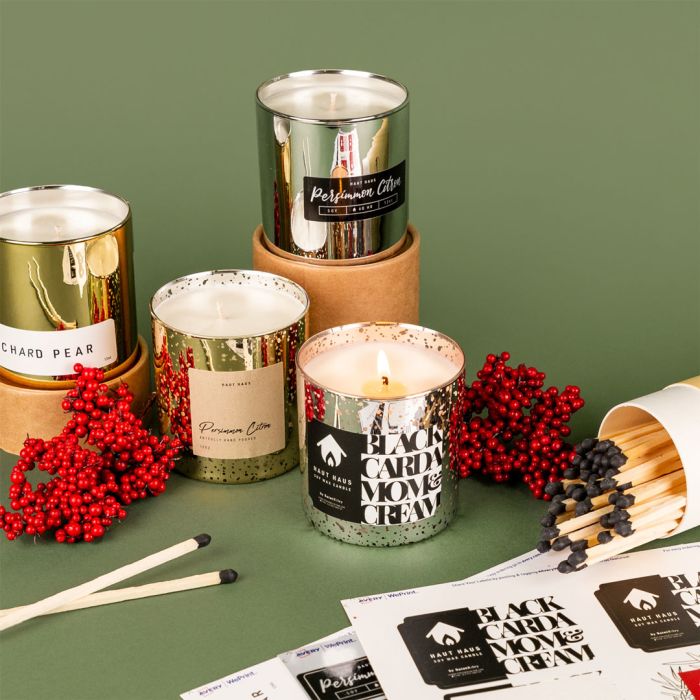 If you're testing a new logo or design for your products, sheet labels are an easy, affordable way to do a trial run. Experiment with different colors, fonts, shapes, and materials, and then try them out, and get opinions from family, friends, and others before committing to a full run of labels you might not like.
Sheet labels are also great for seasonal products. If you only need a short run of your Pumpkin Spice candle labels for the fall, then sheet labels might be the way to go. Another situation where sheet labels could be a good idea is if you have products that change ingredients or regulations frequently, such as cannabis labels.
Printable blank sheet labels let you quickly order and print out labels on-demand, as needed, which is incredibly valuable if you use a label company that allows you to save designs like Avery. If you are on a tight deadline and have your label templates and designs saved, in just a few clicks, you can print quality labels.
What are roll labels?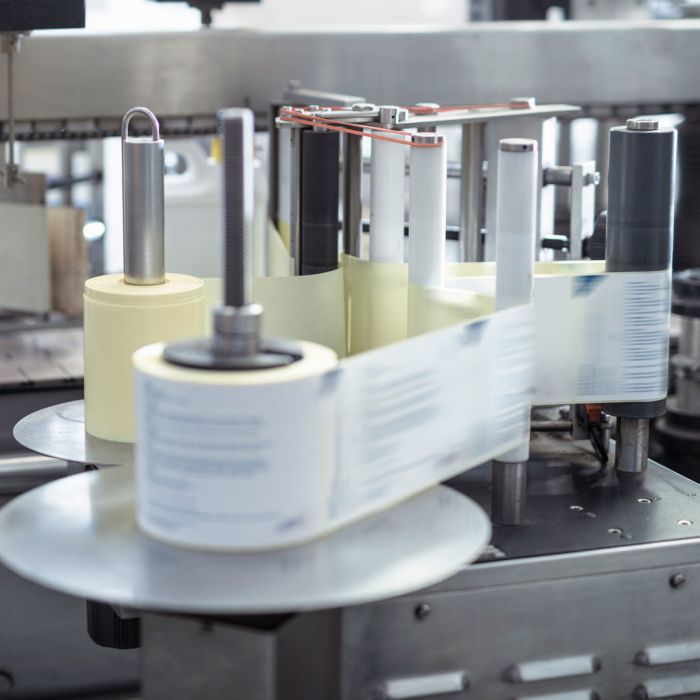 Well, again stating the obvious here, roll labels come on a roll. They're a continuous strip of labels attached to a liner and wound around a core. Unlike sheet labels, roll labels don't have any backing material around the outer edge of the label itself.
Roll labels are generally made of the same materials and adhesives as sheet labels, they are just wound around a plastic or cardboard spool instead of on a flat sheet.
With roll labels, you can buy thousands of different sizes and shapes, as well as custom label shapes and sizes. This allows you to be more inventive and creative with your label designs to really make your products stand out.
Roll labels also offer embellishments and finishes you can't often get on sheet labels, things like white ink. This printing technique applies white ink underneath your label to create opacity in specific areas. White ink underprint can make your label design more vivid and your text easier to read.
Do you want metallic or foil labels? With roll labels anything is possible. Professional printers can print directly onto a metallic base color with semi-translucent inks to create a metallic look or add luxurious, bold accents anywhere on your label.
Using a professional printer like Avery WePrint that uses digital presses will allow you to create vibrant metallic custom labels. If you want some extra shine on your metallic print, you can add a gloss laminate so your label looks like foil. For a more brushed metal, flat appearance, add a matte laminate over your metallic print.
When should you use roll labels?
Roll labels are an affordable way to order labels or stickers in bulk. They're very popular with businesses needing longer runs and spending more on their labels. As a general rule of thumb, if you order more than $250 of labels, you're probably ready to roll. The more you buy, the more you save.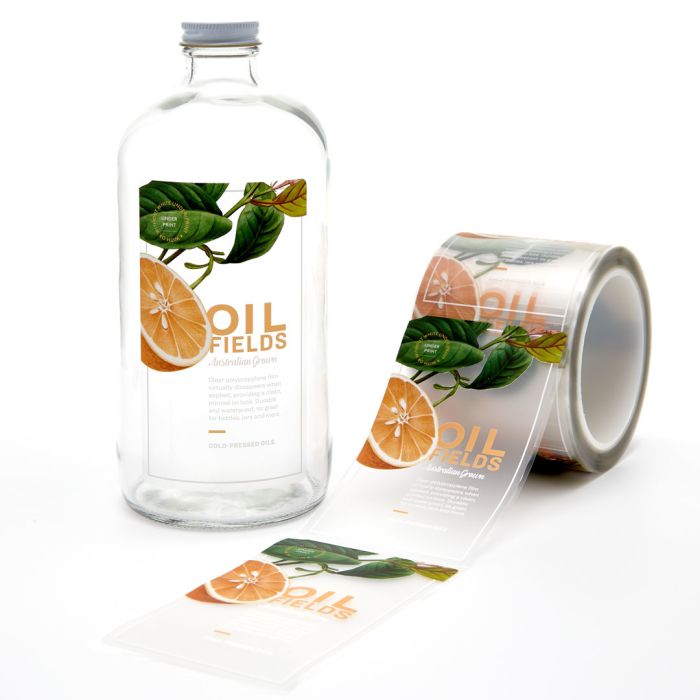 If you plan on using a labeling machine for your products, then it will require you to use roll labels. If you haven't invested in a label applicator, the good news is, there are a variety of dispensers available to fit your current budget. There are also some guidelines you should follow when choosing the right label applicator.
Even if you don't have a labeling machine and you're applying your product labels by hand, roll labels can make the job easier. Simply place your roll labels on a rod or towel rack for easy unwinding and peeling.
Secondary printing
Many companies offer blank labels on rolls, but be aware you need a special printer for printing your roll labels. There are inkjet label printers, thermal label printers, LED label printers, and many more.
So make sure when ordering blank roll labels that you are buying the correct type for your printer. For instance, Avery WePrint offers thermal labels on a glossy white film that allows you to add secondary print on your roll labels but you must have a thermal printer.
Do you still have questions?
Whether you buy your labels from Avery or somewhere else, our friendly Consumer Care Center reps are ready to help. No matter what the label question, we can help you make the best decision for your business. Call us at (800) 942-8379.