When to print yourself & when to use a printing service
Are you starting a small business and you aren't even set on your branding or your packaging yet? Or is business growth, combined with the cost of printer ink and label stock, making DIY printing no longer budget-friendly? We're here to help you decide what is best for your situation: printing your own labels or using a professional printing service.
If you have a fledgling business or only sell a few products at a time, you don't need large quantities of labels so printing yourself is a great option. Or if you want to test different labels on packaging to see how they look, DIY printing is a great place to start.
But, if you want professional labels or need large quantities, then you should seriously consider ordering professionally printed labels. And if you choose an experienced label company with strong customer service, you'll have someone to guide you along the way as your business grows and you need more labels.
How to choose a label company
When choosing a label company, whether you want printable labels or professionally printed labels, do your research. Your product label is the first thing customers see, so you want to make sure you buy quality labels that will hold their ink, remain legible, and stick and stay put.
No matter what label company you choose, there are things you should look into before investing your money.
Research before ordering your labels
Reviews and referrals – Everything you need to know about most companies is on the internet. If it's not, then beware. And dig through the company reviews. See if the bad reviews are something petty or a real concern that should have you looking elsewhere.
Dedicated customer service – Call the companies you're thinking about working with. Tell them what you need and see what they recommend. Are they friendly, knowledgeable, and responsive? If not, it's time to move on.
Pricing – Don't sacrifice the quality of your labels, and therefore your products and business, to save a few dollars. For example, if a company's quote is far lower than competitors, it's likely they're using cheaper materials or ink. Order samples before making a decision.
Design tools – Many printing companies offer editing tools to help customize your product labels. Find a company that provides free templates and easy-to-use design software that makes customizing your labels a cinch.
Catalog size – Browse your prospective label companies' catalogs to make sure they have a large enough selection of sizes, shapes, and materials. You want to find a label company that can offer you thousands of different shapes, sizes, and material combinations. Many companies offer custom shapes and sizes but make sure to check if there are extra costs.
Extra charges – Always check the fine print. If you're ordering custom labels, many printing companies have hidden costs for setup, plates, and dies. Find a company like Avery that doesn't charge extra fees. Avery also offers custom sizes and shapes on select materials at no extra cost.
Turnaround time – How fast can you get your labels? For blank labels by the sheet, you should be able to get your labels in a day or two. For custom labels, make sure and confirm lead times. Some printing companies require two to four weeks of lead time for custom labels. Others, like Avery, can get your labels delivered in as few as three business days.
Minimum orders – Find a printing service that offers pricing flexibility with low MOQs where you don't have to purchase large amounts every time you order.
After your research is done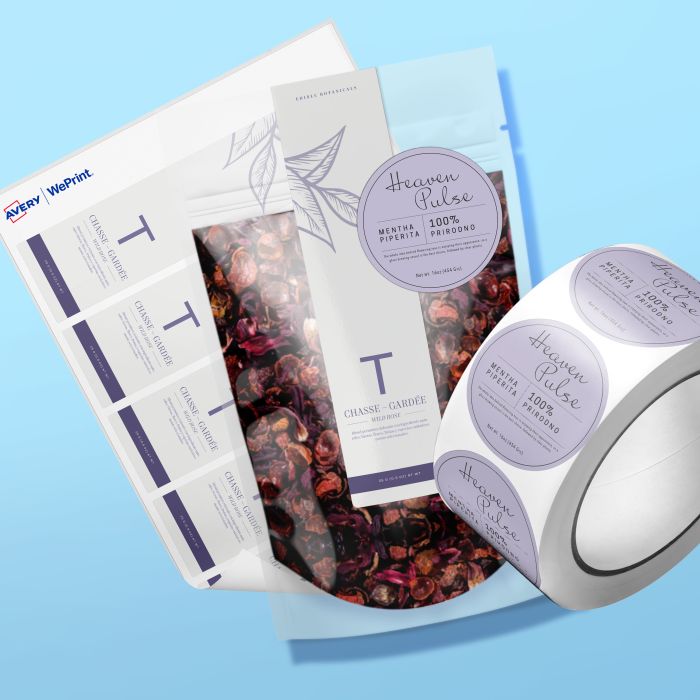 Once you've done your research, find the company that has everything you are looking for.
The beauty of using a label company such as Avery is that besides more than 80 years of experience as the inventor of self-adhesive labels, the company is a one-stop label shop.
You can order blank labels by the sheet that you can print yourself from home, custom labels and stickers digitally printed on industry-leading equipment, or both. The company also offers in-store retail packs, as well as our popular free templates that make personalizing your labels a breeze.
Even better, if you start your business printing your own labels with Avery, once you're ready to move up to professional printing, all of your designs are saved online so you can easily order the same designs custom printed.
When to print labels yourself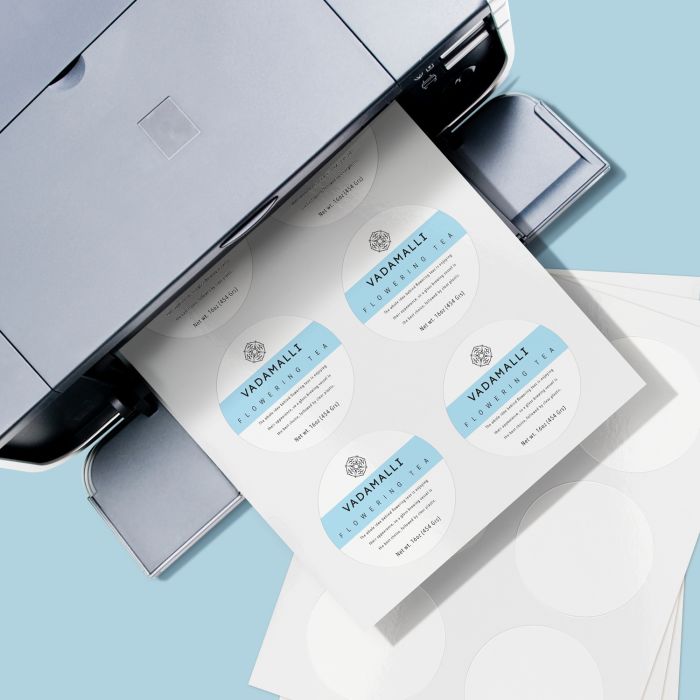 Printing your own labels is a great option for small businesses that are getting into product labels or need shipping labels for the first time. Being able to print one sheet of labels at a time is a perfect way to get started. You can find the right look for your products or projects without investing a lot of money.
Another big advantage of printing your own labels is that you can print them on-demand, as you need them. This is good for inventory control and helps to keep costs down for companies with small budgets. Check out What Kind of Printer Do I Need for Printing Labels? for more information on label printing.
For instance, if you sell smaller quantities of seasonal products, printing your own labels can be a more cost-effective route. But once you start needing a larger number of labels on a regular basis, it's probably time to consider using professional printing services.
Pros of printing your own labels
You can print the labels as you need them
It can be less expensive for short runs
Great for test runs and seasonal items
Ideal for companies just starting with small distribution
When to choose custom printing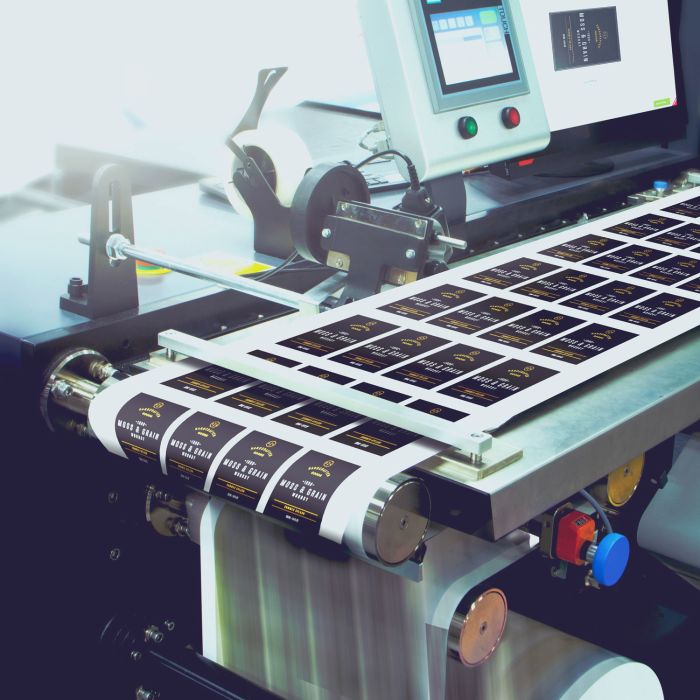 If your business is growing and you're struggling to keep up with demand, it might be time to consider professionally printed roll and sheet labels. But make sure you check into their turnaround times. A few experienced label companies offer fast delivery in as few as three days but the majority outsource their printing, and deliveries can take two to four weeks.
Also, when printing yourself becomes a hassle or takes too much time or ink, it's probably to consider custom labels. Using a label printing service provides you with professional, expert guidance to help you choose your label sizes, shapes, and materials.
For example, labels applied to bottles of lotions need a different material than candle labels. Having an expert available to help you pick the right material can save a lot of future headaches.
Roll labels
If you're applying labels at a rapid pace, it might be time to move up to custom roll labels. You can purchase an inexpensive roll label applicator to save you time and money. And if you already have your label designs saved with your printer, it's a pretty simple process.
Pros of professional printing services
Less expensive for larger quantities
Superior printing and ink adhesion
Expert guidance and help (Check customer service reviews for the label printers you're considering. Make sure you order from a label company that will be there to help if you need it.)
Mr. B's Necessities, an Avery customer, is a great example of how a growing small business labels its products and what they've learned about printing and buying labels along the way.
Your reputation matters
The most important thing to remember is that your labels are the first thing everyone sees. If someone buys your product online and it shows up with a wrinkled, smeared label, chances are, even if they like your product, they won't buy it again. First impressions are everything.
Your product labels showcase your brand, share important legal requirements and represent your company. Don't cut corners on your reputation when choosing a label company.
If you need any help deciding, please feel free to call us at (800) 462-8379. Our Customer Care Center will be happy to help you with any label questions.