If you want to know how to print white ink on clear roll labels, chrome roll labels, or clear sheet labels and kraft brown sheet labels to make your label design pop with vibrant colors and sharp, easy-to-read text, then white ink printing, sometimes called white ink under-printing is for you. Whether designing your labels yourself or using a graphic designer, understanding how to make labels with white ink printing is key to strong packaging and product label design.
Plan your use of white ink during the conceptual phase of your design. Our quick video walks you step-by-step through the process of adding white ink to a design for roll labels. The printing process can only be done by professional printers and not on your standard desktop printer.
Please reach out to the Avery customer care center at (800) 942-8379 if you have any questions about using white ink. We have experts on hand that will be happy to help you.
What is white ink printing?
In white ink printing, the ink is added underneath all or parts of your label design. The white ink is used to reduce the transparency of your text and graphics by creating a layer of opacity. This opacity will ensure an accurate color match and improved legibility.
White ink can be a great tool for brands and their designers. It is important to note that the most successful use of the white ink feature will take white ink into account during the conceptual phase of the label design.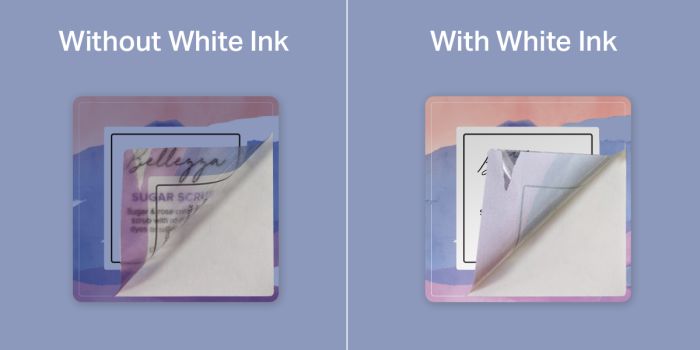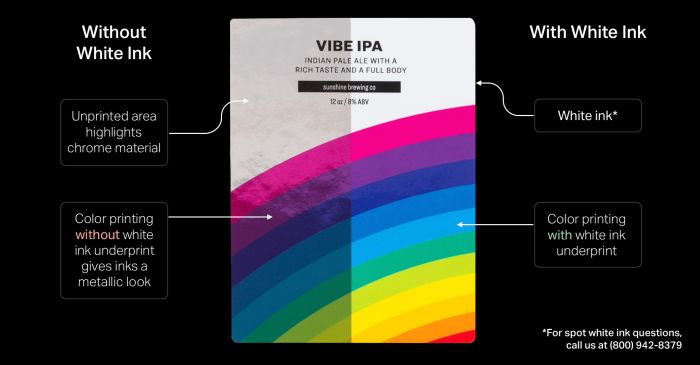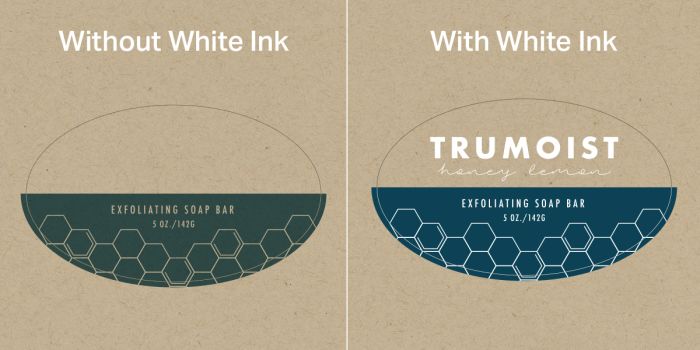 On metallic, and kraft brown label materials, printed inks often appear differently than planned without white ink printing. Using white ink on clear labels can make a huge difference in how you showcase your text and design. Without white ink, clear labels can appear transparent making the text hard to read and graphics bland.
Consider your product
If your product or container has color, the same idea as above is true. Adding white ink where you don't want your container color or product to show through will prevent your colors from becoming muted.
Are you using a clear container with a white product inside? While it might work similarly to white ink at first, as the consumer uses up the product, the label will again become hard to read.
Please note: Currently, white ink printing is only available on Avery WePrint kraft brown sheet labels and roll labels but check back soon for sheet materials that are on their way.
How to add white ink labels
White ink can ensure a more vibrant result in many cases, especially when printing on clear labels and kraft brown labels. It is also necessary when having white elements such as text, images, and barcodes.
Tip: Remember if you're printing your labels yourself, most printers don't have white ink so the label will show through in areas that are white.
In our design tool, select how you want to add white ink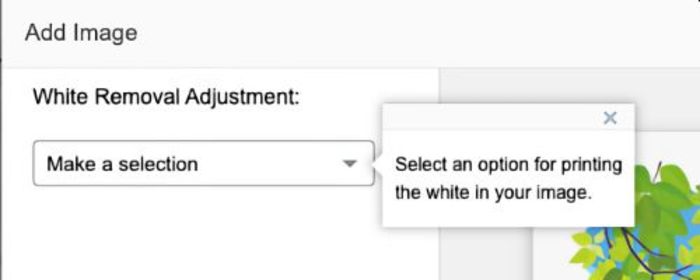 Select "Keep All White" if you want the white ink to be printed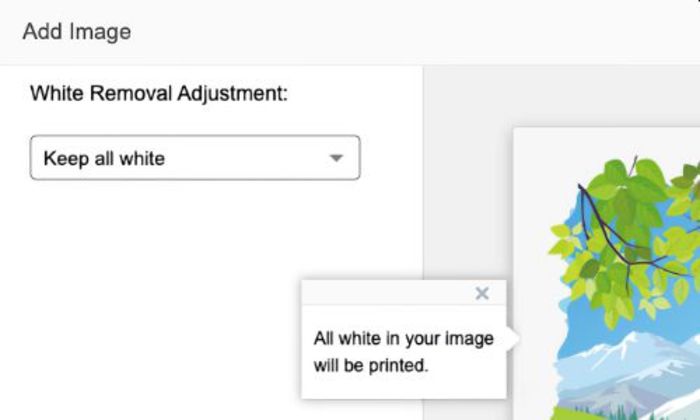 If you want the label material to show through those areas select "Remove All White"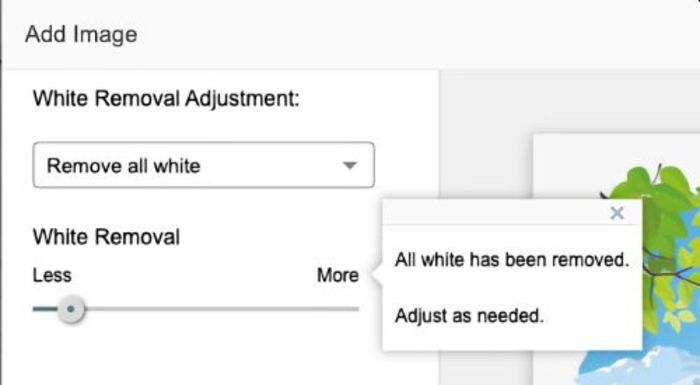 Choose "Remove White Background" if you want the label material to show through at the edges of your design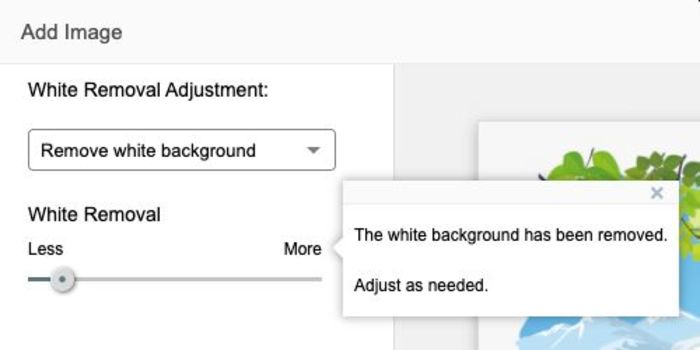 Dark Mode helps to show which white areas are remaining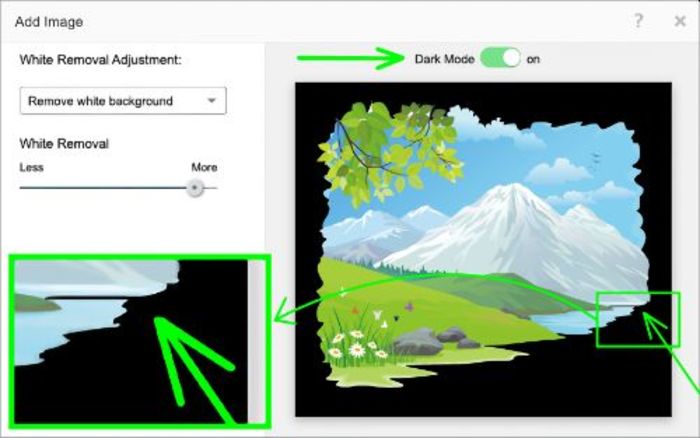 Please note: The White Removal slider increases or decreases the removal of similar colors.
How to add white ink to roll labels using Adobe Illustrator
This step-by-step guide shows you how to add white ink in Illustrator to your roll labels. You need to have your roll label artwork created in Illustrator and all elements be in vector format. White ink is automatically applied on our Kraft Brown sheet labels during the design process and is not currently accepted in uploaded artwork.
Watch our quick video that shows you the steps below so you can follow along.
Step 1:
Open your document. This example features a 2" square label printed on clear material.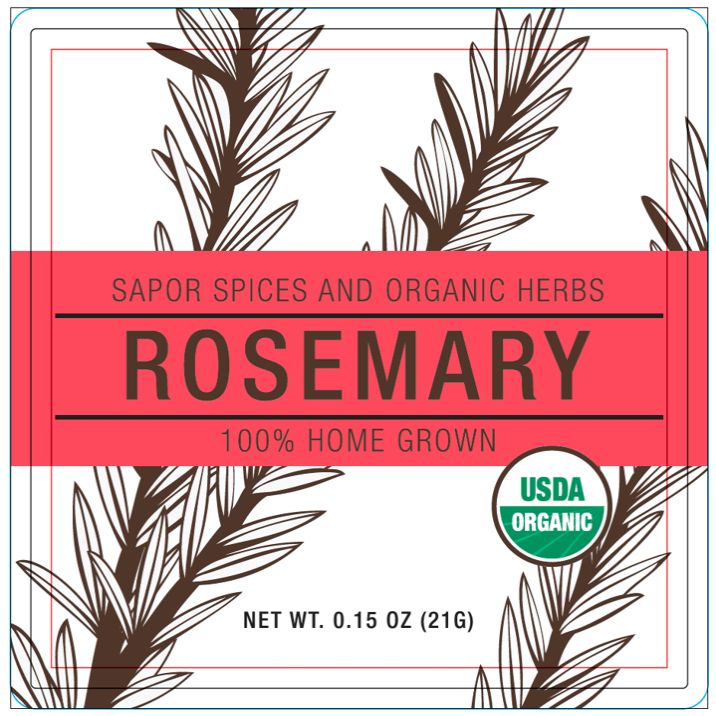 Step 2:
Determine which elements you want to include white ink behind. In our example, we will be adding white behind the rosemary sprigs, the USDA Organic logo, and the pink banner section of the label.
Step 3:
Select and copy the elements from Step 2 to a new layer named "HPI-White".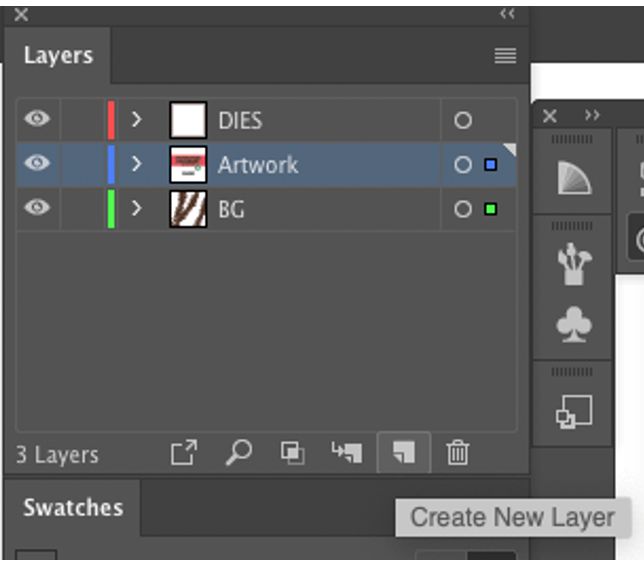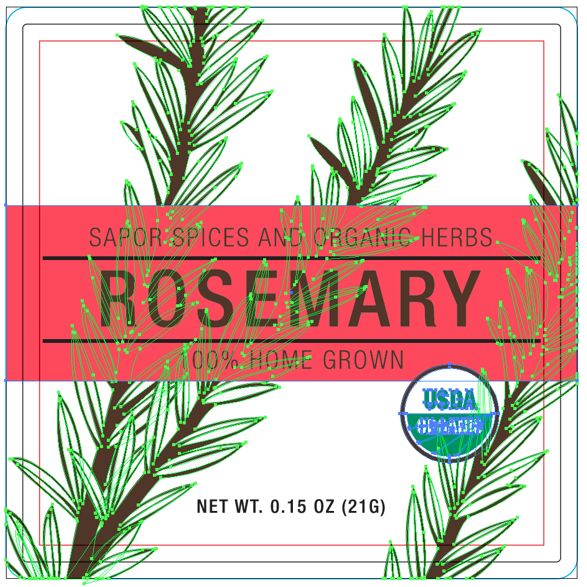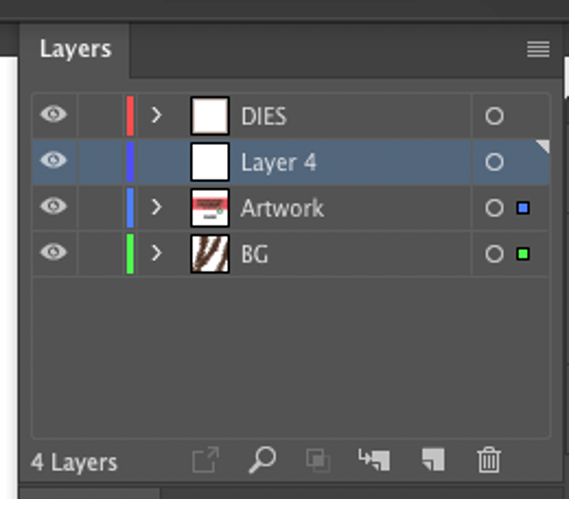 Step 4:
In the swatch panel, create a new color swatch and name it "HPI-White". Set the color type to "Spot Color". Select the elements you copied to the "HPI-White" layer and apply this new spot color (HPI-White) to these elements.
When selecting a color mix for the new spot color "HPI-White", don't choose white. Choosing white will make the elements difficult to view. We recommend selecting a mix that will not blend in with your existing design colors.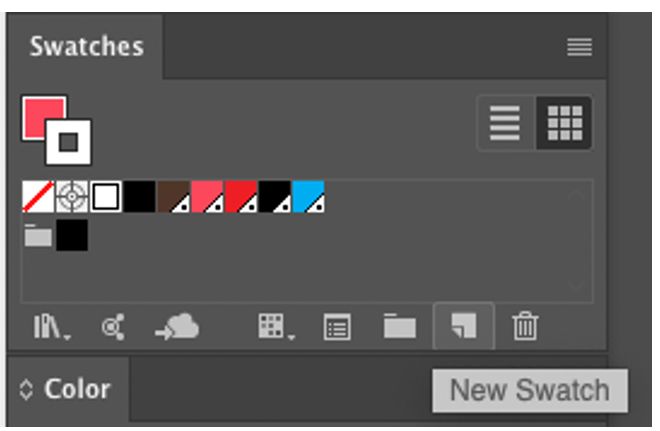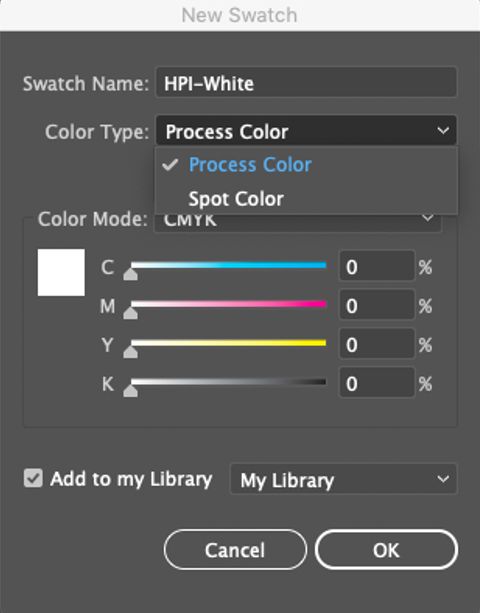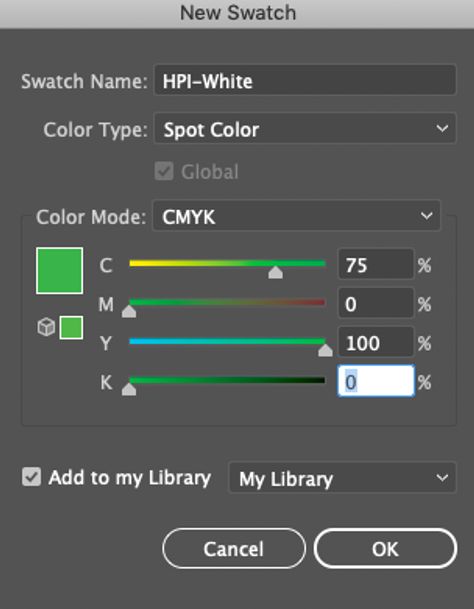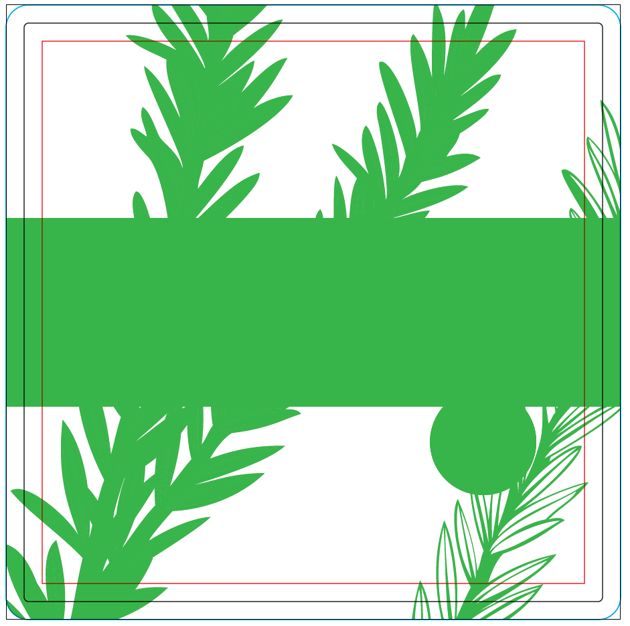 Step 5:
Set the white elements to "Overprint" in the attributes panel.
Using the "Separations Preview Panel" you can toggle on and off the white separation to see where the white ink will print.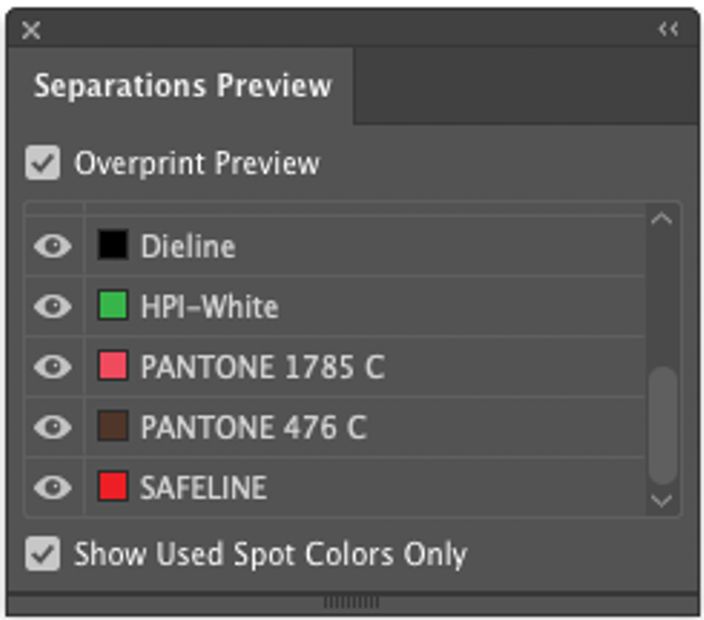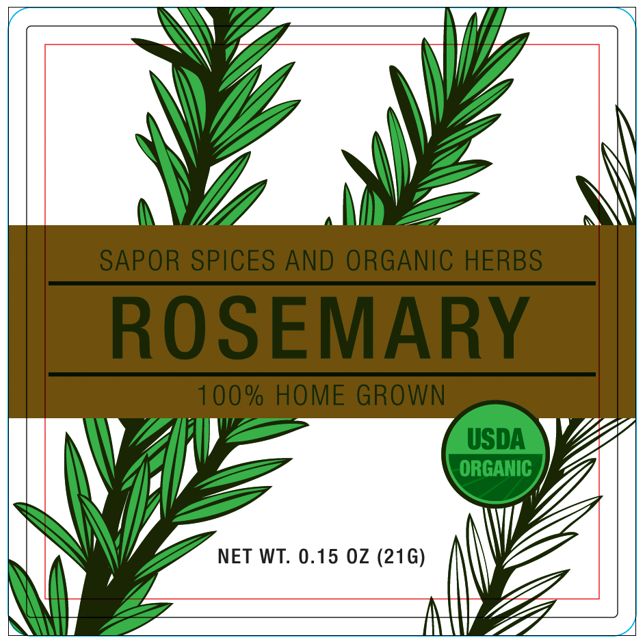 Your file is ready.
Again, please note that currently, white ink printing from existing artwork is only available on Avery WePrint roll labels and kraft brown sheets.  White ink is automatically applied to clear sheet labels and is not currently accepted in personal artwork.
If you have any questions about using white ink for your specific job, please reach out to our amazing customer care team at (800) 942-8379. They'll be happy to help you with creating the perfect label for your specific products.