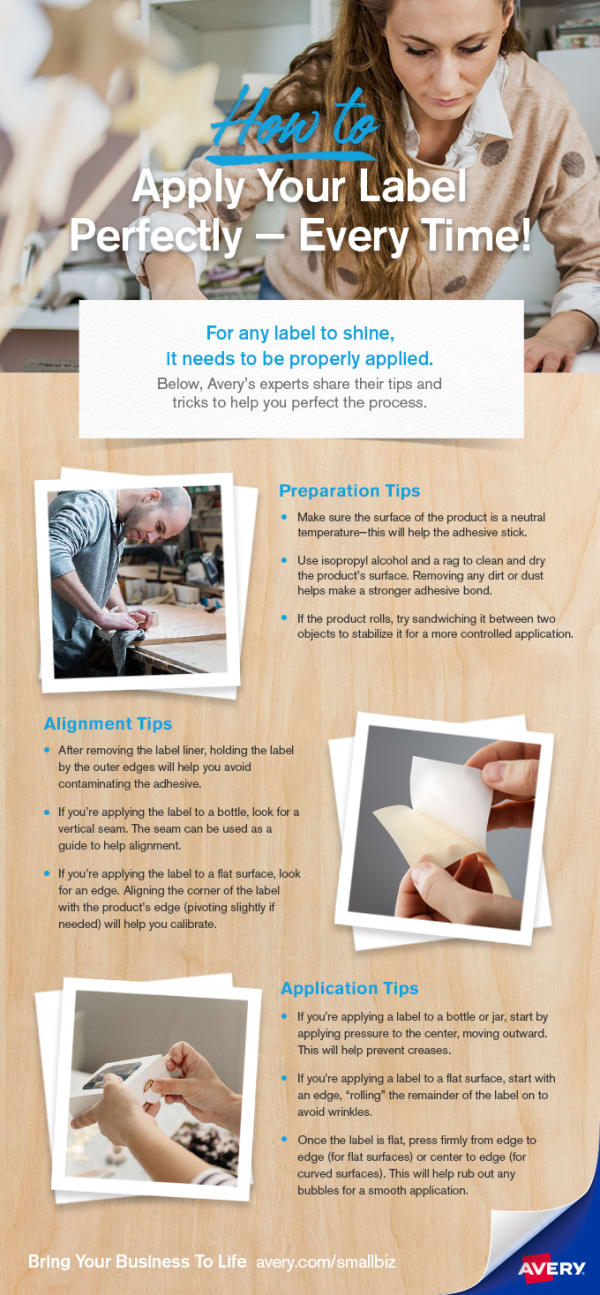 Transcription
---
For any label to shine, it needs to be properly applied. Below, Avery's experts share their tips and tricks to help you perfect the process.
Preparation Tips
Make sure the surface of the product is a neutral temperature – this will help the adhesive stick.
Use isopropyl alcohol and a rag to clean and dry the product's surface. Removing any dirt of dust helps make a stronger adhesive bond.
If the product rolls, try sandwiching it between two objects to stabilize it for a more controlled application.
Alignment Tips
After removing the label liner, holding the label by the outer edges will help you avoid contaminating the adhesive.
If you're applying the label to a bottle, look for a vertical seam. The seam can be used as a guide to help alignment.
If you're applying the label to a flat surface, look for an edge. Aligning the corner of the label with the product's edge (pivoting slightly if needed) will help you calibrate.
Application Tips
If you're applying a label to a bottle or jar, start by applying pressure to the center, moving outward. This will help prevent creases.
If you're applying a label to a flat surface, start with an edge, "rolling" the remainder of the label on to avoid wrinkles.
Once the label is flat, press firmly from edge to edge (for flat surfaces) or center to edge (for curved surfaces). This will help rub out any bubbles for a smooth application.
Bring Your Business to Life avery.com/smallbiz