See why long-lasting labels can make a difference in product packaging
Finding the right labels for your products seems like an easy task. But depending on what you sell and how you package it, the difference between a standard paper label and a durable film label can mean the difference between ink smearing, labels tearing, or the label adhesive peeling.
Your product packaging and the environments your labels will be in are the two most important things to consider when choosing your labels. In this article, we'll discuss the benefits of durable labels, the testing Avery durable labels go through, and which products can benefit most from durable labels.
As the inventor of self-adhesive labels, and with almost 100 years of research and development behind its labels, Avery knows that certain changes and additions to the materials and construction of a standard label can enhance the way it performs. For instance, some durable labels are made to withstand things like freezers, sunlight, oils, and water, while others are made from flexible materials that adhere to unique shapes or squeezable containers. There are also industrial-grade labels that can handle being in the ocean for up to 90 days.
If you're unsure if you need durable labels for your products, keep reading to see all the benefits.
What makes up a label?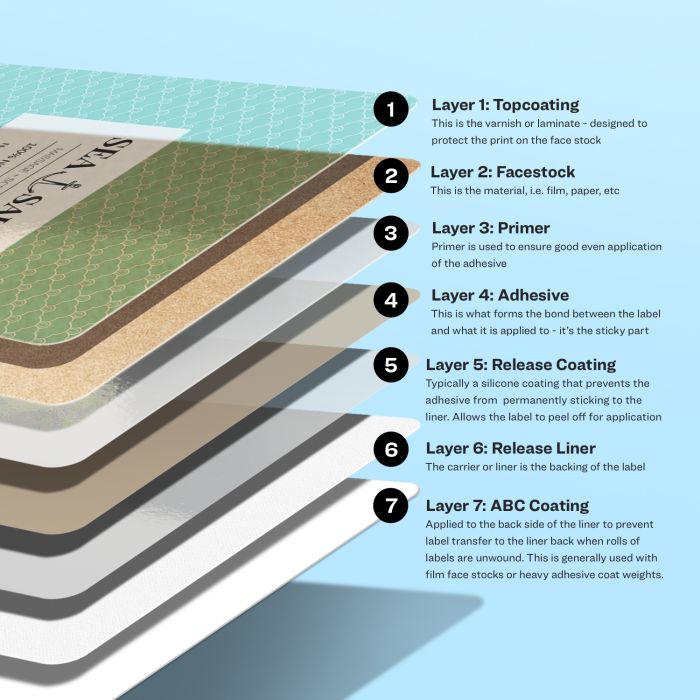 Labels are made in many layers. The main three layers are the face stock, the adhesive, and the liner.
The face stock is the front of your label, the part your customers will see. The adhesive is the glue that sticks to your packaging and can be permanent or removable, and the liner is the paper backing you remove from your label right before application.
Face stock: Standard labels are made with paper face stock. It can be a more substantial, premium paper but paper labels have their limitations. Durable labels have face stock made from plastic films like polyester (PET), polypropylene (BOPP), and other synthetics to resist tearing, moisture, chemicals, and more.
Adhesive: The adhesive on standard paper labels is generally made for light, indoor use. While the adhesive on many durable labels will to stay adhered in harsh environments, even on many removable labels.
Liner: The label liner is the backing paper that supports the label through manufacturing and protects the adhesive until you apply it to your products.
Topcoat: Durable labels feature a surface coating that increases ink adhesion with both standard and digital print technologies.
Avery uses only the highest quality face stocks, adhesives, liners, and topcoats when manufacturing its labels. And all Avery labels are rigorously tested at industry-accepted standards or higher. Just a few of the tests the labels go through include tensile strength, 90-degree peel adhesion, Taber® abrasion, and chemical resistance. All of the labels are also put through real-life adhesion and application testing.
Why these tests are important?
Tensile strength: Tensile test machines measure the pounds of force you need to break a label. Durable labels have much higher tensile strength than standard paper labels making them more resistant to ripping and tearing.
90-degree peel adhesion: Tensile testing machines pull labels at exactly 90 degrees from a variety of surfaces to measure the pounds of force they need for removal.
Taber® abrasion: Taber abrasion machines are the industry standard for testing resistance to scratching, scraping, and rubbing. Avery durable labels are abrasion-resistant to preserve print integrity and keep the labels readable to both humans and barcode scanners.
Chemical resistance: Avery durable labels must also pass chemical resistance tests such as heptane, HCL 37%, and pH3 buffer. We also test against common cleaning solutions like Windex, 409, and isopropyl alcohol.
Adhesion testing
Avery labels are not only tested for their durability but also for their ability to adhere to certain containers and in specific conditions.
We conduct adhesive performance tests in a variety of different real-life extreme conditions. From the hot, dry environments of Arizona to the moist conditions in Florida, we test our labels to make sure they'll stick no matter where you live.
Avery also tests our labels for their ability to adhere to difficult surfaces.
Contoured containers – Small cylindrical bottles, pens, pencils
Plastics – Storage containers
Textured plastics -Heavy-duty storage bins
Irregular surfaces – Plastic bags with items inside, recycled paper to-go bags, take-out containers
Real-life application testing
Avery puts its labels through actual in-use testing to ensure they will work in the conditions they were meant for.
Some examples of testing done are:
Security seals – Evaluate adhesion on surfaces with moisture condensation replicating application to cold drinks.
Soap and candle labels – Evaluate adhesion on containers with candles lit to ensure the label adhesive sticks and stays on hot surfaces.
Hand sanitizers – Evaluate label construction to ensure print and graphics stay vibrant and resist a variety of commercial hand sanitizers
Safety signs – Analyze print durability against a variety of splashes from water and cleaning solutions.
Floor decals – Evaluate adhesion on a variety of commercial flooring types from marble and porcelain to tiles with texture. The impact of floor cleaners was also tested.
Label application tips
Clean your container surface so it's free of contaminants (e.g. oils, liquid, moisture condensation, powder, dust)
Do not apply labels if the surface temperature is below 30°F at the time of application
Make sure your product surface is relatively uniform and flat
Recommended uses for durable labels
Avery durable labels will work great as a permanent labeling solution for almost any application. Some popular applications listed below can benefit from durable labels, as well as many others. If you don't see your product listed below or want some help picking the right label, please call our Customer Care team at (800) 942-8379. They'll be happy to help you pick the correct label for your project.
Health & beauty products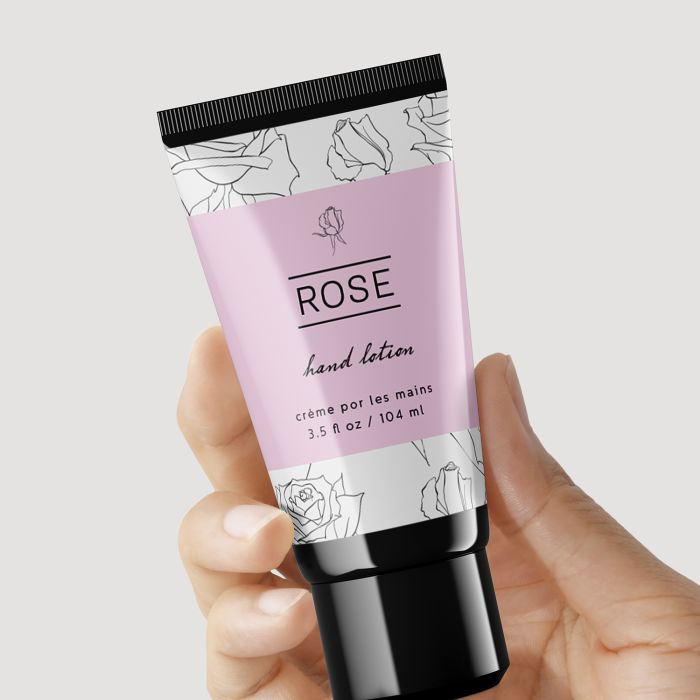 Men's grooming, essential oils, face serums, shampoos & conditioners, cosmetics, liquid soaps, lip balms, body butters, lotions, creams, deodorants, oral care, hair gels, mousses, candles
Food & beverages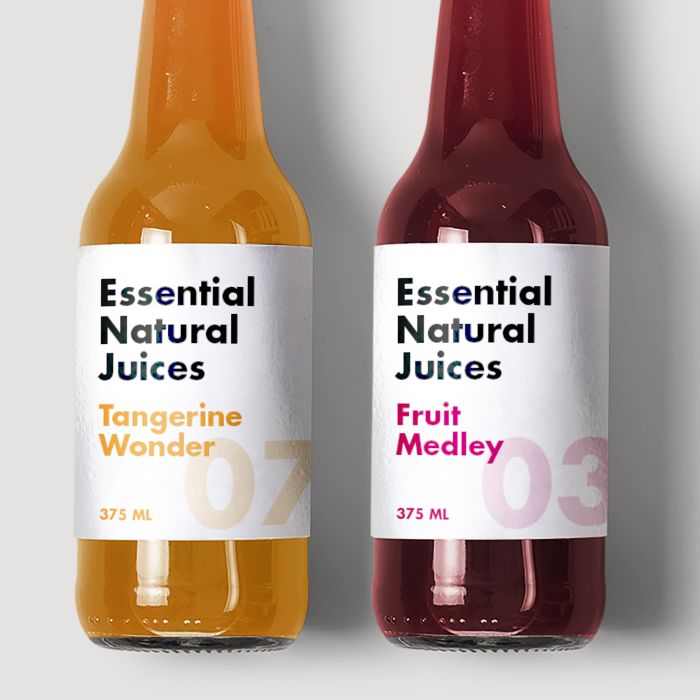 Condiments, sauces, jam, honey, marinade, frozen foods, bakery items, snack food, candy, spices, barcodes, coffee, tea, juice, water, beer, wine, hard liquors, craft brews
Wellness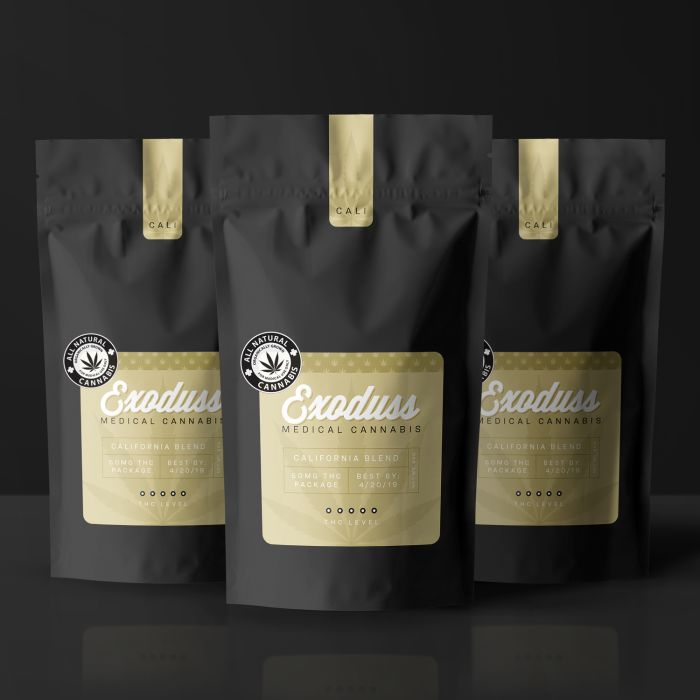 Supplements, vitamins, CBD products, medical marijuana, cartridges, tinctures, edibles, topicals, concentrates
Popular outdoor applications
Flower pots, fertilizers, gardening products, pet supplies, household cleaners, automotive products
What durable labels are right for you?
Avery offers a variety of durable labels for products and packaging. Whether you want to order thousands of custom printed labels on a roll or just a few label sheets, we have a solution.
Avery WePrint custom labels offer the widest variety of materials, finishes, and formats of durable labels. Everything from clear film and squeezable labels to sleek metallics and thermal transfer labels is available to customize and order online.
If you want to print your durable labels yourself, Avery offers two options. You can choose from waterproof film labels or two clear film labels in your size, shape, and quantity or you can also buy several varieties of Avery packaged durable labels in-store or online.
Remember, if you have any questions, please feel free to contact us by phone or chat. We are here to help.