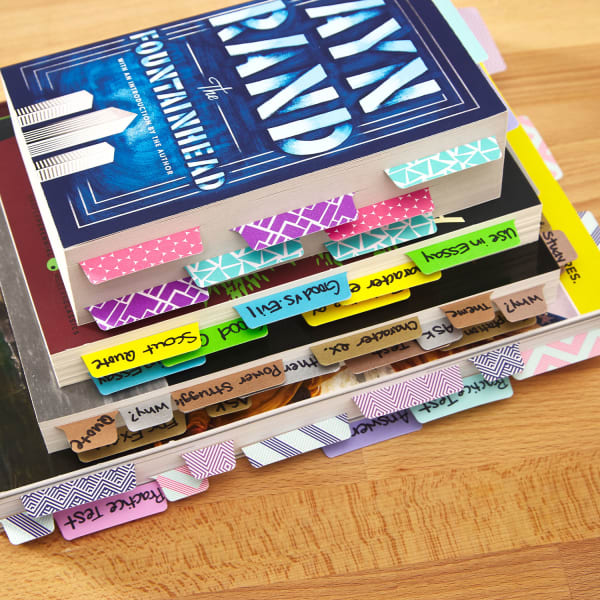 Studying can be a fulfilling and fun activity with the right attitude. Make sure your teen is ready for the school year with these simple high school study tips. These effective study strategies and back to school supplies will make sure this school year will be their best one yet.
Study Tip 1: Note Inspirational Passages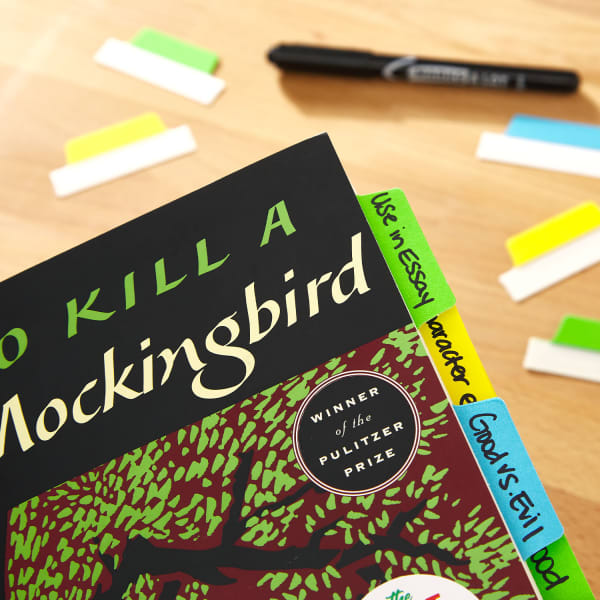 These brightly-colored,
writable margin tabs
(74866) will help your notes pop
Reading a book isn't just about memorizing character names and events. Although many tests will ask for specific details, they will also have reading comprehension questions that ask what certain passages mean to the reader. Make sure your kid keeps track of their own reactions and thoughts with Ultra Tabs®.
Study Tip 2: Develop a Back-to-School Routine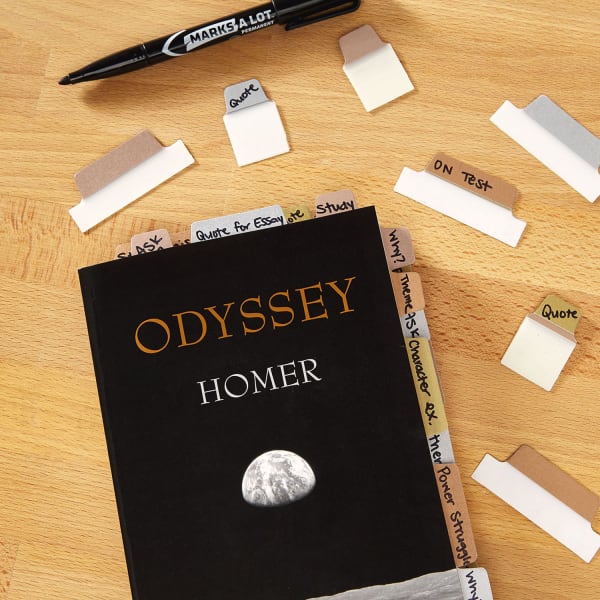 Mix and match different sizes and colors with metallic
mini tabs
(74785) and
margin tabs
(74786)
Everyone has a study routine that works best for them. Some people record their notes aloud and listen to them later like a podcast, others create a system of note tabs while reading and many people type up their notes and print them onto note cards. If one style of studying doesn't seem to be working then try having your kid switch things up until they design the routine that clicks with them.
Study Tip 3: Add Your Own Personality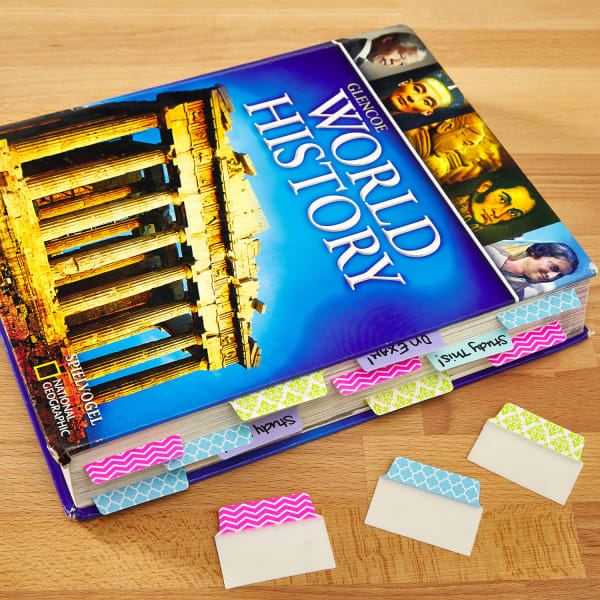 Give old textbooks new life with these fashionable
Ultra Tabs
(74774)
Some subjects will be more exciting for your teen than others. Whether they're a "math person" and not a "history person," they can try to bring their own personal touch to textbooks to make the material more relatable. Colorful tabs with chic designs, textbook covers made with wrapping paper and personalized binder inserts are a great way to give their least favorite classes a shot of energy.
Study Tip 4: Practice, Practice, Practice Tests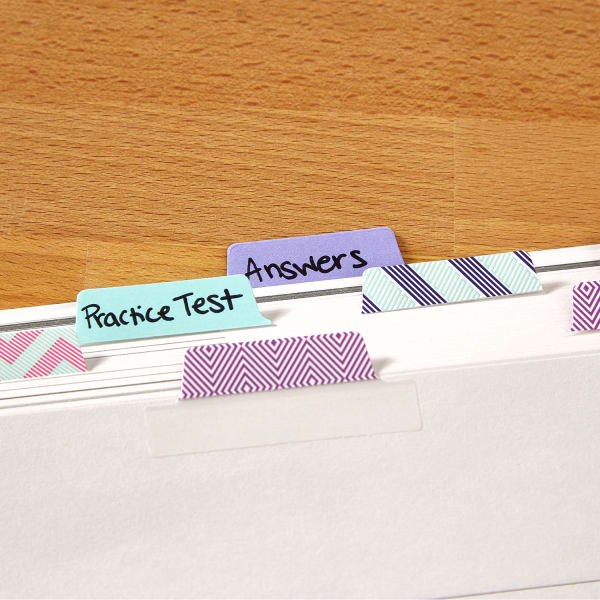 Geometric mini tabs (74896) and margin tabs (74897) are clean, residue-free ways to organize test prep books
Even if you know all of the right answers, the pressure of sitting down in front of a test and watching the clock count down can cause even the best of us to lose our focus. The best way to study for a test and adapt to the stress is to have your kid take practice tests at home using prep books and online resources. You could even act as a test proctor to make sure they get the full testing experience.
Study Tip 5: Color Code Your Back-to-School Supplies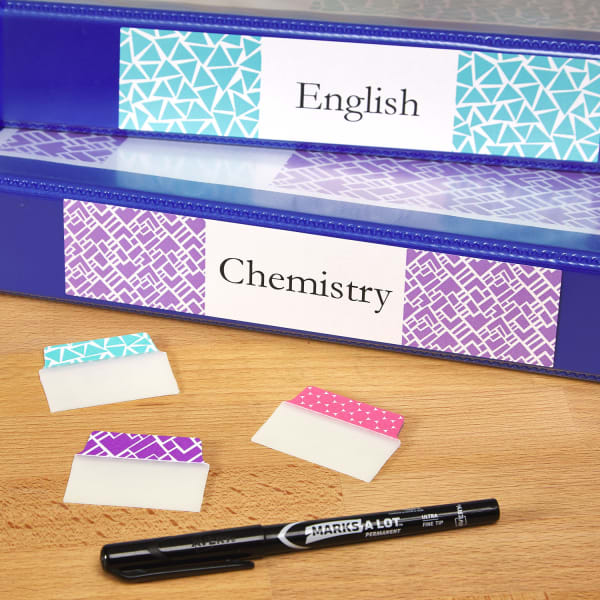 Take your organization to the next level with printable binder inserts (89103) and matching Ultra Tabs (74773)
Make sure your teen is starting off their year right with an organized approach. Binders, tabs and notebooks with a matching pattern or color is a quick way for them to know which materials to grab before heading off to their next class. Wraparound labels are also a flexible way to quickly mark binders and journals with class names, colors and patterns for easy reference.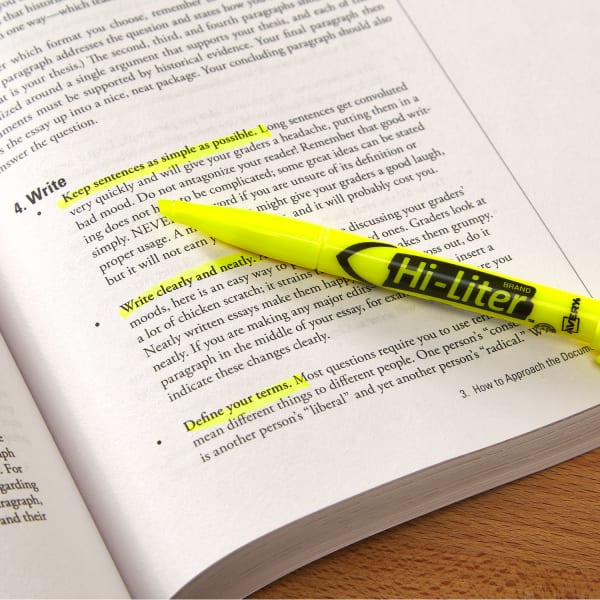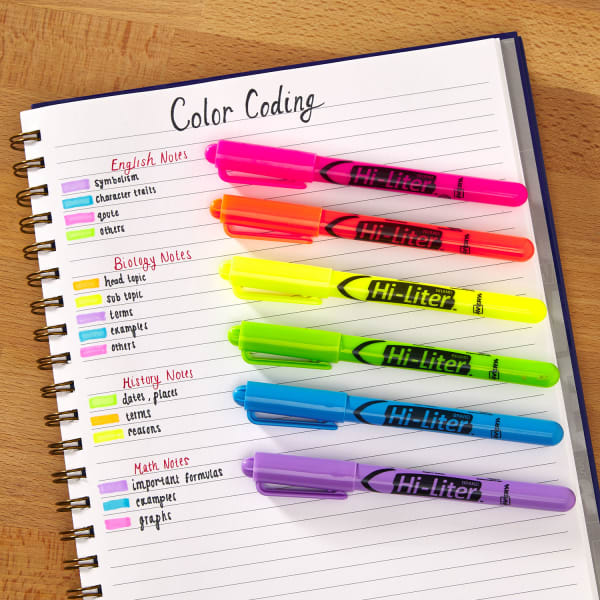 Hi-Liters® are also classic back-to-school supplies that are perfect for maintaining color-coded themes. These vibrant highlighter pens use SmearSafe™ protection to make sure that pen, marker and inkjet inks won't smudge. Keep certain colors for specific subjects or create a color-coding index to keep track of what each color means for each class.
Products featured in this article:
Ultra Tabs, Primary Color Tabs (74866)
Ultra Tabs, Metallic Mini Tabs (74785)
Ultra Tabs, Metallic Margin Tabs (74786)
Ultra Tabs, Design Tabs (74774)
Ultra Tabs, Geometric Mini Tabs (74896)
Ultra Tabs, Geometric Margin Tabs (74897)
Ultra Tabs, Polka Dot Design Tabs (74773)
1″ Binder Spine Inserts (89103)