Create a plan for your beautiful life with custom planner stickers
Personal organization is about more than just organizing your schedule. Using your planner or bullet journal is a way to express your creativity and make time to focus on your dreams and goals. Planner stickers are a fun quick way to add personal details and turn your planner into a work of art.
There are plenty of awesome planner sticker packs that make your planner beautiful. You can also create your own custom stickers with family members' names and photos, personalized reminders, and more. Our free online design software, Avery Design & Print Online (ADPO), has tons of fonts, colors, graphics, and design templates to help you get started.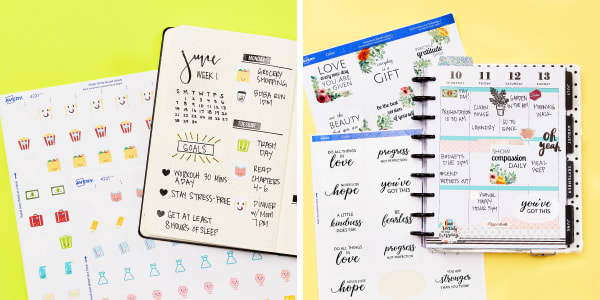 From teeny tiny, to full calendar boxes and beyond, our blank labels come in a range of sizes that are a perfect fit for your planner or bullet journal.
Choose a size and shape: the best dimensions for planner stickers
Although size and shape are truly a personal preference, you might want to consider some common planner sticker sizes for certain uses.
For example, do you want your stickers to fill in a box on a monthly calendar or create a header for a to-do list? Here are the best planner sticker dimensions for common uses and quick links to matching printable labels: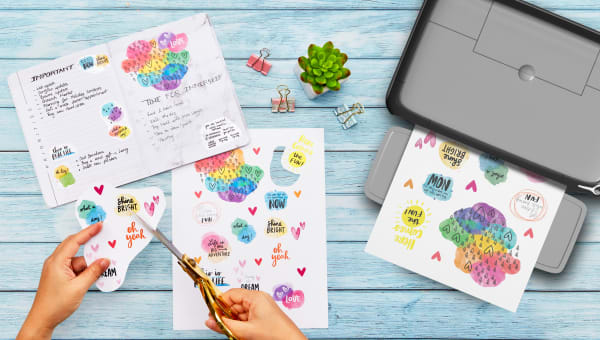 Your imagination has no limits, why should your planner stickers? Sticker project paper makes it easy to create any shape or size custom stickers you desire.
How to make stickers in custom sizes for your planner
If you don't see a standard label size that works for you, custom sizes and/or shapes can be achieved in two ways: (1) printing at home on 8.5″ x 11″ sticker project paper or other full-sheet labels (2) using our custom printing service.
At home, you can create custom planner stickers in any size or shape that you can imagine using sticker paper and full-sheet blank labels, which come in a variety of materials, colors, and finishes. Simply print your designs on the sticker paper or label sheets then cut them out with regular scissors or popular cutting machines for crafting.
Or you can have us print for you and choose custom sizes (up to 8″ x 10″) at no extra charge. To create custom stickers through our WePrint™ service, simply start on the custom labels page, choose a shape, follow the steps and enter the planner sticker dimensions of your choice.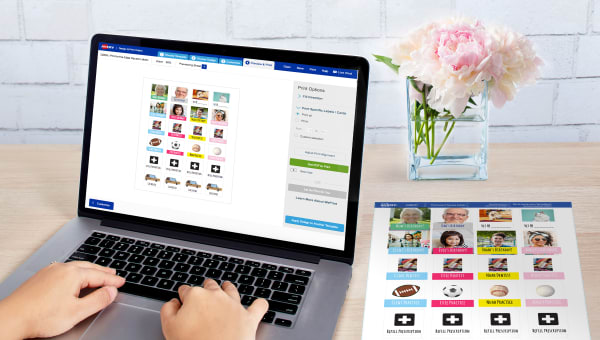 Design your own planner stickers using Avery Design & Print Online. Choose one of our thousands of free designs to customize with your own photos, text and colors.
Get started designing planner stickers using Avery Design & Print Online
Start designing by opening the template for the labels you'll be using for your planner stickers. You can quickly find a template for any Avery product by going to Avery templates and entering the product number.
If you have your labels in front of you, the product number is found on the packaging or at the top of the label sheet. You can also find the right template for any project by clicking the template link on the product page.
Create and personalize any planner sticker design
Using ADPO you can design personalized planner stickers in three different ways: (1) browse Avery designs that you can modify, (2) create your own design from scratch using ADPO design tools, (3) upload a design from your computer.
Accepted file formats for uploading designs include PDF, AI, PSD, EPS, TIFF, JPG and PNG.
If you choose to browse our designs, you will be prompted to pick a design to customize. Once a choice is made, you will be taken to the customize screen where you can personalize your planner sticker design.
Once the ADPO customize screen is open, you can insert and edit images, shapes, and text in a variety of fonts and colors. You can also edit just one planner sticker, or all the planner stickers on a single sheet using the Edit One and Edit All feature.
Tip: You can use the Edit One feature to create a planner sticker sheet with several different designs— you don't have to use a whole sheet of labels for every design.
Applying your planner sticker designs to different labels
Re-using your personalized planner sticker designs on different labels can be useful when you want to create additional stickers in different sizes or different colors and finishes.
Once you've saved your planner stickers design in ADPO, you can apply it to different Avery labels in three different ways.
From ADPO, in the Customize tab, click the Change Template button at the top right
Or go to the Preview & Print tab, click Apply Design to Another Product
From your Avery account, click on your saved planner sticker project, then click Apply Design to Another Product
Advanced Tip. You can add any pre-designed Avery template to a completely different product with this expert-level hack: Open the template and immediately save the project to your Avery account. You can then apply that saved "project" to any other Avery product any time you're logged in.
Options for printing personalized planner stickers
Whether you're printing your planner stickers at home or we're printing them for you, we always recommend you save your design after it's personalized just the way you want it. Then you're ready to move on to the Preview & Print stage.
If we're printing your planner stickers for you, all you have to do is review and approve your design and follow the prompts to complete check out. We'll take care of the rest!
If you've never printed labels at home before, or you're working with an unfamiliar printer, our guide to printing labels is a fantastic resource. For most people, the main consideration for printing planner stickers at home is the label sheet size and printer compatibility.
Full-size Avery label sheets are designed to work on a huge variety of common desktop printers— basically, if you have a laser or inkjet printer at home, you're probably good to go. Learn more about printing on smaller 4″ x 6″ label sheets to make planner sticker sheets that easily fit inside planner pockets.
While most of the label materials we recommend for creating planner stickers are both laser and inkjet compatible, it's still important to always check the printer capability before printing. You can find that information on the label packaging or the product page, but if you're not sure, get in touch with us for help.
Explore more ways to personalize your planner and other print projects
Learn how to use color like an expert in your personal planner with tips for more personalized color-coding and boosting your mood. Or check out our curated selection of must-have planner supplies.
Once you've made your own planner stickers, the sky's the limit! Try our detailed mail merge tutorial to help you print holiday card address labels, or print your own greeting cards with super cute design templates for any occasion.
DIY planner sticker supplies featured in this article
Sticker Project Paper, Matte White, 8-1/2″ x 11″ (3383/94268)
3/4″ Round Labels, Matte White (4221/94504)
Glossy White Oval Labels, 1.5″ x 2.5″ (22804/94051)
2″ Square Labels, Matte White (22806/94107)