Printable sticker sheets you can use to make decals that don't damage surfaces
Making DIY decals is fun for the whole family. Especially with our super cute predesigned sticker templates. Not to mention our printable Surface Safe® sheets that don't damage surfaces.
We designed our Surface Safe adhesive decals and sign labels to stick securely and remove easily from smooth nonporous surfaces. These include metal water bottles, electronics, glass, drywall, painted walls, school lockers, painted doors, and stainless steel.
Simply design, print, and stick your decals on, then when you're ready to remove them, just peel them away. When used on recommended surfaces, there's no damage or sticky residue left behind.
What you need to create your own DIY decals
First, you'll need a laser or inkjet printer, printable decal sheets, and a smart device connected to your printer and the internet. All of the free sticker templates in this article are formatted for Avery 8″ x 11″ DIY decals with Surface Safe adhesive (61512) and our blank labels by the sheet that you can buy online with no minimums. The designs also work perfectly on ou professionally printed Surface Safe labels.
Next, you will need to log in or create a free Avery account to use our Avery Design and Print Online (ADPO) software. ADPO allows you to edit, print, and save Avery templates at no cost. Not only is the software free, but there is nothing to download or install.
Pro Tip: If you don't have a printer or don't want to print at home, our custom printing service, Avery WePrint, is the perfect solution. We offer individually die-cut custom stickers or custom vinyl stickers on rolls that stick securely but remove cleanly.
Finally, you will need scissors or a craft knife to cut out your decals. You can also use Surface Safe sheets with a home die-cutting machine like the Silhouette Cameo®.
More resources you might like:
1) Plants and succulents sticker sheet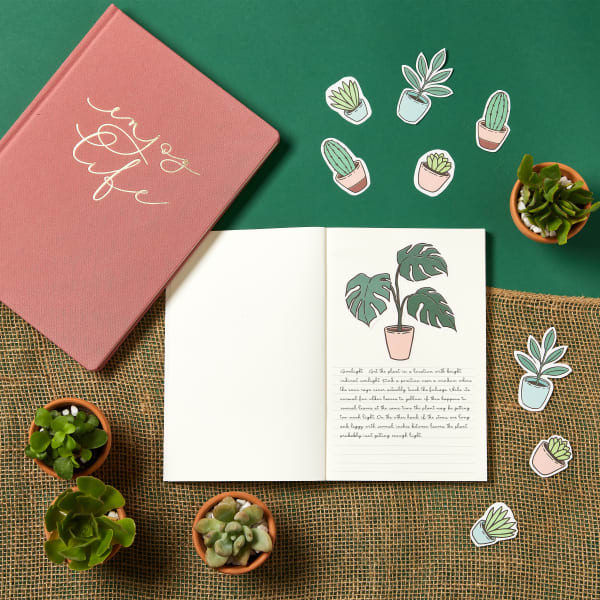 Create fun sticker decals for the plant lover in your life, or yourself. Use them for decorating bullet journals, planners, or anything that needs a little more green.
To make changes to a predesigned template, first, click on an element. Then you can rearrange, resize, or copy and paste as you like.
2) Rainbow motivational sticker template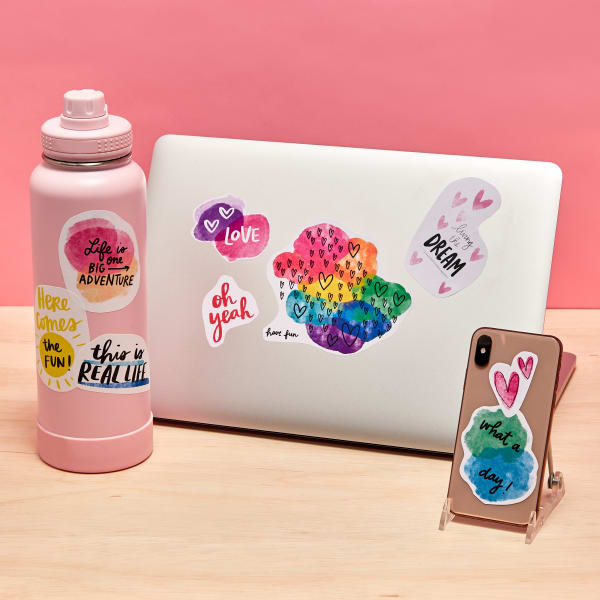 Channel positive vibes with bright rainbow colors and upbeat sayings. Perfect for decorating devices, water bottles, desk areas, and school supplies.
Add your own custom text to Avery sticker templates using the navigation bar on the left side in ADPO. You can add and edit text, shapes, images, and graphics from the Avery Gallery.
3) Water tracker sticker template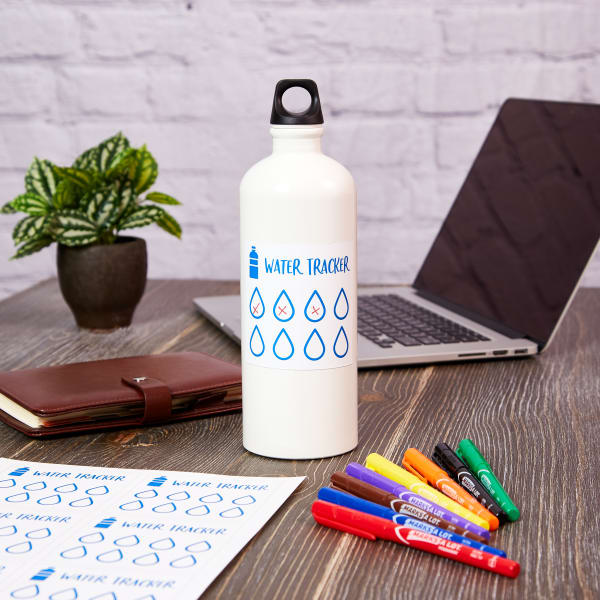 Removable water tracker stickers are a great way to make sure you stay hydrated. Print your own as needed and mark off with colorful permanent markers.
Ordering custom labels? With our WePrint service, you can order as few as two sheets of labels or hundreds of sheets or rolls.
4) Women's empowerment stickers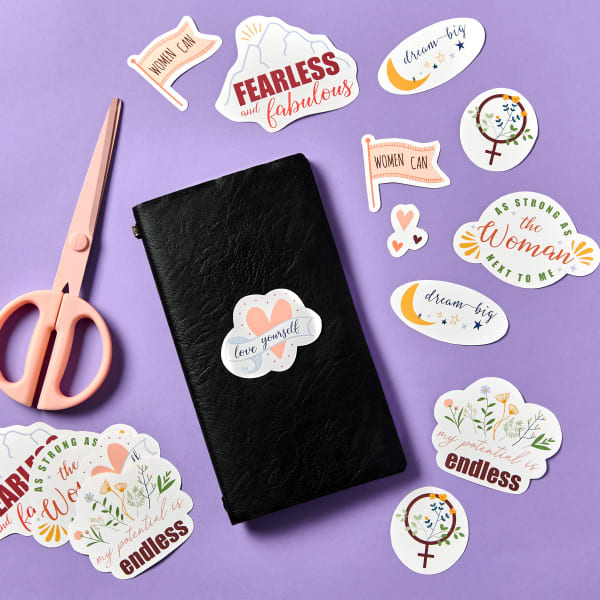 5) Motivational sayings sticker sheet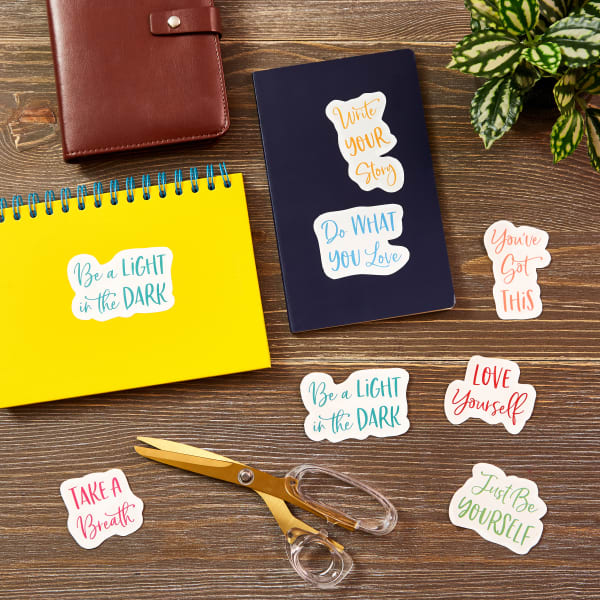 Stay motivated and achieve your goals with inspirational decals. You can stick them anywhere that you need a pick-me-up or a motivational reminder.
Text images vs. text boxes. Text in images, (like these stickers, for example), is not editable, but each image can be rearranged, resized, and copy and pasted as desired. To add or edit text, use the Text tool in the navigation bar on the left.
6) Calendar appointment sticker template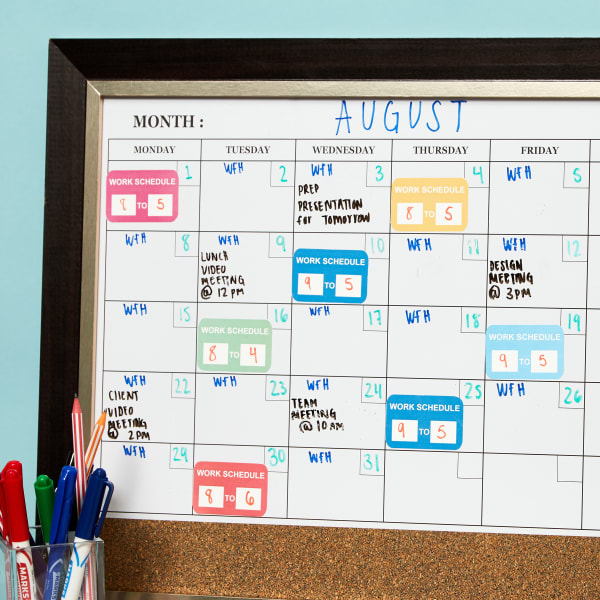 Surface Safe adhesive works great on whiteboards. Create your own custom appointment labels that can be removed at any time.
The text on this sticker template is individual text boxes, so you can click any text box to edit the words, font, and color. Then use the blank areas to write in your schedule with a permanent marker.
7) Cool sticker templates for tweens & teens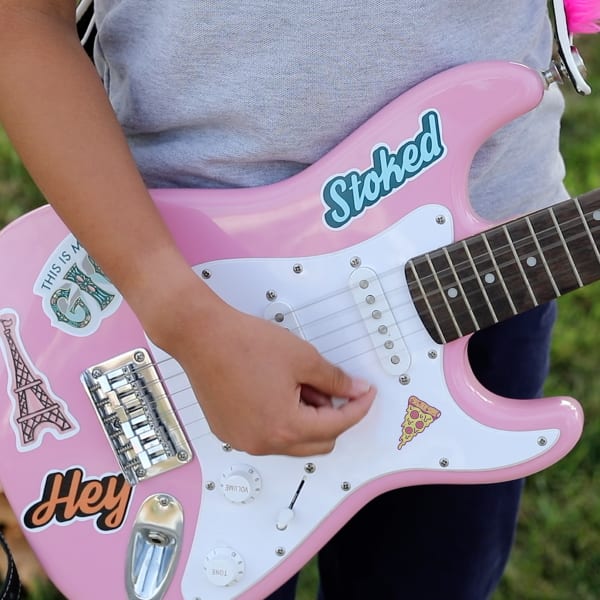 Fun decals with lots of personality are great for helping your kids express themselves. Have fun creating DIY decals that can be changed as often as they change their minds.
What's more, you can save projects to your free Avery account to reprint later or share with the whole family via email.
8) Cute sushi decal sticker template
Perfect for lockers, Surface Safe DIY decals peel right off of metal with no fuss. Go ahead and let your kids go to town creating locker stickers, then peel them off at the end of the semester or year with no problem.
Head over to our back-to-school page to shop school supplies and get more ideas for back-to-school fun and organization.
9) Outdoor & adventure stickers sheet
Get your adventure on, with this fun outdoorsy sticker sheet. Decorate doors, walls, or your travel journal and feel at one with your inner explorer.
Surface Safe DIY decals are made with polyester film instead of paper and can be wiped down with common cleaners. So let your kids go wild decorating (even on high-traffic doors) with no worries.
10) Space adventures sticker template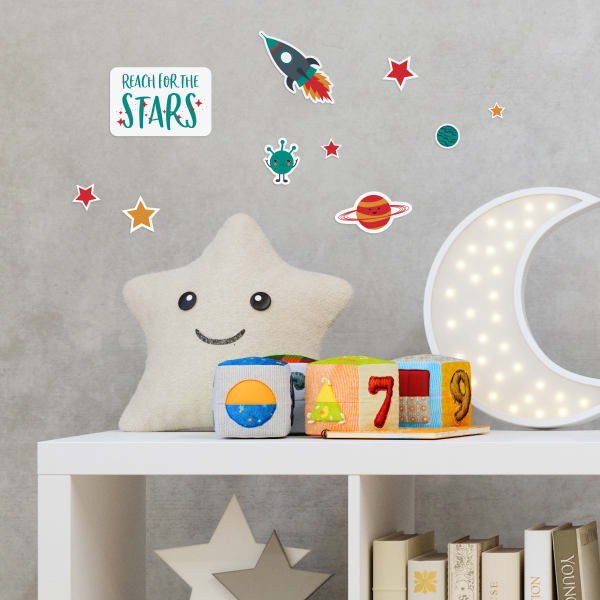 Boldly decorate where no one has decorated before… at least not without damaging walls. No tape, no holes, just cute DIY decals for decorating your space.
Advanced Tip: Create a whole galaxy of stickers by opening this template and adding a sheet to the project. Then, use the Edit One and Edit All feature to resize, rearrange or copy and paste elements on each sheet.
Make DIY decals with free printable sticker templates
In short, our Surface Safe decal sheets are ideal for creating fun stickers you can use on a variety of surfaces without worry. For example, metal, glass, walls, drywall, doors, lockers, water bottles, and electronics.
Free Avery sticker templates and Avery Design and Print Online software make it easy to design and print sticker decals right from your desktop.
We've rounded up 10 of our favorite sticker templates, but there are many more. Start with Avery template 61512, then click "Start Designing" to browse all available designs.
If you need help, visit our searchable help center with tons of tips for using Avery tools and products. You can also shout out your questions in the comments or give our friendly Customer Care Team a call at (800) 462-8379.
In the meantime, browse more Surface Safe products and ideas.