How to choose the best school binders from elementary through college
"Nearly every school supply list will include a binder because they're crucial for organizing and storing work."

Lisa Chew, 5th grade teacher
Of course, over time, binder needs change from a simple way to transport papers between home and school to more sophisticated organization methods. You can find a detailed Avery binder comparison chart to compare binders for general use. However, keeping in mind the specific needs of students, we're breaking down the best school binders for each education level.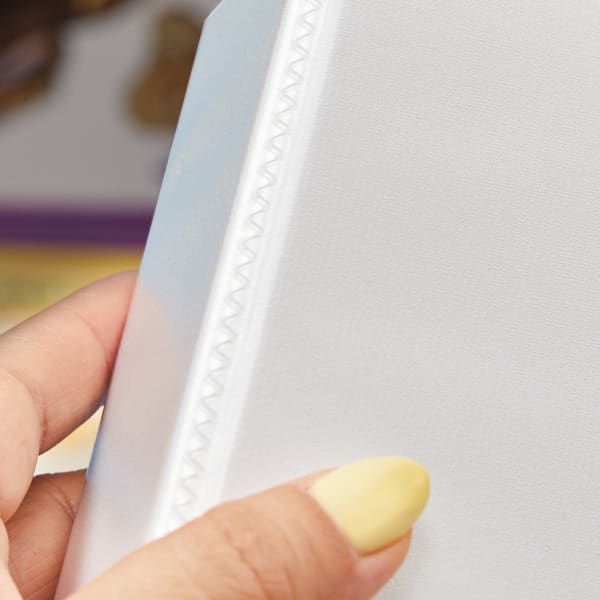 What does durability in binders mean?
Let's face it, budgeting for school supplies can be rough. This is true whether you're buying them for your kids or buying your own supplies for college. Of course, sometimes "it is what it is" and the cheapest school binders will have to do. But if you have the funds to upgrade to a durable or heavy-duty binder that will last longer (thus needing to be replaced less often), you can save money on school binders in the long run.
"The first thing I look for in a binder is durability, as it needs to withstand the wear and tear of a busy school year. I also consider pockets to be essential for organizing loose papers and handouts."

Bonnie Whitfield, HR Director of Family Destinations Guide and mom of two
So what does durable even mean? To begin with, at Avery, we classify our school binders into three categories: economy, durable, and heavy-duty. Economy binders have just the basic elements that are essential to any binder, while both durable and heavy-duty binders are designed with longevity in mind. Meaning that they are made differently so that they stand up better to wear and tear over time. Chiefly, this is accomplished by welding and molding the edges and spine differently to prevent splitting along those areas. These patented construction features are called DuraEdge® and DuraHinge®, respectively.
But what is the difference between durable and heavy-duty? To further explain, heavy-duty school binders are just as long-lasting as durable binders and feature the same DuraEdge and DuraHinge construction. However, our heavy-duty binders have extra functionality that makes them more efficient for long-term and very frequent use. For example, One Touch boosters make the binder rings easy to open with, well, one touch. Additionally, heavy-duty binders have more pockets for extra organization and quickly storing loose papers.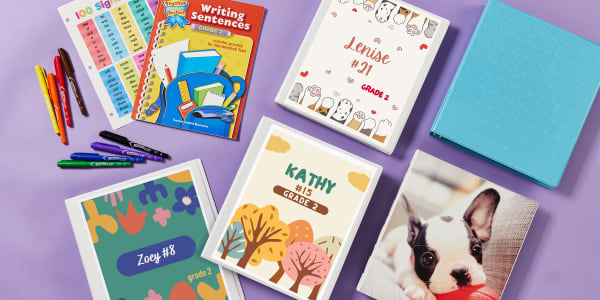 Best binders for elementary school kids
Generally, you will need smaller school binders for elementary-aged kids simply because they have less schoolwork than older kids. In fact, Chew and fellow school teacher Connie Jameson recommended between 1/2″ and 1-1/2″ wide three-ring binders for their elementary classes. Chew has written about her 5th grade school supply list here, and Jameson wrote about her supply list for 1st through 3rd graders here.
Chew further explains, "Binders with outside clear pockets on the front/back covers, as well as on the spine allow for customization and extra storage for notes [sent] home to parents." Besides choosing view-front binders (or view binders), as Chew recommends, inside pockets and durability are key considerations for elementary school binders.
By all means, choose economy binders if that's what your budget allows. However, if you can afford it, durable view binders are the best choice for elementary school kids. Not only do durable binders actually last all year, but they can also handle getting wiped down now and then when "gunk" inevitably happens. While the extra features of heavy-duty binders are not quite necessary for young students, you may also want to consider some more fun choices to help get kids excited. Cool colors and cute pictures can help kids connect with their school binder and be eager to use it.
Elementary school binder comparison chart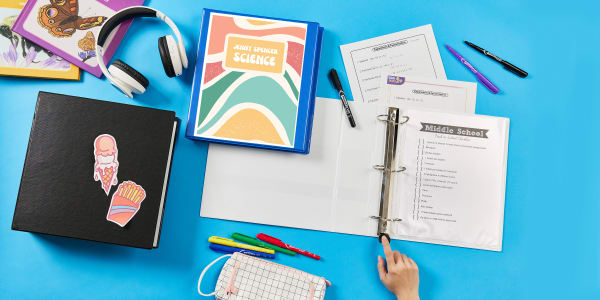 Best binders for middle school kids
As kids progress in school, their subjects and schedules tend to become more complex, and thus they need bigger and better binders to manage schoolwork. Indeed, for the first time, middle school (and junior high) students will have classes with more than one teacher each day. For the most part, school binders between 2″ and 3″ wide handle multiple classes and subjects best.
View binders remain a priority for middle school students so they can be customized. Whether that means identifying school binders by class or subject or simply personalizing them to suit your student's taste varies by school and teacher. If your student loves to decorate their binder, then our ideas to give binders a "happy boost" are a great starting point for their creativity to shine.
"My oldest daughter picks the styles she likes, which tend to be a view binder with pockets, and she likes a heavy-duty style."

Jenna Carson, HR and Operations Manager at Music Grotto and mom of three
It's worth noting that Carson's oldest daughter is in eighth grade, so it makes sense that heavy-duty binders are preferred. Once kids hit middle school and their academics get more intense, heavy-duty binders that are long-lasting and offer more function are often the best choice.
Middle school binder comparison chart
Best binders for high school kids
By high school, most students will have classes with different teachers for every subject. They will also have more homework and more studying responsibilities as they prepare to apply to college. At that point, it would be near impossible to contain all school materials in a single binder. Instead, one binder per subject keeps notes, homework, and class assignments better organized.
"I typically purchase 2-1/2-inch binders for my kids, as they tend to have a lot of materials for each class. However, for subjects that require fewer materials, a smaller 1-inch binder is sufficient."

Jeff Hunt, co-founder of the Kid Travel blog and father of four
And while high schoolers are old enough to take better care of school supplies, they really do have a lot on their plates. Durable and heavy-duty binders are great choices because they're simply more reliable in terms of lasting all year. Of course, more functions also come in handy just because high school students have so much homework and studying to do.
Additionally, view binders are very helpful for high school students. Given that they will need individual school binders for every subject, labeling them with spine inserts and/or binder covers is essential. Again, there is nothing wrong with economy binders if you need to stretch your budget! However, ideally, the best binders for high school kids are heavy-duty view binders.
High school binder comparison chart
Best binders for college
Perhaps more than any other academic level, budgeting is extremely important for college kids. As has been noted, investing in more durable binders means that they will last longer. However, realistically, college kids tend to be broke, and their parents' budgets are already stretched thin by tuition, housing, and textbooks. College students also require the most variety of school binder sizes, ranging from single-subject binders for taking notes to large binders for loose-leaf textbooks.
Loose-leaf textbooks are actually huge money-savers in and of themselves. Instead of students buying fully bound textbooks, schools and publishers often offer them as individual hole-punched pages at a deep discount. In the sections below, we'll break down the best binders for college notes and the best ones for loose-leaf textbooks.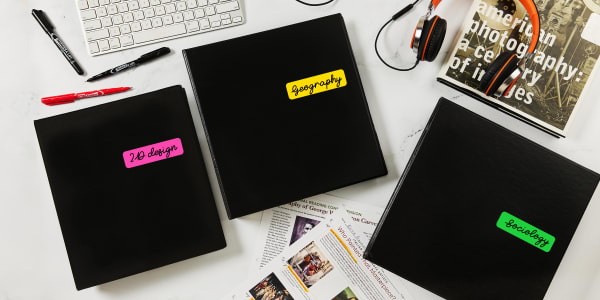 Choosing the best binder for notes
As previously mentioned, budget is a huge factor for college students. When it comes to school binders for college, the best binders for notes don't necessarily have a lot of bells and whistles. You really just need the basics in order to contain notes and information for each class. Additionally, you can easily (and cheaply) color-code non-view binders by subject with simple color-coding dots.
That being said, if you have the money to upgrade, durable is nice, of course, but especially look for rings that are easy to open. As noted above, our binders with One Touch rings offer a level of functionality that is super efficient. The rings hold paper securely but open with just one touch of the booster, which makes it extremely easy to add or remove pages quickly while taking notes or organizing them.
The best binders for loose-leaf textbooks
In contrast to binders for notes, the top considerations for binders used for loose-leaf textbooks are capacity and durability. As a matter of fact, we touched on this topic when we covered dorm organization tips. However, here we can break it down even further.
Firstly, consider that the average textbook is 200 to 400 pages, so a durable, 2-inch binder with a 500-sheet capacity will cover most textbooks. Surprisingly, the shape of binder rings can also increase the capacity. For example, our binders with EZD and slant rings hold more sheets of paper than round rings.
Secondly, it's important to consider the massive amount of sheets that must be contained. Durable and heavy-duty binders are best constructed to cope with hundreds of sheets, which get quite heavy. On top of that, binders with more functions are indispensable because textbook pages will be referenced nearly constantly. For these reasons, the best binders for loose-leaf textbooks are heavy-duty, 2-inch-view binders. However, it should be noted that the size needed can vary depending on the size of the textbook.
College binder comparison chart
Custom binders
While it's not likely that you will need custom binders for everyday use at school, they may be worth it in certain instances. For example, a custom binder may work well for important school projects, reports, and presentations or for materials submitted for academic competitions. If you do find that you need a custom binder for school, purchasing them online is easier and more affordable than you might think. Simply browse our collection of over 800 designs, personalize with custom text, and place your order.
How to customize school binders yourself
While custom-made binders may be reserved for specific school needs, customizing everyday school binders in some way is necessary. Most important is identifying the binder by subject, by student, or both. From there, you may also want to encourage your kids' creativity with fun designs or colors. At the same time, colors are a great way to code by subject.
"I like to customize my kids' binders with cover and spine inserts. View binders work best for this, providing clear plastic pockets that allow me to slip in personalized or school-specific covers or spine labels easily."

Mo Mulla, founder of Parental Questions (a family-run blog) and father of two
As Mulla points out, view-front binders are excellent for personalizing. In truth, they are by far the easiest school binders to customize because you can simply print your own covers or binder spine inserts. In fact, we wrote a detailed guide for making custom binder spine inserts that also includes free templates.
Of course, you can also use view binders to unleash creativity with crafty binder cover ideas using artwork, collages, or even glitter. If you don't use view binders, labels can be helpful for identifying binders or color-coding by subject, and stickers are a great way to add flare. You can even make your own DIY decals with one of our fun sticker sheet templates!
Binders for school should meet students at their level
At the elementary level, kids really just need one or two small view binders, bonus if they're durable. Elementary school binders are used mainly to get young students used to organizing their schoolwork, keep homework and assignments together, and ferry notes and handouts between school and home. In contrast, by middle school, kids need tougher and bigger binders to organize homework and assignments from several classes.
At the elementary level, kids really just need one or two small view binders; it's a bonus if they're durable. Elementary school binders are used mainly to get young students used to organizing their schoolwork, keep homework and assignments together, and ferry notes and handouts between school and home. In contrast, by middle school, kids need tougher and bigger binders to organize homework and assignments from several classes.
By college, budget is the one thing on both students' and parents' minds. Small 1″ economy binders for each course are ideal for taking notes. Meanwhile, 2-inch heavy-duty binders can best accommodate loose-leaf textbooks, which are also a big money-saver. Like high school students, college students may need custom binders from time to time, which are not as pricey as you might expect. However, customizing your own view binders is an extremely easy way for students of any age to identify binders by subject or course.
To sum it all up: size may vary from grade to grade, and there is always wiggle room to stretch a budget or add personality to school binders. However, overall, heavy-duty and durable view binders are the best binders for school at every level.