Makeover your personal planner and make it work for you
Whether you use a planner to stay on top of upcoming events, schedule out your day, log personal achievements or track daily habits, you've probably already come across many of the benefits associated with using a paper planner.
Staying organized, boosting time management and keeping a personal record of thoughts and ideas are just some of the immediate advantages. If you want to expand on these benefits even further, however, it may be time to take your basic planner to the next level with a beautiful and exciting use of color.
Here are three expert planner ideas to help you incorporate inspiring and personalized color-coding and color usage to improve the usefulness of your life planner.
Make sure your planner works for you by color coding tasks with removeable color-coding dots (Avery 5473) and different colored markers (Avery 9231). Or use Ultra Tabs® (Avery 74761) and colored highlighters to organize different tasks by color.
1) Is your planner color-coded in a way that really works for you?
Color-coding is a common way to keep your planner organized, and there are many ways to personalize your color-coding to work for you. For example, you can use specific colors to differentiate categories of events, identify priority levels of activities or indicate the difficulty or length of time needed to complete a task.
Whether you use various tabs, colored planner stickers, or different colored markers, the way you color-code can change depending on who you are and what you need from your planner.
For example, moms might use color-coding in their monthly planners to keep track of errands and home projects. Planning ahead and being prepared for these activities can help you get tasks done faster so you have more time to relax.
If you are the head of your household, here are a few personalized ways you can use color-coding in your planner:
Assigning chores to different family members
Tracking work and school schedules
Noting upcoming family events or appointments
Planning meals and shopping trips
Bloggers and influencers, on the other hand, may want to use color-coding to organize posts by platform. Use different colored tabs when drafting posts for Instagram, Facebook, Twitter, or your own personal blog or website to keep track of what is done and what still needs work.
Color-coding your tasks based on how long they might take can give you a better idea of how much you can get done per day. Noting how long you need to conduct a photo shoot, coordinate a guest post, or perform freelance work in your desk planner can help you better manage your days, saving you time and effort.
Students can also benefit from more personalized color-coding in their academic planners. Color-coding assignments by subject using color-coding labels can help keep homework and projects on track. Organizing your school planner by subject will allow you to focus on what needs to be done for each class.
Another way students can color-code planners is by priority. Use colored pens or markers to indicate the priority level of assignment and application deadlines, after school activities, work shifts, chores and social events. Seeing your priorities laid out can help you declutter your task list and make you more productive.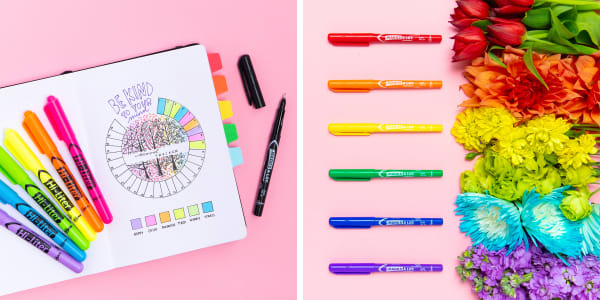 Get motivated with color. Log your daily emotions in black ink (Avery 09230), then use colored highlighters

(Avery 23585), ultra tabs and colored markers to improve your mood with colors that can inspire and energize you.
2) Boost your mood & get motivated with emotional colors in your planner
As mentioned earlier, planners will help you stay organized and save you time, but there are other great reasons to keep a planner – including using it to feel less stressed. Using an organized and personalized day planner to help manage your hectic schedule can help you feel calmer.
Adding color to your planner is a great way to channel more peaceful vibes. According to Psychology Today, color is an excellent motivator for boosting your mood and emotions. Bright, less saturated colors, for example, can help you to feel more relaxed, while more saturated, less bright colors inspire energy.
A great trick to improve your mood is by using colors to make yourself feel better about certain activities. Nervous about an upcoming dentist appointment? Use calming pastel tones like lilac or baby blue to mark it on your planner. Dreading chores? Happy colors like warm yellow or orange might just lift your spirits.
You can also use colors to get motivated for different tasks. Red, for instance, puts you on alert and inspires energy, which is perfect for indicating important due dates and deadlines. Green, on the other hand, has been known to inspire creativity and is ideal for marking crafting projects and artistic hobbies.
Another benefit of using color in your planner is to help you practice mindfulness and reflection. You can use colors to help you soothe your thoughts and focus your mind.
If you want your daily planner to mirror how you're feeling, use different colors to symbolize your mood. Dark blues and grays can reflect when you're feeling sad, while bright colors can reflect when you're feeling happy.
You can even set intentions of how you want yourself to feel using certain colors. Is there an event you want to feel more confident about? Mark it down with your favorite color index tab. Want to feel more energetic about a certain activity? Use bold, vivid colors. If you want to feel calmer, try more soothing tones.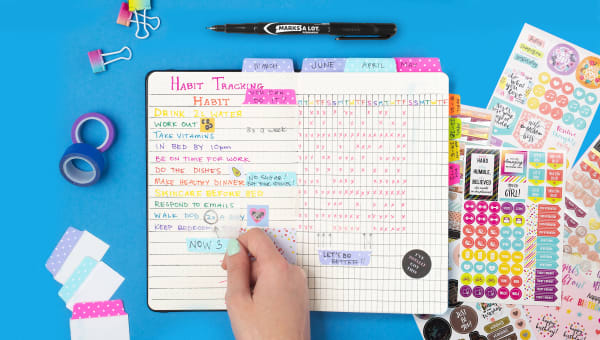 Improve your habit tracker with colors that inspire. Use colored markers and Ultra Tabs (Avery 74773) to encourage motivation or to mark tasks that need work.
3) Use colors in your planner for visually tracking habits
Having a personal planner as a habit tracker is very common and a great way to learn more about yourself. By keeping track of your behaviors on a daily basis, you hold yourself accountable which can motivate you to reach your goals.
Color can create a encouraging visual in your habit tracker to help you stay consistent with or improve your daily routine. For instance, if you use a certain color to mark items on your to-do list that get rolled over to the next day, seeing the color constantly may encourage you to stop putting those tasks off until the last minute.
If you use a specific color highlighter to indicate tasks that take much longer than expected, seeing it multiple times in your weekly planner can help you create more realistic expectations of your time, which can help you better plan your days and hopefully free up more time for yourself.
Knowing what each color stands for makes it easy to look back and review these types of revelations to give you a better insight on your habits and needs so you can stay on track of your goals. At the end of the day, using color to track your habits can aid your ongoing effort to improve your everyday life.
Explore ideas for making your planner more personal
Utilizing color and color-coding in these fun and easy ways not only increases the usefulness of your personal planner, but can also help inspire you and improve your mood. Add color to your planner for a personalized touch that shows off who you are and is tailored just for you.
We make it easy to find all the best planner tools you need to get the most out of your planner. Find the planner supplies you need to make your planner work for you. You can also explore ways to boost your bullet journal.
Products Used in This Article
Removeable Color-Coding Dots (5473)

Marks A Lot® Permanent Markers, Ultra Fine Tip, Assorted (9231)

Repositionable Margin Ultra Tabs, Pastel Colors (74761)

Removable Color-coding Labels (5472)

Marks A Lot Permanent Markers, Ultra Fine Tip, Black (09230)

Hi-Liter® Pen-Style Highlighters, Assorted Colors (23585)

Repositionable Mini Ultra Tabs, Primary Colors (74763)

Repositionable Multiuse Ultra Tabs, Pastel Dots (74773)