Your search for the perfect office supply list is over
Hybrid office models and remote work are more common and popular than ever. While this is certainly our experience at Avery, Forbes also writes about how hybrid and remote work are here to stay in this article. They also write about the incredible opportunities that remote and hybrid work create for inclusivity. And they're not the only ones saying this. According to this Businesswire article, remote and hybrid work increased to 84% in 2022, an increase of more than 30%. Office supplies to help you stay organized are essential, especially when you have work that travels between the office and your home.
Of course, remote work is not just working from home. It also includes working while traveling or working at different facilities. In fact, Avery employees quite frequently work remotely while away at industry conferences and conventions. Often, working while traveling for business compounds the need to stay organized. In addition to work papers and documents, there are receipts, itineraries, and travel documents to organize.
For all of these reasons, we've gathered the best office supplies to keep you organized anywhere. These are the necessities, whether at home, on the road, or at the office. What's more, real Avery employees share their personal picks for staying organized at work (wherever that happens to be). Our teams wouldn't be able to accomplish all we do without staying organized, so of course we're deeply invested in making supplies that make our lives easier.
Office supply list at a glance
Binders
Dividers
Paper sorters
Document holders
Sheet protectors
File folder labels
Labels (assorted)
Index tabs
Highlighters
Dry-erase markers
Best office supplies to organize paperwork
Using a binder and dividers to organize paperwork seems like a no-brainer. However, there are a few things to consider in order to get the most out of these tried-and-true office supplies. When choosing binders and dividers to organize paperwork that will travel between the office, home, or another remote location, there are actually two things to consider: durability and function.
1) Binders
As mentioned above, durability and function are two key factors to consider when shopping for a binder. We'll break down these factors below, but if you want to quickly browse styles and compare features, check out our helpful binder resource page.
So what do durability and function mean when it comes to binders? Well, durability speaks to the quality of materials used and how long the binder is expected to last. For example, our durable and heavy-duty binders are made with thicker cover boards as well as patented DuraHinge® and DuraEdge® technology. Binders with DuraHinge and DuraEdge are welded and molded differently to prevent splitting along the spine and edges, which are generally the first spots to wear out. Avery durable binders like these ones will always have DuraHinge and DuraEdge features.
As for function, that refers to the extra features binders (and other office supplies) have that make them easier or more efficient to use. Office supplies with added functionality make it easier to stay organized. Extra pockets, a view cover, and a OneTouch™ binder mechanism, as well as EZD and slant rings, are examples of extra features that improve a binder's functionality. While EZD and slant rings refer to the shape of the rings and allow for more sheet capacity, OneTouch is all about how the rings open.
Indeed, OneTouch is a special kind of binder mechanism that opens with just one touch of the lever. This makes it very easy to open and close the rings securely when inserting, removing, or organizing papers. On the whole, Avery heavy-duty binders have all the qualities of our durable binders. Along with the afore-mentioned extra features, this makes heavy-duty binders some of the best and most functional office supplies for long-term organizing and very frequent use.
Best binders for on-the-go
Shop the most popular office binders with the best durability and functional features.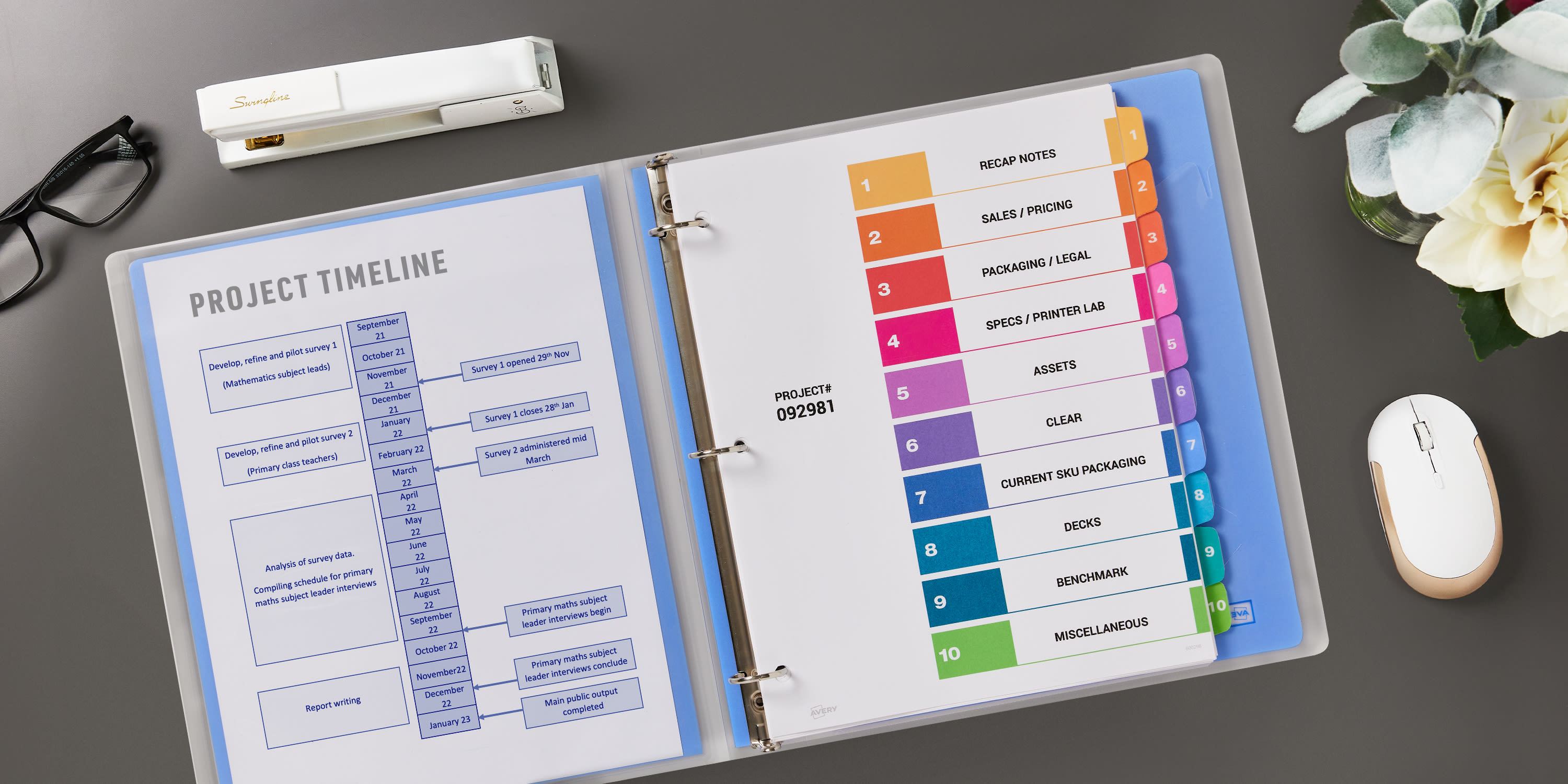 2) Dividers
As has been noted, durability and function are the most important factors to consider when buying office supplies for staying organized, especially binders and dividers. When it comes to durability, plastic dividers simply can't be beat. As a matter of fact, Tina Huff, Avery OPG Marketing Director, uses Avery 11906 plastic dividers with pockets for both home office documents and recipes in the kitchen! Our durable plastic dividers are water-resistant and so easy to wipe clean that we've actually written about them before in an article about organizing recipes.
Functional divider features
Recipes aside, dividers are fantastic office supplies with a wide range of functions when it comes to organizing paperwork. Specifically, Print & Apply dividers with tab labels you can apply all at once or a printable table of contents are ideal for organizing paperwork fast. For instance, Avery Product Manager, Amy Wong, uses Avery Ready Index® dividers with a table of contents for big projects with many aspects. Ready Index dividers feature preprinted tabs and a printable table of contents page that you can customize for any project.
I like these table of contents dividers and a binder for all of my large projects so I can just grab the project binder for meetings and for referencing. They're also ideal for when I transition projects to other product managers.

Amy Wong, Product Manager
Similarly, Print & Apply dividers make labeling dividers faster because of the way the tab labels are applied. First, you customize your tab labels online and print them out. Instead of applying each clear label individually, you apply the entire strip of labels all at once. Not only do the labels go on quickly, but they are perfectly aligned and offer a "printed-on" look.
Top dividers for work
3) Desktop paper storage
"In my home office, I use an accordion file to organize important personal papers like tax forms, etc. This is just a convenient way to sort papers and it is portable."

Colwin Chan, Avery Industrial Marketing Director
Colwin nails it with his use of an accordion file. Certainly, the ability to organize and sort papers is the absolute most important feature of desktop paper storage. If it's portable, all the better. Accordion files, paper trays, file racks, and expanding file folders are all great examples of office supplies that make it easy to sort and organize paperwork.
For stationary organizing, the Avery 73523 expanding file rack is a standout. Office supplies that offer standing storage are great space-saving solutions, especially for a small desk or home office. Similar to Colwin's accordion file, expanding file folders are convenient for travel, whether that means hybrid work in an office or remote work during business travel. The Avery 73542 expanding file folder (like the ones in the video above) has the advantage of folding very flat, which makes it more convenient for packing in a suitcase than an accordion file or even a binder.
Best office supplies for loose documents
There are many office supplies for organizing and holding loose documents. This is likely due to the fact that there are many documents that can't or shouldn't be hole punched, which makes them difficult to store in a binder on their own. For example, manuals and warranties, booklets, and vehicle contracts are all too bulky for hole punching.
Additionally, some important documents may need an extra element of protection to preserve them. Vital documents such as birth certificates, social security cards, marriage licenses, wills, power of attorney documents, and insurance policies should be stored in archival-safe plastic to keep them in pristine condition.
In the section below, we'll specifically be breaking down the best office supplies for these types of loose documents.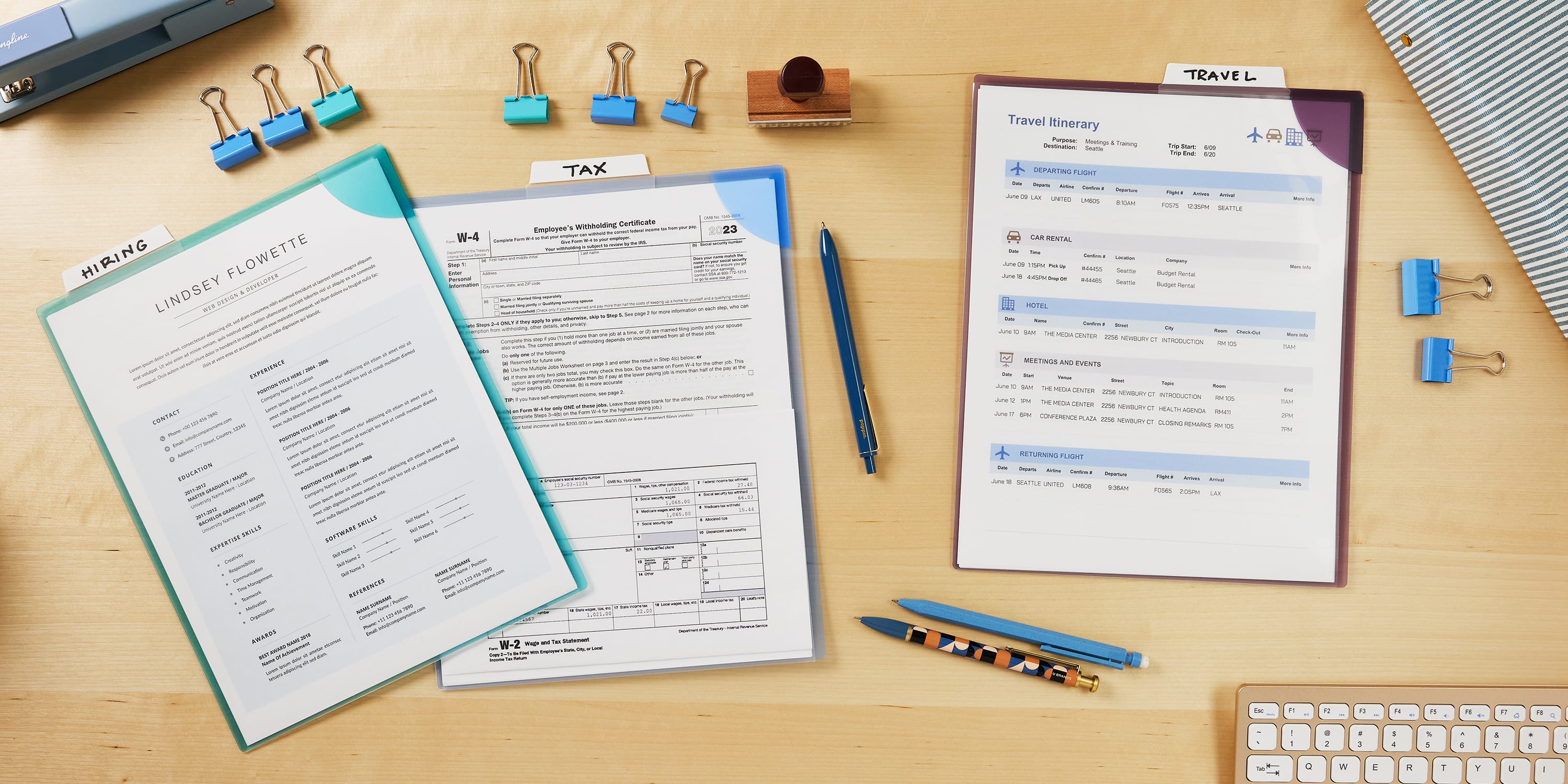 4) Document holders
Document holders are office supplies designed for organizing and protecting loose documents. They are often very portable. Some examples of document holders include folders and report covers, as well as document wallets and sleeves.
"If I'm traveling (especially to a remote location or abroad), I'll keep printouts of reservation confirmation numbers, AirBnB lockbox codes, and other information that I'd need if I couldn't connect to the internet."

Joan Prangnell, Senior Director of Marketing Operations
Joan singles out Avery 72262 Corner Lock® document sleeves as a personal favorite. She favors these office supplies for organizing paperwork specifically because they are light, flexible, and easy to fit in a laptop bag. The special corners also keep papers securely inside. Joan uses Corner Lock document sleeves in three key ways:
When hiring for a role, she keeps all the resumes of applicants in one sleeve along with her interview notes.
As mentioned above, Joan uses them when traveling so that she has vital information even when there is no Wi-Fi or internet signal.
For taxes, she groups related documents into their own sleeve, then pulls them out the next year to use a "checklist" to make sure she has an updated file.
Eric Kim, Digital Marketing Group Manager, agrees with Joan on document sleeves. However, Eric prefers simple, clear document sleeves, like these ones that come in a pack of 12.
"Document sleeves help with organization by keeping papers together quickly and conveniently. There's nothing flashy about them, but they're so simple to use and handy for quick organization."

Eric Kim, Digital Marketing Group Manager

5) Sheet protectors
While document sleeves, report covers, and folders are perfect for quickly organizing paperwork on the go, there are some things that just don't fit. For example, thin instruction booklets and manuals as well as warranties, are often too bulky for a folder, but not big enough to stand alone. However, you can still store them in a binder with the right sheet protector. Because these types of items are bulkier than single documents and often oddly shaped, heavyweight sheet protectors like these ones with a secure top will work the best.
However, heavyweight sheet protectors are not always needed. When it comes to protecting important documents like training certificates, birth or marriage certificates, legal documents, wills, etc., the most important thing is that the sheet protectors are archival safe. Archival safe means that the plastic is chemically stable and is as close to PH neutral as possible so that the plastic won't degrade and damage documents over time.
Luckily, all Avery sheet protectors are archival safe, so for protecting simple one-page documents, these ones are the best value at the lowest price point.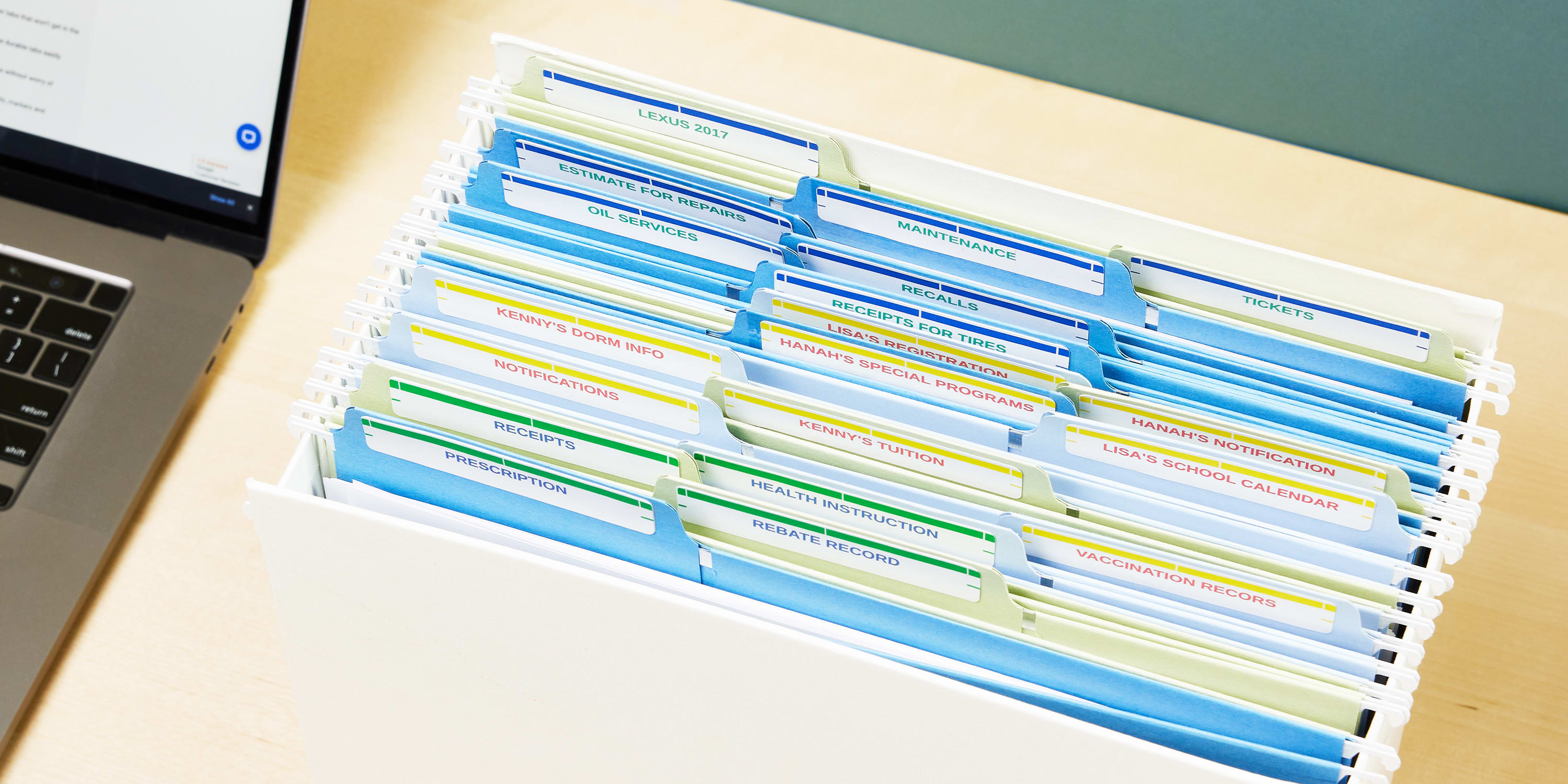 Labels for office storage and archiving
When it comes right down to it, the difference between organizing and simply hiding clutter in containers is that there is a system. Certainly, everything has a place, and there is a procedure for sorting, archiving, and disposing of clutter. Labels are essential office supplies for organizing because you need them to label office storage and create an archiving system for paperwork.
6) File folder labels
Indeed, you are better off sorting all documents in your workspace by "active" and "archived." This is true whether you work in an office or at home. However, it's especially critical if you work in a hybrid environment or travel a lot for work. On the one hand, documents that you are actively using on current projects need to be kept nearby. On the other hand, you have documents that are used for reference now and then or kept as records. Those documents should be organized in file folders and neatly stored out of the way.
Compare the way Amy organizes project documents in a binder (which we detailed above) versus the way she organizes documents in her home office. Medical records, vehicle paperwork, and files for her kids are archived in a file cabinet. These documents are very important; however, she does not need to reference them that often. Because the documents are important, she uses color-coded file folder labels to keep them organized. Avery 5266 file folder labels with TrueBlock® technology, in particular, are her go-to because they're color-coded and are great for covering old labels.
In general, file folder labels with TrueBlock technology are an office favorite because they completely cover anything underneath the label. There is a special backing on these labels that prevents dark markers, barcodes, and even images from showing through, which means you can use them to re-label file folders over and over again.
7) Miscellaneous labels
In all honesty, labels of all kinds are great office supplies for organizing. When you label office storage containers, you create a place for everything. Not only does this make it easier to find what you're looking for, but it also makes it easier to put things back where they belong and stay organized. Of course, there are literally hundreds of label size, material, and shape combinations available to you. Take for example our blank labels sold by the sheet. You can pick the material, shape, and even a custom size to fit your exact needs.
That being said, we think there are two specific label products that are a great place to start when you are organizing for work. The first one is this pack of printable, multipurpose oval labels, which is fantastic for labeling containers big and small. The second one is barbell labels that you can buy by the sheet. We consider them the MVP when it comes to organizing cords and cables, and not only can you order them in a custom size (free of charge), but you can also choose the material.
Both the multipurpose labels and barbell labels can be printed on either laser or inkjet printers. This is important to know because not all labels can be used with both kinds of printers. It's so important to match labels to the type of printer you have that we wrote an entire article about it here.
Supplies that are best for organizing information
Staying organized is not just about keeping physical objects tidy. It's also important to keep information organized while working, especially when it comes to productivity and time management. In fact, disorganized notes, schedules, and paperwork are major "time-killers" and make it difficult to work efficiently. It's so much easier to lose track when you're working in multiple locations or while traveling, so this aspect of organization is even more important on the go.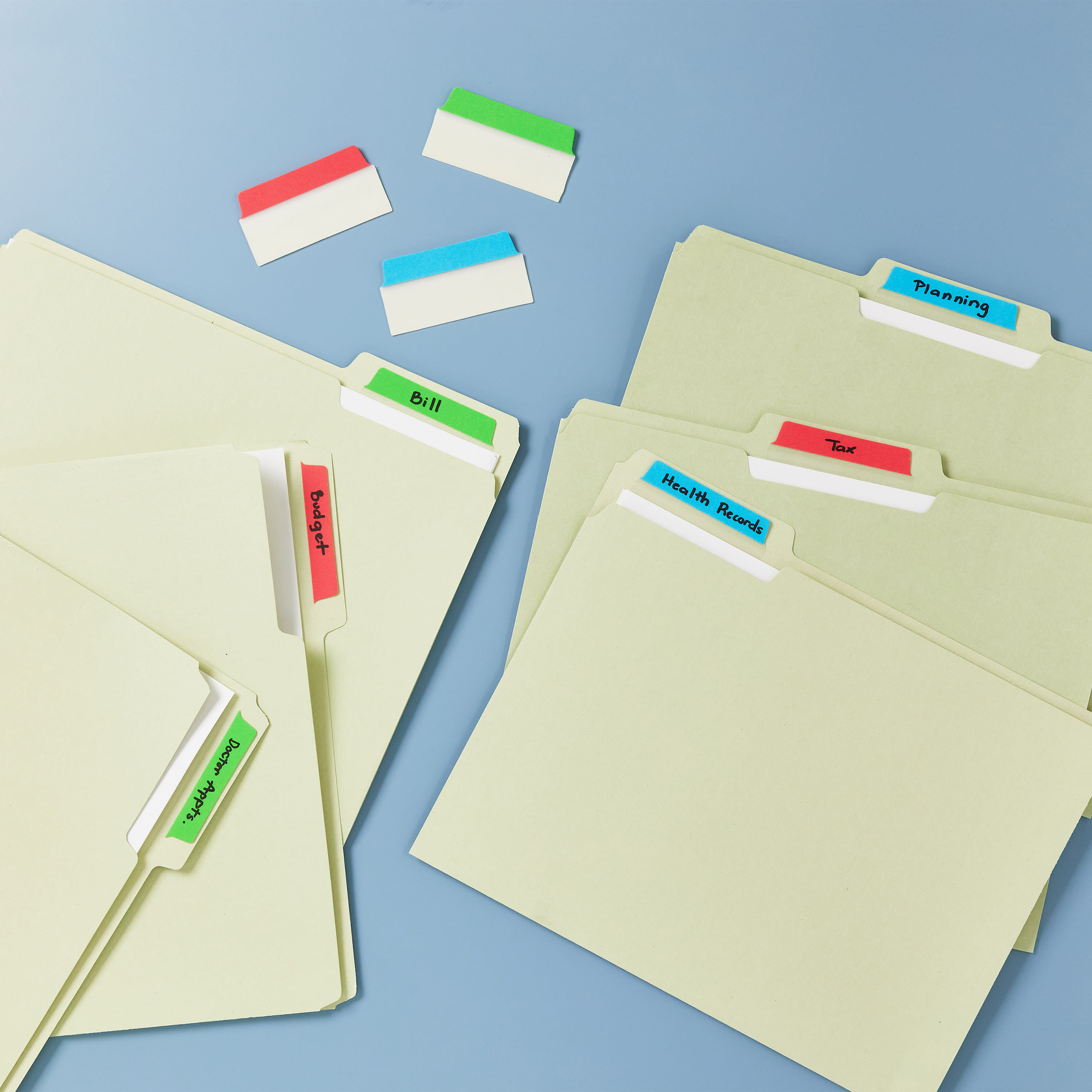 8) Index tabs
"Using removable sticky tabs to define each section gives me both flexibility and quick access."

Kevin Mon, Director of Creative Content & Packaging
By far, Avery UltraTabs® are the top office favorite. UltraTabs are adhesive, repositionable index tabs, and literally everyone that contributed to this article mentioned them on their list. All things considered, it's easy to see why—they are simply so versatile.

To illustrate this, let's take a look at how several Avery employees use them. Tina, Amy, Colwin, and Kevin all use UltraTabs for organizing their notebooks. However, Tina uses them to color code her notes, while Kevin and Amy use them to define sections in their notebooks. Alternatively, Colwin uses them sporadically for flagging important items.
Joan uses UltraTabs in a similar way, but she uses them together with dividers to define sections in her personal planner. Additionally, Eric uses them to identify folders for sorting important paperwork. At the end of the day, these colorful little index tabs keep winning because you can use them with binders, planners, notebooks, folders, and even calendars. Yes, folks in our office even stick them on their monitors and whiteboards with little notes and reminders.

9) Highlighters
Highlighters actually work very well with UltraTabs for highlighting information in planners or on documents. For example, you can use an UltraTab to indicate the page, then use a highlighter to pinpoint the exact text on that page. We love this highlighter pack with assorted fluorescent colors because they're super easy to color-code with neon UltraTabs 74767 and 74762.

10) Dry-erase markers
Never underestimate dry-erase markers on your office supply list! They are essential for organizing schedules, to-do lists, reminders, and brainstorming on whiteboards. Furthermore, dry-erase markers make it easy to work through ideas visually without wasting paper, so there's less to sort and store. We especially like the 29870 assorted pack. It comes with different colors for color-coding as well as different barrel and tip styles to suit a variety of preferences.
Choose the best office supplies to stay organized
Whether you work on a hybrid schedule, in the office full time, or while traveling for business, staying organized increases productivity. It also helps you work with flexibility so you're always on top of your game no matter where you're working. In our roundup of the best office supplies for staying organized, we included tried-and-true favorites from actual Avery employees. Because we work at home, at the office, and on the road, we know what it's like, and we're deeply invested in making office supplies that make our lives easier too.
From there, we divided the office supplies on our list into several categories: the best office supplies to organize general paperwork, the best for dealing with loose documents, labels for office storage and archiving, and supplies for organizing information. For paperwork, binders, dividers, and desktop paper storage are the superstars. For loose documents the best office supplies are sheet protectors, folders and report covers, as well as document wallets and sleeves.
As for labels, file folder labels with TrueBlock technology won the day. However, a good pack of multipurpose labels for office storage and barbell labels for cords and cables are also standouts. When it comes to organizing information, it's clear that color-coding is a top priority. Avery UltraTabs are hands-down the office favorite for their extreme versatility. Meanwhile, highlighters and dry-erase markers are office staples for our teams as well.
What are the office supplies you can't live without? Share your experiences in the comments. Or join the discussion on Facebook or our LinkedIn page. You can also find more organization inspiration on our Pinterest page and our Instagram account.