How to create a recipe binder
If you want to create your own recipe binder you just need four simple "ingredients." Of course, you need a binder. Then, sheet protectors, recipe cards, and dividers. From there, it's just a matter of picking out the right versions of those four "ingredients" and putting them together. We're going to make it super easy for you to choose the right recipe binder supplies by breaking it down step by step. And, we'll answer some commonly asked questions about recipe binders along the way. To get things cooking here's a sneak peek of our favorite three-ring binder for organizing recipes.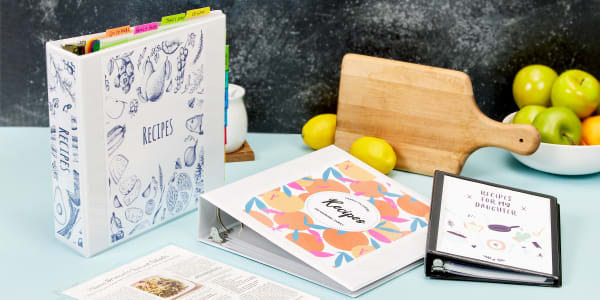 What's special about a good recipe binder?
Recipes are more than just meals, they're also stories. Like a photo album, you can flip through your collection of recipes and remember warm moments with friends and family.
As people come and go through your life, your recipe binder can keep their memories alive. Whenever you read their handwritten notes and their scribbled corrections to measurements, it brings back the tender moments you forgot you shared.
But while kitchens can be warm and loving places, they can also be messy and greasy as well. And as you learn and grow, you might discover that you want to change how you organize and note your recipes. As such, the best recipe binder will be tough and water-resistant but also modular and flexible.
Choose a durable binder for your recipes
Flour, grease, and water have minds of their own. Every good recipe book will end up with fingerprints, floury handprints, and dog-eared and water-damaged pages. But you can keep your recipes safer and last longer by choosing the right binder.
If you like to make custom covers and spines, heavy-duty view binders are built to last and also include pockets to add inserts. These are great for organization and for creating DIY gifts. Another great feature is that these binders only require one touch to open and close the binder rings. This makes it so much easier to organize your pages and quickly share recipes.
While they don't have as many features as our heavy-duty binders, Avery durable binders may also work for your recipe needs. Check out our helpful binder resource page for the key differences between heavy-duty and durable binders as well as a helpful comparison chart.
Best size for a recipe binder
Depending on the size of your recipes and the size of your kitchen, you can choose either a mini binder for 5-1/2″ x 8-1/2″ pages or a standard binder for 8-1/2″ x 11″ pages. Mini binders can be a closer match for recipe cards while standard-sized binders are better for printed webpages.
Another aspect to consider is the ring size, which will determine how many pages and sheet protectors you'll be able to store. You might want to go another size up to make sure you have room for future recipes.
Depending on how you prefer to catalog your recipes, and your preferred binder size, the best sheet protector for the job can vary as well. Here are the binders and sheet protectors we would recommend for the most common use cases:
Free templates to customize standard-sized binders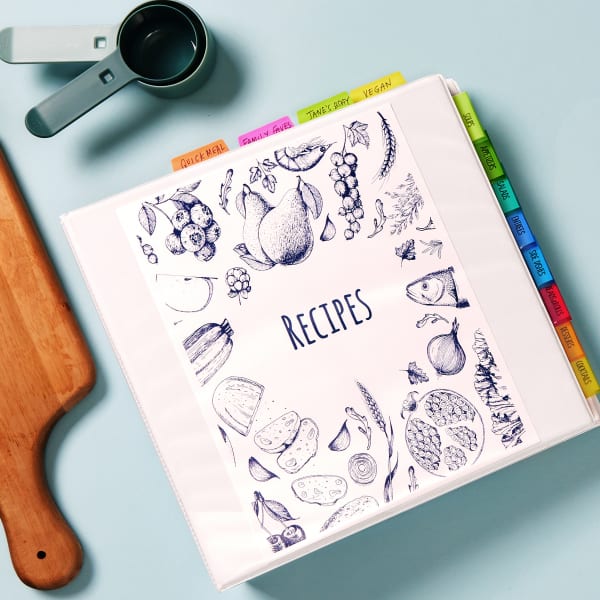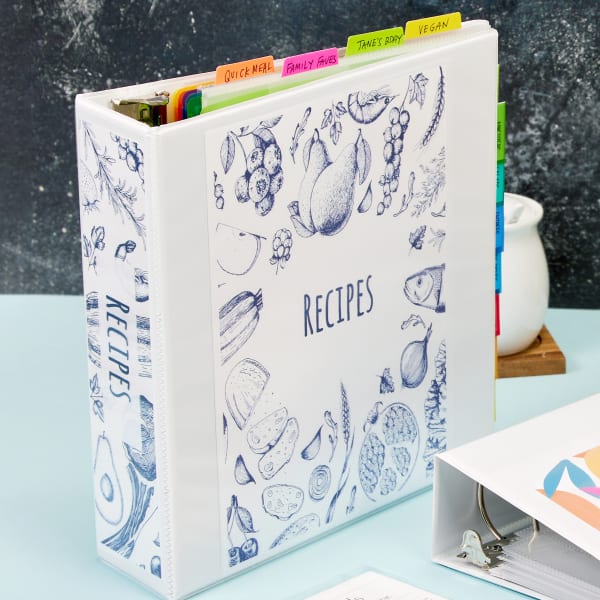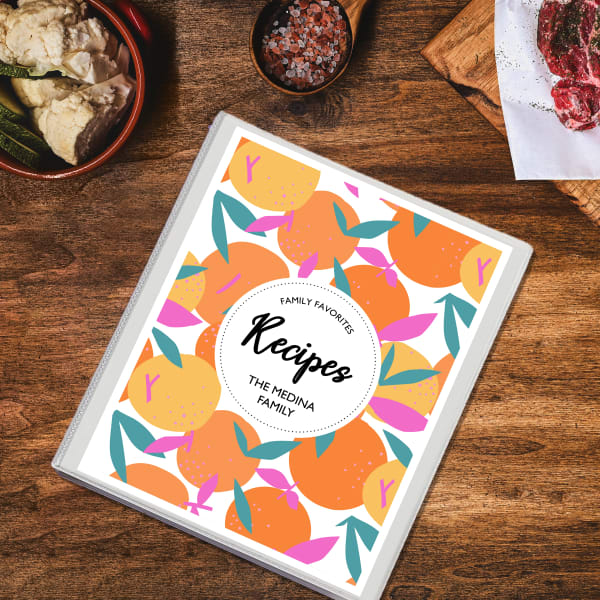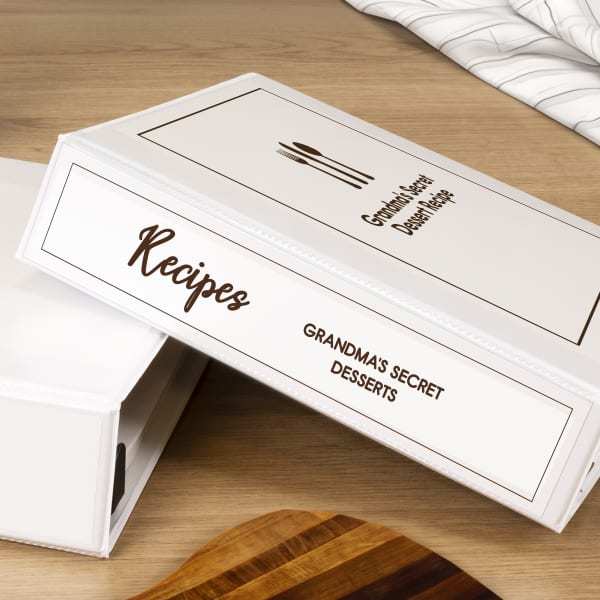 Free template to customize mini binders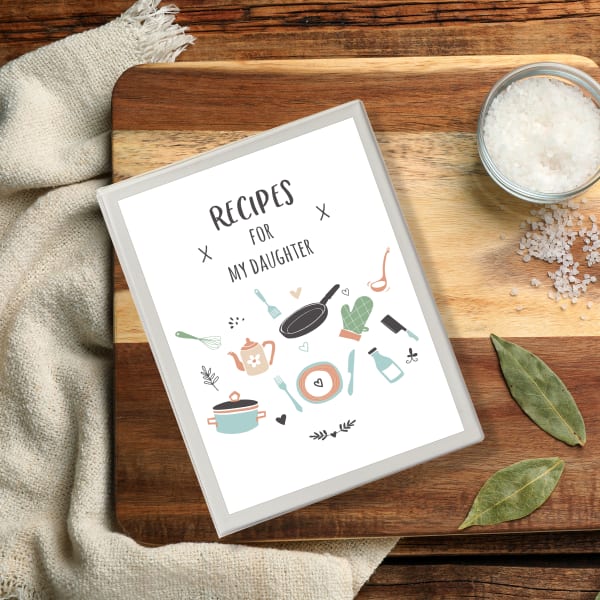 Print this design on 5″ x 7″ paper or cardstock to create a cover for mini view binders.
The best sheet protectors for recipe binders
Sheet protectors make it incredibly easy to preserve and organize your recipes. While we also love the feel of a classic recipe card box, sheet protectors will add an extra layer of protection from spills.
The right sheet protector will be acid-free and archival-safe to make sure your recipes are stored safely for long periods of time. The plastic material also lets you make notes with dry-erase markers so that you can make adjustments without permanently marking old recipe cards.
For most standard-sized binders, our photo pages will be the best overall option. These pages can hold two 4″ x 6″ recipe cards per page and can also hold 3″ x 5″ handwritten family recipes.
If you prefer to save pages from magazines or printing out pages from websites, our 8-1/2″ x 11″ diamond clear sheet protectors are a perfect fit. This super heavyweight option is great for adding support to thinner pages and sheets if you like to prop up your binder on a stand while cooking. And the Secure Top feature uses a flap over the top for extra protection from spills and to keep recipes secure.
For mini binders, our 8-1/2″ x 5-1/2″ diamond clear sheet protectors will be the best choice. These are perfect for holding one 5″ x 7″ recipe card per page and include extra hole-punches for extra compatibility with other mini binders with different ring patterns.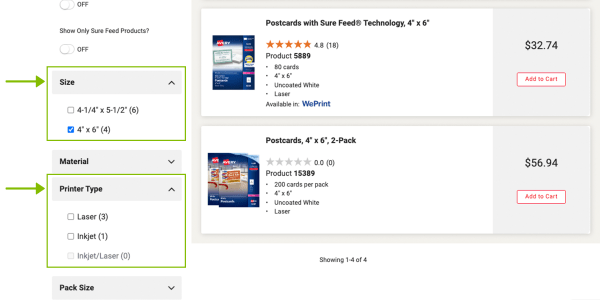 Pick the perfect recipe cards for your binder
Traditionally, most recipe cards will be either 4″ x 6″ or 5″ x 7″. And while they may seem very close in size, there are important differences to remember before your choose the recipe cards for your binder.
The most common size is 4″ x 6″, which will be a better fit for photo album pages and more accommodating for larger collections. Our 4″ x 6″ postcards are a great starting point if this size is a better match for your collection.
5″ x 7″ cards provide extra space that is great for curated collections and gifts. For example, our 5″ x 7″ metallic gold-bordered invitation cards are perfect for creating eye-catching recipe cards.
However, regardless of the size you choose, you should also keep a close eye on the printer type required for each card. Using the wrong type of card for your printer can cause smearing and smudging and can create a mess as you slide them into a sheet protector.
You can also browse our entire collection of card categories to see if other shapes and sizes might be a better fit. Once you click on a category, you can use the filtering options on the left side of our site to narrow the results by size, printer type, quantity, and more.
For a deeper dive, take a look at our article on how to make recipe cards to learn more. Our article gives step-by-step instructions with screenshots of Avery Design & Print Online, as well as a gallery of free templates, to help you get started.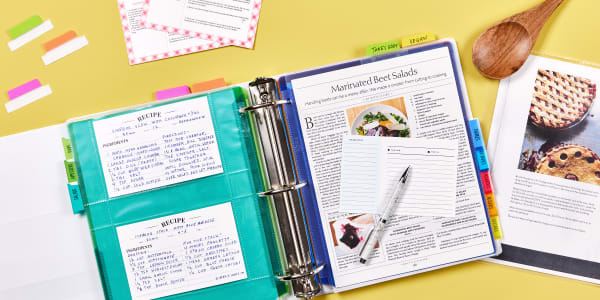 Organize your recipe binder with dividers
Like a clean and orderly kitchen, making sure your recipe binder is well-organized will make the cooking process so much smoother. And plastic dividers and tabs are reliable, customizable, and durable ways to keep your recipes in order.
Depending on your kitchen, there are a variety of different ways you can organize your recipes. But here are a few simple categories to help you get started:
Courses (Entrees, side dishes, desserts)
Diets (Paleo, keto, vegan)
Religion/Culture (Kosher, Korean, Mexican)
Seasonal (Thanksgiving, Christmas, Hanukkah)
Prep type/time (30-minute meals, fermentation, pickling)
In general, we would recommend extra-wide plastic dividers for organization since they're durable, water-resistant, and make sure the tabs extend past sheet protectors. They also make it easier to flip and lift up multiple pages at once.
Our Ultra Tabs® are a great choice for adding quick notes to any page on the spot and also for creating subsections between divider tabs. For example, you could use them to flag family favorites, color-code vegan options in different categories, and highlight special ingredients.
The secret ingredient in every recipe binder
Elizabeth C. Corey has a beautiful story about a recipe binder she found at an estate sale. In it, she slowly discovered a person's entire life story in the form of Frigidaire appliance ads from 1964, recipes with old-fashioned ingredients like oleo and lard, and handwritten notes for "Russell's favorite cake."
Over time, your recipe binders will collect your memories, your favorite flavors, and sumptuous scents. And small scribbles on tabs and margins that read "Summer, 1998" or "Friendsgiving, 2016" will instantly snap into focus long-dormant discussions and maybe a few long-forgiven arguments.
Your personal tastes, your decisions, and the advice of countless friends and family are what will make your recipe binder irreplaceable. Regardless of whether you're a novice cook or an expert chef, the story your recipes tell will be the secret ingredient.
Have a craving for more ways to organize your kitchen? Find some more kitchen organization ideas on our Pinterest board. Also share your recipe binders with us on Instagram using #averyproducts.