A quick and easy way to create personalized address labels is with Avery Design & Print. Here's how to use the mail merge feature to turn your address list into labels in minutes. This is a must-have for mass mailings you're sending to multiple recipients.
If you don't have a spreadsheet of your contact names and addresses yet, you can get started with our pre-formatted files for Microsoft Excel or other database programs.
Step 1: Go to Avery Design & Print Online
Open the free Avery Design & Print Online software at avery.com/print. To start a new project, type your Avery product number and hit Enter on your keyboard.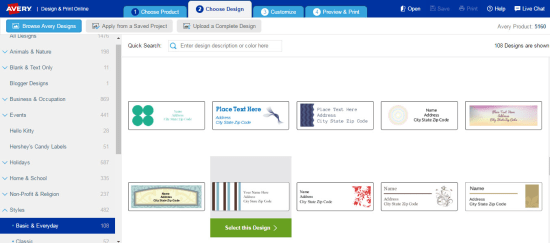 Step 2: Choose your design
Use the menu on the left to view design categories. When you find a design you'd like to use, click Select this Design.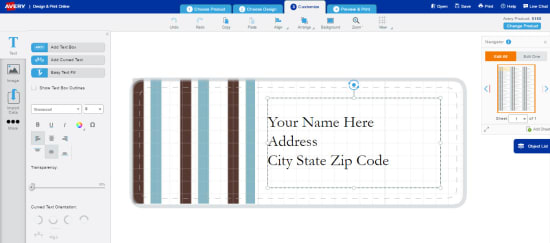 Step 3: Select text box and import data
First, resize the text box to be big enough to hold your addresses. Otherwise, your text will be shrunk to fit. Next, click on the edge of the text box and select Import Data from the menu on the left.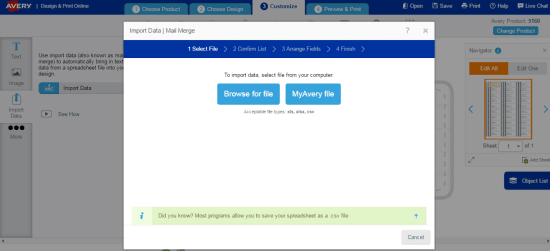 Step 4: Locate your spreadsheet
Browse to find your spreadsheet file on your computer.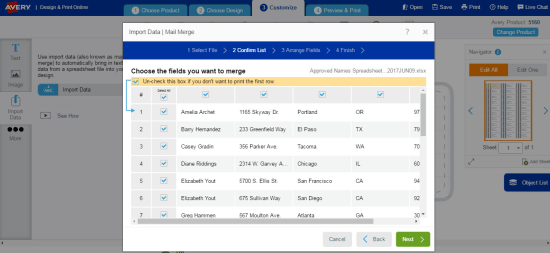 Step 5: Review address list
Uncheck any items you don't want to be included, such as the header row on your spreadsheet.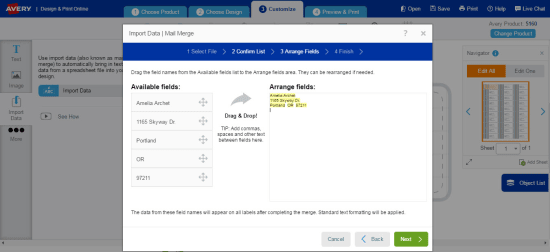 Step 6: Arrange fields
Select a field on the left and drag it over to place it on the right. You can also double-click. If you accidentally drop a field in the wrong place, simply delete then drag and drop again.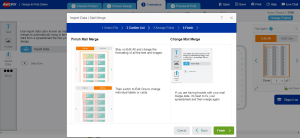 Step 7: Mail merge
Review the instructions for making changes to the format of your content. Then click Finish.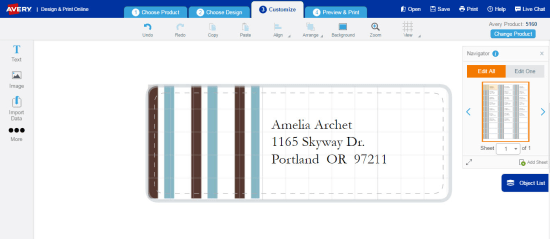 Step 8: Make final formatting touches
Changes you make will apply to all the labels while the Navigator is on Edit All, so finalize your design first. Then switch to Edit One if you need to change any individual labels, but after that, Edit All will no longer apply to those labels. Click Save and then Preview & Print.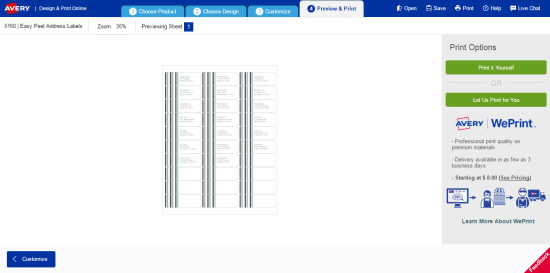 Step 9: Choose your print option
Select Print It Yourself to print using our Blank Labels by the Sheet or our retail packs your own printer. Choose Let Us Print for You to have Avery WePrint, our professional printing service, print your project for you and deliver it to your door in about three business days.