We asked working moms to talk to us about the MVP school supplies in their house
In a qualitative survey, we talked to moms between the ages of 24 and 54, with at least two kids in school. We asked them to tell us about the superstar school supplies that get help them get the kids set up for back-to-school. Turns out the top school supplies also keep mom organized at work and home.
One of our own working moms at Avery was also on hand to chime in with her own top 5 back-to-school supplies and how her family uses them. Avery Senior Manager, Sheila V., has two boys in school, ages 11 (6th grade) and 13 (8th grade).
Join us as we count down the top 5 must-have back-to-school supplies for moms and kids.
Other back-to-school resources you might like:
9 Back-to-Learning Tips to Help Your Kids Thrive in the New School Year
Back-to-School Disinfecting: Kids Labels You Can Actually Clean!
Hands-On ELA Study Tips to Help Elementary Kids Become Better Readers
Back-to-School Checklists for All Ages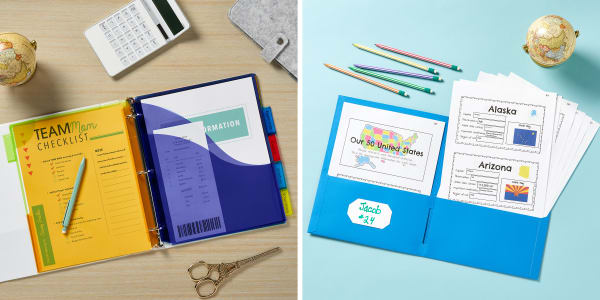 Defeat paper clutter, and help your kids learn to do the same. Shop binders, dividers and pocket folders that organize papers at school, work or home.
#5 Dividers: On every school supply list for organizing binders
Binders are a back-to-school essential, so it's natural that dividers to keep those binders organized are on every school supply list. The hottest trend right now is plastic dividers that are durable enough to last the whole year, be reused and be wiped down with common disinfectants.
Look for these divider features when shopping back-to-school supplies to share:
Pockets! Super handy for moms and kids. Dividers with pockets are essential school supplies for perfectly keeping loose papers sorted within your binder instead of all jammed together in the binder pockets.
Easy-to-change tabs. Dividers that make it easier to rename your tabs are extremely versatile school supplies. For example, dividers with erasable tabs or insert tab dividers. Insert tab dividers are great because you can just buy new tab refills instead of new dividers.
#4 Pocket folders, the best school supplies for organizing loose papers
Pocket folders are one of those school supplies that are great to buy in bulk. They come in handy for so many different projects at school, work and home. From reports at school or work, to tax forms, insurance records and other important paperwork at home.
Just sorting and reducing paper clutter can go a long way to building good habits that help you get organized at home. Pocket folders also showed up on our list of teacher-recommended school supplies for helping 5th graders get organized.
#3 Binders: the undefeated champ of back-to-school supplies for kids
Binders are number one on every school supplies list. They're also one of the best office supplies to help you get your desk organized, whether it's part of your workspace at home, or in an office building.
There are a lot of binder styles to choose from when shopping for school supplies, but durable view front binders are by far the most versatile for school, office and home.
Avery Design and Print Online (ADPO) features tons of free binder cover and spine templates to use with view front binders. You can personalize with custom text, colors and graphics. You can also design your own binder cover art in ADPO using the graphics library, or upload your own digital artwork.
Check out these fabulous ideas for .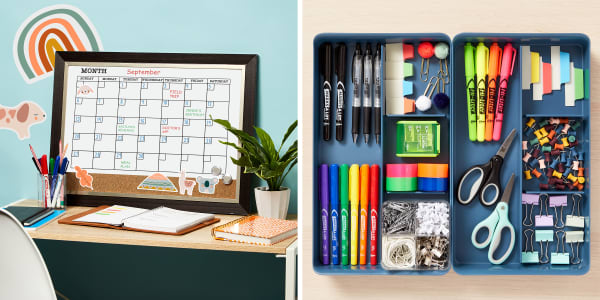 Writing instruments rule back-to-school supply lists for moms. Shop highlighters, dry-erase, permanent markers and more in tons of different colors and styles to stock home, office and backpacks.
#2 Dry-erase white boards: MVP of school supplies for families
White boards and dry-erase markers are essential school supplies for busy families. From doing homework or distance learning, to organizing schedules and sharing reminders, white boards are an incredibly practical tool.
Organizing everyone's agendas on a dry-erase calendar is the best way to manage a busy family's schedule. Especially during times of transition like back-to-school season, or parents transitioning from work-from-home to in-office schedules.
#1: Writing instruments, the most universal of back-to-school supplies
Home, school, work— something to write with is one of the most basic needs. It makes total sense that pens, pencils, highlighters, dry-erase markers and permanent markers topped the list of must-have school supplies from moms.
Pro tip: Need to label your pen, pencils and other small school supplies?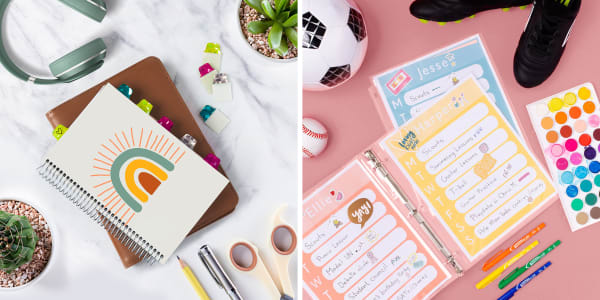 Sheila's personal mom tip: "Do yourself a favor and just stock up on Avery UltraTabs® and sheet protectors. They might not be the first back-to-school supplies you think of, but they're next-level handy!"
Sheila's personal top 5 school supplies that do double duty
Highlighters. "We use them mostly for school. They're always on both my kids' school supply list, but we also use them at home for coloring. I use them for color-coding notes at work, or adding color in my personal planner."
Ultra fine permanent markers. "At school the boys use them for 'ink processing' their school reports after writing in pencil first, or correcting each other's papers in class. We also use them around the house often. For me, it's mostly crafting or art projects. For the boys… it's mostly 'no brothers allowed' signs."
Dry-erase markers. "Talk about MVP, these were some of our most-used school supplies during distance learning, per teacher's requests. Now during the summer months, I've been using them for tracking our family cleaning schedule. The kids check off chores from a list before their daily screen time allowance is issued."
Sheet protectors. "Versatile school supplies with a lot of bang for a little buck. We use them as intended to organize paperwork at school and work, but also as makeshift dry-erase boards and to make worksheets reusable. I also use them to organize summer craft projects, store their drawings and organize my recipes."
Repositionable tabs. "These aren't always on school supply lists, but boy are they useful! The kids use them like crazy on their notes and as bookmarks in their school agendas, textbooks and books for reading. I use them all the time at work when I'm going through data reports, and they're a next level tool for bullet journaling."
Working moms know how to make it work, during back to school and year round
If anyone knows how to stretch a budget and be resourceful it's definitely moms. Working moms especially, are pulled in a lot of different directions and are experts at leveraging back-to-school supplies for organizing at the office and at home too.
What are your must-have back-to-school supplies? Connect with us on Instagram or Facebook and let us know!