What is a Bullet journal?
At its core, bullet journaling is a personal organization method developed by Ryder Carrol in his book The Bullet Journal Method. His method combines a planner, to-do list, goals, notes and more into one notebook. Entries are typically marked with bullet points, dashes and even doodles for easy review.
The best bullet journaling experiences build on the principles outlined by Carrol, and explore more ways to organize and express your creativity in a way that's uniquely you. Learn how to instantly boost your BuJo using a few simple tips and the best bullet journal supplies for personalizing the way you plan.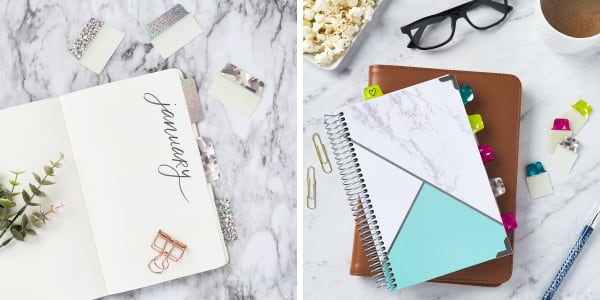 Instantly elevate your bullet journal with luxe index tabs. Shiny silver tabs in holographic and glitter prints and holographic colors are irresistibly sparkly and fun (Avery 74145, 74146).
Add your own tabs to quickly navigate your bullet journal sections
One of the best parts of using a bullet journal instead of a traditional planner is that you don't have to stick to calendar dates as a category. Typically the four sections of a bullet journal include: (1) Index (2) Future Log, (3) Monthly Log and (4) Daily Log. You can put those sections in any order that works for you.
Index tabs are essential for organizing your bullet journal so you can quickly flip to any section. Beginners might be tempted to grab just any old tab, or even resort to sticky note paper. However, tabs that fall off or get damaged just aren't useful… and also look depressing.
The quickest way to elevate your bullet journal is to switch to durable, repositionable tabs. Beautiful tabs that give you the freedom to change your layout as needed make all the difference. You can color coordinate with simple solid colors, use patterns or go all out with luxe glitter and metallic styles.
Bullet journal ideas for organizing each section
Index. This is basically a table of contents for your bullet journal. You can use traditional page numbers or note which color tabs indicate specific sections if you think you might like to move things around. This is also a great place to include a key if you color code or use different symbols in your bullet journal.
Future log. Long-term projects and goals that don't fit within a monthly outline belong in the future log section of your bullet journal. Examples of such tasks include, saving and budget goals, renovating parts of your home and goals for the school year or a semester.
Monthly log. This is the part of your bullet journal that may resemble a traditional planner the most because it typically includes a monthly calendar. However, the calendar can be as detailed or minimal as you need it to be and you can use it to plan OR record events.
Many bullet journal examples also include space in the monthly log for monthly tasks and priority lists. Color-coding and planner stickers are aesthetically-pleasing ways to visually break down a dense monthly log so it's easy to scan and see what's most important at a glance.
Daily Log. Each section starts with the date. Make your to-do list, record daily events, take notes— you can even write yourself a motivational message or simply record your feelings. The daily log is highly flexible. There's no need to use a new page each time, just write a new date under where you left off.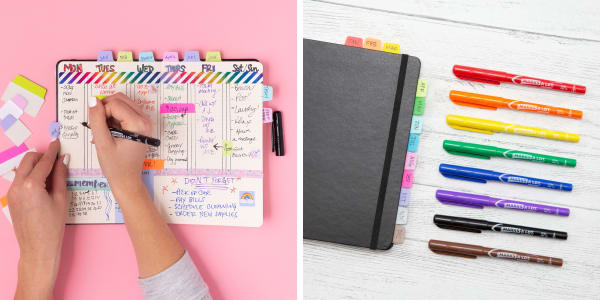 Color-coordinate your tabs with other bullet journal supplies like fine tip markers (Avery 9231). To get the look pictured here, use Avery 74761, 74762, 74763 and 74785. For more rainbow tab inspiration check out this fun getting organized video from Amy Tangerine.
Use color to organize, color-code or just decorate
Adding color to your bullet journal takes your personal planning to the next level. Basic color-coding is a fantastic way to get yourself organized, and when you explore different ways to use color like an expert you can turn your bullet journal into a work of art.
One of the best ways to use color in your bullet journal is to organize topics and boost your mood at the same time. You can code tasks and projects you're really excited about with highlighters in your favorite colors, or just randomly use "happy" colors that make you feel good.
Colorful pens and markers make simple handwriting look more appealing, and are fun to use for doodling. Permanent markers are excellent for drawing and writing on your bullet journal cover, labeling index tabs and even writing on planner stickers or blank labels in fun shapes like hearts, stars and scallops.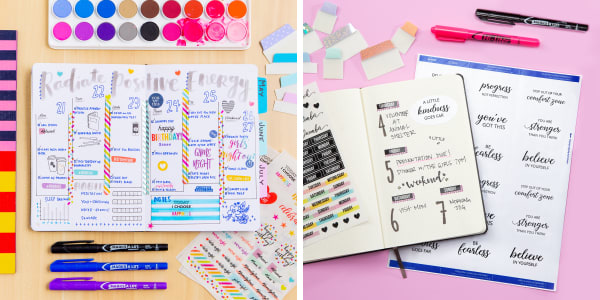 Planner stickers aren't just for traditional planners! Instantly add color and visual appeal to your bullet journal with a planner sticker variety pack (Avery 6785). Or create your own custom stickers using round, square, rectangle or oval labels.
Express yourself with themed planner stickers in your bullet journal
Of course, you want a bullet journal that is visually appealing to look at, after all it's something you should want to look at every single day. However, you don't have be an artist to have a beautiful bullet journal aesthetic.
Planner stickers are colorful, fun and can even be motivational. If you can't draw or don't have the best handwriting, different themed planner stickers can help you express yourself artistically in your bullet journal. Whether you're a mom, a student or creating a budget, there's a theme out there for you.
Transform your bullet journal pages with personalized details
Washi tape is wonderful for decorating or creating sections on your bullet journal pages. Many bullet journal examples feature washi tape separating days in the daily log and organizing the index page, but there are no limits to how you can use this colorful fun tape.
Another great way to add personal details is by using a simple glue stick to paste images from magazines or newspapers in your bullet journal. You can even paste in small drawings from your kids or a love note from your partner. Including mementos from loved ones is one of the best ways to get inspired.
Personalize your bullet journal even more by making your own planner stickers using sticker project paper in a variety of finishes. Blank labels in different finishes such as matte white, glossy clear or kraft paper are perfect for personalizing the look and feel of your bullet journal.
Our free online design software, Avery Design & Print Online (ADPO), has tons of fonts, colors, graphics and pre-designed templates you can use to design custom stickers for your bullet journal. You can also upload designs from your own computer and apply them to sticker project paper or blank labels.
Explore more personal organization ideas
Learn more about the art of personal organization with ideas to beautify your personal planner, whether it's a bullet journal or a traditional planner. Or skip to the good stuff and go straight to our curated selection of must-have planner supplies.
Just getting started or looking for a unique gift idea? Check out our limited-edition planner accessories box filled with irresistible planner goodies.
Products to recreate the bullet journal ideas in this article
Silver Holographic Ultra Tabs® 2″ x 1-1/2″ (74145)
Jewel Prism Mini Ultra Tabs 1″ x 1-1/2″ (74146)
Holographic Sunset Ultra Tabs 2″ x 1-1/2″ (74148)
Pastel Assorted Ultra Tabs 2-1/2″ x 1″ (74769)
Pastel Dots Assorted Ultra Tabs 2″ x 1.5″ (74773)
Pastel Shimmer Ultra Tabs 2-1/2″ x 1″ (74150)
Metallic Assorted Ultra Tabs 2.5″ x 1″ (74786)
Assorted Utlra-Fine Tip Permanent Markers (9231)
Pastel Assorted Mini Ultra Tabs 1″ x 1.5″ (74761)
Neon Assorted Mini Ultra Tabs 1″ x 1.5″ (74762)
Primary Colors Assorted Mini Ultra Tabs 1″ x 1.5″ (74763)
Hi-Liter® Assorted Pen-Style Highlighters (23585)
Planner Sticker Variety Pack, 30 Sheets (6785)
White Sticker Project Paper 8-1/2″ x 11″ (53202)
Glossy Clear Sticker Project Paper 8-1/2" x 11" (4397)
Kraft Sticker Project Paper 8-1/2″ x 11″ (4392)
Silver Sticker Project Paper 8-1/2 x 11" (4396)
Gold Sticker Project Paper 8-1/2" x 11" (4393)
Mom Planner Sticker Pack, 30 Sheets (6780)
Student Planner Sticker Pack, 30 Sheets (6784)
White Round Labels, 3/4″ Diameter (4221/94504)
Glossy Clear Round Labels, 3/4″ Diameter (4222/94504)
Kraft Round Labels, 3/4″ Diameter (4220/94504)
White Round Labels, 2″ Diameter (22807/94501)
White Square Labels 2″ x 2″ (22806/94107)
Glossy Clear Rectangle Labels 2″ x 3″ (22822/ 94237)
Glossy White Oval Labels 1.5″ x 2.5″ (22804/94051)
Glue Stic™ Single Pack (00161)