Shrewd, common sense answers for bullet journal beginners
At its core, bullet journaling is a personal organization method similar to using a planner. However, instead of a rigid monthly calendar format, there are endless bullet journal ideas you can adapt to personal needs. In fact, you can read a whole article about how I personally use my bullet journal to grow my maker business. After eight years of vending at comic conventions and craft fairs (not to mention running a social club with 600+ members), you can imagine I've learned a lot about time management along the way!
In truth, there are many unique ways to organize and express your creativity in a bullet journal (or BuJo). However, we'll focus on ideas and supplies that organize information better and personalize the way you plan. For example, did you know that your favorite planner accessories make the best bullet journal supplies? That's just one tiny bullet journal idea to help you get started, and there are more to come.
More personal organization resources
How to get started with a bullet journal
The idea of a bullet journal was first developed by Ryder Carroll in his book The Bullet Journal Method. In short, his method combines a planner, to-do list, goals, notes, and more into one notebook. Certainly, the best bullet journaling experiences start with the principles outlined by Carroll and then build on them.
To do this, you will need to start with a blank notebook with either dot/grid, graph, or lined paper. Then you will need one or several writing instruments, and that is where choosing your bullet journal supplies starts to matter. Bullet journal users following Carrol's basic method typically mark points with bullets, dashes, and even doodles for easy review. You can do that with any pen, of course, or up your game with vibrant writing instruments in a rainbow of colors. The next step is to organize your bullet journal into sections.
Once you've created sections in your bullet journal, you can fill them in accordingly. As you fill in information, you can color code, use planner stickers, and personalize your bullet journal with decorations. The bullet journal ideas listed in this article will address beginner questions and help you get started.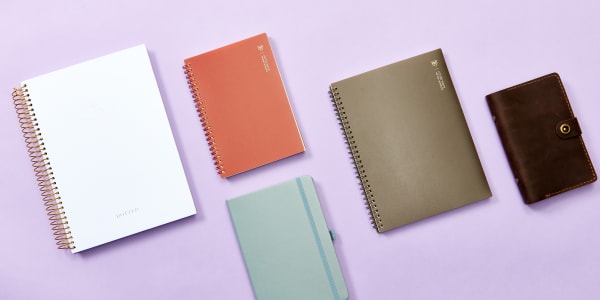 1) Carefully consider the best bullet journal for your needs
Best bullet journal sizes
First, consider the size of the journal you will use. There are three sizes of journals typically used for bullet journaling: A5 (5.8 x 8.3 inches), A6 (4.1 x 5.8 inches), and A4 (8.3 x 11.7 inches). A5 is perhaps the most common of the three. However, the A6 is very popular with folks who journal on the go due to its small, pocket-friendly size. A4 is closer to a composition book you might use in school, but some bullet journal aficionados do love the extra space.
Choosing bullet journal paper
Next, consider the type and thickness of the paper. The original bullet journal method leans toward dot paper, but lined or graph/grid paper are also fine. Truth be told, paper type is entirely a personal preference. On the other hand, paper thickness depends on what kind of writing tools you like to use. All paper has a thickness measured in grams per square meter (GSM). The higher the GSM, the thicker the paper is. If you like writing with pencils or regular office pens, GSM will not matter too much. However, if you use gel pens, watercolor markers, or permanent markers, you will need a higher GSM to prevent bleed-through (or ghosting). That is to say, having your writing bleed through to the other side of the page.
Why does the spine matter?
Lastly, consider the spine. Traditional journals are bound like books, meaning the spine is usually glued and sewn together. Often, journals with traditional bound spines do not lay entirely flat when opened. However, there are lay-flat journals bound in such a way that they do open flat. Conversely, spiral-bound journals will always lay perfectly flat for writing. When choosing your bullet journal, it's always a good idea to consider the spine so you will be able to write in it comfortably.
Best bullet journals by category
All things considered, the best bullet journal ideas take into account flexibility. That is to say, they meet your needs and are able to grow with you. We've compiled a list of features for the best bullet journal at each stage of your journey.
BuJo Type
Size
Page
Type
GSM
Spine
Budget
A4
Lined
80
Spiral
Beginner
A5
A4
Dot
Grid
80-120
Spiral
Lay Flat
Advanced
A5
A6
Dot
Grid
Lined
160-180
Lay Flat
Determine the best bullet journal features for your level.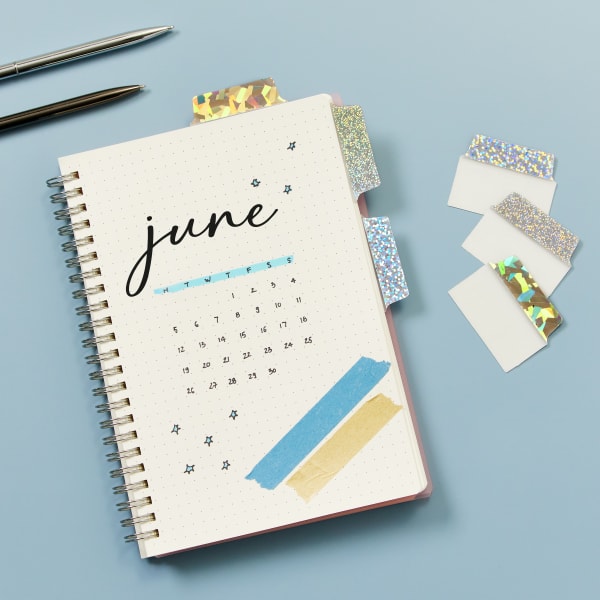 2) Add your own tabs to organize sections and information
One of our favorite bullet journal ideas is to use tabs to categorize information however you like. This is in direct opposition to sticking to calendar dates as the main category, like traditional planner notebooks. Typically, bullet journals are divided into four sections instead of 12:
Index
Future Log
Monthly Log
Daily Log
Of course, the beauty of a bullet journal is that you can put those sections in any order. Additionally, you can add sections as you see fit. Whether or not it is a more efficient way for you to break up information is all that matters. For this reason, index tabs are essential for organizing your bullet journal sections.
What is a weekly spread in a bullet journal?
In general, bullet journals use monthly and daily logs. However, a weekly spread can be incredibly helpful when juggling a busy schedule. In fact, it's very similar to a monthly spread you would see in a traditional planner notebook. The main difference is that you are only looking at one week, which allows you to record and track much more detailed information for each day.
A weekly spread is a great bullet journal idea to put into practice for a couple good reasons. For one thing, it can be less overwhelming than monthly planner spreads because the smaller time frame encourages you to focus on immediate priorities. Indeed, a weekly bullet journal spread is ideal for detailed daily to-do lists as well as appointment and meeting reminders. Even more, a weekly spread is fantastic for trackers such as habits and goals.
Notably, weekly bullet journal spreads can be used in place of, or alongside, monthly logs. While they typically follow a more calendar-style approach with a section for each day, you can organize weekly information by category as well. Either way, simply create your weekly spread at the beginning of each month or week and fill in the sections daily.
Tracker bullet journal spreads
Bullet journal trackers (or habit trackers) are a way to measure whether or not you did something. They often have small boxes for each day of the month or week that you can mark with an "x" or otherwise fill in each day you do the thing you are tracking. Trackers are most often used for habits that contribute to wellness, which makes them useful for working towards a healthy work/life balance.
Some great examples of bullet journal ideas for tracking include mood trackers, sleep trackers, and goal trackers. However, you can track any habit you like, such as drinking water or daily exercise, both of which are very popular.
You may choose to create an entire spread in your bullet journal just for tracking habits. Or, simply add a habit tracker (or two) to monthly logs and/or weekly bullet journal spreads.
3) Start with the must-have bullet journal sections
Index
This is basically a table of contents for your bullet journal. Traditional page numbers are a good start. Color-coding sections with colored index tabs is another bullet journal idea that works if you like to move things around. This is also a great place to include a key if you color code or use different symbols in your bullet journal.
Future log
Long-term projects and goals that don't fit within a monthly outline belong in the future log section of your bullet journal. Examples of such tasks include saving and budget goals, renovating parts of your home, and goals for the school year or a semester.
Monthly log
This is the part of your bullet journal that may resemble a traditional planner the most because it typically includes a monthly calendar. However, the calendar can be as detailed or minimal as you need it to be, and you can use it to plan or record events.
Many bullet journal examples also include space in the monthly log for monthly tasks and priority lists. Visually, color-coding and planner stickers are the best ways to break down a dense monthly log so it's easy to scan and see what's most important at a glance.
Daily log
Each section starts with the date. Make your to-do list, record daily events, take notes—you can even write yourself a motivational message or simply record your feelings. The daily log is highly flexible. There's no need to use a new page each time; just write a new date under where you left off.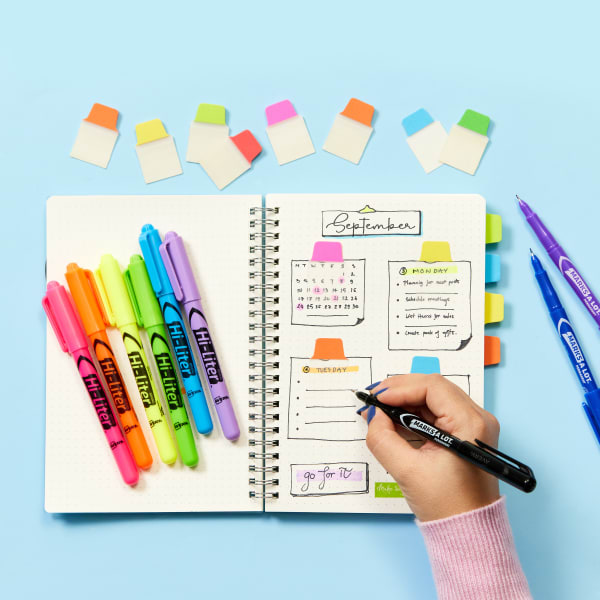 4) Use color to organize, color code or just decorate
Adding color to your bullet journal takes your personal planning to the next level. Basic color-coding is a fantastic way to get yourself organized, and when you explore different ways to use color like an expert, you can turn your bullet journal into a work of art.
One of the best ways to use color in your bullet journal is to organize topics and boost your mood at the same time. You can code tasks and projects you're really excited about with highlighters in your favorite colors, or just randomly use "happy" colors that make you feel good.
Colorful pens and markers make simple handwriting look more appealing and are fun to use for doodling. Permanent markers are excellent for drawing and writing on your bullet journal cover. Or, use them to label index tabs as well as write on planner stickers and labels.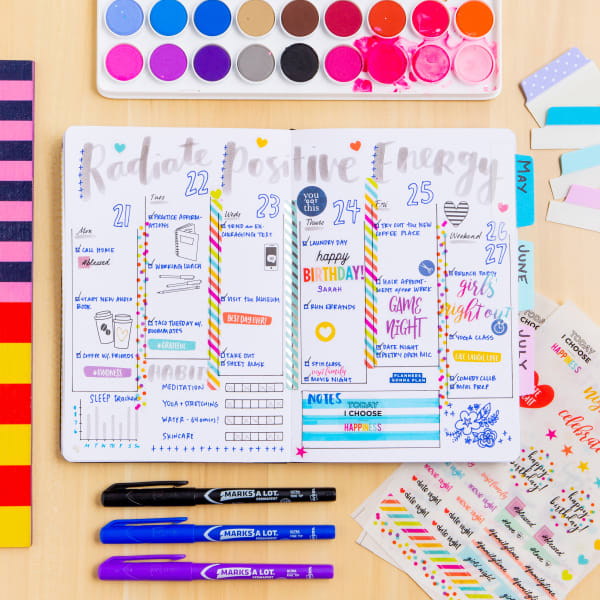 5) Express yourself with themed planner stickers in your bullet journal
Of course, you want a bullet journal that is visually appealing to look at. After all, it's something you should want to look at every single day. However, you don't have to be an artist to have a beautiful bullet journal aesthetic.
Planner stickers are colorful, fun, and can even be motivational. If you can't draw or don't have the best handwriting, different themed planner stickers can help you express yourself artistically in your bullet journal. Whether you're a mom, a student, or creating a budget, there's a theme out there for you. You can even make your own personalized planner stickers.
6) Create weekly spreads using bullet journal templates
While highly decorated weekly spreads are awesome, not everyone has the artistic ability to pull them off. That being said, you don't have to settle for boring! Bullet journal templates for Avery labels are super easy to personalize and print from your desktop. This means that you can create your own weekly spreads that look amazing in way less time, and you don't have to be good at drawing to do so.
Our free printable design templates can be customized with your own text, colors, graphics and more using Avery Design and Print Online (ADPO). All you need in order to use the free cloud-based software is a smart device, an internet connection, a free Avery account.
After customizing the designs just the way you want them, the next step is to print them out. Luckily, Avery labels are designed to be printed on using regular desktop or office printers so you can just create your design and print without any special equipment.
Pro Tip: Always make sure you choose the right labels for the printer that you have. We wrote a whole article about that topic, but the key point is that labels marked "laser" should only be used in laser printers, and ones marked "inkjet" should only  be used in inkjet printers. 
Bullet journal idea for a weekly spread header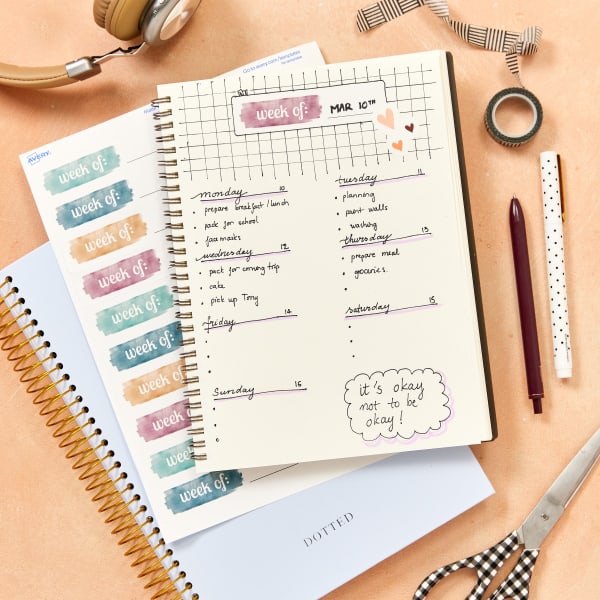 Easy bullet journal idea for weekday stickers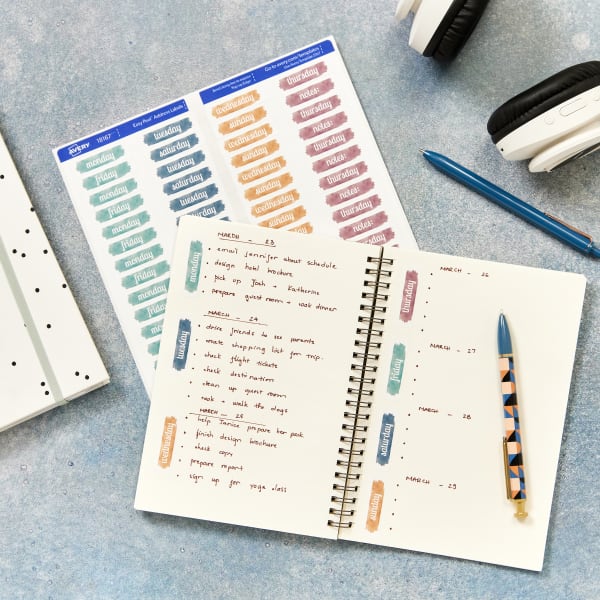 7) Think outside of the box to find the awesome bullet journal supplies
Personalizing your bullet journal doesn't end with DIY planner stickers. Raid your office and craft storage for more bullet journal supplies. For example, washi tape is wonderful for decorating or creating sections on your bullet journal pages. One bullet journal idea is to use washi tape for separating days in the daily log and organizing the index page.
Another great idea is to use a simple glue stick to paste images from magazines or newspapers in your bullet journal. You can even paste in personal photos, small drawings from your kids, or a love note from your partner. Including mementos from loved ones is one of the best ways to get inspired.
Try the best bullet journal ideas for beginners
The basics of bullet journaling, which were developed by Ryder Carroll, are very simple. Nonetheless, there are many ways to organize your bullet journal while expressing yourself creatively. However, how to organize information better and personalize the way that you plan are the most important things for beginners to know. In summary, there are seven bullet journal ideas you can apply right away.
First, carefully think about the best bullet journal for your needs. Size, paper, and spine must all be considered. Next, add your own tabs to organize the four main sections of your bullet journal, plus any additional information you include. Be sure to start with the four must-have sections, which are the index, future log, monthly log, and daily log.
Once your bullet journal is all set up, use color to organize, color-code, and decorate. You can also express yourself with themed planner stickers, which you can buy or make yourself with Avery labels. On the same note, you can also use printable labels and free Avery bullet journal templates to create weekly bullet journal spreads. Lastly, think outside of the box when you're looking for bullet journal supplies. Washi tape, personal photos, love notes, drawings, and other mementos are all wonderful sources of inspiration.
What do you most want to get out of your bullet journal? Let us know in the comments, or join the conversation on Instagram and Facebook. You can even share your bullet journal ideas (and more) using #averyproducts.