How to make custom binder spines
There are several ways to make custom binder spines for view binders. That is to say, binders with clear pockets on the front cover, spine, and sometimes the back cover. Of course, you can always cut out cardstock to fit the spine and write on them by hand. However, handwritten spines don't look very professional, and you're limited to your own artistic ability. By far, the easiest way to make good-looking spines is to simply print a design on binder spine inserts.
Because we design our printable binder spine inserts to fit perfectly with five different Avery binder sizes, they're very simple to use. Not to mention, we have many free, predesigned templates that you can personalize with our free design tool, Avery Design and Print Online (ADPO). Here are the basic steps for making your own custom binder spines using Avery printable binder spine inserts paired with our free tools:
Order the insert that fits the width of your binder spine
Go to the template page for the binder spine insert you chose
Choose from blank or predesigned templates
Edit the template with images, text, color, and more
Print and separate along perforations; insert into the binder spine pocket
What are binder spine inserts
Binder spine inserts are cardstock strips that slip into the clear spine pocket on view binders. That's not to say you can't make due with paper in a pinch. Inserts, on the other hand, are made of cardstock rather than paper to avoid crumpling when slid into the pocket. View binders are usually the most practical to use for work and school binders because you can label and identify them without using adhesive labels. In general, adhesive labels are awesome for permanently identifying binders. However, inserts are interchangeable, so you can reuse or update your binders over and over.
Avery binder inserts, specifically, are printable 8-1/2″ x 11″ cardstock sheets that are perforated so you can break them apart after printing. They come in five different sizes, from 1/2 inch to 3 inches wide (to match the sizes of our view binders found here) and can be printed using standard laser or inkjet printers.
Why people decorate binder spines
People decorate or customize binder spines for function or for appearance. From a functional perspective, a custom binder spine is a way to label a binder so that it's easy to identify when it's stored on a shelf. Additionally, custom binder spines can be color-coded for organizing documents at work, school, or home. As far as looks go, custom binder spines look more professional, which is ideal for presentations at meetings and events. Personalizing binders, on the other hand, is a fun way to add a personal touch or color coordinate with other office or school supplies.
How to decorate or customize a binder spine
For crafty personalized projects, such as a recipe binder or a Christmas card binder like the one we made for organizing after the holidays, the decoration options are as endless as your imagination. For starters, you can draw on binder inserts or even paint them with watercolors. Another idea is to cut images and letters from magazines, then paste them on binder inserts. Or, use cute, predesigned printable templates.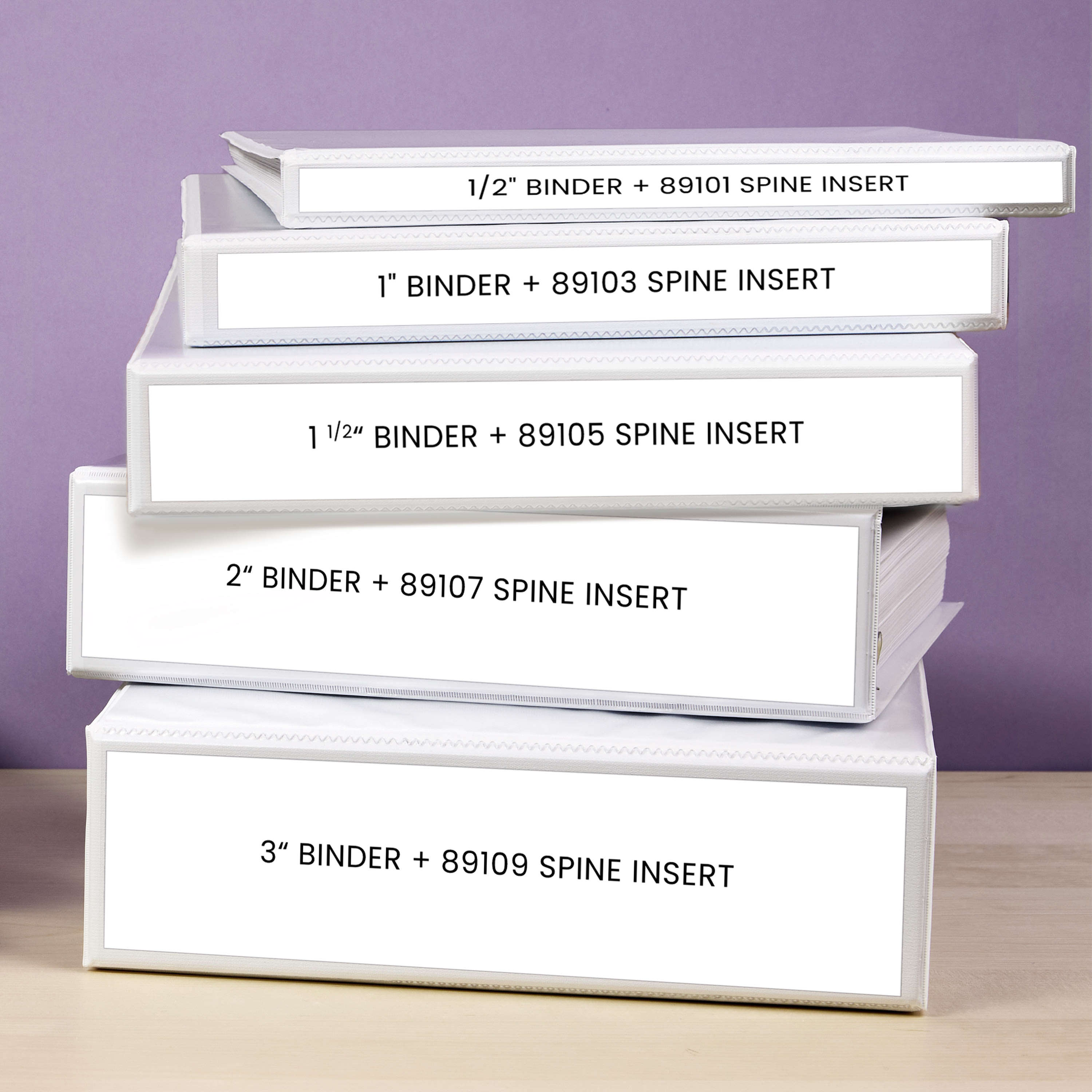 Our printable templates not only offer a variety of cool designs, but they also look more detailed and polished. Not only are templates ideal for business and work presentations, but they're also great for organizing at school and lending a hand to those of us that are less artistically inclined. When you open one of our predesigned templates in ADPO, there is a menu full of tools on the left-hand side for editing the template. From simply personalizing text to switching out colors or graphics, everything you need is included. You can even add barcodes or QR codes to your binder spine, which can come in handy for business records management, which we wrote about here.
Different types of inserts and templates
The first thing you need to know is that Avery printable inserts differ by size, which corresponds to the width of the binder spine. All the insert sizes come on a printable sheet that is 8-1/2" x 11" and has perforations to break them apart after printing. Because the widths vary, different sizes will fit more or less inserts per sheet. There are also two types of binder spine templates to choose from. A blank template is used for designing from scratch or uploading a complete design from your computer. Graphic designers make our predesigned templates, but you can customize them with your own text, graphics, colors, etc.
Both blank and predesigned binder spine templates can be opened in ADPO for editing and printing. However, you can also download blank templates for various software, including Microsoft Word, the Adobe Suite (Photoshop, Illustrator, and PDF), and Apple Pages. Skip ahead to learn more about downloading Avery templates for other software.
How to find templates for any Avery product
There are a couple ways to find Avery templates online. The first way is to go to our template finder page and enter the Avery product number. This will take you to a template page for the product. Once there, you can click the red "Start Designing" button to open template choices in ADPO or download a blank template to use with other software. On the template finder page, you can also browse by product type if you don't have your product number handy.
Another way to find templates for a specific Avery product is to type the product number into the search bar on Avery.com and go directly to the product page. For printable products, a link to the matching template is found towards the bottom of the bullet list of product features.
How to find and open Avery templates for Word and other software
Start by using the steps above to get to the template page for the Avery product you're using. You will see an option at the top to start designing your binder insert in ADPO, but underneath that are all the blank templates you can download for various different software programs.
Once you've downloaded the blank Word template, locate it in your download folder and click to open. When the template has been opened in Word, you can use all the familiar editing tools in the top toolbar. For more help with using Microsoft Word to design and print Avery products, check out our MS Word resource page. There you'll find printing tips, FAQs, and more.
What if you don't know your Avery product number?
Of course, if you don't have your product number, that does throw a wrench in things. However, there's still a way. First, check the packaging because your Avery product should be listed there. If you have the packaging but can't find the number on it, try this article, which has helpful pictures.
If all else fails, you can always call our knowledgeable Customer Care team or chat with them online during regular business hours. They will be happy to help you figure out which product you have and provide you with the Avery product number.
Pro Tip: Browse binder cover templates to find designs that match your binder spines or create one from scratch. You can print them on any 8-1/2" by 11" cardstock or paper.
How to use Avery templates
When you select a blank or predesigned template in ADPO, the editing screen will open, and most of your tools will be located in a menu on the left side. The editing tools in ADPO are similar to those in most editing and/or design software. However, if you've never used that type of software before, this video is a great resource for working with images, and this one shows you how to add and edit text.
Additionally, ADPO has some really cool features that make big projects easier, such as Edit One/Edit All, Mail Merge, and a barcode generator. Here is a helpful table to help you use these advanced tools in ADPO:
Quickly find resources for using advanced ADPO tools.
How to use blank templates for binder spine inserts
To begin with, choose a binder spine insert that matches the width of your binder. You can use the steps above to find the template you need, or pick a blank template below and click the "Design Now" button to open it in the ADPO editing screen. Once you've opened a blank template, you can begin designing using the tools on the left-hand side. Or, you can upload a complete image from your computer. If you've never uploaded an image before, here is an excellent help article that will walk you through it.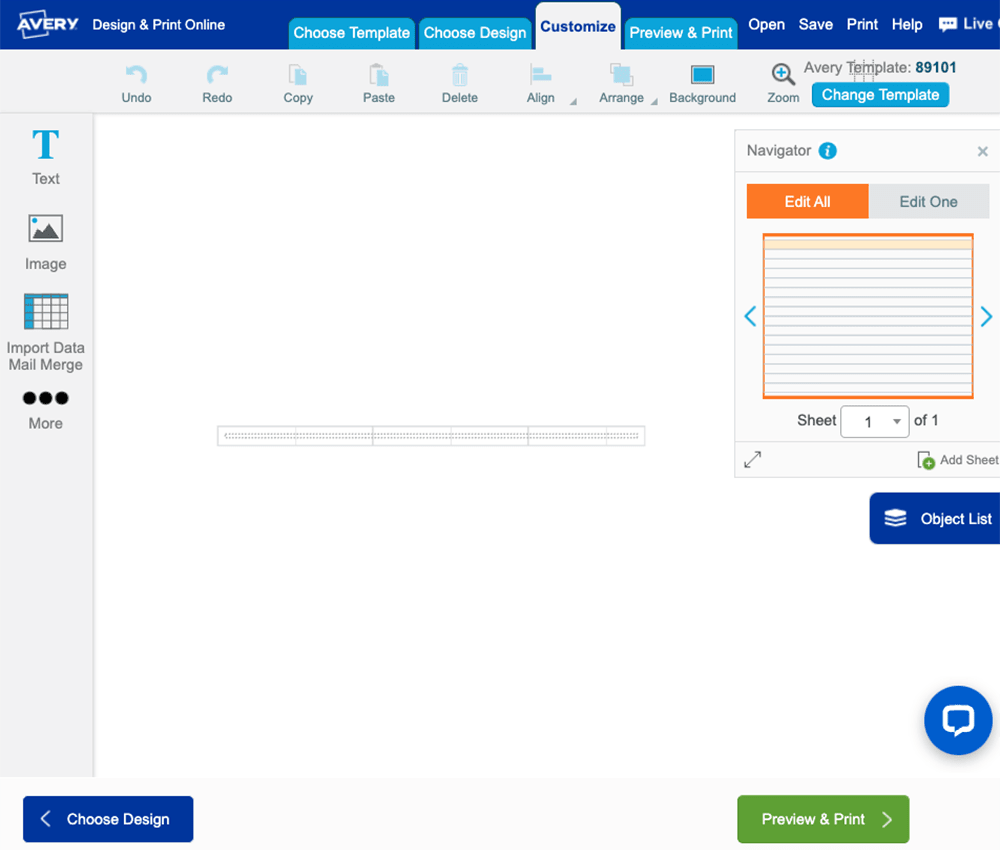 1/2″ blank template for designing and printing on 89101 binder spine inserts.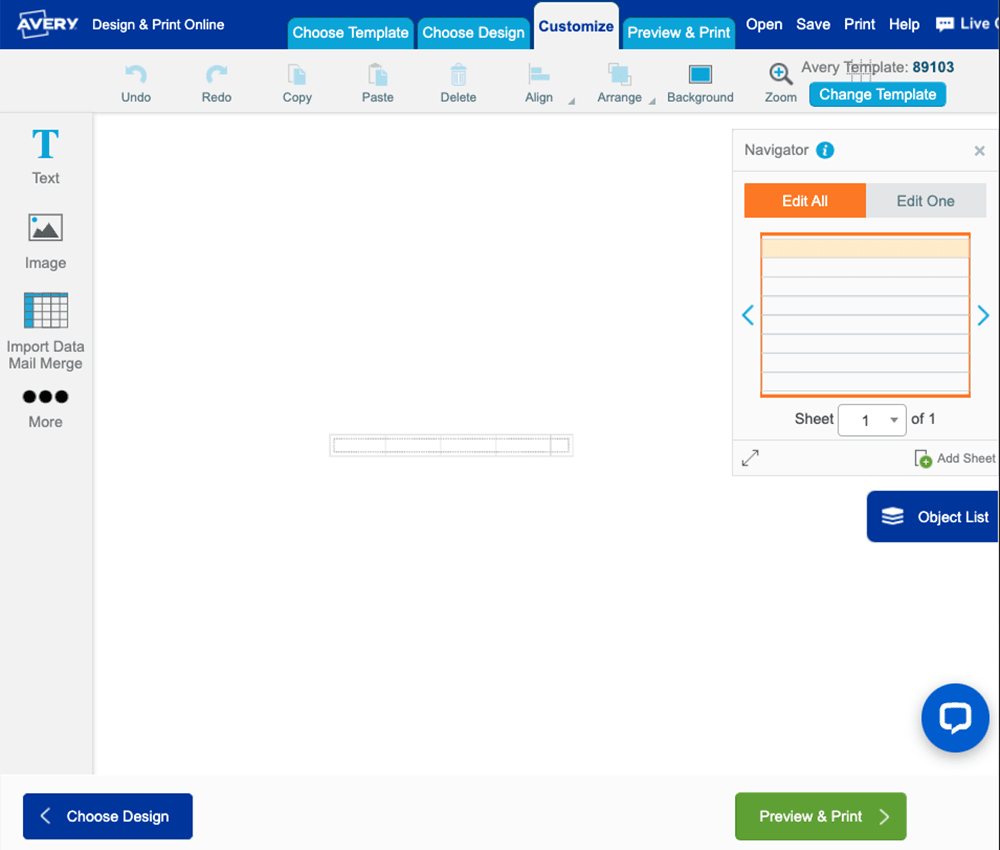 1″ blank template for designing and printing on 89103 binder spine inserts.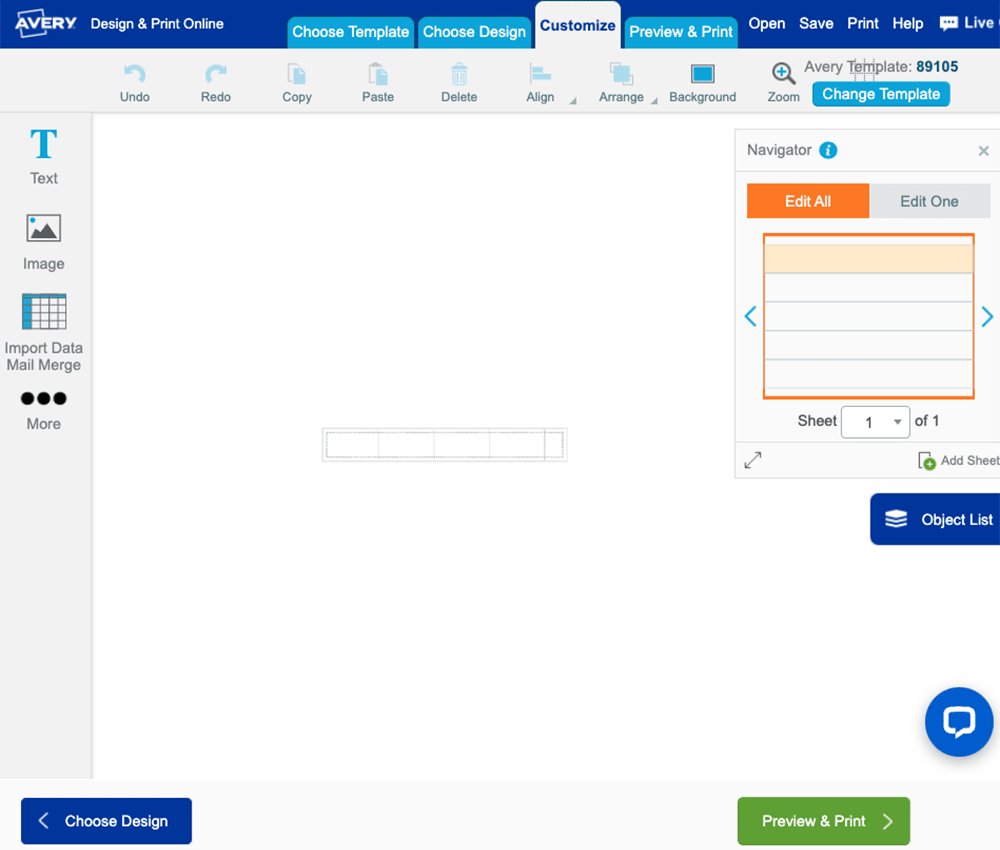 1-1/2″ blank template for designing and printing on 89105 binder spine inserts.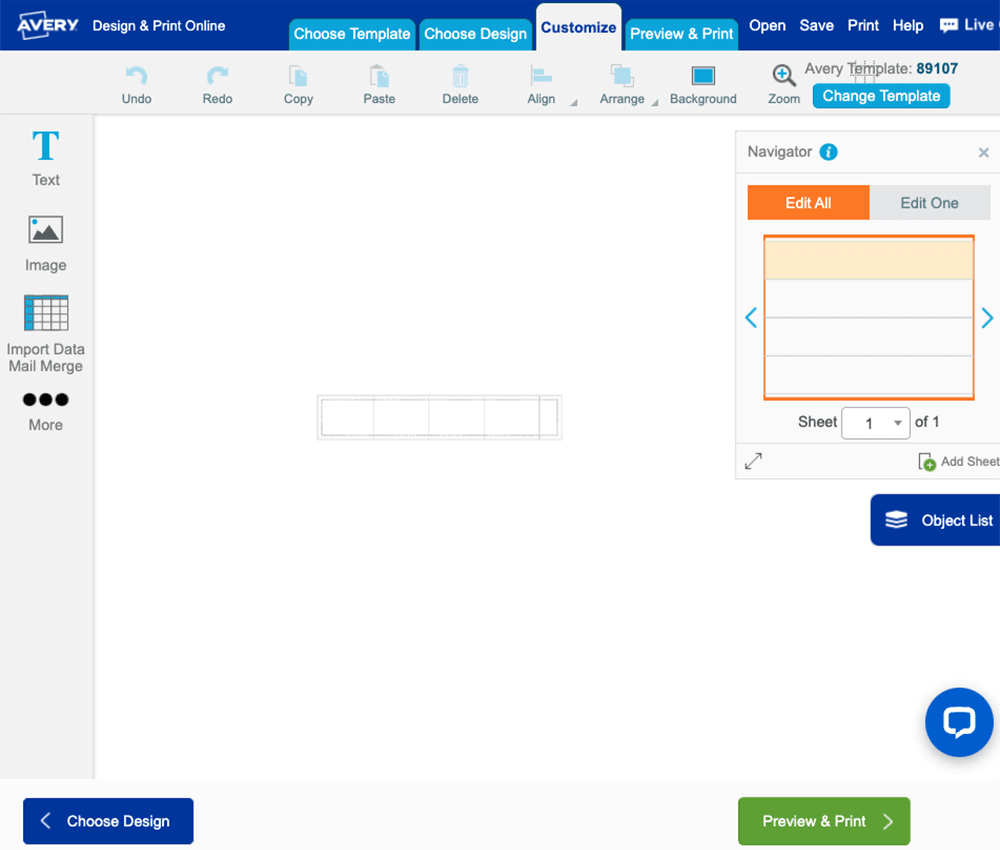 2″ blank template for designing and printing on 89107 binder spine inserts.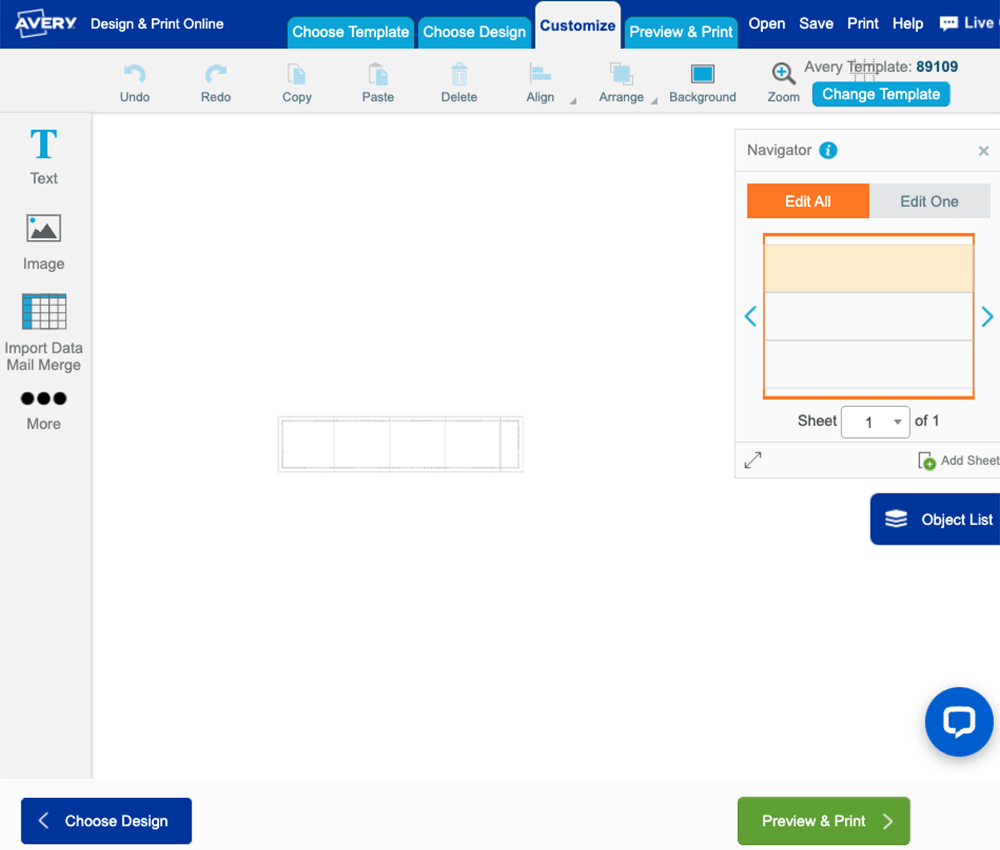 3″ blank template for designing and printing on 89109 binder spine inserts.
How to use predesigned templates you can customize online
Use the steps we listed above to find a template that matches your Avery binder, then click the "Start Designing" button. You will see a blank template as well as a variety of predesigned options. Or, choose a predesigned template from the list below. Click the "Customize" button to open the template directly in the ADPO editing screen. Now you can use the tools on the left-hand side to customize the design as desired.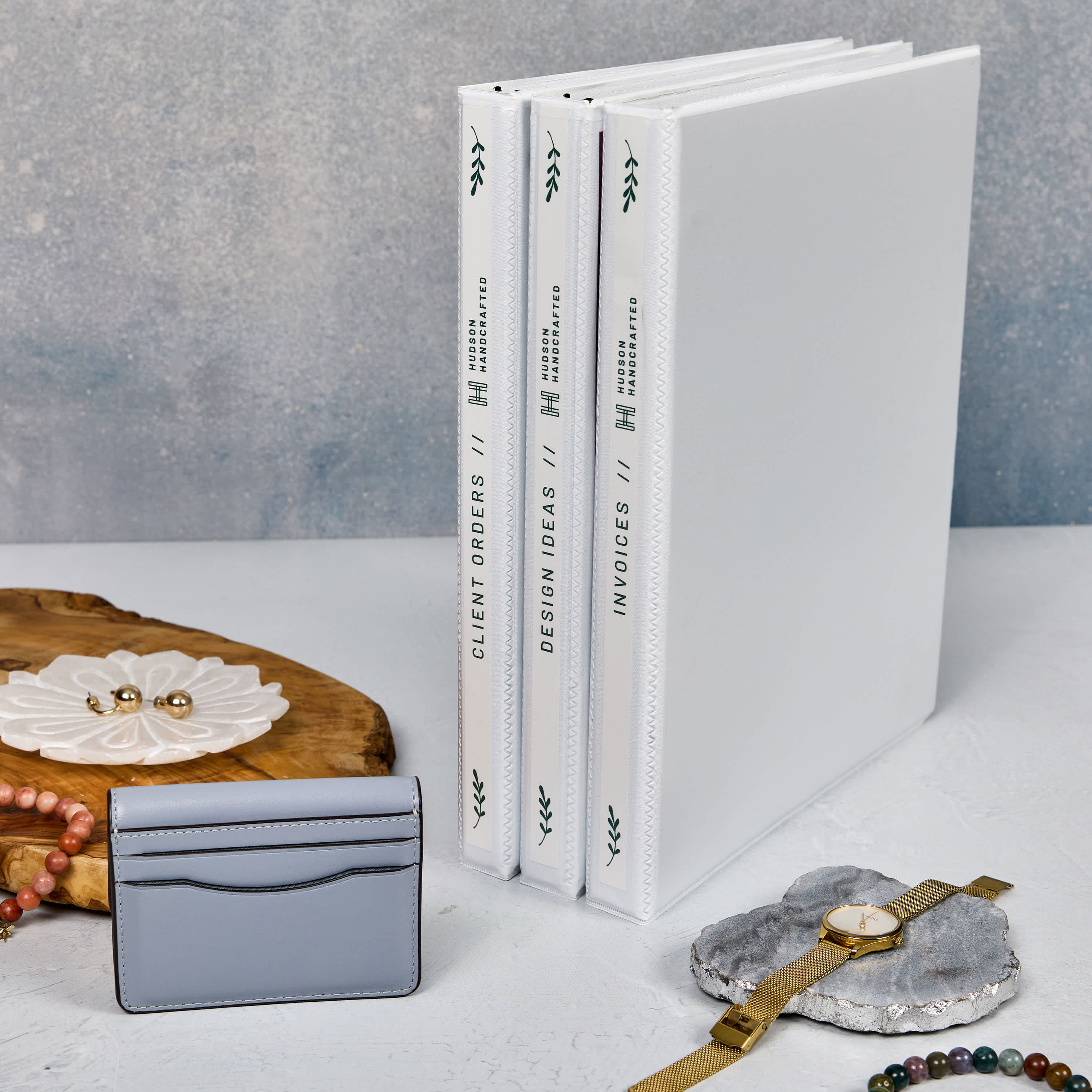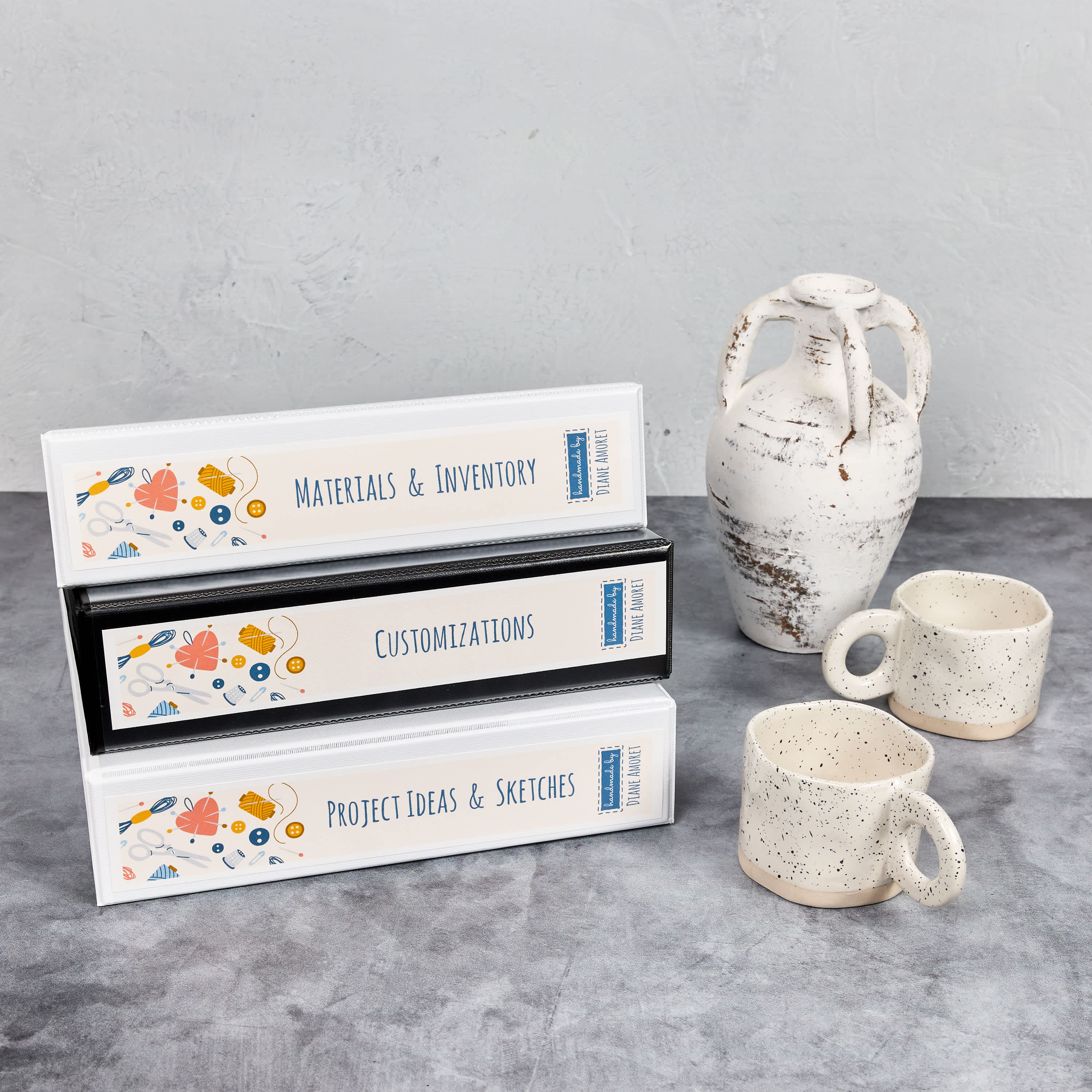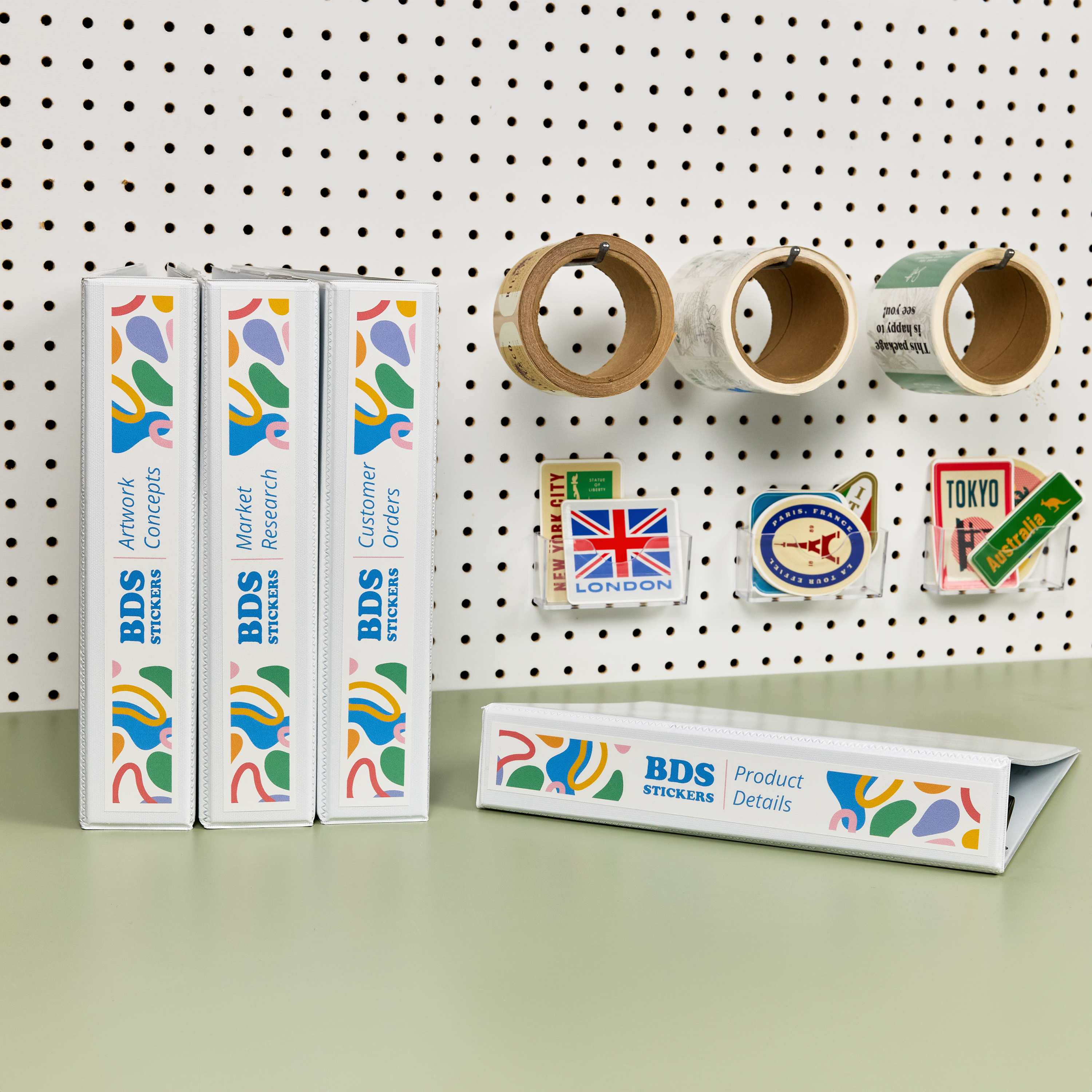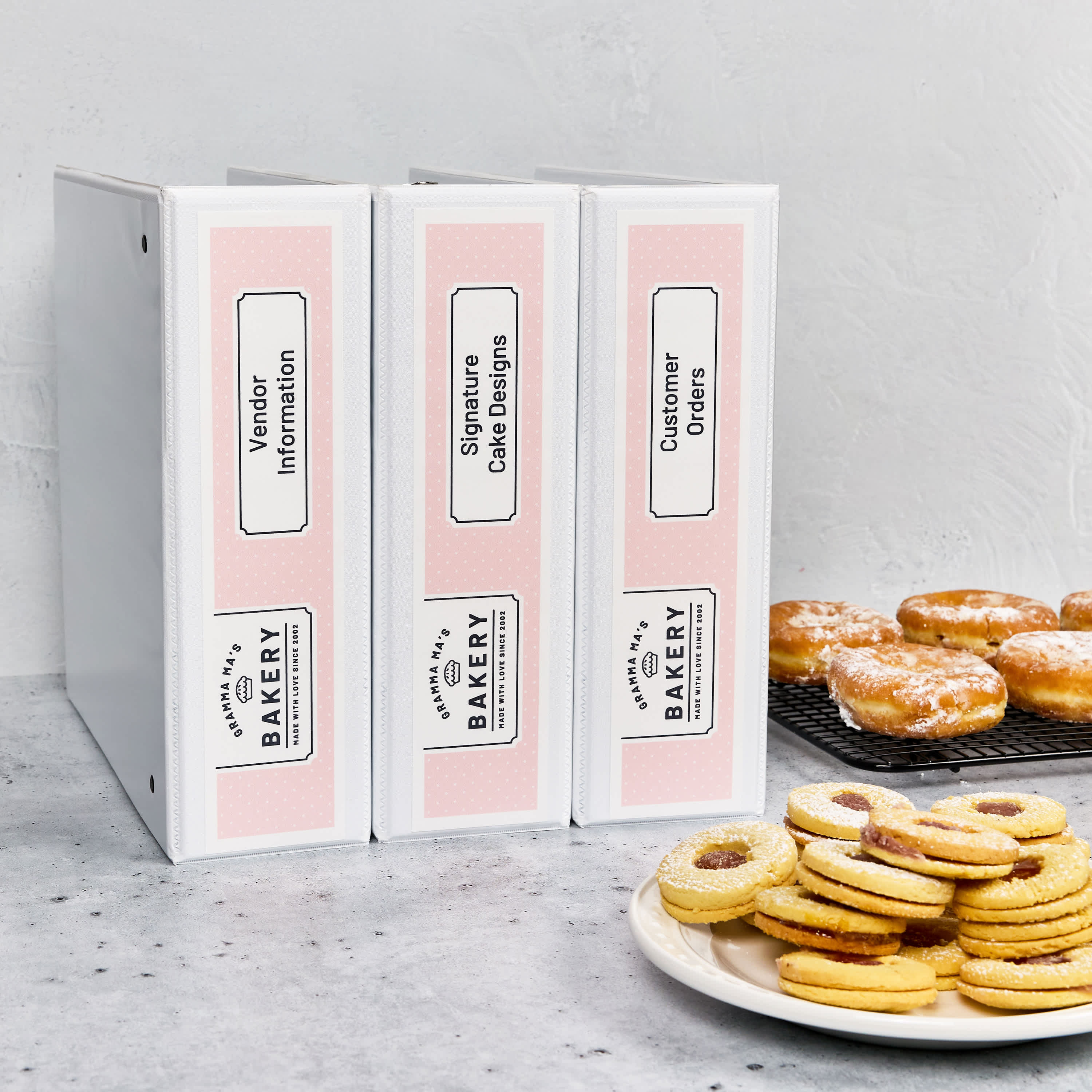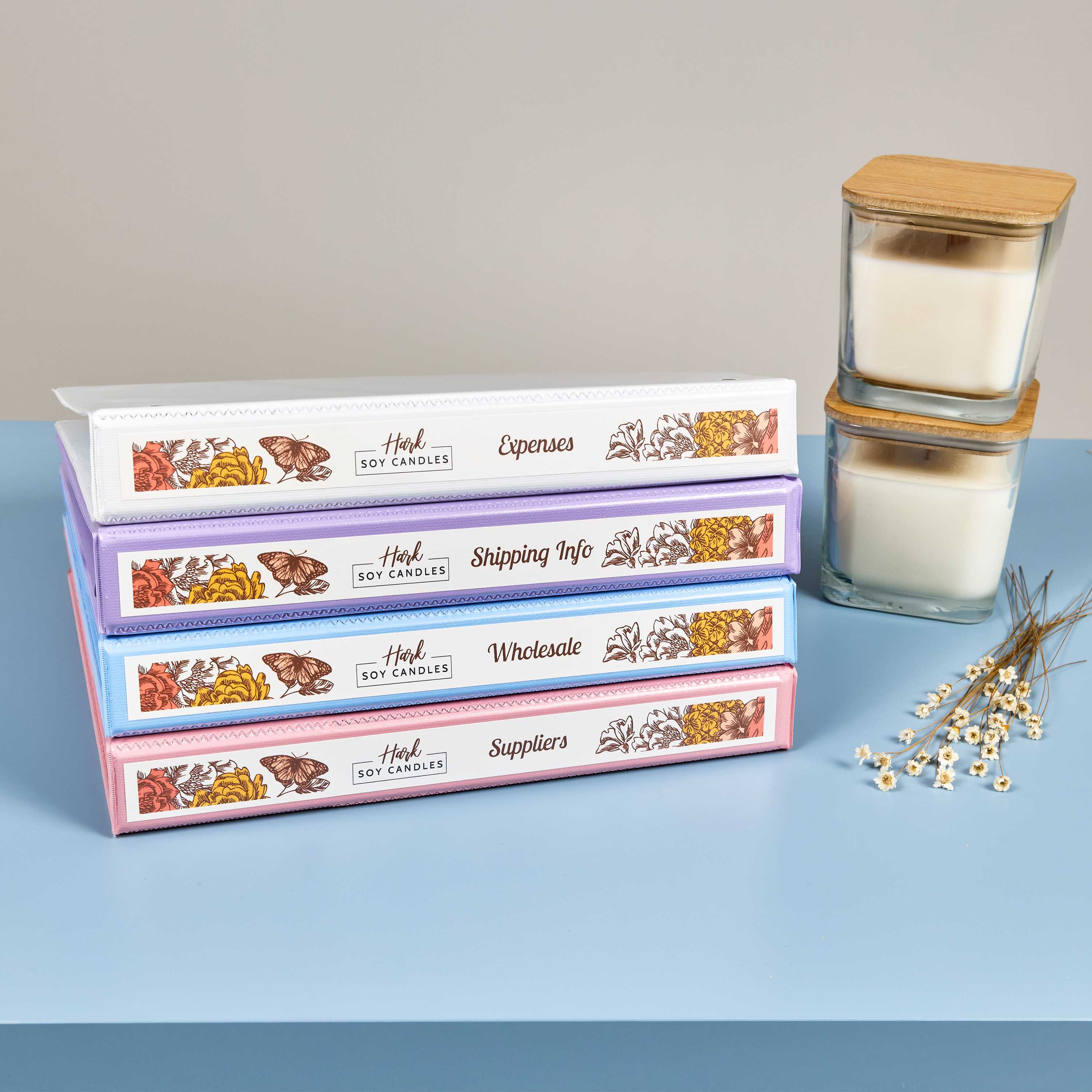 Tips for printing binder spine inserts
This article covers very specific and detailed printing tips for Avery products, but to print at home, there are a few simple tips you should follow. First, check your printer settings to make sure that the scale option is set to 100. Scale is important to check so that your design prints at the intended size and aligns with the perforated binder spine inserts.
Next, print a test sheet on plain paper. Place the paper over a sheet of binder inserts and hold it up to the light. If your design doesn't align properly or look the way you want it to, you can go back and make changes without wasting inserts.
Finally, under printer settings, change the paper type to "cardstock," "heavy weight," or "specialty." This setting controls how your printer feeds in sheets based on thickness. Since cardstock is much thicker than paper, you want to make sure your printer "knows" to adjust the feed to accommodate.
To summarize, always follow these three simple steps when printing at home:
Set the scale to 100
Print a test sheet
Change the paper type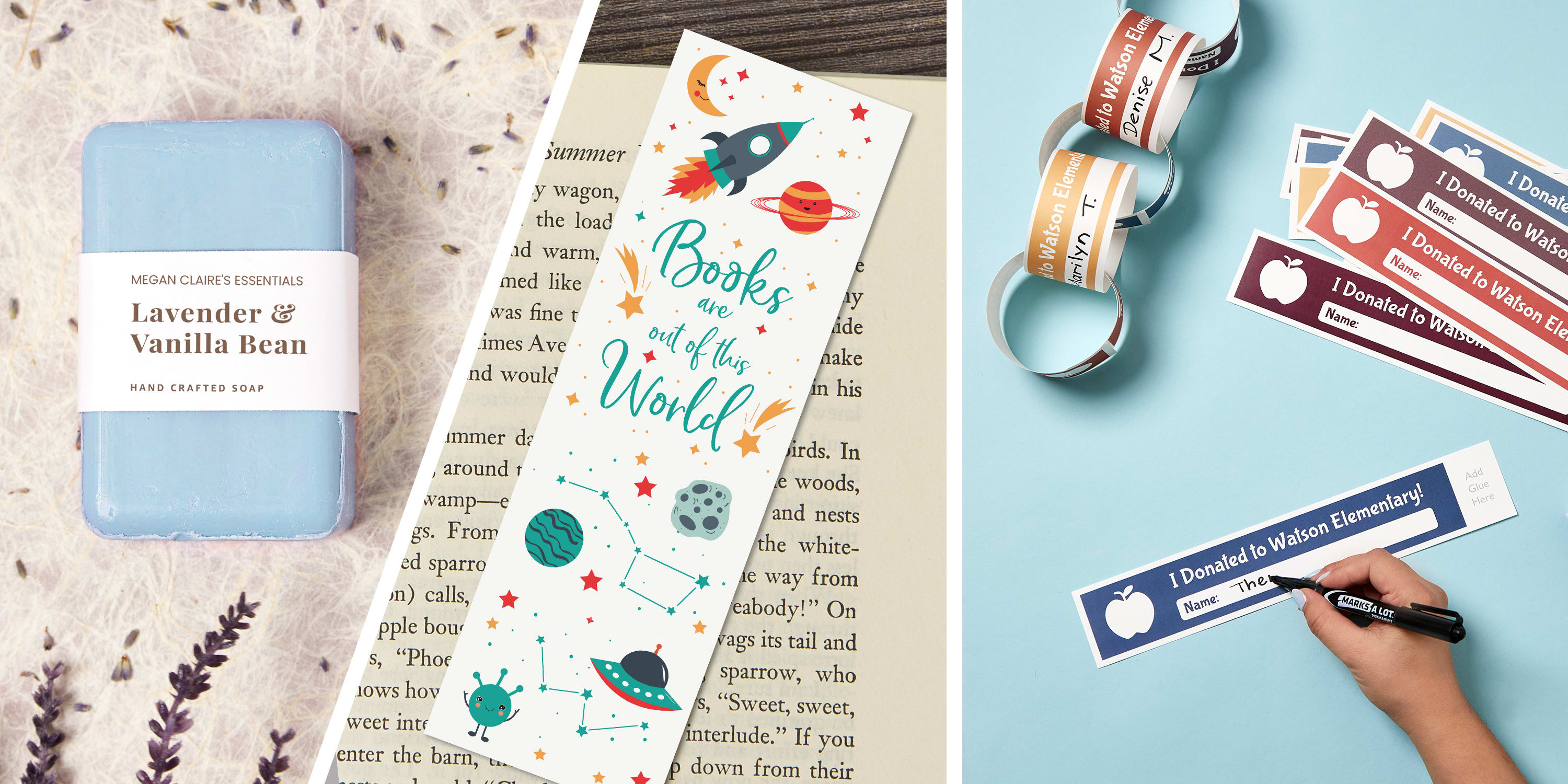 Creative things you can do with printable binder inserts
Binder inserts are essentially just printable pieces of cardstock pre-scored in thin strips, which come in handy for a variety of projects. The possibilities for crafting projects immediately come to mind. Custom bookmarks, vase sleeves, and paper chains with custom text are just a few ways to craft with inserts. We really love how teachers have used binder spine inserts to create donation paper chains for their schools.
Another interesting way to use binder inserts is to create sleeve packaging for a small business or hobby business (selling at craft fairs, farmer's markets, etc.). Consider handmade soaps or bundles of soft goods like socks or scarves with a custom, branded sleeve. If you're selling handmade or small-batch items, check out this article for more great ideas on product packaging trends.
You can also take a cue from small businesses and use printed binder inserts to make gifts and party favors stand out. Use them to create package sleeves for homemade gifts or to personalize small items for weddings, showers, and more. Bookmarks are also fun to personalize and gift. Let your imagination run wild designing on printable binder spine inserts, or try one of our many free printable bookmarks that can be found here.
Quickly and easily design and print binder spines
To sum up, you can make custom binder spines quickly and easily when you pair Avery printable inserts with our free templates and design software. While you can decorate binder spines in many ways, printing them looks more professional and has design options beyond your own artistic ability.
As a matter of fact, Avery Design and Print Online (ADPO) features tons of predesigned templates that you can modify. Not only is it free to use when you sign up for a free Avery account, but ADPO also has special features beyond the standard design tools.
In addition to blank and predesigned binder spine templates in ADPO, there are also blank templates you can download for Microsoft Word, the Adobe Suite (Photoshop, Illustrator, and PDF), and Apple Pages. There are also several different kinds of printable binder spine inserts that vary in size to fit different binder spine widths.
Once you've chosen a template and completed your design, you can print our binder spine inserts at home on standard laser or inkjet printers. When printing at home, first set the scale to 100, then print a test sheet to check alignment, and finally change the paper type to "cardstock," "heavy weight," or "specialty."
Aside from identifying, color-coding, and decorating binder spines, there are several projects to explore with printable inserts. Sleeve packaging for small businesses, hobby sales, gift packaging, and crafting are just some of the things you can achieve right from your desktop.
How do you organize your binders? Let us know in the comments, and join the conversation on Facebook. You can also find more ways to get organized on our Pinterest page and Instagram.