Make some "me time" with fun binder crafts that will make you smile
Binders are the undisputed MVP of any school supplies list. Whether you're a parent shopping back-to-school supplies, or a teacher preparing to go back to the classroom, you need durable school binders that will last all year.
Fair enough. But back-to-school should be more than a whirlwind of navigating school supplies sales, organizing, checking (and re-checking) your budget. It should be an exciting start to a fresh new school year. Take time to enjoy the season and don't forget to make time for yourself to do something fun.
A happy boost for your school binder is the perfect crafty activity to channel your creativity. It's not too complicated and you'll smile every time you look at it. Teachers, you especially deserve some "me time" before the year starts. Science shows how creativity can reduce stress, so doing a fun craft can literally be good for you!
Enjoy these 6 very cool binder cover ideas that are easy enough to apply to your school binder in a single afternoon.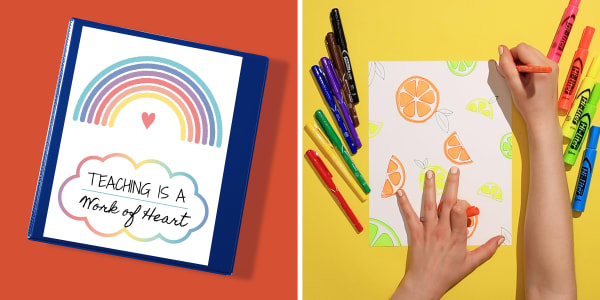 Make your binder a work of art. Go digital with free Avery templates and design software, or go analogue with markers, pens, paint or whatever medium you like best.
1) Free printable binder cover ideas and spine inserts
Even if you're not an artist, you can still have an enjoyable time crafting DIY binder covers using free pre-designed templates. Avery Design and Print Online (ADPO) features tons of free templates that you can personalize with custom text, colors and graphics.
If digital art is more your thing, you can also design your own binder cover art in ADPO using the graphics library, or upload your own digital artwork.
2) Channel your inner artist with original binder cover artwork
Sketching, drawing, painting, watercolor, pages from stunningly intricate adult coloring books— however you make art, let it shine! For this project, we recommend using a thick sheet of artist paper (or watercolor paper if needed) as your binder cover sheet for the best surface to absorb the color.
We used permanent markers and colorful highlighters to create a fresh fruity theme for our binder cover. First, we made plain fruit shapes and colored them in with highlighters. Next, we went back to using colorful permanent markers with ultra-fine tips to add fine details that made our orange and lemon slices pop.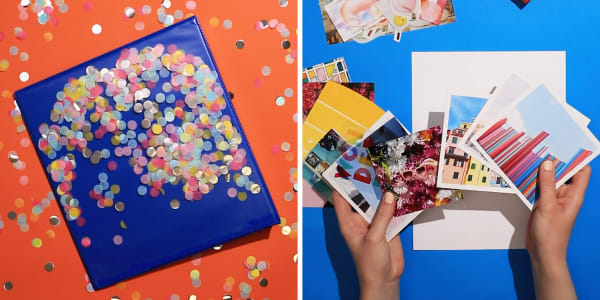 Create a visual feast for the eyes with super fun craft glitter or a photo collage of all the things that make you happy.
3) Get the party started with a fabulous glitter binder cover
If you want a seriously cool school binder that will really stand out from the crowd, then look no further. All you need for this binder cover project is a large chunky craft glitter and super glue. Empty a bunch of glitter into the clear plastic cover pocket. Seal with super glue. It's that easy.
Pro tip: Any view binder will work for all of the binder cover projects in this article. However we especially recommend a durable or heavy-duty view binder so that it lasts the entire school year in great condition.
4) Cover your binder with a collage of pictures that inspire you
Collaging is back! The return of analogue products is everywhere including instant film cameras and a myriad of ways to get your Instagram photos printed, which is perfect for a binder collage.
For this binder project you will need any 8.5" x 11" sheet, a glue stick and a collection of images. You can of course print out some of your favorite Instagram pics, or use an instant camera if you have one. Magazines, newspapers or color sample cards from the paint store are also creative resources.
Here's some tips for making a beautiful binder collage:
Lay out your blank binder cover sheet and arrange your images before gluing anything down.
Images should be very close together, even overlapping at edges so that none of the blank sheet is showing.
Take a photo on your phone that you can reference if needed.
Remove your images in backward order as much as you can and lay them near the edge of the paper closest to where they belong.
Since your collage will be safe inside the binder cover, you don't need to worry about sealing down edges. Instead, apply glue to the center of each image and place. That way you have the freedom to slip corners of other images over or under as needed.
Don't worry about images hanging off the edge of the sheet, simply trim edges when finished.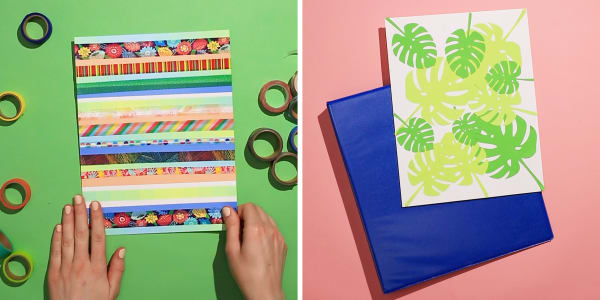 Update your school binder with supplies from your craft room. Put your washi tape collection to good use to make graphic stripes or layer die cuts to create dimension.
5) Go graphic with a geometric washi tape binder cover design
Put your washi tape collection to good use with this simple, yet striking binder cover idea. Play around with a variety of colors and patterns until you find a combination you like. Lay down the washi tape in a repeating pattern of lines on a blank sheet. Trim the edges of your binder cover sheet and you're done!
6) Add a pop of color and dimension to your binder cover with die cuts
Die cuts add amazing depth and color to your binder cover when layered together. You can find them premade at your local craft store, or use a craft cutting machine to create custom shapes if you have one. When using die cuts to decorate a binder cover sheet, keep in mind that the paper will show through.
For this project, we chose a clean white cardstock and a single tropical leaf shape in various sizes and two shades of green. Similar to collage, play around with your die-cut shapes until you come up with a layout you like. Take a quick pic on your phone for reference, then use a glue stick to glue them in place.
Explore more ideas to get back in the groove for BTS season
If you're looking for more creative ideas to help you relax in a productive way, check out these ideas to boost your bullet journal, or get tips on how to use more color in your personal planner. The fall is also a fantastic time to get into gratitude journaling.
When you're refreshed and ready to get back to BTS prep, make it easier with classroom labeling tips to help you get organized and stress-free back-to-school shopping online.
Have you given your school binder a happy makeover? Tag us on Instagram to show off your creations.