Avery is dedicated to helping teachers make every school year the best year ever. Available in a wide variety of colors, shapes and sizes, Avery labels can be used in a multitude of creative ways to organize your classroom.
Below we've compiled 7 expert ways to use Avery products, free printable label templates and budget-friendly resources to stimulate creativity, keep supplies tidy and inspire your students to participate in classroom organization.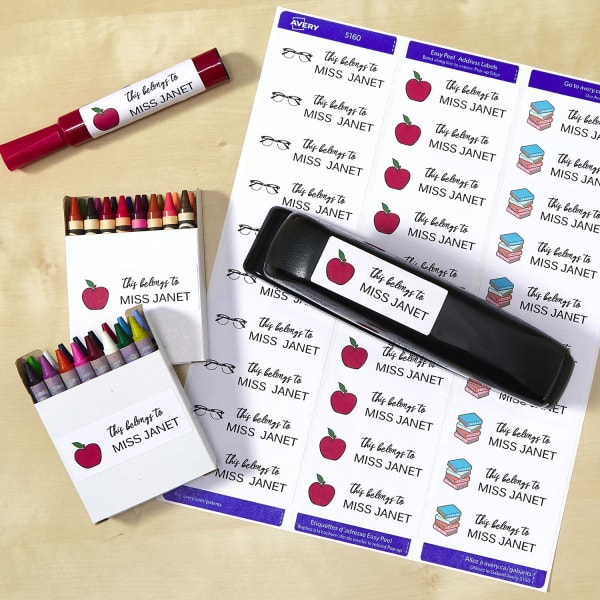 ID Teacher Supplies with Printable Labels, Avery 5160
1) Use Printable Labels to Keep Track of Teacher Supplies
It's no secret, Avery® Address Labels are some of the most useful, versatile printable labels for organizing. Easy Peel® and Sure Feed™ Technology ensure not a single label is wasted so you can achieve classroom organization perfection.
One of the best ways to use Avery printable labels in the classroom is to label teacher supplies. We know hands-on activities and excited students can make it difficult to keep track of supplies. Using personalized labels for teacher supplies makes them easy to identify and return.
Click here for teacher supply label glasses template.
Click here for teacher supply label apple template.
Click here for teacher supply label book stack template.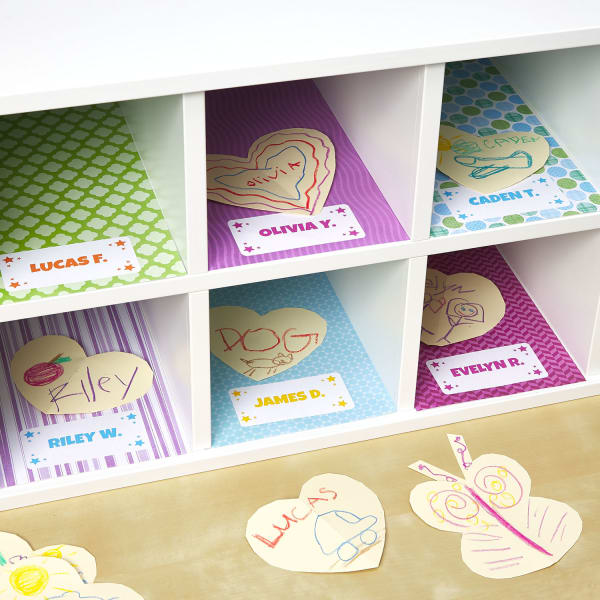 DIY Label Cubby Inserts with Printable Label, Avery 8163
2) Organize Cubbies with Colorful Inserts
Colorful classroom organization details are a fun way to make your room welcoming and engaging for your students. Using simple colorful card stock or scrapbook paper and printable labels is an easy and inexpensive way to instantly brighten up your classroom.
Cut your card stock to the size of your cubby shelf, then use printable labels to create student name tags for each cubby insert. Once you've attached the labels with your student's name to the card stock, you can reorganize cubbies as often as you like without damaging cubby shelves.
Click here for cubby printable label template.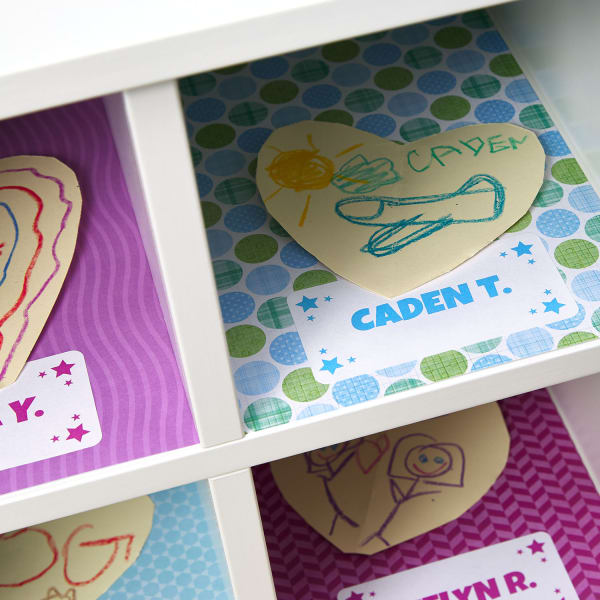 Re-usable Cubby Inserts with TrueBlock® Label, Avery 8163
3) Printable Labels for Reusable Cubby Inserts
Classroom organization elements that are reusable year after year are so important for teachers. DIY cubby inserts with printable labels not only keeps cubby shelves in pristine condition, but can be used over and over again.
Using Avery printable labels with Trueblock technology completely blocks out everything underneath. Easily cover old labels at the start of each year, or whenever new students arrive. To make your cubby inserts go even further, first cut your paper or card stock a quarter inch smaller on every side and follow with lamination.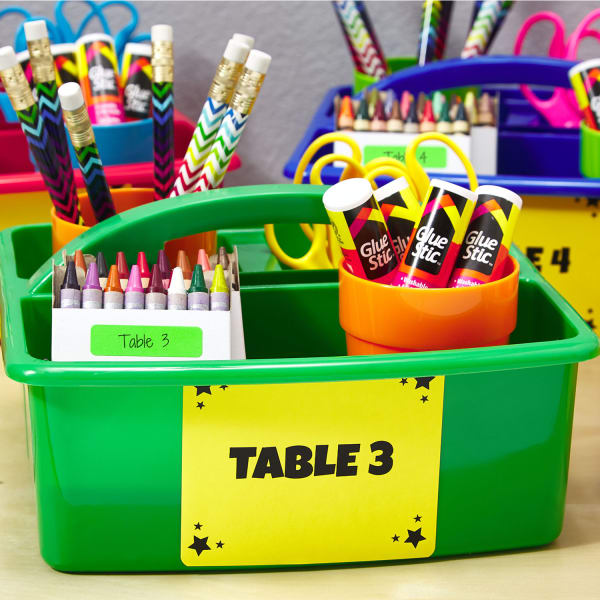 Keep Table Supplies Organized with Printable Labels, Avery 6482 & Color-Coded Labels, Avery 6724
4) Organize Table Supplies with Practical Caddies
Inexpensive plastic caddies with handles are a practical classroom organization must-have. Using printable labels to identify table numbers and color coded labels for supplies ensures "a place for everything and everything in its place."
Avery Removable Labels come in assorted neon colors that make it easy for your students to visually pinpoint. During cooperative learning, groups can easily keep track of the supplies for their table by matching color-coded and printable labels.
Keeping table supplies neatly labeled keeps lessons flowing smoothly and gives your students a chance to participate in the classroom organization process. Removable printable labels give you the flexibility to easily adjust and re-organize as needed.
Click here for 3-1/3" x 4" table caddy printable label template.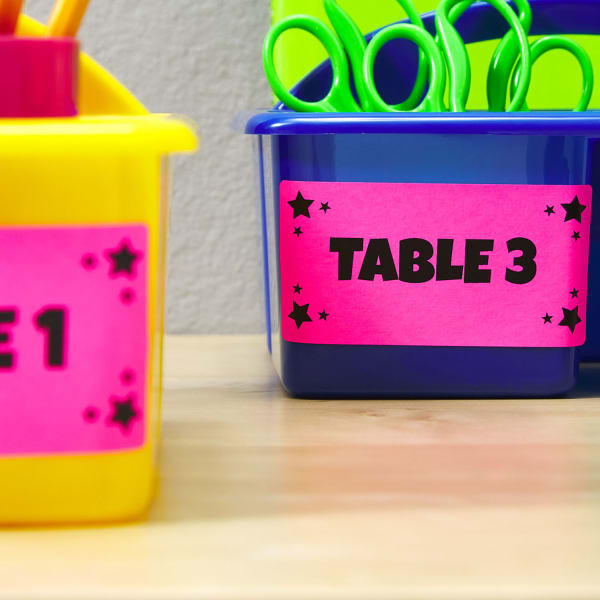 ID Table Caddies with Bright Printable Labels , Avery 5956
5) Printable Labels Make Caddies Easy
Labeling table caddies is simple and straightforward with printable labels. Using high-visibility shipping labels on practical plastic caddies is a fantastic way to create custom table caddies you can use year after year.
Neatly printed table caddy labels are easy to read, look smart and give your classroom a well-kept, pulled together feel. Taking pride in classroom organization shows students you care and encourages them to emulate your behavior with personal and classroom supplies.
Click here for 2"x 4" table caddy printable label template.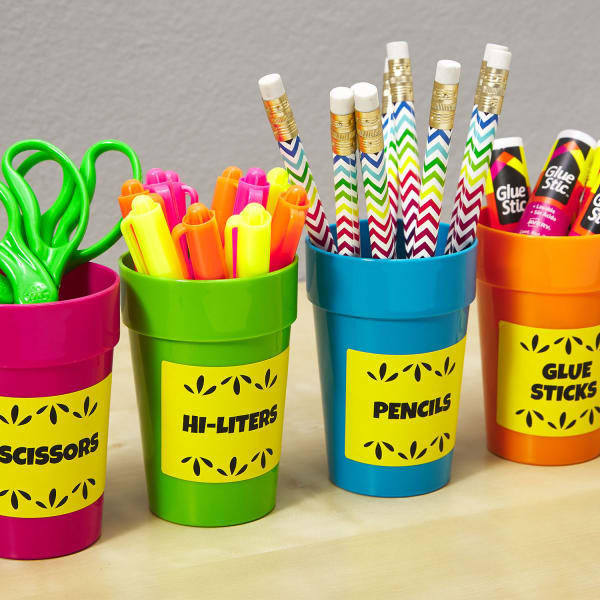 DIY Supply Station Labels with Avery 4331
6) Plastic Cups + Printable Labels = Instant Supply Station
DIY supply stations are fun, practical ways to stimulate creativity and organize your classroom. Making sure supplies are labeled in individual containers keeps the station neat and in order. All you need for this project are plastic cups and printable labels.
Avery Astrobrights® with Easy Peel technology are convenient, colorful labels you can use for a variety of projects. For a quick, easy and inexpensive supply station, simply apply your printable labels to colorful plastic cups available at most dollar stores.
Click here for supply station printable label template.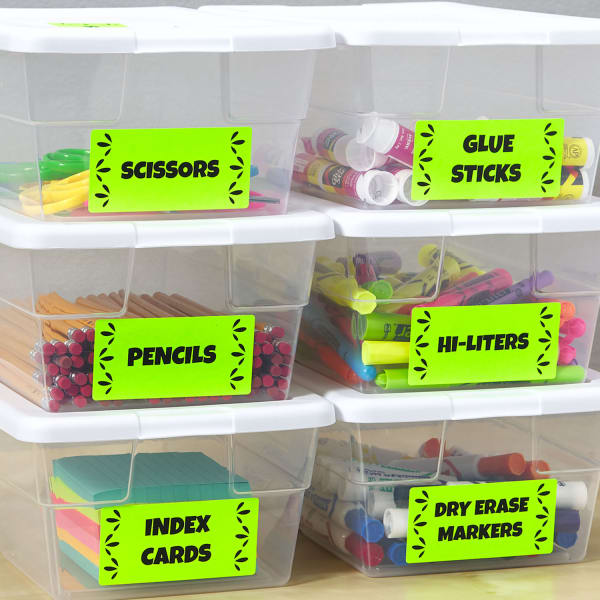 Organize Storage Bins with Neon Printable Labels, Avery 5978
7) Printable Labels Instantly Enhance Classroom Bin Storage
Plastic storage bins are an invaluable way to maximize cupboard, closet and shelf space. The key to using bin storage effectively for classroom organization is labeling each bin for easy access.
Avery High-Visibility printable labels allow you to quickly visually assess the contents of any storage bin, eliminating wasted time and energy searching through multiple bins for desired items. Colorful neon labels not only enliven your classroom, but can be used to color-code supply bins by category as well.
Click here for printable label template for storage bins.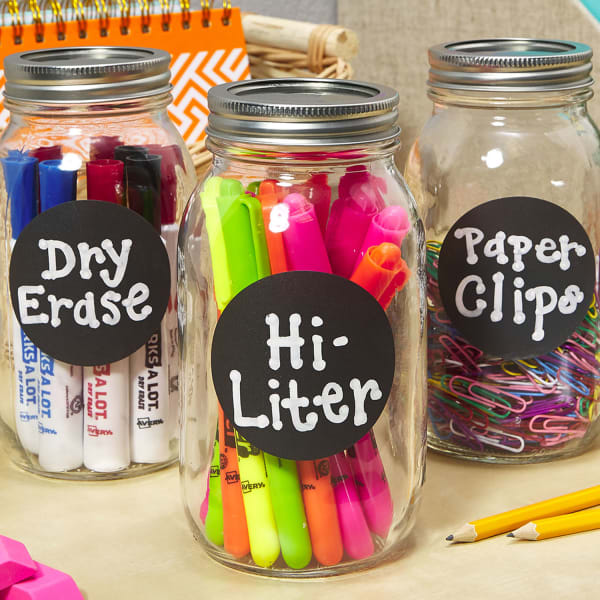 DIY Classroom Chalkboard Jars, Avery 73302
Bonus: Removable Chalkboard Label Jars
Printable labels are wonderful for creating neat, eye-catching labels that are uniform and easy to read. For instances when you may want to regularly update labeled containers or switch out the contents, chalkboard labels are the ideal solution.
Avery Removable Chalkboard Labels are the perfect re-writable label for classroom organization. Simple mason jars with chalkboard labels make charming containers for small or temporary supplies.