Get ready to welcome a wonderful new school year
Teachers preparing for back-to-school know that the impression your classroom makes can set the tone for the whole school year. The ideal classroom invites students and parents to participate in the learning process, shows that you care about your students and establishes an expectation for orderly, respectful behavior.
The best back-to-school ideas for teachers cover all these bases and set you up for a stress-free first week. Try these fun and practical classroom projects before heading back to school to help students, parents, and yourself smoothly transition into the new school year.
Get more ideas for using labels to help you organize your classroom.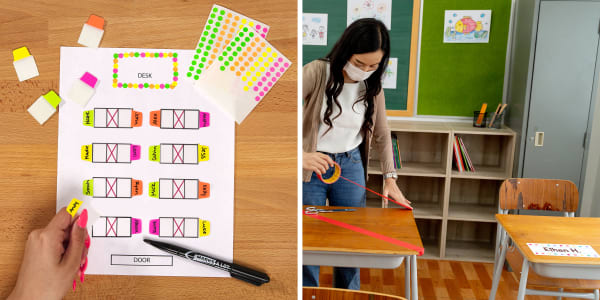 Get everyone settled in for a great year. Give yourself allowance for making swift changes to your seating chart with small repositionable tabs you can write on. Use mail merge to quickly create removable desk labels for your whole class.
1) Organize your back-to-school plans
Getting organized for the school year helps you switch your brain from summer mode to back-to-school mode. While you're organizing the details of your classroom and your lesson plans, you're also organizing your mind and getting focused. Before school starts, these are the must-dos:
Classroom seating chart. Remove the extra work of recording seating assignments on the first day. Plan your seating chart before students arrive. Use repositionable tabs that make it easy to quickly make adjustments on the fly.
Grading folder. Prepare your grading folder well ahead of your first day back with students. This ensures you'll have a neat, orderly place to record grades as soon as the first assignments are returned to you.
Teacher binder. It's your go-to place for storing and organizing all your important papers that aren't necessarily student-related. For example, your personal schedule, faculty memos, school-wide event information, your phone list, school policies/procedures, safety instructions/resources, and the like.
Pro tip: Make your binder a moment just for you. Try one of our fun ideas for giving your school binder a happy boost.
Personal planner/agenda. Fill in the school year with start/end dates, holidays, professional development days, school events, field trips and other important dates. You can even make your own DIY custom planner stickers— it's so easy and fun!
2) Get back to school desk labels done fast with mail merge
Import Data Mail Merge (usually just called mail merge because it's a super tool for making address labels) is a feature with Avery Design and Print Online (ADPO). The free label software (hosted in the cloud) lets you import a list of information onto individual labels.
Mail merge is great for importing student, PTA, and faculty lists onto any back-to-school label project, but it's especially useful for creating desk labels since you don't have to manually type in a name each time.
All you need is your class list in spreadsheet format, then in ADPO choose the Import Data Mail Merge tool and follow the prompts provided. For help using mail merge for back-to-school projects, check out our mail merge tutorial video or get step-by-step mail merge instructions with pictures.
Pro tip: Shop Surface Safe™ white film labels by the sheet to order in any size or shape you need. Use mail merge to quickly fill in students' names, then print, apply and remove when needed. No sticky residue to peel off and no damage.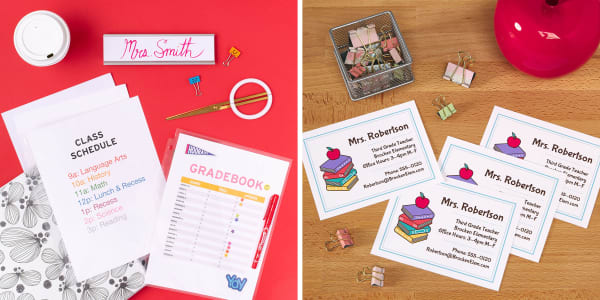 Be prepared for anything. Durable (and cleanable) supplies like heavyweight sheet protectors are must-haves for reducing germs. Make your own postcards with contact info to hand out to parents.
3) Stock up on easy-to-clean BTS supplies and labels
Little hands are notorious for passing on big germs, even at the best of times. Start using cleanable BTS supplies and labels as soon as you return to the classroom. It's an extra precaution against spreading germs that will pay off big time when cold and flu season rolls around.
Separating and sanitizing school supplies is high on everyone's to-do list this back-to-school season. Durable chemical-resistant labels (originally engineered for industrial use) work well with common disinfectant wipes. Consider them your secret weapon for labeling small classroom supplies.
Pro tip: Check out our detailed guide to kids labels that can be cleaned for labels that work on face masks, food containers and more.
Heavy-duty binders, plastic dividers and sheet protectors are also must-haves. Not only can you wipe them down as needed, but the extra durability means they'll last the entire school year.
4) Make it easy for parents to donate and/or shop back-to-school supplies
Create your own QR code that parents can use to access your school supply lists online. For example, a link to shop the back-to-school supplies required for your class, or an Amazon wish list for parents to purchase class supplies as a donation.
QR codes are a type of barcode that can be read by any smartphone or tablet and usually link to information online (although they can link to any digital database). You can create your own QR code that links to one webpage, or to a Google document with several different links to online resources for parents.
Learn how to create your own QR code labels for back-to-school using the free barcode generator in Avery Design and Print Online.
5) Prepare for back-to-school night ahead of time
Just like any event, the more things you can prepare ahead of time, the less you'll have to worry about on the big day. A standout back-to-school night is welcoming, informative and accented with special little details.
Some details you can easily prep in advance of back-to-school night include 1) Back-to-school cards with your contact info, 2) handouts (i.e. important dates, classroom rules, etc. 3) table tent cards for signing in and other directions for the evening, 4) a welcome banner and 5) cups/napkins for refreshments.
Return to the classroom with more ideas for back-to-school
Back-to-school is your chance to make a great impression and set the tone for the new school year. Set yourself up for success by taking the time to get organized, prepare a few things ahead of time, and, most importantly, take care of yourself.
Why navigate crowded stores when you can relax and shop back-to-school basics online? Shop Avery back-to-school supplies that help hold it all together without all the fuss. Try out a creative activity that will help you unwind like making your own bookmarks or experimenting with new ways to boost your bullet journal.
Are your classrooms ready? Connect with us on Instagram or Facebook to share your favorite ways to get ready for back-to-school.