See the hottest candle label ideas and how to make them
You know what they say, "New year, new me". So why shouldn't the same go for your candle labels? Have you been using the same candle design over and over and are looking for new ways to brand your candle line? Well, look no further!
Along with our design team, I've put together some candle label ideas and trends to help get your creative juices flowing.
We used the same candle label design on all of the candles below to show you how the different candle label ideas look with the same branding.
1. Skinny labels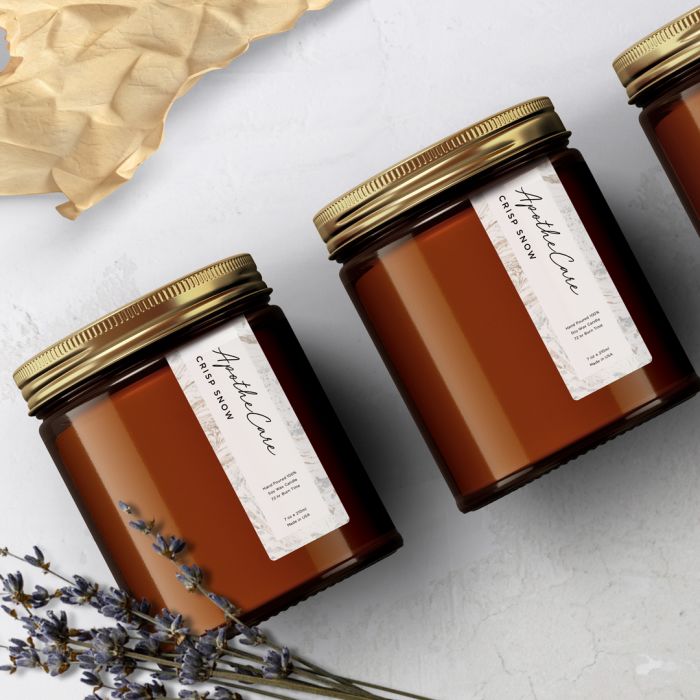 If you're looking for a way to really elevate your candles, a narrow label centered vertically down the front of your candle, or horizontally along the bottom edge can give your candles a more elegant, sophisticated look.
We used custom printed 1″ x 2 5/8" rectangle labels from Avery WePrint, our professional printing service, for the pictured examples. However, Avery offers a variety of sizes, as well as custom sizes for no extra charge, so you can find exactly the size you want.
If you want DIY candle labels, try our printable blank sheet labels that you can order online by the sheet. Or if you have a pack of our all-time customer-favorite 5160® sitting in your desk drawer, you can achieve the looks above.
Printable labels are a great option when you don't need a lot of labels. They're also perfect for testing your candle label ideas without spending a lot of money. Remember, it's always a good idea to measure your containers to get the right label fit before you place your order.
2. Diamond labels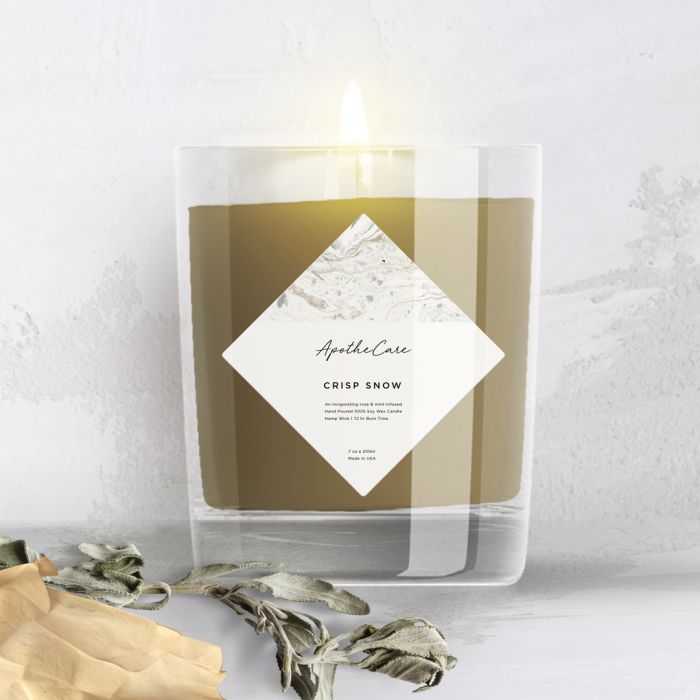 Another great way to really make your candle label design stand out is with a diamond-shaped label. Or, simply take a square label, the most popular for candles is a 2" square, and rotate it 90 degrees on your candle jar or tin. If you have a retail pack of our printable square labels at home, they'll work great too.
This look can really make your candles shine online or on shelves in stores and boutiques. Customizing your diamond labels is also easy when you use our free square candle label templates and online design tool. Just pick the template you want to use, blank or predesigned, and rotate it 90 degrees on our design canvas. This step-by-step shows you how to rotate text and images on your label.
3. Scalloped labels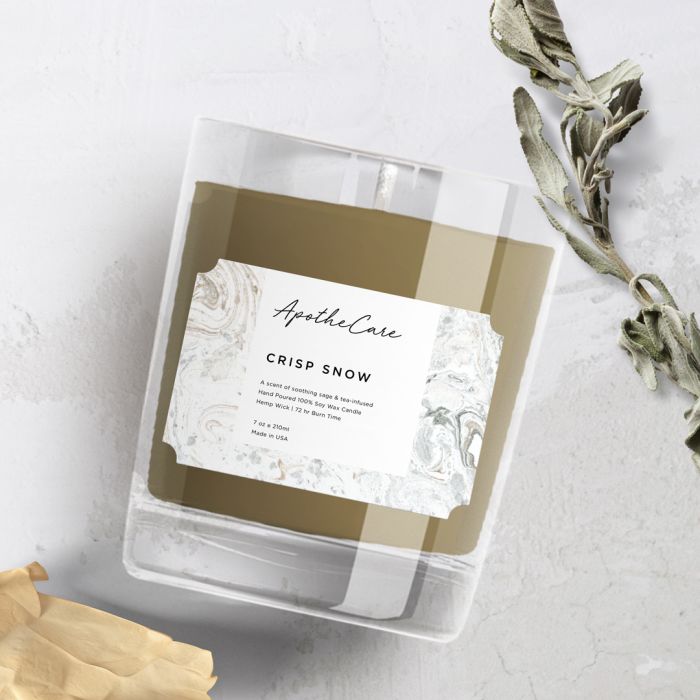 Are you looking for a way to bring some personality to your candle line? Straight corners and edges are great but labels with scalloped corners or edges can give your candles a completely different look.
Rectangle and square scalloped-corner labels give your candles a modern, polished style, with the scallops drawing attention to your candles. For a softer look, try a circle or oval label with scalloped edges.
4. Overlapping labels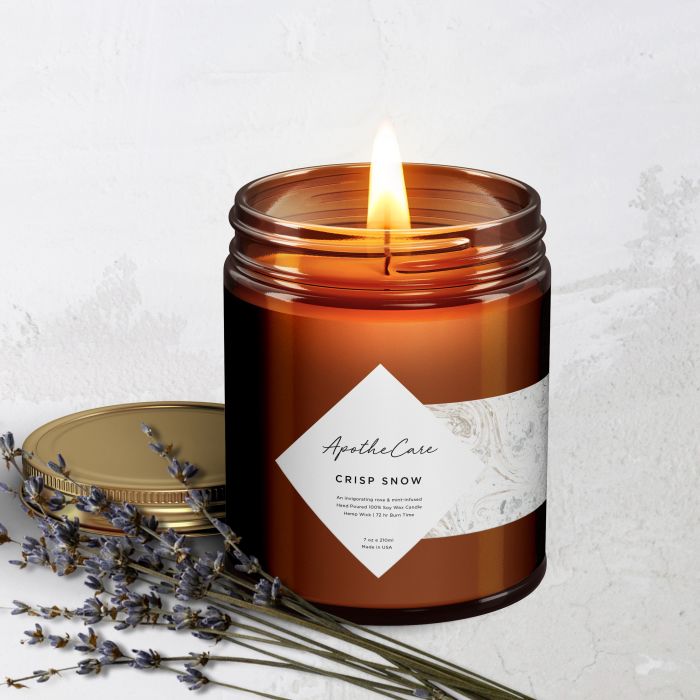 If you really want to ramp up your creativity, one of the latest candle label ideas is to use multiple overlapping labels on your container. There are many ways to do this, whether it be a circle on top of a rectangle or a scalloped round label on top of a square label. The possibilities are endless.
You can experiment with different looks for little cost by ordering a few blank label sheets in different shapes to see what looks best on your candle containers. But if that sounds like too much work, you can always shift your attention to WePrint where you can get custom-shaped labels for no extra cost. That's right, a label that is cut to whatever shape/size your heart desires. This option gives you the ability to make your wildest candle label dreams come true.
For more information, check out our custom-shaped roll labels. If you need help getting started on the process or have any additional questions please feel free to e-mail me at nionesko@avery.com so I can personally help you out.
5. Hang tags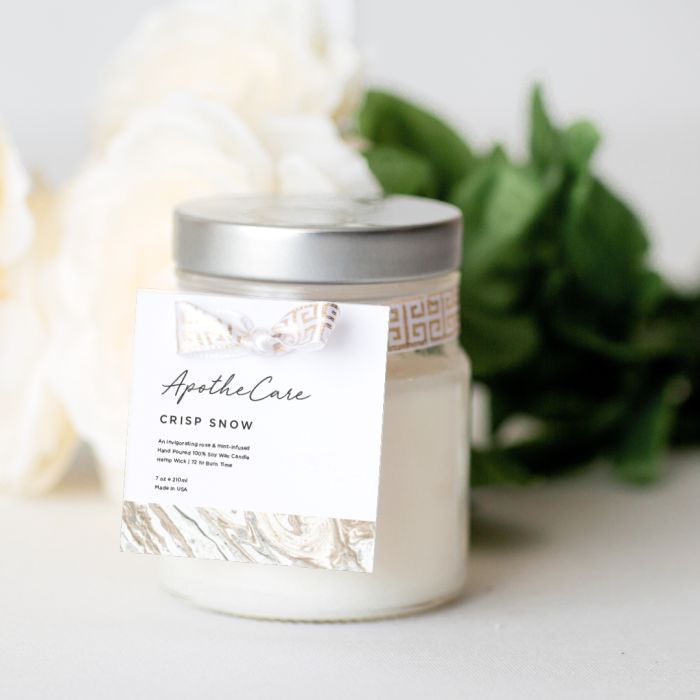 Another unique way to brand your candles is to use a tag instead of a label. You can use a slick square tag attached with a beautiful matching ribbon. Or perhaps you're looking for something a bit more fun? A scalloped tag can add a touch of whimsy to your Mason jar.
You can order a variety of custom tags in many different shapes such as square, scalloped, rectangle, and circle. For the DYI candlemakers, you can use our selection of printable tags that are available in retail packs in-store or online.
You've picked your favorite candle label idea, now what?
Of course, there are many other label options out there for your candle line. Once you decide the size and shape label or tag you want, next you need to pick your material. Avery offers many different label materials that you can choose from to help you achieve the look that you're going for.
Black labels are hot in the candle community right now. Fun fact, the labels themselves are not black. To achieve this look, select a white label (white film or matte/glossy paper) and lay down a black background using our design tool before adding your text. Pretty cool trick, right?
WePrint also offers luxury metallic labels in gold, silver, rose gold, and copper. However, WePrint can lay down any color you'd like and make it metallic. Check out a full list of our materials and their attributes. You can also order printable gold and silver foil labels by the sheet.
Last but not least, don't forget your candle warning labels. And when you're ready, learn how to apply your candle labels perfectly.
Again, if you have any questions, please feel free to contact our Care Center at (800) 462-8379. We are based in California and are open Monday–Friday from 6:00 AM- 5:00 PM. We're here to help!
If you have any candle-making questions, make sure to check out our partner, CandleScience. They have all the candle waxes, fragrances, and containers you need. Along with amazing candle-making tutorials.