How to Make Candle Science Simple
If you want to learn how to make candles and the science of candles, the internet is full of bloggers and YouTubers sharing their wisdom. But if you want to find everything, all in one place, from candle-making supplies and tutorials to step-by-step kits and informative videos, CandleScience is your one-stop candle-making shop.
There's big business in candle science
Approximately $5.8 billion of global candle sales are expected by 2025. And that is in part due to companies like CandleScience, that focus on helping crafters and start-ups learn the art and science of candle making. And with ever-growing demand and e-commerce sites like Etsy and Shopify, there is a big opportunity for candle makers.
Avery is very excited to partner with Candle Science because of its commitment to DIYers, hobbyists, and small candle and soap businesses. Like Avery, CandleScience provides thoroughly tested, high-quality products and resources that empower users to achieve their goals.
We recently tapped into the team at CandleScience to share some history and insight with readers interested in candle-making.
How did CandleScience get started?
CandleScience began in 2004, when our two founders, who are brothers, wanted to start an e-commerce business together. Their father worked as a chemist in the candle science industry and suggested they start an online candle supply business.
There were lots of people selling candle-making supplies at the time, many of who were candlemakers themselves. The brothers saw an opportunity to step in as a fast, reliable wholesale source—something that wasn't available at the time. Together, they invested in a modest product line and have steadily grown the business into what it is today. Candle Science has locations in Durham, NC, and Reno, NV, with over 100 employees.
How does CandleScience come up with new oil fragrances?
The fragrance is what everyone gets the most excited about. Both ourselves and our customers. We'll happily talk about all things fragrance for hours. And we always obsess over the strength and character of each new candle science fragrance oils launch.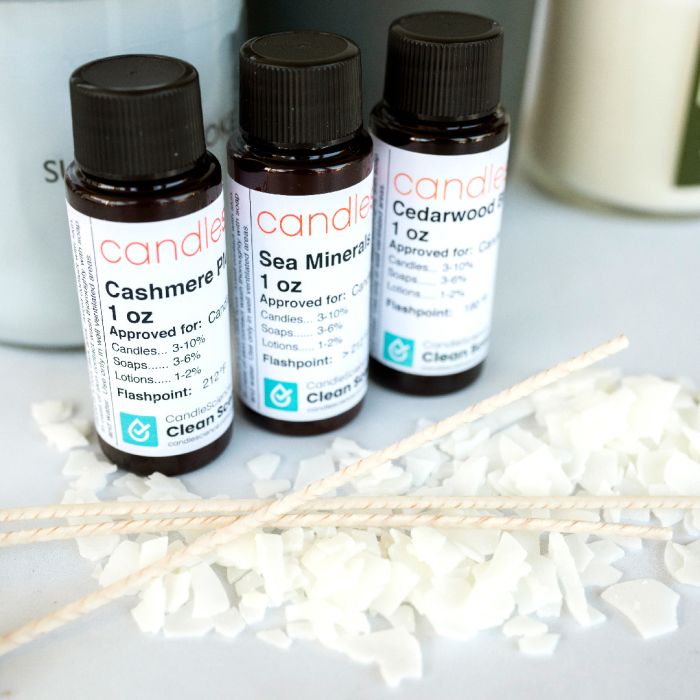 What's less known is that we're equally obsessed, maybe more, about the safety of the fragrance oils we bring to the market and into people's homes. The products we sell are ones we use ourselves, in our homes, and around our own families.
Many people may not be aware of how much testing we do at Candle Science before a fragrance makes our product line. Our commitment to testing and quality is one reason why we don't carry a staggering number of fragrances like many other candle suppliers.
Last summer we proudly introduced CandleScience Clean Scents™, which was a big achievement for our company. The goal of all this work is simple: peace of mind when using CandleScience fragrance oils in your homes, around your families, and in your business. All CandleScience Clean Scents™ exclude all known carcinogens, mutagens, reproductive toxins, organ toxins, and acute toxins.
Striking a balance between safety and performance requires an ongoing monitoring program to make sure we stay up to date with the most recent data and research. As regulations evolve and new research becomes available CandleScience Clean Scents will evolve, too.
CandleScience listens to its customers
The most important voice, however, comes from our customers. We track every piece of feedback we receive about our fragrance oils. In addition to every search on our website and every request for new fragrance oil scents. We often find common threads between their feedback and the list of potential scents we've already compiled.
Everyone's involved in evaluating new fragrances at CandleScience, from tech to marketing. Usually, we spend a couple of months testing multiple revisions of a single scent. Other fragrances can take an even longer time, sometimes years, before we find a formulation that meets our requirements. And we have continued to update and expand our processes to include development for bath and body applications and industry-leading safety regulations and guidelines as well.
How important are candle labels?
For our customers, a product label is essential to convey their brand and product details. It helps their product stand out from others that may have a similar shape or size.
The proper branding and styling of a product label also help connect with the emotions of buyers. The branding and styling of a candle label also help the product appeal to potential buyers who connect with the aesthetic of the candle and how it will fit into their home.
Labels also include important safety information to cover the maker from liability, as well as to instruct the user in safe candle burning practices.
What are your bestselling candle containers?
Candle tins are the most popular of all our containers. They're easy to work with and they can hide wax imperfections seen on the sides of clear glass candle jars. Plus, they're not expensive and they're fairly rugged, making them easy to transport or ship.
How important is digital imagery for your company?
Videos and images are extremely important to Candle Science. Not only do they show our products and how to use them, but they also help us interact and engage with our customers in a more personal way. Candle and soap makers are such a creative community, and using videos and images is an ideal way for us to communicate, teach, and engage with them.
Videos also help our brand be more discoverable for those searching online trying to get started with the science of candle or soap making. Creating more videos and other creative content is a strong focus for us lately. We've even added a community manager and a designer-photographer to help us create and distribute these assets.
How is CandleScience being socially and environmentally conscious?
When the company began, the founders were always conscious of the social and environmental impacts of the business. From the outset, we have worked to use packing supplies that are made from recyclable materials or are biodegradable.
We also participate in the UPS Carbon Neutral Shipping program. We purchase carbon credits to help offset carbon dioxide emissions generated by the transport of all our UPS ground shipments. These credits are used to fund projects that either prevent CO2 from being released or actively remove it from the atmosphere.
What suggestions do you have for beginning candle makers?
Get the right process and techniques down when you're first starting out. Watch our beginner tutorials or start with one of our candle-making kits to learn how to get the best results from your finished candles. Also, keep things simple. This will help you when you're crafting your products and also when you're working on your branding, packaging, and labeling. It's so much fun to experiment and test new scents and combinations and create your own candle science. Then you can create a candle that you and your friends will love.
Need to order custom labels for your candles? Get a free quote instantly using the WePrint Candle Label Calculator. Or you can order Avery blank candle labels by the sheet and print them yourself at home.
Learn all about the art of candle science with our partner www.candlescience.com.