Other articles might like:
I met Cassity, the owner of St. Brown & Co., while I was shopping in the small town of San Juan Capistrano. She was selling candles at a pop-up market in the historic Los Rios District. I always have a candle burning in my house, and I was immediately drawn to her beautiful candles and containers. And then once I smelled them, I was sold.
Candle-making is extremely popular with many of our customers at Avery, so I started talking with Cassity to learn more about her candle business. I was impressed with all the research that went into building her new company, from her containers to her labels, and how much she genuinely loved talking about it.
Check out St. Brown & Co. candles and Cassity's journey below and all the helpful tips she has for anyone looking to start their own candle business.
How it all began
The idea of selling candles just popped into my head one night as I was drifting off to sleep. It was October 24, 2020. I thought, "Candles are always pleasant." So I grabbed my computer and started to Google — how to make candles, how to start a candle business, candle suppliers near me; things like that.
Being pragmatic, I went to Michaels the next day to buy a few basic candle-making supplies to see if I even enjoyed the process before jumping straight into a business. I made a cute little Mason jar candle by melting wax on the stove in my kitchen and I thoroughly enjoyed it.
I had the brand image in mind for quite some time, even before I knew what business it would be attached to. Wanting a classic, luxurious, beautiful look, I envisioned black and white colors at the center of my brand.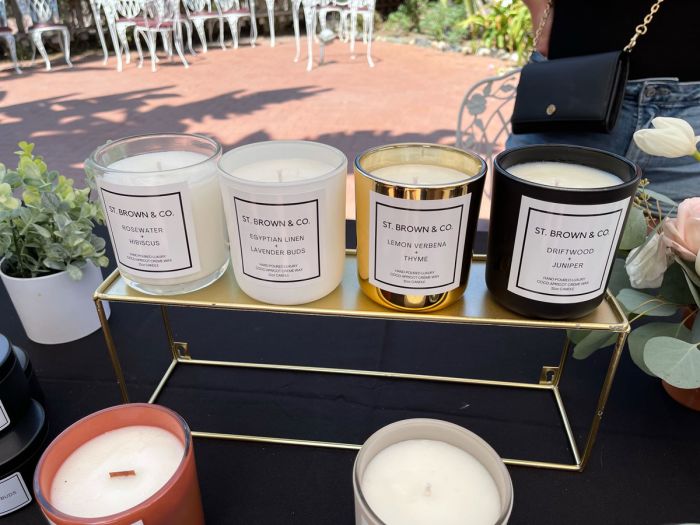 I have been inspired by St. John Knits and Tiffany & Co. as strong luxury American heritage brands. The craftsmanship and design that goes into St. John jackets and Tiffany jewelry is unparalleled. So, I integrated my inspiration from both brands with my own name and thus St. Brown & Co. was born.
I worked quickly in the fall to set up my online store, social media, and make inventory for a December 31, 2020, launch date. Launching fast meant I wouldn't have time to overthink and talk myself out of my idea. I also wanted to be poetic and launch on the last day of 2020 to end such a tumultuous year on a wonderful note. And I did it! St. Brown & Co. was live on New Year's Eve, 2020.
Making candles at a manageable pace
For me, candle-making is the perfect blend between creativity and process. It's creative to select the vessel, fragrance, and design but it's crucial you make the candles exactly right. You have to pay attention to how hot the wax gets, how much fragrance oil to use, how long it needs to cool before lighting it, and more.
I have taken a slow and steady wins the race approach to my business. And that strategy is proving quite useful. The brand is evolving at a manageable pace, which is important to me and the success of the brand.
I also sell wick trimmers and snuffers for candle care, but I don't produce those accessories myself. Perhaps I will experiment with diffusers down the line, but I don't have any plans for the immediate future.
One thing I was conscious of when picking my business name was not to pigeonhole myself into one category. That's why the business name isn't "St. Brown & Co. Candles." St. Brown & Co. could be anything. Yet to be seen, but full of possibilities.
I have hired a Marketing Assistant and we have already successfully landed some wholesale accounts. We've collaborated with real estate agents for closing gifts, and we have consistent pop-up shops. We also have St. Brown & Co. in boutiques.
Finding the right scents & waxes
I tried several different waxes when I first started making candles — soy, coconut soy, and coconut apricot creme. I decided to make my candles with the coconut apricot creme wax because not only was it incredibly easy to work with, the name sounds very luxe.
For my scents, I use luxurious non-toxic fragrance oils made by The Wooden Wick Co., based in Southern California. I always have an idea of what fragrances I want to include in a collection, so I'll order several samples of a particular kind of scent. For example, in preparation for Father's Day, I ordered 8 to 12 fragrances that had musky, manly notes. From there, I select the fragrances I like, make a sample candle, and test to see if I like the cold and hot fragrance throw. If it passes my burn test, I produce the candle.
Choosing a candle label printer
I have always seen Avery products in office supply stores when shopping for school, so I was very familiar with the brand. When choosing where to print my labels, first I tried buying Avery blank labels and printing them on my laser printer. Unfortunately, they didn't give me the luxurious look I wanted, so I knew printing my labels myself wasn't going to work.
Then, I looked up several other custom printing places online where I could upload my design and have them shipped to my house. But they were all astronomically expensive! I knew I wasn't finding the right solution.
So, I came back to Avery and tried the WePrint option. I liked that it was easy to select the size and material I wanted, upload my design, and press submit. I also saw that Avery was located in Brea, CA, so it was nice to support a fellow Orange County business.
Finding the right label material
Initially, I started with the white film, but I found that I kept getting little air bubbles under my labels when putting them on my candles. I couldn't have that, so I tried the glossy finish. It was nice but if I placed the label on my candle and it was a little crooked, I couldn't peel the label off without leaving a white sticky residue on the candle.
At the time, I was eyeballing my labels, so I knew I wouldn't be able to consistently put the labels on straight. I had to account for errors, so I needed a label that I could peel off with ease.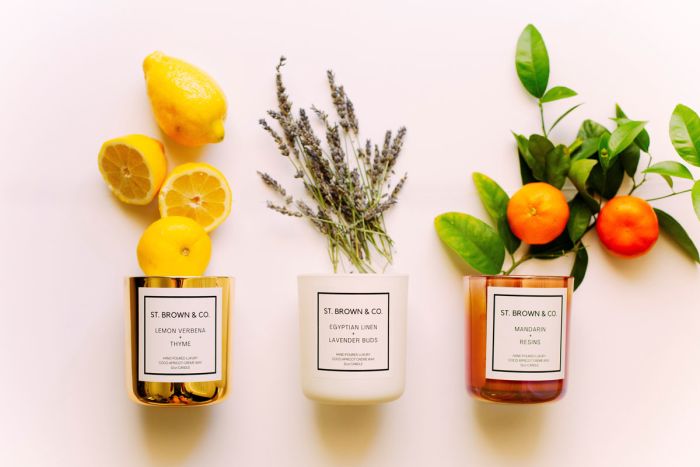 So then I tried the removable white film. And it was the winner. It looks beautiful and luxurious because it's glossy and thick. But it's also removable! So if I ever mess up and put a label on crooked, I can easily peel it off and try again until it's perfect.
Another perk of the removable white film is that my customers can reuse the vessel when they finish burning their candles. They can clean out the wax at the bottom of the candle and they have the option if they wish, to remove the label so the vessel transforms into a makeup brush holder, pen holder, or even a little pot for a plant.
I use removable white film for my front-facing labels, and I use regular white matte paper for the warning labels on the bottom of my candles. Warning labels serve a very functional purpose that is unrelated to glamor, so it's not necessary to have a luxurious warning label when a more affordable option is sufficient.
Candle-making tips & tricks
I hand-label my candles. I started out eyeballing my labels, which proved to be inefficient. So I invested in a Label Wizard, which really helped the process. Fun fact: The Label Wizard was designed and created by The Amish in the United States. I recommend investing in a Label Wizard if you're labeling by hand. It'll change your life.
Also, order some of your competitor's products just to see their quality control. I did that and their labels were not 100% perfect. So, if it's a hair off, it's okay. I used to stress about every little imperfection and it really took away the joy.
So yes, of course, do your best and produce quality products, but if it's not 100% perfect, it's okay. We're human. And also, you might be the only one that would notice that small of an imperfection.
Creative businesses are meant to be fun, so enjoy yourself.
Check out St. Brown & Co. candles to order your own amazing candles. To start creating your own labels, visit Avery Design & Print. To order your own professionally printed labels, visit Avery WePrint.