Use labels, cards & tags to easily promote your candle business
When it comes to branding and labeling your candles, it all starts with your logo and design. And that's likely what you're most excited about. But there's more to branding your new candle collection than just beautiful scents and pretty labels. You have to consider everything that goes into selling your candles including containers, packaging, and marketing materials.
Every step in a consumer's candle-buying process is an opportunity for you to build your brand. From buying and receiving the candle to opening and burning it, there are numerous branding moments you can take advantage of.
Whether you plan on hiring a graphic designer or creating your own unique artwork to brand your candle line, achieving a cohesive look across your entire line of products and marketing materials is essential.
To help you out, we put together a few different ideas using Avery labels, tags, and card products to show you how easy it is to carry your brand across a variety of materials and create a cohesive marketing experience.
It's all about the label
Obviously, the actual candle label is the most important aspect of branding your candle line. It's what the end-user will see while enjoying the candle as it burns.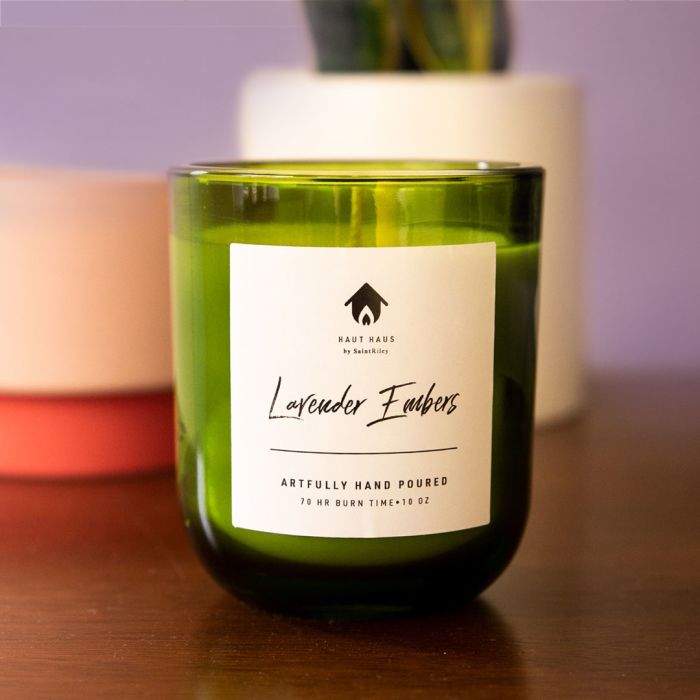 If your brand is the star of the show, then choose uniquely shaped or large labels that stand out on your candle jar. If you want the beautiful colors of your candle wax to shine through, then choose a clear jar with a clear label to give you a no-label, printed-on look. Or try a small square or oval label that takes up little space and lets your candle-making skills shine through.
If you need a little help adhering your labels to your candles, read How to Apply Your Candle Labels Perfectly for some extra tips and tricks.
But don't stop at the candle jar
Whether your candles are shipped to individual customers from your online store, or they're being bought at a shop or boutique, adding a hang tag or an additional label to the outer packaging can make your candles even more appealing.
Hangtags come in a variety of different sizes and styles. They're perfect for adding an extra fun touch to candle jars, bags, and boxes. Use a piece of colored twine to tie directly around your candle container or add tags to carry-out bags for retail locations. Adding a custom tag to the candle itself or to the box it's packaged in gives customers a ready-made gift. No wrapping necessary. And again, it helps extend the brand of your candle line, as the consumer will have seen it several times before actually lighting the candle.
You can also use large rectangle labels as a unique way to brand and seal your candle boxes at the same time. Once your candle is placed inside the box, simply add a custom wraparound label to the outside.
Never stop promoting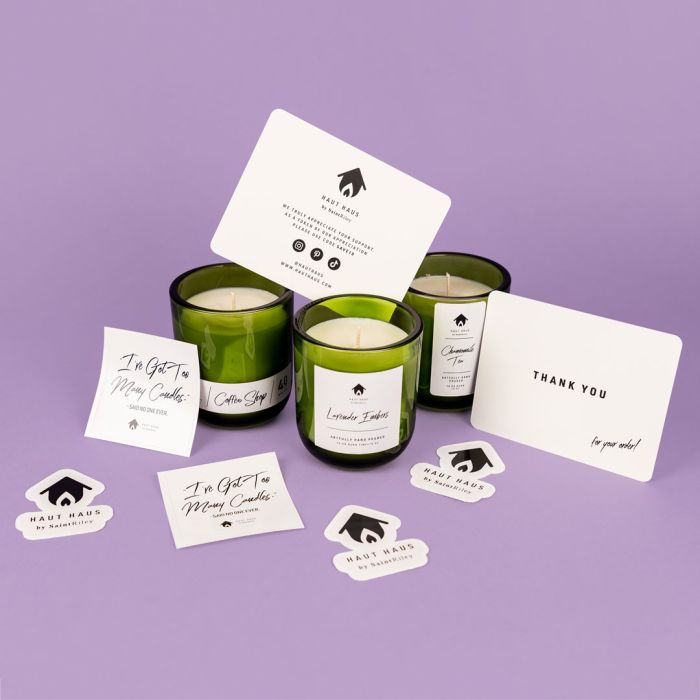 It doesn't matter if you're on the job actively pushing sales of your candles or sitting in an airport waiting to head off to your next craft show, having professional business cards on hand that complement your brand is a must.
A casual conversation with a nearby passenger on a train or a customer in a restaurant could lead to an eventual sale. And while adding your number to their phone is easy, it's also easily forgotten in their contact list. Beautifully printed business cards get carried home and put on the refrigerator or on a desk. Think about adding a special offer on the back of the card to pique more interest.
Loyal customers are your best tool for bringing in new business through referrals. Coordinating postcards are a great way to offer sales through direct mail or as handouts at street fairs and farmers' markets. Treat loyal customers to special discounts by enclosing personalized cards in completed orders. Or give your boutique owners cards to enclose with purchases or as handouts. Or add a fun custom sticker inside your shipment or carryout.
Simple ways to make candle labels & marketing materials
Once you've got your candles labeled, your packaging tied up, and your business cards printed, don't stop. With all the online design tools available, it's simple to create your own coordinating marketing materials. If you use the design tool from Avery, you can use the same design on your labels, cards, and tags to keep your brand consistent across your entire candle line.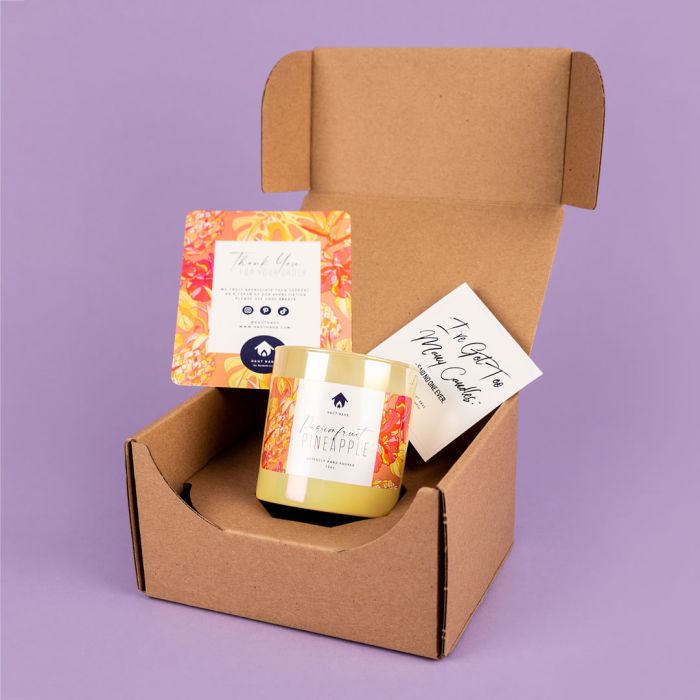 If you're ready to start branding, packaging, and labeling, check out our Candle Design Gallery. Our graphic designers have created thousands of easy-to-customize, free templates you can choose from.
Simply pick your favorite design and personalize it for your entire candle line. Or upload your own imagery. Just pick the size and shape you want, personalize and either print them yourself using Avery blank labels by the sheet or have them professionally printed by Avery WePrint.
If you want some great tips on the science of candle packing and shipping, check out these great shipping tips from our friends at CandleScience.
Now for a little inspiration
Check out some of the amazing labels created by our customers using Avery WePrint and Avery printable labels.