What you need on candle warning labels + free templates
Candle labels aren't just for product branding and adding a pleasing aesthetic to your candles, they also provide important safety information for your customers. So, we've created some candle warning templates that you can easily order or printable candle safety labels, as well as tips to make sure your candles have the proper warning labels on them.
The reason warning labels are so important is that candles cause more than 8,500 house fires a year on average, according to the NFPA. And, approximately 85% of those could be prevented by following three simple rules, according to a study by the U.S. Consumer Product Safety Commission.
Always burn candles within sight
Never burn candles near flammable items
Keep candles away from children and pets
What you need on your candle safety label
Industry standards state that the three candle safety rules should always be placed somewhere on your candles for proper fire safety. Thankfully, there are industry-standard pictograms that help convey the message when space is limited. The ASTM standards recommend that fire safety warning labels are put on each unit of sale, and visible at the point of sale. You also need to make sure they're not covered, obstructed, or removed by the manufacturer, distributor, or retailer.
Most warning or cautionary labels also feature instructions for proper candle burning:
Burning Instructions
Trim wick to 1/4″ before lighting. Keep the candle free of any foreign materials including matches and wick trimmings. Only burn the candle on a level, fire-resistant surface. Do not burn the candle for more than four hours at a time. Stop use when only 1/4″ of wax remains.
If you need some help applying your candle safety labels, check out How to Apply Your Candle Labels Perfectly for some useful tips.
Candle label template designs
To help you label your candles quickly and safely, we've created some candle warning labels you can order instantly online. The messaging on our warning label templates adheres to ASTM standards. They feature proper burn instructions, as well as basic candle safety.
So, whether you want to go with or without pictograms, simply click on the link below for the size candle warning template that matches the label size you'll be using. Or find the most popular sizes on our Candle Warning Label Template Gallery.
Then, once you've found the template you need, you can print the labels yourself using Avery blank labels, or let us Avery WePrint professionally print your safety labels.
Here are some examples of templates available.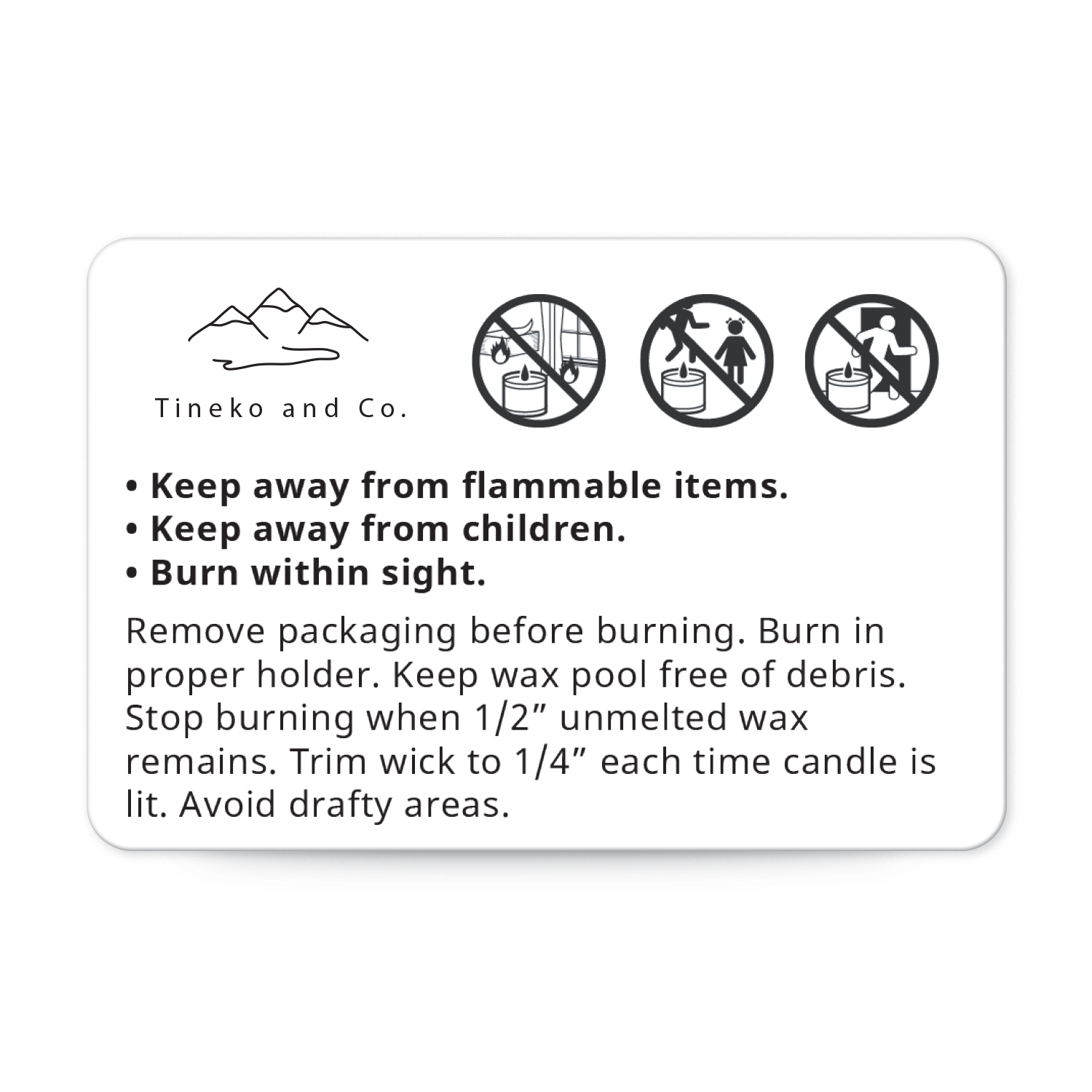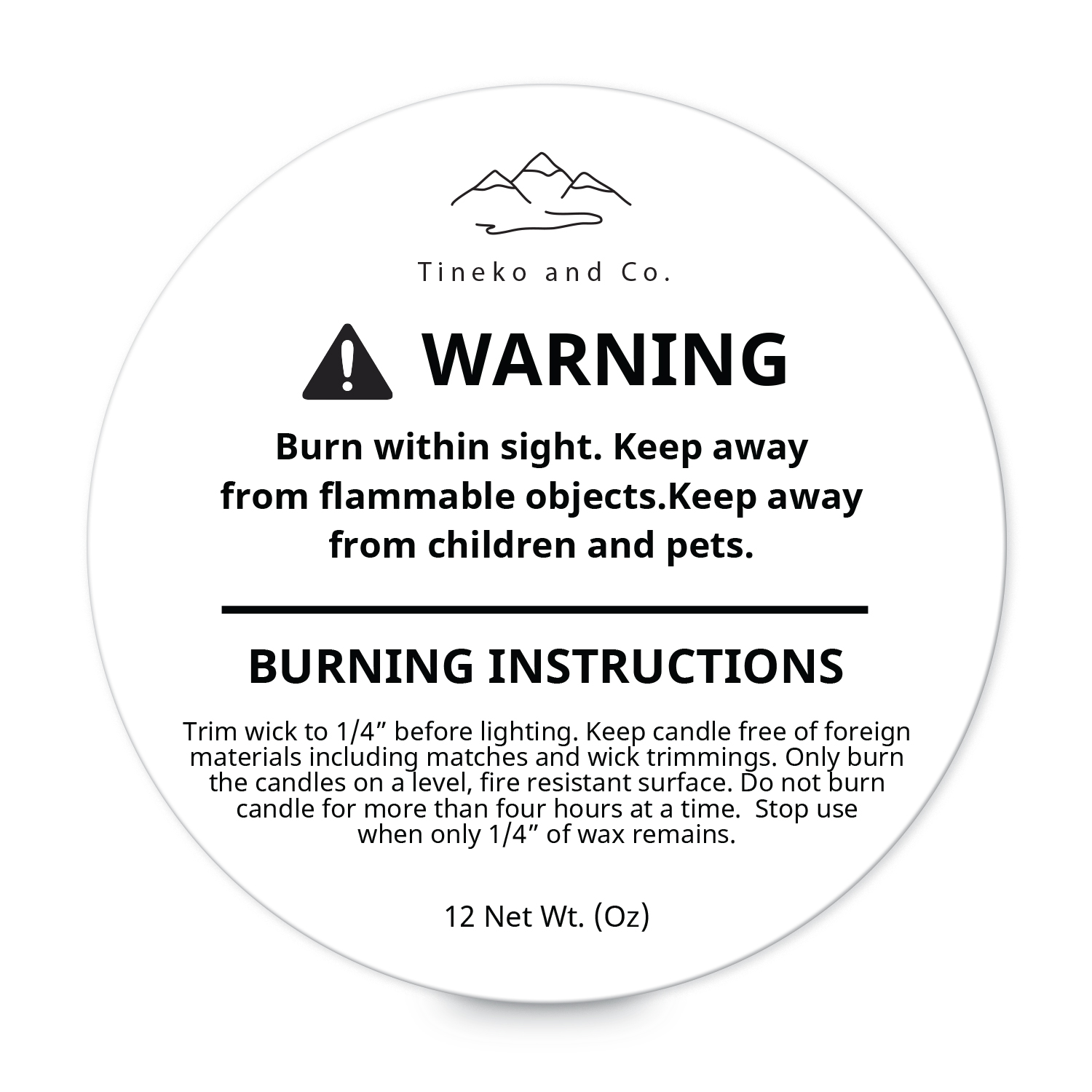 1″ round candle warning labels (1.0 inch)
Fit well on the bottom of 2 oz. & 6 oz. Hex jars
1-1/2″ round labels (1.5 inch)
Fit well on 12 oz. & 16 oz. canning jars, 3 oz. tureens, 4 oz., 8 oz., 12 oz. hex jars, 12-sided containers, cube jars, 2 oz. status jars, 3 oz. votive holders, tins
2″ round labels (2.0 inch)
Fit well on salsa jars, 16 oz. canning jars, 8 oz. tureens, 6 oz. tins
2-1/2″ round labels (2.5 inch)
Fit well on salsa jars, 11 oz. tureens, 12 oz. & 21 oz. status jars, 8 oz. tins
3″ round labels (3.0 inch)
Fit well on larger tins
3-1/2″ round labels (3.5 inch)
Rectangle labels
If you still need help with your candle safety labels, feel free to contact us for any help. Leave a comment below or call our helpful customer service at (800) 462-8379
Please Note: Avery makes no representations that the templates provided comply with legal requirements. The messaging on our warning label templates was written with ASTM standards in mind. The National Candle Association recommends that all candle manufacturers utilize the ASTM F2058 Standard Specification for Candle Fire Safety Labeling. Make sure to visit www.astm.org to get exact regulations before labeling your candles.