Free Avery templates to help you throw the best Galentine's Day party ever
So you've seen the adorable Galentine's Day Pinterest boards and trending posts on Instagram. Now it's time to get in on the fun. When you're done with this article, you'll be ready to throw the perfect DIY Galentine's Day party. Indeed, inside this article, you'll find 7 free printable Avery templates for everything from invitations to party favors.
More articles you might like:
What is Galentine's Day?
Galentine's Day is an unofficial holiday honoring the special bonds of female friendship. Traditionally, it's celebrated with friends on February 13th, but did you know it all started with a TV show?
As a matter of fact, Galentine's Day began as a fictional holiday, introduced by the character Leslie Knopes on the TV show Parks and Recreation. It was first mentioned in Season 2, Episode 16, "Galentine's Day," which aired in 2010. Since the original air date, the idea of Galentine's Day has gone viral on social media. Today, the spirit of women celebrating each other and lifting each other up inspires DIY Galentine's Day parties around the globe.
Free tools for your DIY Galentine's Day printables
Once you've chosen an Avery product to print on, you can use Avery Design and Print Online (ADPO) to create your design. ADPO is free and easy-to-use cloud-based software for creating Avery labels, cards, tags, and more. Using ADPO, you can design from scratch or quickly personalize predesigned templates for your DIY Galentine's Day party.
Start with your Avery product number (usually located on the package or product page online). If you need help finding your product number, this article is a great resource, or you can call our awesome Customer Care team for assistance. Next, enter your product number in the Avery template finder. This will take you to the template page, where you can open the template and start designing in ADPO or download a template for other common software.
When you click "Start Designing," you'll be able to choose a blank template to create a design from scratch or a predesigned template. You can scroll to browse or use the category menu on the left-hand side.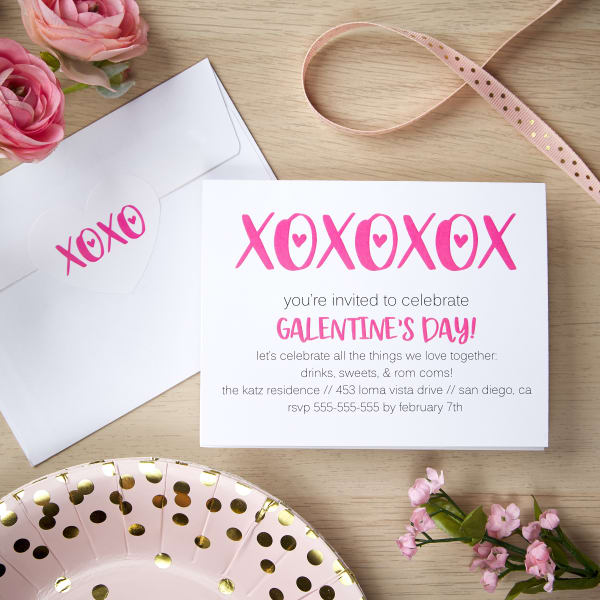 1) Printable party invitation template for Galentine's Day
Naturally, every party starts with the perfect invitations. First, send your girlfriends personalized cards inviting them to your DIY Galentine's Day party. You can even make your own with our printable postcards and free predesigned templates.
For instance, the Galentine's Day invitation template below is easy to modify and make your own. Start by clicking the "Customize" button to open the template in ADPO, then you can personalize it with custom colors, text, and more.
2) DIY "XOXO" heart-shaped envelope seals for party invitations
Once you've printed your DIY Galentine's Day party invitations, add the perfect finishing touch. Our heart-shaped XOXO envelope seal is a sweet way to seal your invitations with kisses and hugs!
Pro Tip: You can order heart-shaped labels in any size when you buy blank labels by the sheet or order custom-printed labels.
3) Printable menu card template for dinner party place settings
Add a unique element to your DIY Galentine's Day party spread with custom menu cards. Start with Avery printable postcards, then apply our Galentine's Day menu card template. DIY menu cards are just one way to use printables to wow your guests with festive table settings.
Pro Tip: Projects created in ADPO can be saved to your free Avery account. When you're logged in, you can print projects from any device or share projects via email.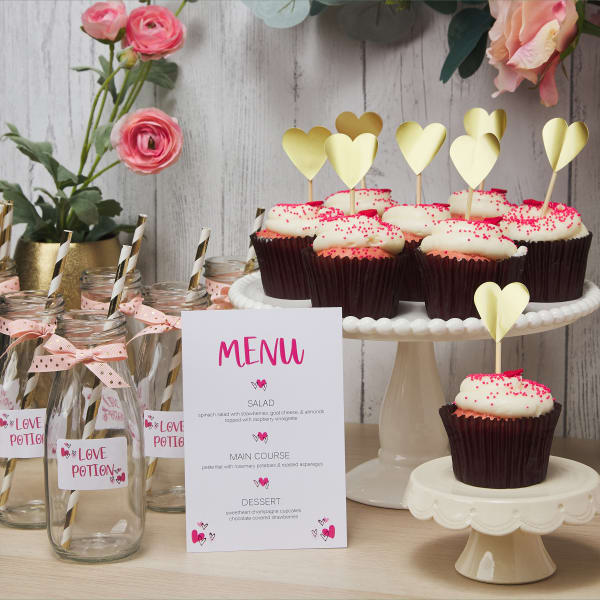 4) Galentine's Day printable "Love Potion" drink labels

Milk bottles, Ball jars, and Mason jars are super cute ways to serve drinks at a party. Of course, you can always add festive accents like cute paper straws, ribbon bows, and labels to match your DIY Galentine's Day party theme.
In particular, our water-resistant removable labels are ideal for drinks because they're made of water-resistant film. Not only do they stay put and look great even when there's condensation, but afterwards you can easily remove them. Additionally, they leave behind no sticky residue, so you can reuse glass bottles and jars.
5) Hershey's Kisses® labels for Galentine's Day party
Blank 3/4 inch round labels are the perfect size to decorate Hershey's Kisses for your DIY Galentine's Day party. Moreover you can buy them in a package (product number 4221) just like you find at your local retail store, or you can buy 3/4 round labels by the sheet. When you shop blank labels by the sheet you can choose from a variety of label materials, colors, and finishes.
To create our Galentine's Day kisses, we used 9 different printable designs. Print them all or mix and match!
6) DIY printable "Champagne is My Valentine" bottle labels
Turn mini bottles of champagne into party favors for a treat your guests will absolutely love. Start with our 2 x 4 inch labels, which are just the right size for creating your own mini champagne party favors. Better still, use 2″ x 4″ labels with TrueBlock® technology to make this project even easier.
To explain, TrueBlock technology is a proprietary backing that completely covers everything underneath the label. That is to say, there is no need to remove the original labels because TrueBlock covers everything, including images, barcodes, and dark or bold text!
7) Customizable printable tags for champagne party favors
In addition to bottle labels, you can add custom hang tags to mini champagne bottles to make DIY Galentine's Day party favors. One idea is to personalize the favors with your friends' names. Another idea is to add your favorite Galentine's Day quotes and sayings. When designing your personalized tags, the Edit One/Edit All feature in ADPO is really helpful. Basically, it allows you to switch between making changes to individual tags or the whole sheet at once.
For example, you might want to start in Edit All mode to make changes to the overall design. Then you can switch to Edit One to add individual names to each tag. We actually have a great help article that shows you exactly how to use Edit One/Edit All. You can get even more helpful tips for making tags with our article about how to create and print personalized gift tags.
Best Galentine's Day quotes to add to your printables
Quotes about friendship, girl power, and lifting each other up add an extra special feeling to your DIY Galentine's Day party. Here are some of our favorite Galentine's Day quote ideas.
Leslie Knopes quotes for Galentine's Day
"Ladies celebrating ladies."
"Do it. Fierce. Power."
"No one achieves anything alone."
"I care. I care a lot. It's kinda my thing."
Famous quotes from strong women
"We may encounter many defeats, but we must not be defeated." – Maya Angelou
"Life is short, and it is up to you to make it sweet." – Sarah Louise Delaney
"I attribute my success to this: I never gave or took any excuse." – Florence Nightingale
Celebrity quotes about friendship
"Women's friendships are like a renewable source of power." – Jane Fonda
"'Best friend' isn't a person, it's a tier."– Mindy Kaling
Theme songs from women-centered TV shows
"Thank you for being a friend." – The Golden Girls
"Where you lead, I will follow." – Gilmore Girls
"You're gonna make it after all!" – The Mary Tyler Moore Show
"Unbreakable!" – Unbreakable Kimmy Schmidt
Share the love with Galentine's Day printables for your party
Whether you're celebrating with just you and your bestie or with your entire squad, cute decorations make it more enjoyable! With free printable Avery templates and our free online software, it's easy to make your DIY Galentine's Day party really shine.
Start with our free, predesigned Galentine's Day templates that you can customize. Open the template, or templates, that you want to use, then add your friends' names, your favorite quotes, and other little details that make your celebration special.
How are you celebrating Galentine's Day this year? Comment and let us know! Follow us on Pinterest for more cute printables and party ideas. Share the love and tag your Galentine's Day projects on Instagram with #averyproducts!