Keep the kids entertained indoors with fun and enriching craft ideas
Getting crafty with the kids is a great way to keep them busy when everyone is isolating at home, but there are also educational benefits to arts and crafts for kids. Arts and crafts help kids learn fine motor skills, how to identify shapes, color and texture and encourage creativity.
You can even take it a step further with crafts for kids that teach them about STEM and encourage imaginative play. In this article you'll find 7 fun and enriching DIY crafts to keep kids entertained for hours on a rainy day stuck inside.
General supplies you'll need for these craft ideas:
Scissors
Pencil and markers, crayons or colored pencils
Clear tape
Optional: patterned paper/cardstock, blank paper, picture frames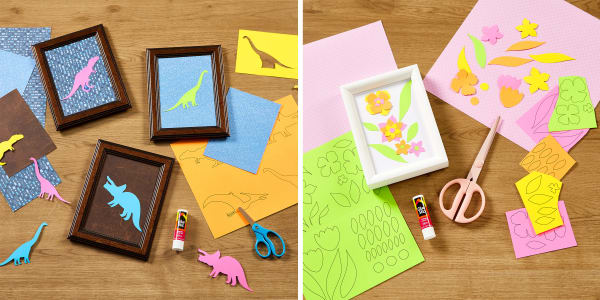 Craft ideas that show kids how to make art with paper shapes are perfect for budding artists.
Creative paper arts and crafts for kids
Framed paper crafts for kids are awesome to use as décor in their bedrooms or playroom. The dinosaur silhouettes are so cute, you might even want to grab some scissors and make some yourself!
1) Framed dino silhouette kids craft
For this kids craft project you will need a picture frame that's 5 " x 7 " or bigger and paper or cardstock with a cool print for the background. You can use craft paper or cardstock (like we've used here), the comics section from a newspaper or wrapping paper.
Step One: Remove the glass or plastic from the picture frame and set aside.
Note: Glass should always be handled by an adult.
Step Two: Cover the back of the picture frame with patterned paper, trim off edges, secure with tape.
Step Three: Open our free dinosaur template featuring a T-Rex, long neck, triceratops and pterodactyl. Print as many as desired and cut out.
Pro Tip: You can use a blank template for 4.25″ x 5.5″ postcards and add images from the Animal & Insects category in the Avery Gallery to print out different animals for different themes.
Step Four: Glue each dinosaur onto a paper-covered picture frame backing.
Step Five: Put the picture frame back together.
2) Picture-perfect flowers kids craft
This sweet springtime kids craft can be displayed in picture frame, similar to the dinosaur silhouette project above. For this project we recommend an 8 ½" x 11″ picture frame and blank paper.
Step One: Open our free paper flowers template formatted for 4.25″ x 5.5″ postcards. Print on 2-3 different colored postcards and cut out all the pieces.
Step Two: Mix and match paper flower shapes and leaf shapes to create colorful posies and glue them in place on construction paper.
Optional: Fold or curl up petal edges for a 3D flower effect.
Step Three: Remove the glass or plastic from the picture frame, insert the flower art and reassemble. If you chose to make your flowers 3D, simply leave off the front glass or plastic.
Note: Glass should always be handled by an adult.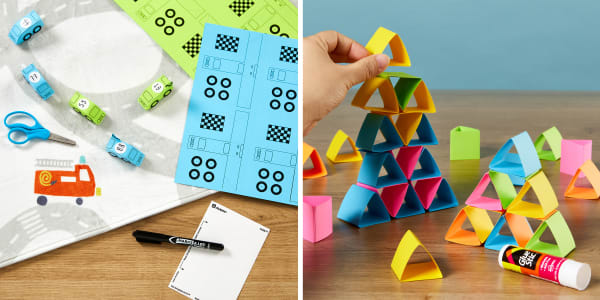 Help your kids get interested in STEM early with cool engineering activities for kids.
Fun & educational STEM crafts for kids
Teaching your kids about science, technology, engineering and mathematics (STEM) early in life can set them up for success in the future. STEM jobs pay incredibly well and the demand continues to rise.
3) Paper car craft for kids
Step One: Open our free paper car template, print as many as desired, cut out all pieces.
Step Two: Fold the T-shaped car piece on the dotted lines, with each fold facing away from the printed design. This will form the sides and top of your car.
Step Three: Glue the end of the top strip to the triangle flaps at the end of each side piece.
Step Four: Glue on the wheels to finish.
Optional: Glue the checkered pieces to toothpicks to make racing flags and draw on small round blank labels to add racing numbers to your cars.
4) Mini paper airplane craft for kids
Step One: Grab a couple different colored postcards and try out different ways to fold a paper airplane.
Step Two: Hold a trial to observe how the different planes behave. Compare things like how far each design flies, whether they fly straight or curve, which one flies the farthest and the shortest, etc.
Step Three: Have the kids review their observations. Then encourage everyone to share their favorite airplane and WHY based on the information they collected.
5) Simple kids craft for building with paper
Step One: Cut a postcard into 4 equal strips lengthwise.
Step Two: Take a strip and fold it 4 times, use your glue stick to secure the ends creating a triangle. Repeat for all strips to make 4 triangles.
Step Three: Repeat steps one and two to create as many triangle building pieces as you like.
Once you've made the triangle pieces you can stack them in multiple ways to build towers, buildings, walls and anything else your imagination can dream up!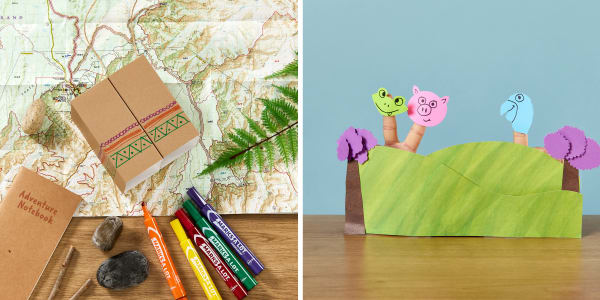 Kids crafts that encourage using your imagination help kids express their feelings, explore new ideas and generally work out their thoughts.
Craft ideas that encourage imaginative play
Playing pretend is important for child development and often the simplest craft ideas can be used in the most imaginative ways.
6) Adventure binoculars paper craft for kids
Have your kids craft their own "binoculars" for finding adventure. Then ask them to describe to you what they "see" happening or imaginary fantastical beasts.
Step One: Fold one 4.25″ x 5.5″ postcard or other piece of cardstock in into four long sections by folding in half lengthwise twice.
Step Two: Bring the ends together to form a long rectangular piece that will be one half of the binoculars shown in the image above.
Step Three: Repeat steps one and two. Glue the two rectangular pieces together to form the binoculars.
Step Four: Decorate as you like, and let the adventuring begin!
7) Finger puppet paper craft for kids
Simple finger puppets are perfect for playing pretend. Try our simple finger puppet kids craft that encourages creativity and imagination.
Step One: Cut off a strip that's about half an inch wide from the end of a postcard.
Step Two: Wrap the strip around your finger so that it's not too tight, but it stays on. Secure with tape.
Step Three: Use the rest of the postcard draw your own animal or character and cut it out. It can be anything, even just a shape you like, for example a flower, heart or star.
Step Four: Give your character a personality with a face, accessories and decoration using markers, colored pencils or crayons.
Step Five: Glue your character to the band you made that fits around your finger.
Make one special finger puppet, or repeat as many times as you like to create a whole cast of puppet characters for your imagination.
Arts and crafts for kids are productive entertainment on a rainy day
When we're stuck indoors it can be tempting to always turn to our devices for entertainment. Help your kids cut the cord and try a more productive kids craft project to entertain themselves instead.
Whether you're encouraging imagination, introducing STEM ideas or supporting a budding artist, arts and crafts for kids help them practice fine motor skills, explore colors and shapes and unleash their creativity.
If you're looking for more kids crafts, check out our list of ideas for making greeting cards with your kids. There's many card craft ideas in there, plus ways to use card-making activities for kids to teach them about kindness, staying connected to loved ones and more.
What's your family's favorite rainy day craft? Tag us on Instagram to show off your kiddos' creativity