By Julie Perrine, CAP®-OM, MBTI® Certified, Certified Productivity Pro® Consultant
When planning an event or meeting, it all comes down to organization. We all have our own unique organizing style, so what's the best way to create a system that works for you? We turned to Julie Perrine, an administrative expert and procedures pro, to share her two-part system for planning a success event or meeting. This is part two, where she shares her strategies for setting up the planning binder.
To go to part one, where she explains how she organizes her digital files, click here.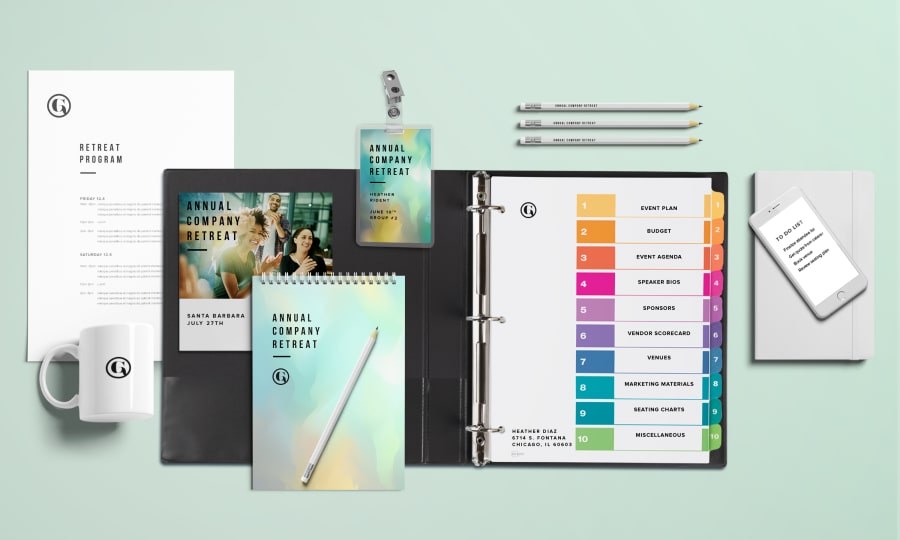 Setup Your Meeting Planning Binder
Create a meeting binder for meetings that you plan on a recurring basis, such as weekly staff meetings or board meetings. Use a sturdy and durable heavy-duty binder, like the Avery Ultralast or Heavy Duty View binders, that will last you throughout your project, so your materials and planning notes are organized and easy to access. You can model the digital file structure as a starting point and then add additional sections of information as you plan your meeting.
Organize Board Meetings and Recurring Events
Whether it's a board meeting or a regular staff meeting, you may need to include sections for the meeting agenda, individual presenters, supporting handouts, conferencing tools, and team contact lists using Avery Big Tab Printable White Label Dividers.
Once you have your system in place for recurring events or meetings, these are also good dividers to use in the resources section of the binder where you can organize vendor information, contacts, catering menus, contracts, etc. The large printable area on these tabs can be customized with vendor names, phone numbers, email addresses, and more to keep all of the information you need at your fingertips.
Coordinate Larger Events and Conferences
For a larger event, such as a sales conference or training seminar, you may need binder sections for your project plan, budget and finance, vendors and suppliers, meeting agendas, meeting minutes, registration, speakers, sponsorship, venue, tradeshow booths, marketing materials, surveys, and even individual planning committees! The Avery Ready Index Customizable Table of Contents Dividers come in a variety of options (preprinted with numbers 1-5 up to 1-32) so you can mimic as many digital folders as you need, and you can customize section titles with your printer or handwrite them on the fly. I like these because I can organize lots of material quickly and continue adding sections of information as I plan the event.
The preprinted Avery Ready Index January to December dividers are also a great secondary set of dividers to include in your binder – especially for events that require a much longer planning period between events. For planning board meetings or long-term events, I like to use the preprinted January to December tabs as ticklers or reminders for the various things I need to do each month leading up to the event.
Good Systems Help You Manage Events Like a Pro
When you think in terms of creating a system for setting up your digital files and meeting planning binders, you'll be ready to quickly update or refer to the important details throughout the planning process and keep things running smoothly from start to finish!
© 2017 Julie Perrine International, LLC
Click here for more information on office professional solutions from Avery.
About the Author
Julie Perrine is an administrative expert and all-around procedures pro. She is the founder and CEO of All Things Admin, a company dedicated to developing and providing innovative products, training, mentoring and resources for administrative professionals worldwide. Julie shares her proactive strategies for developing a plan, creating forward motion and achieving great results with an upbeat, step-by-step approach. She is the author of several books, including The Innovative Admin: Unleash the Power of Innovation in Your Administrative Career, The Organized Admin: Leverage Your Unique Organizing Style to Create Systems, Reduce Overwhelm, and Increase Productivity, and Become a Procedures Pro: The Admin's Guide to Developing Effective Office Systems and Procedures. She offers free templates at https://www.AllThingsAdmin.com/.