Storing cards for Pokémon, Magic: The Gathering, and more
1) Decide how to store your trading cards
How you should store your trading cards will depend on what kind of collector or trading card player you are. If you need a binder with pages sewn into the spine then you should check out a fixed-page trading card binder.
Fixed-page trading card binders are a nice pre-made solution that work great for tournaments and trading. However, the downside is that they're often not expandable and customizable.
If you have a larger collection at home, then making a trading card binder makes more sense. This way you can customize the spines and covers and you can insert as many trading card pages as you need.
Or if you own thousands of cards then storage boxes are a great option. BCW® is a popular brand of storage boxes and has worked well for me in the past.
Are expensive cards safe in a binder?
A binder will be one of the safest options to keep your cards in mint condition. You could also use hard plastic top-loader sleeves but the tradeoff is that you will need to flip through your collection one card at a time.
My most expensive cards are my Pokémon cards from the 90s, which means they are somehow already over 20 years old and vintage. No joke, I have kept my collection safe for over 20 years in the same Heavy Duty Avery Binder.
The right binder with EZD rings, hard covers, and premium trading card pages will keep your cards safely protected for decades. However, choosing a binder with the wrong ring type can potentially cause more harm than good.
2) The best way to store trading cards long-term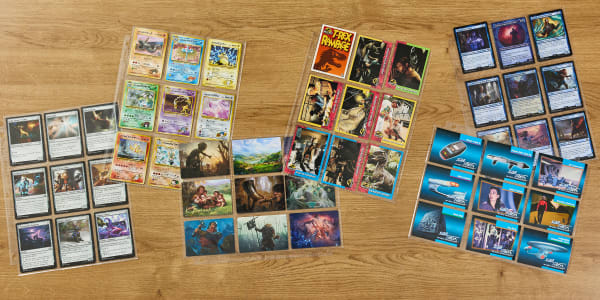 The best way to store trading cards long-term varies depending on how you use your cards. For most traditional collectors, a trading card binder will be the best option since it will safeguard your collection while also letting you flip through your cards easily.
Good trading card pages will be acid-free and archival-safe so that your cards won't be damaged over time. Plastic pages can also help prevent loose bits of dust from getting between your cards and creating scratches.
However, if you own a store or have thousands of cards, then boxes will be the most compact way to store your cards. If you want to go the extra mile, you can also keep them in plastic bins and with desiccants.
3) Storing cards in a binder vs. a box
The main difference between storing your trading cards in a binder vs. a box is that a binder lets you view your collection more easily at a glance than in a box. If you're more of a collector, it's easier to view up to 18 cards at a time than to flip through a box of cards.
However, boxes are a much more space-efficient option. With card pages, you will need to slip each card into each pocket, while with a box you can sort your cards into stacks and then just drop those stacks into boxes.
If you're a competitive player, boxes make more sense as you cycle through different seasonal sets. So once you're finished with one set, you can just pack it away in a compact box for storage.
4) Why you should keep cards in binders
Trading card binders let you protect your cards while also being an outlet for creativity. Whether you want beautiful designs or straightforward info, binders give you the flexibility to organize in your own way.
Personally, I love trading card binders because I tend to over-organize. It's fun designing and printing custom binder covers and spines and drawing little icons on divider tabs.
Binders and trading card pages also limit the amount of direct contact you have with your cards. The last thing you want is to show off your vintage Pokémon cards to your nephew and see a greasy thumbprint on your Charizard.
5) The best binder for trading cards
The best binder for trading cards is an Avery Heavy Duty Binder. Our Heavy Duty Binders have a couple of key features that, in my experience, make them perfect for trading cards:
Customizable covers and spines
Reinforced edges and hinges
Slanted EZD rings
Extra inner pockets
Quick story, when I was in elementary school, my very first trading card binder was made with a free, generic binder that they passed out for a project. One day as I was trying to run back to class after recess, it fell apart and my cards spilled everywhere.
When conducting the postmortem on the binder, I realized it had started tearing at the edges and the ring mechanism had gotten severely misaligned. Let me tell you, the first time a cheap binder fails on you is also the last time.
At the time, my mother was an accountant and had loads of binders in her home office to organize her work. After comparing different options, the binder I "borrowed" from her is the same binder I use to this day to organize my first set of Pokémon cards: An Avery Heavy Duty White 2″ Binder.
I kid you not, ever since then I have made sure to buy Avery Heavy Duty Binders. I "borrowed" that Heavy Duty binder from my mom for my Pokémon cards, I bought a fresh Heavy Duty binder for my Yu-Gi-Oh® cards in high school, and I may have "borrowed" a new Heavy Duty binder from Avery for my new Magic cards for this article (don't tell anybody).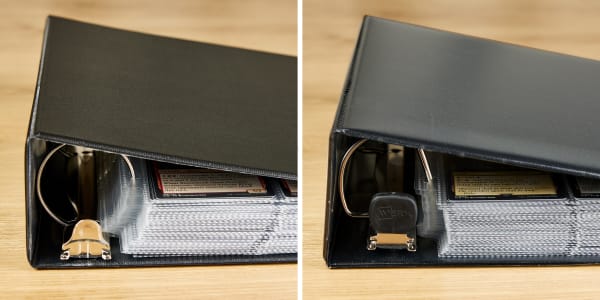 What makes a good trading card binder
A good trading card binder should be customizable, expandable, and safe for long-term storage. Let's expand on the features mentioned earlier:
Clear Covers and Spines: Being able to print out your own covers and spines is a gamechanger. You can customize them with logos, set symbols, dates, color-coding, and any other info so that you can immediately tell your binders apart.
Reinforced Edges: Binders will often start to degrade and tear at the seams close to the spine and around the edges. Avery Heavy Duty Binders feature DuraHinge® and DuraEdge® technology to reinforce these points and help prevent tearing.
Slanted EZD Rings: Your pages should rest as flat as possible while stored so that the cards near the binder rings don't flex. Unfortunately, round rings can create a curve that can bend your cards and it can be difficult to flip multiple pages at once.
Extra Pockets: Oftentimes you'll walk away from a tournament or event with a couple of extra rule sheets, tokens, and other freebies. These don't always fit into the size of a card pocket so it's nice to have some extra storage.
6) Common problems to avoid
Before we get started with making a trading card binder, here are a few things to keep in mind:
Look for sturdy, reliable binders and card pages: While it might seem like a better deal to go with the most affordable option, it's worth spending a slight premium to protect cards that are valuable to you. The last thing you want is for your binder to tear in the middle of a convention or on a school playground.
Don't flip your card pages upside-down: Keep an eye on your card pages while you're organizing your binder to make sure they're right-side up so that the cards don't slip out. While it feels obvious, you'll be surprised how often someone might tip the binder forward and let loose a couple of cards.
Don't overstuff your cards: The number one cause of a wasted card page is when too many cards are stuffed into a pocket and splits it at the seams. At most, keep around 8 cards total in each pocket so that you can easily pulls cards in and out.
Pay attention to your binder rings: Watch your binder rings as you're putting in card pages to make sure the open rings don't scratch your cards.
Why do my cards bend in my binder?
There are a couple of different ways cards can bend in a binder but the main culprits are: round rings, binder rings that are too small, overpacking, and flipping card pages too quickly. While a binder can help protect your collection, you should also treat your cards carefully to keep them safe.
7) How to make your own trading card binder
The basic components you'll need to create your own trading card binder are trading card pages, a binder, and printer paper to create covers and spines. You can also add in dividers and tabs for extra flair but we'll get back to those later in the article.
Choose the right card pages
When you're shopping for trading card pages you will want to make sure the pockets are the right size for your cards. Avery trading card page pockets fit 2.5″ x 3.5″ cards and will fit traditional trading cards like baseball cards, Pokémon cards, and Magic the Gathering cards.
However, if you collect Yu-Gi-Oh cards, you will want to find card pages with pockets that are closer to 2.25″ x 3.5″. Brands like Ultra Pro and BCW are a couple of great options if you're looking for alternatives.
In the past, I have used Ultra Pro the most often but I hadn't had the chance to use Avery trading card pages until this article. But I was very impressed with how flexible they were, how they didn't show any signs of stress at the seams, and how easy it was to slip cards in and out.
Once you find card pages that you like, take a moment to think about how you want to prioritize your cards. Do your foil and rare cards get grouped together? Are they strictly organized by mana or energy type? It's easier to group your cards in the planning stage before you start putting them into card pages.
When you're ready, start sleeving all of your cards into the pages and see how you feel about your system in practice. Once your system's finalized, measure how high your stack of card pages are to find the right binder.
Find the right binder
The height of your card pages will determine the ring size of your binder. However, the number of cards you fit into each pocket can create slight variances.
To give you a general idea, here is a breakdown of how many paper sheets can fit into each ring size. However, keep in mind the difference between the ring size and the spine size for storage.
| | | |
| --- | --- | --- |
| EZD Ring Size | Spine Width | Sheet Capacity |
| 1/2″ | .7″ | 135 Sheets |
| 1″ | 1.4″ | 275 Sheets |
| 1-1/2″ | 2.1″ | 400 Sheets |
| 2″ | 2.8″ | 540 Sheets |
| 3″ | 3.5″ | 600 Sheets |
| 4″ | 4.5″ | 780 Sheets |
Once you have the ring size, narrow down the results with the filters on the left side of our store pages. From there you can see what colors and other options are available.
Or if you would like to explore all of our binders, you can browse through our binder options here. If you want to keep a binder specifically for foils, we even have binders with holographic covers.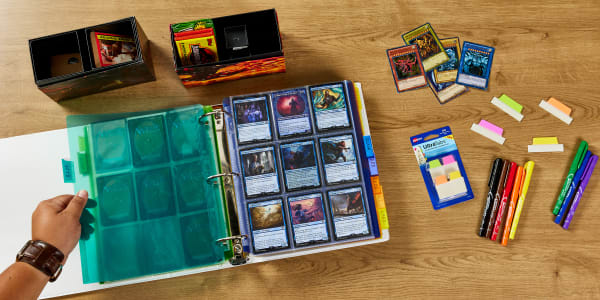 Organize your collection your way
The freedom to organize in your own way is one of the greatest perks of making a trading card binder. There are a variety of different supplies and planner accessories you can use to tailor your binder specifically for your needs.
Plastic dividers are amazing for separating your cards into sections and make it easier to lift up multiple card pages at once. They also include handy pockets for extra storage to keep loose notes and tokens.
If you need an extra tab somewhere, then Ultra Tabs are perfect for adding a divider tab anywhere. If you decide to organize your cards in boxes, Ultra Tabs are also a great way to add in dividers.
Personalize your binder
Our team has created some fun, new binder cover templates for trading cards and I have never been more excited. Just click on the buttons below to open the templates in Avery Design & Print Online. From there you can import your own images, icons, and text to tailor them for specific sets.
While these templates were created with 2″ binders in mind, you can also apply your saved designs to other products for different sizes. Once you've adjusted the design to be just right, print these out onto paper or cardstock and cut them out.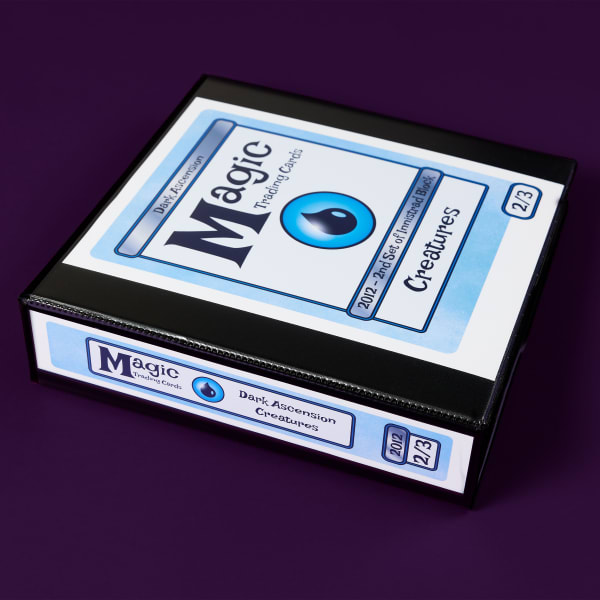 Organize your Magic the Gathering card binder with this Magic-themed template.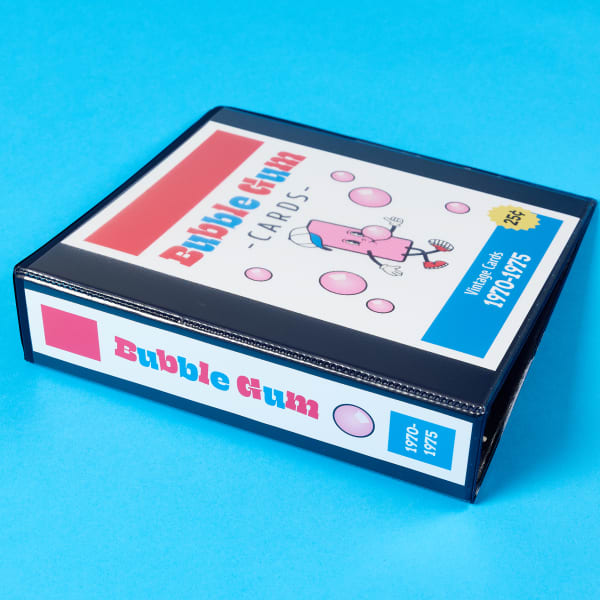 Sort your bubble gum trading cards with this fun bubble gum card binder template.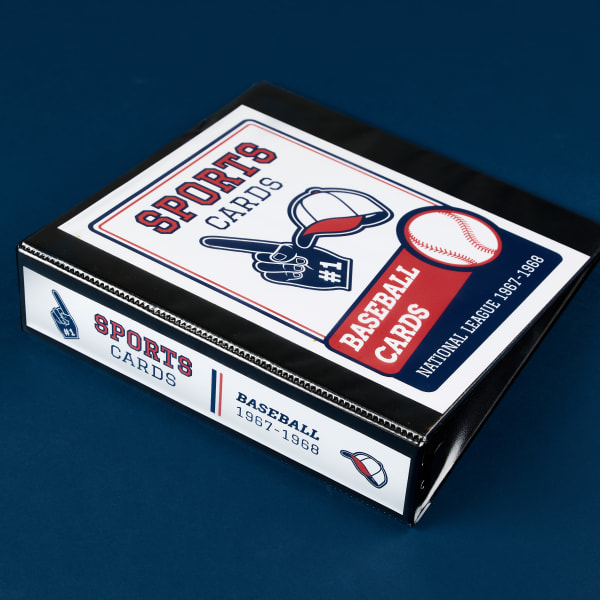 Make your own card binder for any sport with this customizable template.
Creating your perfect card binder
Trading cards mean different things to different people. For some people, cards are investments to store like casks of wine. For others, cards are moments of your childhood delicately preserved in paper. Or if you're Post Malone, a single card can mean spending $2 million.
Whether you view cards as collectibles or memories, how you store your cards will say something about you. Hopefully we've given you some ideas to turn your collection into something truly precious.
Share with us on Instagram how you organize your trading card binders with the hashtag #averyproducts. You can also join discussions with our community on LinkedIn and Facebook.