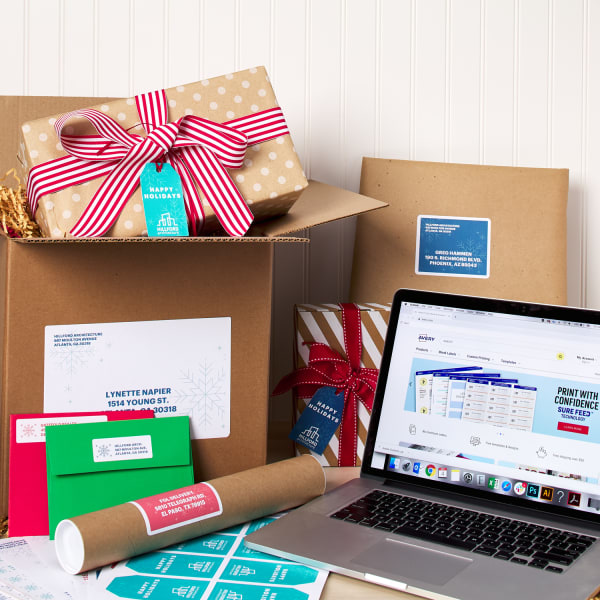 Find everything you need to mail and ship like a pro this holiday season. Get more done and impress your boss, clients and coworkers with free holiday label templates and convenient online tools.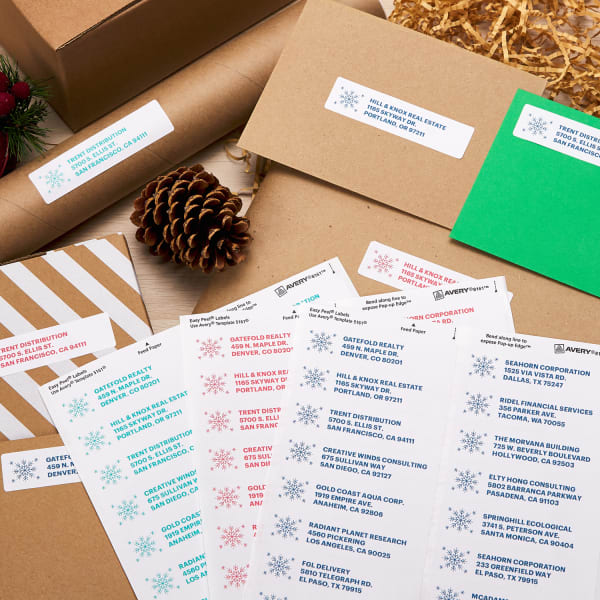 Use mail merge to fill Avery 5161 Christmas address labels
Stop filling out holiday addresses by hand
Did you know you can import your addresses directly into holiday label templates? The longer your holiday mailing list gets, the more time-consuming it is to individually handwrite or type in every address. Not to mention the likelihood of making errors increases.
Cut down on time (and errors) by quickly and accurately applying your address database to a variety of free holiday label templates in just a few clicks.
Use the mail merge tool and our modern snowflake template to create stylish holiday address labels in just a few minutes.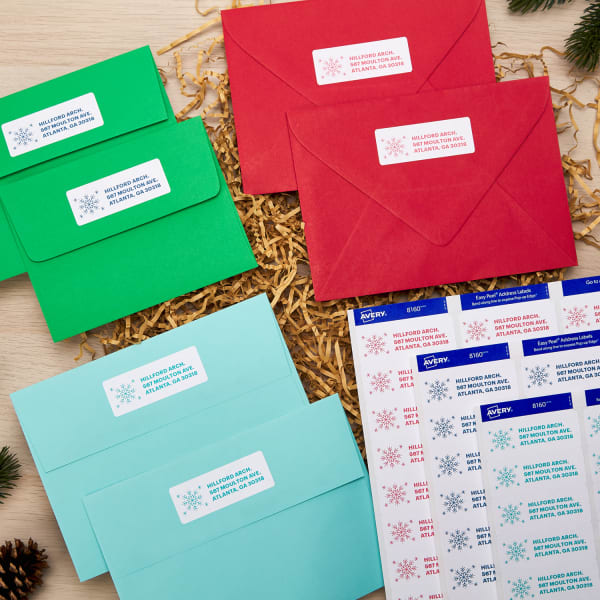 Get your holiday mailing done faster with mail merge & Avery 8160 address labels
What is mail merge and how to use it
What exactly is mail merge? Mail merge (also called import data) allows you to automatically import information from a spreadsheet into any project using our convenient online design tools.
Filling out Christmas mailing labels is much faster when you can automatically add addresses to holiday labels for envelopes and packages. In order to use mail merge or import data you need your information contained within a spreadsheet such as Microsoft Excel, Google Sheets or any other spreadsheet software.
If you're not already organizing your address information this way, it's easy to get started. Begin with three columns: Name, Street Address and City/State/Zip. Fill in the rows of your spreadsheet with all the addresses you will need to complete your holiday address labels.
Once you've saved your spreadsheet of addresses you're ready to import. Open the holiday label template for the labels pictured above or whichever label and template you're using. Click inside the text box, then click the Import Data Mail Merge button.
You'll be led through a series of prompts for opening the spreadsheet you want to use and choosing which information from the sheet you want to add to your holiday labels. Click through the instructions and you'll see your address information automatically applied to individual labels.
Get more holiday address label help with step-by-step mail merge instructions or watch a helpful mail merge video.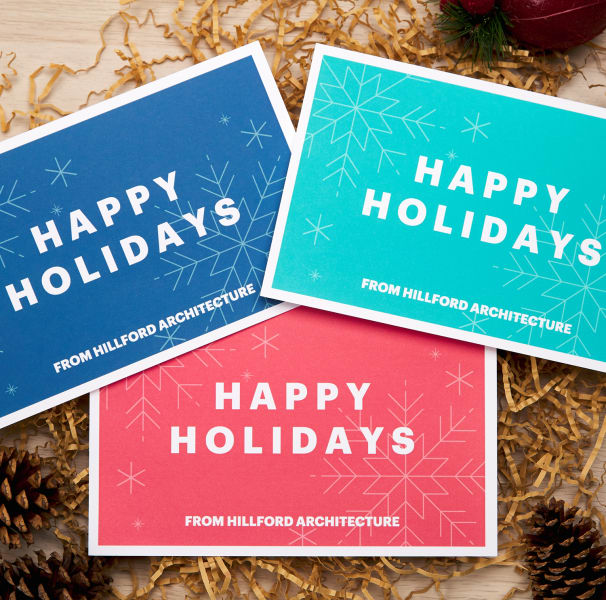 Create colorful custom holiday cards with Avery 3265 greeting cards
Make stunning holiday labels & cards— without a graphic designer
Great design takes your holiday mailing projects from looking "homemade" to classy and professional. Our easy-to-use online design software allows you to choose from a wide variety of professionally designed holiday label and greeting card templates.
Easily modify any design template with colorful images for address labels, Christmas label images from our graphics gallery, custom text and more. When you sign up for a free Avery Design & Print Online (ADPO) account you can save your work online for easy editing and reprinting as needed.
Tuck a custom greeting card inside packages to connect with your customers. Try a stylish snowflake greeting card template in a range of modern colors that pop.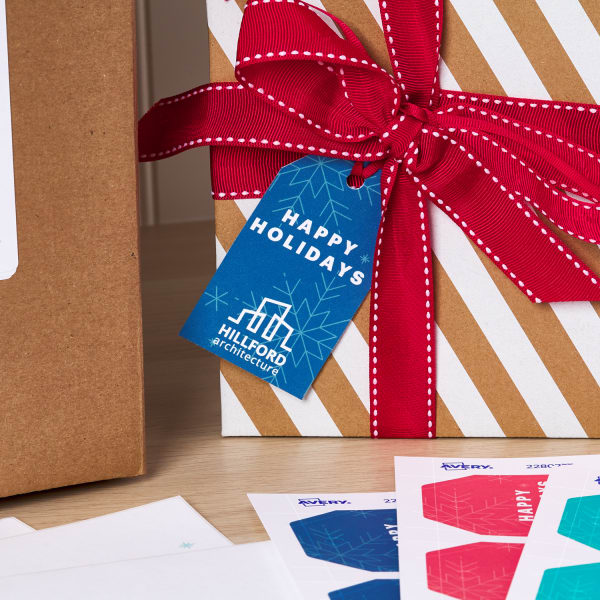 Add your company logo to gifts using Avery 22802 printable tags
Add branding to your holiday labels
Take your holiday mailing projects to the next level by adding branded elements to holiday labels, greeting cards and gift tags. When you're logged into your free ADPO account you can save projects and files. Simply upload your company's logo to the Files tab in your ADPO dashboard and you can easily apply it to any project.
Try adding your company's logo to a chic snowflake tag template to add branding to customer appreciation gifts and other holiday mailing projects.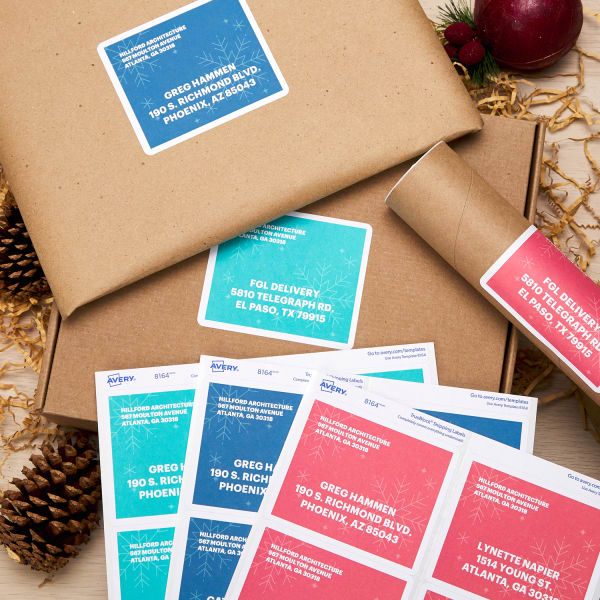 Wow your clients with pristine holiday shipping labels, use Avery 8164
Create an experience for your clients
Using cohesive holiday mailing labels throughout your package creates a memorable unboxing experience for your customers and clients. Beautiful ribbons, patterned wrapping paper and custom gift tags make them feel special and excited to see what's inside.
On the outside of the package apply a stylish snowflake shipping label template for a pristine first impression. Inside, add holiday labels, gift tags and greeting cards customized with your branding. Each item is a new opportunity to create a connection with your clients and keep your brand top of mind.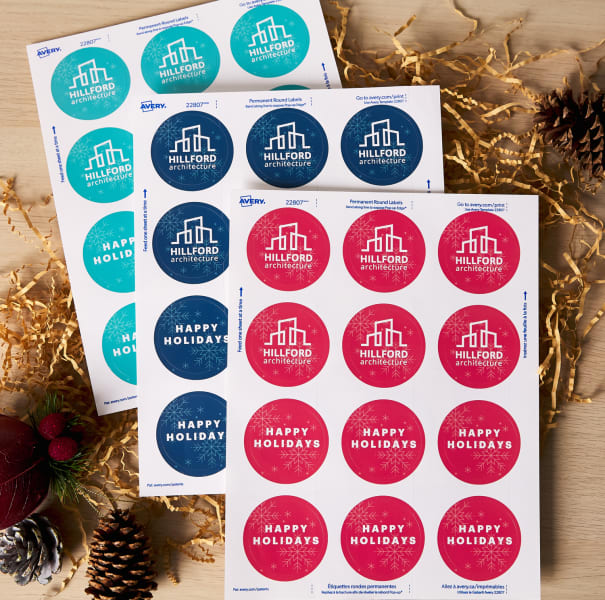 Full color shipping labels made with Avery 22807
Check printing off your holiday mailing to-do list
The true secret to mailing like a pro is to know when to delegate. Use our professional printing services to get your company Christmas labels, cards and tags printed in full color, with beautiful images, sharp text and vibrant colors every time. No fear of smudging or needing to replace ink cartridges.
Simply design your project online, place your order and we'll take it from there. Order a wide range of quantities with low minimums, free shipping on orders over fifty dollars and no set up fees. Ever.
Get started on holiday shipping labels with a colorful holiday address label template. Once your order is completed your custom holiday labels can ship to you in a few three business days.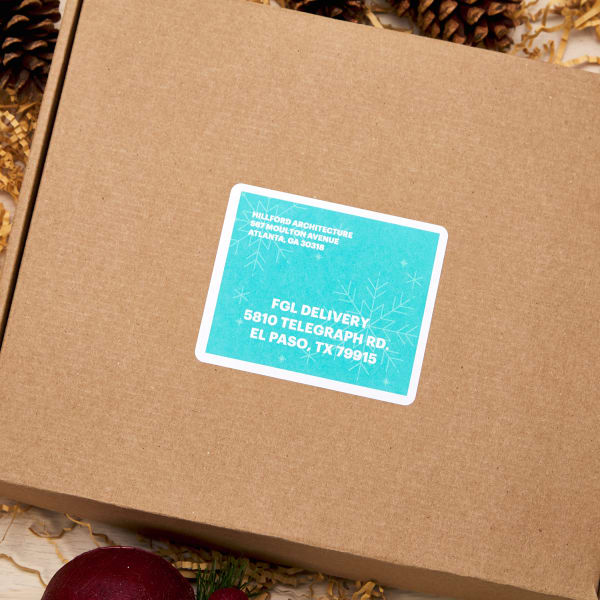 Expertly match branded holiday mailing labels and seals with Avery 8164
Where to buy holiday labels (and keep your budget on track)
Did you know you can buy individual blank labels by the sheet? You absolutely can, and it's one of the best ways to budget for your holiday mailing projects like a pro.
Order only as many blank label sheets as you need for your project, whether it's one sheet or hundreds. Use our templates and online software to create professional designs and you'll be ready with holiday labels to print any time you need them.
Mix and match choosing a different size and shape for each label sheet to fully customize your holiday mailing projects. Easily create Christmas address labels and matching seals featuring your branding using our 2″ round holiday label template.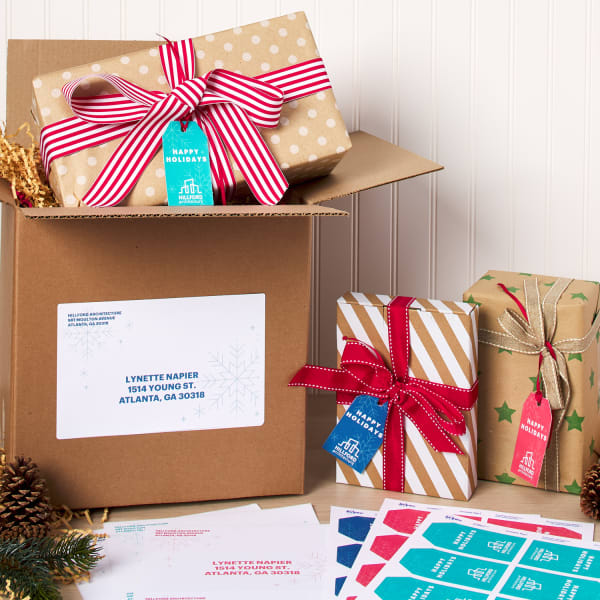 Do more with your holiday address labels, Avery 5126
Holiday mailing & shipping resource checklist
Handling holiday mailing and shipping like a pro is all about finding resources to help you accomplish your projects as though you have a whole team working on them. Bookmark this article for quick access to holiday label tools and this handy resource checklist to help you make your projects a success.
Check-in with the postal service for holiday mailing deadlines. If you want your cards and packages to arrive before December 25th these are the absolute hard deadlines to get them in the mail.
New to holiday shipping and want to impress your boss? Visit our shipping and mailing help center for solutions.
Remember, we're on your team. Our Customer Care Center is always happy to help so don't hesitate to reach out with any shipping and mailing label questions.
Products Used in This Article
1″ x 4″ Address Labels (5161/94202)
1″ x 2-5/8″ Address Labels (8160/94200)
5-1/2″ x 8-1/2″ Greeting Cards (3265)
2″ x 3-1/2″ Printable Tags (22802)
5-1/2″ x 8-1/2″ Shipping Labels (5126/94229)
3-1/3″ x 4″ Shipping Labels (8164/94215)
2″ Round Labels (22807/94501)