We've collected our most commonly-asked questions and important facts about removable decals to make sure you choose the best option for your needs. Whether you're looking for removable decals to create safety signs, branded stickers or plastic bin labels, Avery has the right Surface Safe® product for you.
Other articles you might like:
1) What are the best Surface Safe® products for walls?
The short answer is that Avery Surface Safe DIY Decals, Surface Safe Wall Decals and Surface Safe Sign Labels are specifically designed for walls. They're removable decals and removable adhesive signs that we engineered and tested for common wall surfaces.
Typical wall surfaces (or substrates) can be more delicate than others. That's why we engineered these Surface Safe products for walls to peel away from surfaces like drywall, painted walls and doors without leaving behind residue or damaging walls.
Also, Surface Safe Wall Decals are preprinted signs that are ready to be used immediately. Whereas Surface Safe DIY Decals and Sign Labels can be customized and printed yourself with standard laser or inkjet printers.
In addition to wall signage, the printable Surface Safe DIY Decals and Sign Labels can be used for many other projects as well. For example, they're amazing for making DIY stickers for reusable water bottles, laptops, back-to-school supplies and more.
2) What are the best Surface Safe products for plastics?
Surface Safe ID labels are a type of removable decal, however, they are not meant for walls. They are designed specifically to work on plastic surfaces, such as plastic bins and storage drawers, which require a more aggressive hold while still removing cleanly without residue or damage.
Pro Tip: Avery Surface Safe Table & Chair Decals are preprinted and made with the same materials and adhesives as Surface Safe ID Labels. They're ideal for messaging on plastic chairs and tables as well as metal and glass. However, they are not recommended for walls.
3) Are all Avery sign labels removable?
Not all Avery sign labels are removable. There are many instances, especially in work environments, where long-lasting adhesive signs are a better choice.
In these cases, both the sign material and adhesives are more durable and designed to last in heavy-duty environments. For example, these vinyl signs used for communicating workplace safety.
4) Why can't all removable decals just stick to everything?
Removable applications are particularly demanding because multiple adhesives are needed to cover a majority of surfaces.

Le Hong, Avery Senior Director, Research & Development
Due to the variety of surfaces and textures in the world, there unfortunately isn't a one-surface-fits-all removable adhesive (at least not yet!).
For example, removable wall decals have to stick securely but be gentle enough for drywall, paint and wooden doors & cabinetry. However, in order to be gentle enough for walls, they won't be the ideal long-term choice for plastics.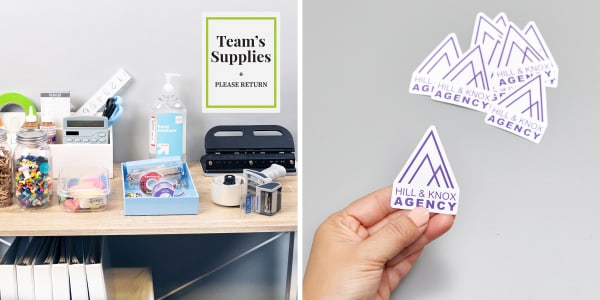 5) What is the difference between wall decals and stickers?
Both Avery wall decals and stickers are removable but wall decals are tailored for walls while stickers can be applied to a variety of surfaces. While terms like "decals", "labels" and "stickers" are often used interchangeably, labels can use a more permanent adhesive than decals and stickers.
Also, decals are oftentimes created with a specific spot in mind to decorate or organize personal spaces, offices, schools and businesses. However, stickers are commonly designed to be sold or given away as swag and can end up being used on a variety of surfaces such as laptops, phone cases and water bottles.
Pro Tip: Both permanent and removable adhesives can become more strongly bonded to surfaces over time. Make sure you're choosing the best label for your needs by learning the differences between permanent vs. removable label adhesives.
6) Do Avery removable decals work on glass?
Yes, Avery removable decals can be used on glass. However, with all of our adhesive products, we would recommended testing the adhesive on a small section of the surface first.
In fact, many of our products can be applied to glass, including some of our permanent labels. If you're looking to make wine labels or candle labels, we have a couple different options for you to choose from.
7) Can I use Avery removable decals on car windows?
Yes, temporarily. Our removable decals will adhere to car windows at first but they are not designed for long-term use and are not UV-resistant. For car decals that will last, we would recommend a label made with permanent vinyl with UV-resistance.
Able to resist UV fading for up to 18 months, our printable vinyl labels are a much better choice for long-term outside use. These labels are also chemical-resistant, abrasion-resistant and easily stay attached to curved surfaces.
8) Are Surface Safe products freezer-safe?
Yes, Surface Safe products are freezer-safe and made with a durable polyester (PET) film. They are also FDA-compliant for indirect food contact per FDA 21 CFR 175.105.
If you're looking to make custom meal prep labels, these labels are a perfect choice. You can also pair these with our freezer-safe dissolvable labels which can wash away in hot water and are microwave-safe.
Pro Tip: You can check the material certifications, water-resistance, oil-resistance, recommended surfaces and more for all of our label products with our Compare Materials page.
9) How long does Surface Safe adhesive last?
Surface Safe sign adhesive lasts up to 3 years on recommended surfaces. After that time, Surface Safe sign adhesive can still stick but might not remove as cleanly. If you ever need help removing a label, we can recommend a few different ways to remove stickers and labels.
However, it's a little trickier to estimate the range for our Surface Safe ID and sticker labels. Since these products can be applied to a far wider variety of surfaces, the range can vary depending on the texture and material they're applied to.
Choosing the right removable decals
The best removable decal will depend on your design, the substrate and the conditions the materials will need to withstand. While a universal removable decal may not be possible right now, we tried our best to tailor our Surface Safe products to provide the best results.
For example, do you want to design your own office signs? Then a Surface Safe Sign Label will be your best bet. Or are you designing custom stickers for your next convention? Try our Surface Safe DIY Decals and free sticker templates.
But we also know there are plenty of other uses we haven't even thought of yet. That's why we designed our Surface Safe products to be adaptable and flexible to fit almost any use. We look forward to seeing what you make next!
Hopefully we've given you all of the information you need but, for more FAQs and info, try browsing our Help Center if you need a little more help. Also feel free to contact our consumer support team for troubleshooting tips and information.