TTB wine label requirements plus easy steps to make the best wine labels
When you're looking to make wine labels, whether it's for your new vineyard, your private label wine, or you're personalizing wine bottle labels for a wedding or big corporate event, we're here to help. In this article, we provide what you need to have on your retail wine labels, as well as the steps to make your own wine labels, whether for sale or personal events.
If you're making labels for retail wine bottles, it's essential, whether you're a big brand or small vintner to meet the mandatory labeling information required by the Alcohol and Tobacco Tax and Trade Bureau (TTB). It can be a tedious task to make sure you've complied with everything. So we've put together a quick list of the things you should include when making wine bottle labels. But make sure to check with an attorney to confirm you have the correct wine label information for your state and county regulations as well. For instance, California wine label requirements are different from those of other states.
Once you're ready to order your wine bottle labels, Avery offers you several options. You can buy custom wine labels or printable wine labels in thousands of shapes, sizes, and material combinations. You can also use our popular retail packs featuring set quantities of printable labels.
What to include on your wine bottle labels
Use this handy guide to make sure you have everything you need on your wine labels.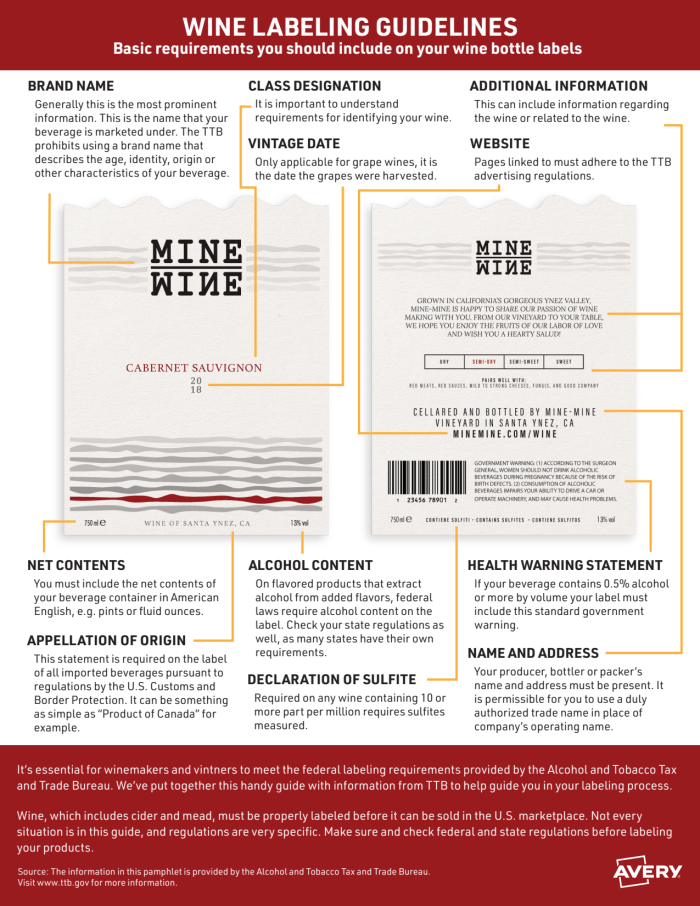 Required on your brand label
Brand name
This is usually the most prominent information featured on your wine label. It's the name under which your wine or line of wines is marketed. If your wine isn't sold under a brand name, then the name of the bottler, packer, or importer will be treated as the brand name if it is shown on the designated brand label. Make sure your brand name doesn't create a misleading impression.
Class or type designation
Your brand label must include a class, type, or other designation in accordance with 27 CFR 4.34. The class or type designation is based on the defined classes and types in the standards of identity.
The TTB defines class as the broad category that "wine" is divided into under the standards of identity. There are a number of general but defined classes such as "Grape Wine" and "Aperitif Wine".
Under most of the general classes are specific, defined types of wine. For instance, "Muscadine" is a type of "Grape Wine".
Appellation origin
This generally designates the geographic area where your fruit was grown. It shows consumers that your wine meets certain production requirements. If you include certain information about a wine on the label, an appellation of origin is required.
Percentage of foreign wine
You must include the percentage of foreign wine only if the label refers to foreign wine.
Required information on any label
Alcohol content
This indicates the percentage of alcohol by volume. For wines over 14 percent alcohol by volume, a numerical alcohol content statement is mandatory. The alcohol content may appear as either a specific number or a range.
For wines 7 to 14 percent alcohol by volume, a numerical alcohol content statement is optional if the type designation "table wine" or "light wine" appears on the label as the mandatory class/type designation.
Vintage date
This is generally only mandatory for grape wines, and it is the date the grapes were harvested.
Net contents
This is simply the amount of wine in your container. It can appear on the front, back, or side of the container. It can also be blown or branded into the bottle in lieu of or as well as stating it on the label.
Name & address
The name and address of the importer or the bottler of the wine need to be on your label. For American wine, this is generally the name of the bottler or packer and the address, as shown on your permit. It should be preceded by "Bottled by" or "Packed by". For imported wine, the name of the importer and the address of the importer's principal place of business should be shown and preceded by the phrase "Imported by." There are also optional terms that can be used if desired, such as "Produced by" or "Vinted by".
Sulfite declaration
The statement is required where sulfur dioxide or sulfiting agents are detected at a level of 10 or more parts per million (ppm), measured as total sulfur dioxide. Some people are sensitive to the sulfites used in winemaking, so the warning is to alert them if sulfites are present.
Mandatory health warning labels
The following health warning statement is required to appear on wine labels by the Alcoholic Beverage Labeling Act (ABLA) of 1988:
GOVERNMENT WARNING: (1) According to the Surgeon General, women should not drink alcoholic beverages during pregnancy because of the risk of birth defects. (2) Consumption of alcoholic beverages impairs your ability to drive a car or operate machinery, and may cause health problems.
The warning statement must appear on all alcoholic beverages for sale or distribution in the United States containing not less than 0.5 percent alcohol by volume.
You can find predesigned warning labels that you can order online to fit your bottles if you want them separate from your product label.
Country of origin
This is required by the U.S. Customs and Border Protection and only mandatory on imported wines.
Color ingredient disclosures
If your wine contains FD&C Yellow #5 or cochineal extract or carmine, a statement is required. You must include "Contains FD&C Yellow #5" or Contains Carmine" somewhere on your wine container.
Making your wine labels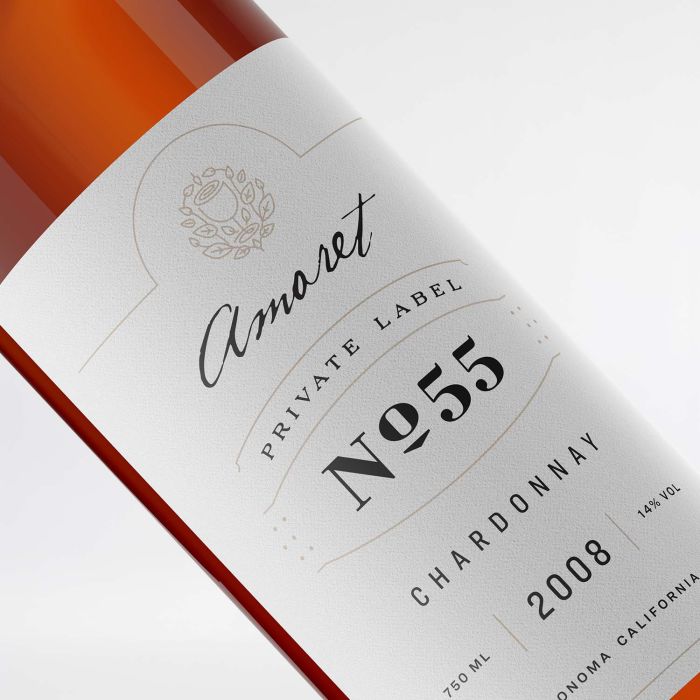 Use the following steps to create the wine bottle labels you need whether they're for retail sales or a personal event.
1. Measure the label area on your wine bottle
There can be big differences in wine bottle shapes and sizes, so it really does pay to measure your surface area precisely. Keep in mind that labels can't go on a tapered surface, so they can only go on the cylindrical area below the 'shoulder' of a bottle.
If you're recycling wine bottles for home brewing, it's best to use bottles that are more or less the same shape. And if your bottles already have labels on them, check what size labels have already been used on the bottle.
TIP: To measure your wine bottles accurately, use a piece of string or a tailor's tape measure for the rounded surface.
2. Choose the right size label
Once you've measured your surface area, make sure your order the right size label. Try blank labels or paper to test your look before ordering your labels. You want to make sure they fit correctly to make sure your labels look professional. The last thing you want to do is reorder your wine labels.
Avery WePrint custom wine labels offer a wide range of label sizes to fit a variety of wine bottles. You can use them in either portrait or landscape orientation. And you can order custom sizes at no extra charge. If you are printing your labels yourself, many of our most popular label shapes can also be ordered in custom sizes for no charge.
3. Choose your wine label shape
For high-shoulder bottles, you'll likely want a portrait orientation and use a rectangle, oval or arched label shape. On some types of wider bottles with sloping shoulders, you may need to use the landscape orientation in these shapes. Square or round labels can also work well on the front of these bottle shapes.
Avery offers a huge collection of label shapes you can print yourself or have professionally printed.
4. Choose your label material
Avery offers a variety of different materials to choose from for wine bottle labels whether you're printing them yourself or using Avery WePrint. If your bottles are going to be kept in a wine cooler, ice bucket, or fridge, we recommend Avery waterproof materials to keep your wine labels looking nice.
You can also order sleek metallics and holographic labels to make your wine stand out, or try our Estate #9 paper for a more classic look.
5. Design and order your wine labels
Wine label design is easy with the Avery online design tool. It allows you to use a ready-made template and adapt it, or create your own design from scratch. Alternatively, you can upload pre-prepared artwork.
If you're looking for a unique professional design for your new wine line or you want to do a branding refresh, check out our partner, crowdspring. They offer affordable crowd-sourced designers online that can help you get the exact wine label design you want. Then you can simply upload your finished artwork into our design tool and order your custom wine labels in the exact shape, size, and material you need.
Once you've finished designing your wine label, proof it and then have someone else proof it. A second or even third pair of eyes is always useful.
To experiment with different designs, just order a sheet or two to see what you like best. Or print examples at home, keeping in mind that the colors, text, and images on our professionally printed labels will be much sharper and richer.
6. Prepare your wine bottles
Your wine bottle labels need to be on a clean, dry, smooth surface. If you're using recycled wine bottles or you're customizing pre-bought wine, you'll have to remove the existing wine labels and any residue.
You also need to sterilize your bottles. If you don't have a sterilizer, you can swill them thoroughly with boiling water after washing them, or place them in the oven. Recommended times range from one hour at 338°F to 12 hours at 250°F.
Make sure your wine bottles are dry and at room temperature before you start applying the labels.
7. Apply your labels
It may take a bit of practice to get your labels horizontally straight onto the curved surface of a wine bottle. If your wine bottles are going to be displayed in a row, getting the label in exactly the same position on each bottle can be a challenge. People have come up with all kinds of ingenious methods to achieve this.
One solution is to place a label on one bottle and use it as a positioning guide for the rest. Some people prefer to mark the bottle and label positions on a piece of paper or wood since bottles tend to roll. If your bottles have a visible seam, it can be a useful guide to help you apply your labels straight. But don't try to place the label over the seam.
See How to Apply Your Labels Perfectly for more help.
Whether you're printing your wine bottle labels yourself or you're letting us do the printing for you, we hope we've given you some helpful guidance on creating labels that will make a great impression.
If you have a question or need assistance ordering or designing your wine label, call us at (800) 942-8379. Our amazing customer service team will be happy to help you with all your wine label questions. Feel free to leave a comment below and we'll respond within 24 hours.