With Avery labels, you have three amazing ways to create your own custom labels and stickers. You can order blank labels by the sheet online in your choice of materials or use our packaged in-store labels. Or if you're ready for a more premium professional look, you can order custom stickers and labels from our professional printing service, Avery WePrint.
Check out the easy step-by-step below to see how to print personalized stickers and labels. Once you're done customizing your label design you can either print them yourself or let us print them for you.
Step 1: Go to Avery Design & Print
Open the free Avery Design & Print software. To start a new project, enter your Avery product number or choose your product from the selections and click GO.
Step 2: Choose your design
Select your design theme from the menu on the left, and view the design(s) on the right. Or to use your own graphics, choose the blank template which is the first option displayed.
Step 3: Customize the design
Whether you choose a blank template or a pre-designed template, you can personalize the content and make it your own. Rearrange the design if you wish, add a personal photo or graphic and enter your custom text.
To change the existing graphic, click on the design to select it, and use the menu on the left to select another image from the Avery Gallery or from your own computer file.
To customize the text, click to select the text area and type in your text. Use the menu on the left to choose a different typeface, type size, or color.
The next step will show you how to make changes to individual labels or all your labels on the entire sheet.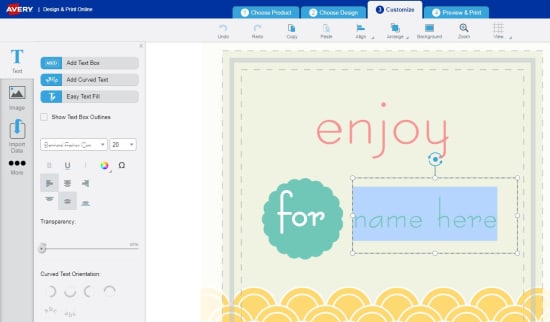 Step 4: Edit your design
The navigator on the right side of the screen makes it easy for you to make changes to one or all of your labels.
To apply changes to your label design for all the labels on the label sheet, click Edit All. To make changes to individual labels, click Edit One, and select the label you wish to change by highlighting it in the navigator.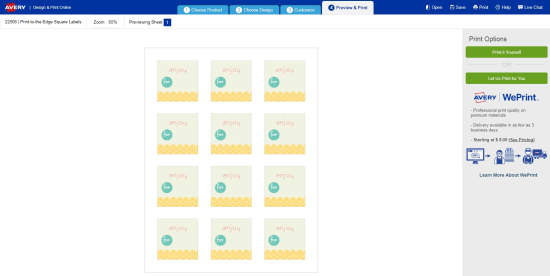 Step 5: Preview & print
Click Preview & Print to review your design. To make adjustments, just click the Customize button at the bottom of your screen to go back to the previous screen. When you're finished, just click Print or Let Us Print for You.
Step 6: Save
To save your design, click Save. In the pop-up window, create a file name and save it to either "MyAccount" or your computer.