DIY party favors your guests will love
Whether you're planning a kids' birthday party, a wedding, or even a classy retirement party, party favors are a fantastic way to personalize any event. In fact, store-bought and generic party supplies can be instantly elevated with the right favor. They're also much easier to make yourself than you might think. To that end, we've rounded up our best party favor ideas, plus free templates you can customize and print right from your desktop. Additionally, we've included a few simple tips to show you how to make personalized DIY party favors your guest will love.
More articles you might like:
How to make party favors
On the whole, making DIY party favors doesn't have to be a huge project, there are definitely ways to keep it simple. In fact, there are just four steps and with a little creativity you can get a totally custom look for a fraction of the price of custom-made favors. We'll dig in to the specifics below, but here are key steps to make party favors:
Decide what to put in party favor bags
Pick a container
Personalize with a label or tag (or fabric transfer)
Assemble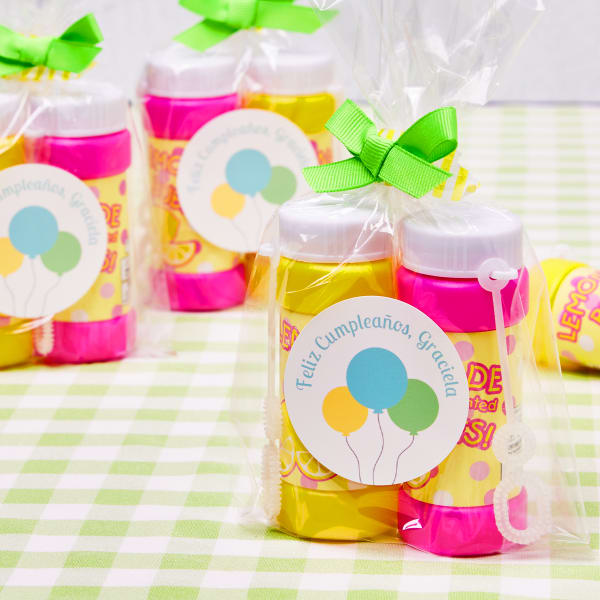 What to put in party favor bags
Undoubtedly, choosing exactly what to give in party favor bags is a great place to start. Once you have that figured out, it will be easier to find the right size bag (or other container) for your party favor ideas. Of course, with all the choices out there it can feel overwhelming, but the good news is that there's no shortage of places to find cool small items to include. For example, you can find tons of goodies at the dollar store, online, party stores, or even at the discount section in big box stores. (Target dollar section, we're looking at you!)
When you're making party favors for kids, some good items are candy, small healthy snacks, small toys, bubbles, fun pencils and erasers, mini puzzles, mini games, stickers, temporary tattoos. While cheap assorted candy might not appeal to adults, mini booze bottles, gourmet chocolate, candles, tea samples, and coffee samples are elevated edible party favor ideas. Equally great party favor ideas for adults include small succulent or herb plants, personalized bottle openers, playing cards, beverage koozies, lip balm, and mints.
What can I put in my goody bag other than candy?
Of course, you may not want to put candy in your goody bags. In that case, here is a quick cheat sheet of non-edible party favor ideas for kids and adults.
Pick a container
To be fair, there are some party favor ideas that you can give as stand-alone favors instead of including inside a bag, box, or other container. For example, candles and small plants can easily be dressed up with a tag or label and given as party favors all by themselves.
However, sometimes it's a lot easier to make high-impact party favors by rounding up several small items. For example, small gift bags or boxes, poly bags, plain paper bags, Mason jars, and ornament boxes are all fantastic options for filling with small items. Another party favor idea is to make the bag reusable. Indeed, personalized tote bags and fabric pouches make great party favor bags and are useful for guests long after the party.
Moreover, if you're interested in making personalized totes or pouches for your next party, we have a great fabric transfer resource page. In short, you'll find tons of ideas and tutorials that show you the best types of transfers to use for looks and different fabrics.
Personalize with a label, tag, or fabric transfer
All things considered, the label and tag choices for creating personalized party favor ideas are virtually endless. Especially when you consider the option to buy blank labels by the sheet where you can choose pretty much any combination of size, material, and shape. However, there are a few products that jump to the top of the list for their versatility:
The reason why we picked 2″ round glossy white labels is because they're a great size for most items. They work on candles, plants, candy bags, and so much more, not to mention the glossy sheen makes colors really pop. If 2″ round labels don't work for your party favor idea, then head on over to our resource page for finding the perfect label size for different containers.
When it comes to fabric transfers, we recommend the fabric transfers for light fabrics because they work best on canvas. Generally, light, off white canvas is the most common fabric used for DIY totes, aprons, and pouches that you'll find at craft stores and online. Furthermore, our light fabric transfers work best on 100% cotton and cotton blend fabrics, so they're ideal for birthday tees too.
How to find predesigned Avery templates to customize
As a matter of fact, the easiest way to find templates for party favor ideas is to browse this article. Once you find a template you like, click "customize" and it will open in Avery Design and Print Online (ADPO). When the template is opened in ADPO, you can edit it to add personalized text, images, colors, and more.
If you've never used free Avery templates before, then you might want to check out some of our resources to get started. For example, this article in our Help Center walks you through how to find templates on our website.
How to assemble party favor ideas
Once you've picked out items and chosen a container, assembling party favors is pretty easy. If you decide to use a personalized tote or pouch, then you'll definitely want to closely follow the directions for using iron-on fabric transfers. Different kinds of fabric transfers are applied differently, so it's important to use the instructions for the specific kind you're using. While you can find all instructions on our fabric transfer resource page, you will most likely need the instructions for light fabric transfers. This is because most DIY totes and pouches are made of light beige or off-white canvas.
Tags, of course, are super easy to apply to party favor ideas as you just tie them on. Labels are relatively easy as well, however, sometimes it can be tricky applying them to items like jars and candles. Be that as it may, we have the perfect article to help you apply labels perfectly.
Party favor ideas for kids parties
So, are party favors a must? Obviously, that really depends on the type of party. For instance, if you're taking your kids and their friends to an amusement park or the like, you probably won't want to bring a lot of extra stuff. However, party favors are usually a good idea for most kids' birthdays, especially the younger they are. This way everyone gets something fun to play with, so there's no fighting over the birthday kid's presents. It's also a nice way to say thanks for attending!
1) Western-themed trail mix goody bags
2) Sheriff's bandanna kids party favor
3) "Mermaid scales" party favor idea
4) Mermaid party favor bags
5) "Make a Splash" goody bag tags
6) "Mermaid hair, don't care" party favor idea
7) Baseball VIP badge party favor
8) Mini baseball bat party favor idea
9) Baseball party t-shirt idea
10) Comic book candy party favors
11) Camping party "pick and mix" trail mix bags
12) S'mores party favor idea
Party favor ideas for adults
While you may be wondering, "what age do you stop giving goody bags?" we think it's not about stopping, but rather transitioning. Once your kids reach their teens, switch to less toys and more candy or snacks. Then transition to more elevated party favors for adults. For instance, the best party favor ideas for adults are decadent treats they can enjoy in the moment, something useful, or a personal memento such as a photo.
13) Travel-themed passport photo card
14) Champagne favors for Valentine's Day parties
15) "Sip Sip Hooray" wine bottle party favors
16) Gourmet chocolate party favors
Festive party favor ideas for the holidays
For the purpose of holiday party favors, you can use the same guidelines as party favors for adults: decadent treats, useful items, and mementos. However, adding a healthy dash of nostalgia and festivity pretty much guarantees your party favor ideas are a hit during the holidays.
17) "North Pole Bakery" apron party favors
18) Personalized gingerbread aprons
19) Gingerbread house cookie cutter tags
20) Potpourri party favor idea
21) Red and white Christmas party favor
22) "Happy Holidays" cookie cutter party favors
23) Christmas pineapple party favor idea
24) Simple snowflake cookie cutter favor
Mason jar party favor ideas
For the most part, Mason jars make excellent containers for most party favor ideas, provided guests are not too young safely handle a glass jar. What's more, Mason jars are useful for storing food or organizing small items at home too, so they can be reused later. In fact, they also make excellent containers for gifts so we devoted a whole article to unique jar gift ideas and how to make them.
25) "Hoppy Easter" candy jar favors
26) Hot cocoa mix holiday party favor
27) Chex mix party favor idea for Christmas
28) Bean soup party favor in a jar
29) Rainbow-in-a-jar party favor idea
Wedding party favor examples
Unquestionably, party favor ideas for weddings, definitely need to fit the theme as they often double as part of the table settings or table décor. Unlike kids parties, wedding décor can be extremely specific, so it's important to be able to update favors with personal details, like a specific wedding color. For this reason, the wedding party favor examples below are all made with templates that can be edited to include custom colors and text!
30) "His & Hers" wedding party favor examples
31) Wedding favor snack labels
32) "Mint to Be" wedding party favor idea
33) Mini succulent party favors for a wedding
34) Bridesmaid t-shirt party favors
35) Champagne bubbles bridal shower favors
36) Snack box wedding party favors
Favors to personalize a birthday party
Generally speaking, one of the best ways to personalize a birthday party is with the favors. And it's so easy to do on your own that there's really no need to go to an expensive custom shop. When you use free Avery templates, you can easily add your own colors, or graphics from our graphic library, or you can just use one of the free templates below and add personalized text. For example, many of our examples feature the birthday star's name, age or a thank you message.
37) Personalized birthday goody bags
38) Play Doh birthday party favors
39) Personalized bandana party favors
40) Personalized birthday doggy bags
41) Birthday party favor box idea
42) Blue birthday bunting party favor tag
43) Pink birthday bunting party favor bag
44) Rainbow birthday labels for goody bags
45) Sweet moon-themed birthday labels
46) Birthday balloon labels you can personalize
47) Sprinkles birthday favor labels
How to make personalized party favors right from your desktop
Making your own personalized party favors is much easier than you might think. In fact, there are just four simple steps for making party favors:
Decide on party favor items. Online retailers, the dollar store, and party stores are great resources, not to mention discount sections in big box stores.
Pick a container for the items. Some great choices include small gift bags or boxes, poly bags, plain paper bags, and ornament boxes, as well as Mason jars, totes, and fabric pouches that can be reused.
Personalize it with a label, tag, or fabric transfer. Add a custom label or tag coupled with just about party favor bag or box. You may also consider personalizing totes or pouches with fabric transfers for reusable party favors.
Assemble your party favors. Once everything is ready, fill your party favor containers with the small items you've gathered. Finally, top it off with a label or tag, and you're done!
Regardless of the items and containers you choose, Avery printable labels, tags, and iron-on fabric transfers make it easy to personalize them. In fact, you can bring your party favor ideas to life right from your desktop using our free online software and free customizable templates.
Are you planning a party soon? You can find more party planning ideas on our Pinterest page, or follow us on Instagram for inspiration and share your own projects using #averyproducts.