Tips for planning a DIY party at home or a local park
When you set out to throw an awesome birthday party, you need awesome organization skills to pull it off. Luckily, we know about organization. In fact, our love of labeling goes all the way back to 1935, when Stan Avery invented the first self-adhesive labels. In this article, we're sharing the ultimate party planning checklist (printable, of course) and our best tips for creating a unique, memorable DIY birthday party. This includes free printable templates for invitations, labels, stickers, thank-you cards, and more.
Checklist for how to plan a birthday party
Below is a timeline of the basic steps for planning a DIY party at a local park or at your home, either indoors or in the backyard. However, in this article, we will discuss each step in much greater detail. For that reason, the list below doubles as a table of contents. Simply click any section to navigate there directly. And, of course, download our free printable party planning PDF checklist with detailed steps to help you plan an awesome birthday.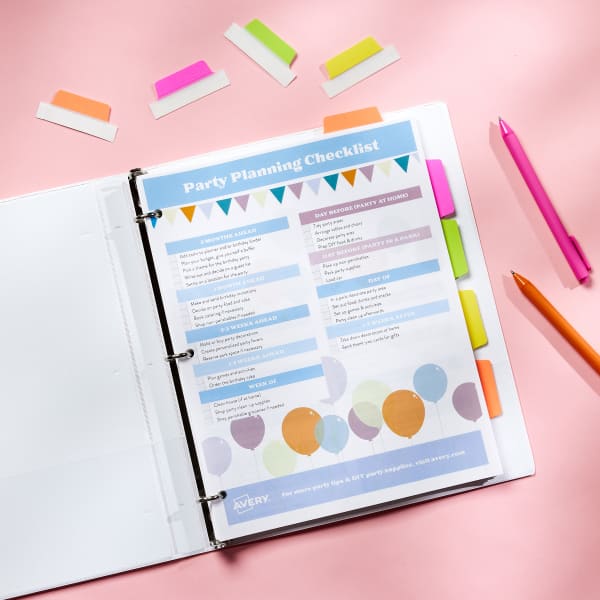 Start planning 2 months ahead of the party
Get organized for planning
The best time to start planning a party is two months before you want it to take place, so deciding on the general time frame is essential. Specifically, because the exact day and/or date may change based on the venue, schedule conflicts, and other things outside of your control. Additionally, you don't want to add any stress to planning, which can already be overwhelming. To that point, Sally Gibson, founder of Someone Sent You a Greeting, says, "It's best to start planning early to avoid last-minute stress."
You may also want to consider involving the birthday kid in the planning process too. According to Sally, "You'll get a better idea of what they really want, and it makes the event extra special as they will feel like they were a part of making it happen."
DIY Planner stickers for planning a birthday party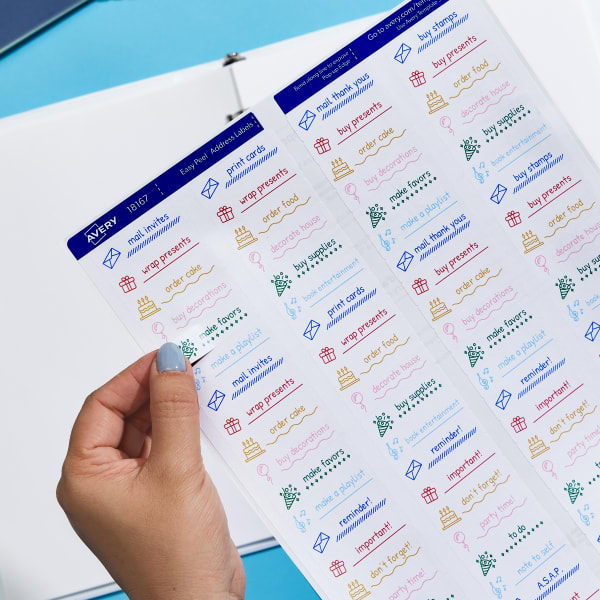 Who, what, when, where, how much?
As soon as you're ready to start planning a birthday party, there are several things you should nail down as soon as possible. Specifically, who is invited, what the theme is, when and where it will take place, and how much you intend to spend Firstly, and most importantly, figure out your budget. When planning company and department parties at Avery, we've found that the budget actually affects almost all of the other big decisions that need to be made.
Marissa Johnson, founder of Inflatable Blast as well as being a professional event and party planner, seconds that for kids parties. Marissa says, "Skipping the budgeting step can lead to overspending and, ultimately, a pricey, unsatisfying celebration."
Budget Planning: How much does a birthday party cost?
According to the parents and party professionals we spoke to for this article, in general, a kid's birthday party can cost anywhere between $100 and $750. However, the most common birthday cost among them was between $200 and $400. The higher range generally includes expenses such as venue rent and entertainment. Overall, Sally breaks down the cost of a birthday party like this:
Venue rental: $50-$300
Decorations: $20-$100
Food and drink: $100-$300
Cake and dessert: $30-$80
Party favors: $20-$50
Games and activities: $50-$150
In contrast, Seth Van Oudtshoorn, Managing Director of Yombu Events (who was also a kids party entertainer for six years), reports that, "the average booking for kids party entertainment across all of our branches is $300. We see most parents spending between $600 and $750 on a party at home."
How much should I spend on a first birthday? Without a doubt, we can say that it really depends on who the party is for. A one-year-old will not remember the party. They will just love the attention and family surrounding them on the big day. With this in mind, you may want to gravitate toward the lower end of the average budget and stick to the $100–200 range. That being said, the first birthday is often more about the family that is celebrating with you. In that case, you may want to go out of your way to entertain your guests and spend between $400 and $750.
Budget stretcher: how to plan a birthday party for less
As shown above, venue and entertainment are among the most expensive parts of a party budget. Choosing to celebrate at home or in a nearby park is a great way to significantly reduce your costs. Another way is to skip professional entertainment. All in all, you could cut several hundred dollars from your budget this way. DIY decorations, homemade cake, and kid-friendly food are other ways to cut costs, so we'll discuss those in more detail throughout.
Of course, there are some things you should never skimp on. Greg Jenkins, a party planner with more than 30 years of professional experience and partner at Bravo Events Online, says, "Never cut expenses on the quantity of food and beverage needed." However, Greg also warns against skimping on safety, for example, "not hiring a person to monitor the swimming pool or bounce houses from a company that doesn't have proof of insurance."
Pick a birthday party theme
Basically, it's never too early to pick a birthday party theme, but it's a good idea to nail it down at the 2-month mark. Mostly because that's when you're making other big decisions that the theme might affect. For example, if your theme is mermaids (like our super cute mermaid party with free printables), you may want to throw a pool party.
Indeed, for Emily Parker, picking a theme is her first party-planning task. The mother of four and blogger at The Journey of Parenthood says, "I start researching the theme about 4 months in advance, and then 2 months before the party, I start gathering supplies!"
What are good themes for a party? In general, the best birthday party themes are those that are special or meaningful to the birthday child! That being said, everyone can use a little inspiration sometimes, especially when your kid is too young to express what they like. Or when they have too many interests to choose from!
To that end, we have a pretty great roundup of birthday party themes you can browse. And the best part? Each theme has free printables that you can use to personalize your party with DIY labels, cards, and tags.
Decide on a guest list and settle on a location
As a matter of course, the number of people expected at your party will affect the venue, and vice versa. To say nothing of the cost of food, feeding 20 people is vastly different from feeding 100 people. Equally important is choosing the location, because that will definitely affect how many people you can invite. Are you celebrating at a major theme park? Your budget may allow for one or two close friends but not inviting the whole class.
In any case, renting a venue or traveling to a destination for a birthday party requires a whole different way of planning. On account of that difference, from this point forward we will be focusing on how to throw a birthday party at a private residence or public park. This, of course, narrows down your location choices to:
Inside, at your home or a relative's home
In your backyard or a relative's backyard
Outside at a public park or playground
At your apartment's pool or common room
Even if you are not paying for a venue, for a DIY party you may still have to reserve space at a public park, playground, or common areas in an apartment complex. Another good thing to keep in mind is the weather if your birthday party plans are outdoors. That is the main reason Greg reminds us to "have a plan B, especially for any outdoor excursions.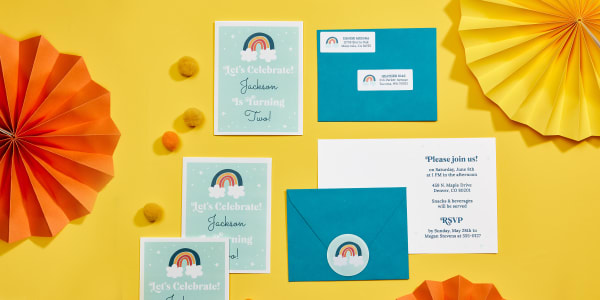 Party planning tasks to do 1 month ahead
Make and send birthday invitations
Once you've made all the big decisions, including when, where, and who's invited, you're ready to send out birthday invitations. From experience, we recommend sending out invites one month in advance and asking for RSVPs two weeks before the event.
What does RSVP mean on an invitation? RSVP actually stands for the French term "répondez s'il vous plaît," which just translates to "respond please." All it really means is that your host wants you to confirm whether or not you'll be attending the event they invited you to.
When planning team parties at Avery, we found that one month is generally the sweet spot. It gives everyone enough time to plan but isn't so far away that they forget. Furthermore, asking for RSVPs two weeks in advance is a good way to remind guests that the party is approaching.
How to make a birthday invitation
Despite there being several digital ways to send a birthday invite, from Facebook events or a group message to emails, physical invitations remain popular. Perhaps not surprisingly, folks still like to feel special with a card invitation—not to mention it's easy to stick on the fridge as a reminder! Whether you're handing out invites in person or sending them through good old-fashioned snail mail, making them is easy and can actually be fun!
But what to put on a birthday invitation? Basically, you just need to include the "who, what, when, and where" in a birthday invitation. In other words, who are you celebrating, what's the occasion, the date and time of the party, and where will it be held?

For making both invitations and thank-you cards, it's a great idea to keep your guest list on a spreadsheet. This will make it super easy to access and apply to address labels in literally minutes, which we'll cover in detail below.
When all your information is in order, the easiest way to make a birthday invitation is to use a free template and Avery Design and Print Online (ADPO). ADPO is free cloud-based software that you can use to create and print DIY cards, labels, and tags at home on Avery printable products. Take, for instance, our most popular printable note cards, which are perfect for sending invitations and thank-you cards. We also offer custom-printed postcard invitations in a wide variety of shapes and styles! Either way, all you have to do is pick a template, enter your information, and then print at home or order custom prints.
Personalize our Rainbow invitation theme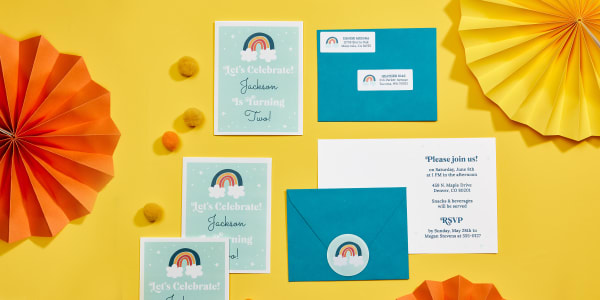 Birthday invitation examples: free printables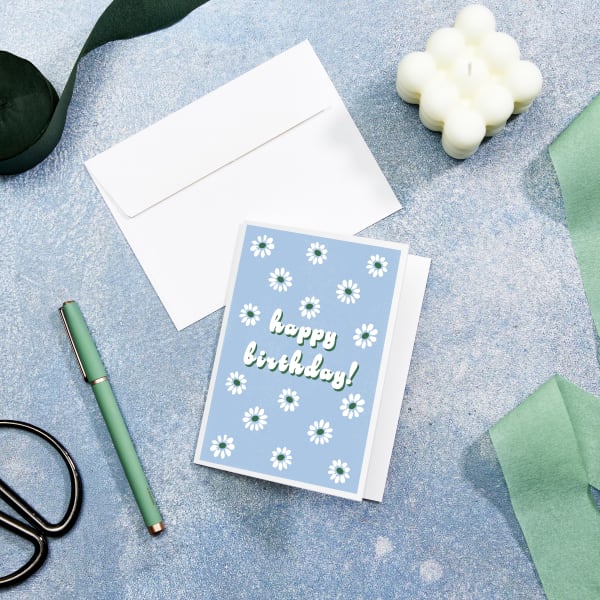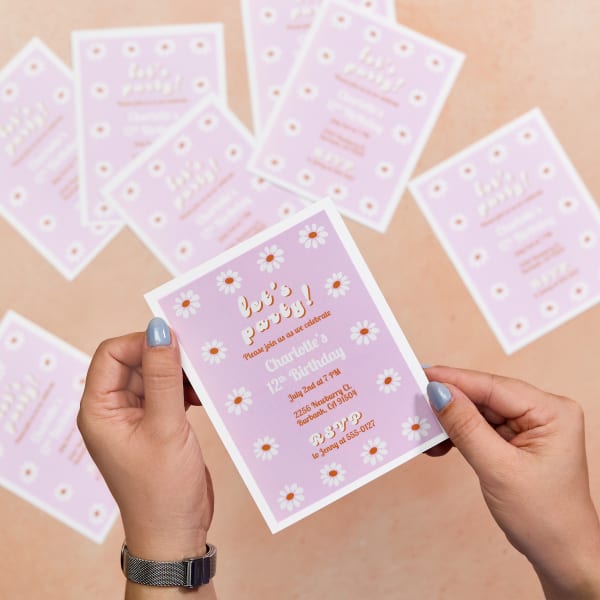 Quick address labels for birthday invitations
As expected, ADPO has all the usual editing tools you need to add and edit custom text, images, colors, and more. However, there are also some special tools available in ADPO that make DIY cards, labels, and tags much easier to create. One of these is the Mail Merge tool, which allows you to fill in any number of address labels in mere minutes.
I love using Avery address labels for invitations. It makes it so easy to print them on my home computer leading up to the event!

Emily Parker, mother of four and blogger at The Journey of Parenthood
How to use Avery Mail Merge
In brief, here's how to create address labels for birthday invitations using Mail Merge (also called "Import Data/Mail Merge"). To begin, make an address list in a spreadsheet program like Microsoft Excel® or Google Sheets™. Next, open the template you would like to use. There are a lot of great ones in the birthday category for Avery 5160 address labels for laser printers. Moreover, all of these designs can also be found in the birthday party category for Avery 8160, which is the same label but for inkjet printers.
After you've chosen a template and made any edits to the overall design using the Edit All button, then click "start Import/Merge" and follow the prompts from there. Once you've imported the addresses from the After you've chosen a template and made any edits to the overall design using the Edit All button, click "Start Import/Merge" and follow the prompts from there. After importing the addresses from the spreadsheet, use the Edit One button to make any necessary changes to individual labels. Finally, you can save and print your address labels at home, or you can choose for us to print them for you with our professional Avery WePrint® service. Now that your project is saved, you can reprint the address labels for thank-you cards!
Expert tip: You can read more about the Edit One/Edit All buttons in this great help article with pictures.
Plan your party food and cake
As a general rule, it's a good idea to plan party food and cake one month ahead of time for two reasons. Firstly, catering should be booked about one month in advance. Secondly, it's a great time to shop for non-perishable groceries and any party food you're making at home. This includes non-perishable groceries and supplies you'll need if you're making a homemade birthday cake.
How much does a birthday cake cost?
Birthday cakes can range anywhere between $35 and a couple hundred dollars (or more). Of course, this depends on the size and whether you choose a store-bought or custom cake. If you want to take a big slice out of your budget, Marie Loveless, mother of five and blogger at My Silly Squirts, is an avid supporter of going the homemade route. "Make your own cake. A custom cake can suck up half your budget. Plus, the kids don't care."
Easy food for parties
"Nix the veggie kabobs and go with grilled burgers, hot dogs, pizza, etc. These are things kids really enjoy, are inexpensive, and are easy to prepare."

Greg Jenkins, party planner and partner at Bravo Events Online
Surely, hiring a caterer is the only way to make party food easy, right? Not necessarily. There are a lot of easy homemade, semi-homemade, and takeout ideas that your guests will eat up—literally! Moreover, some of the most popular foods at parties are simple, no-frills classics. For example, Amanda Casas, a home décor blogger at Kinda Coastal Home, suggests hot dogs and fried chicken, explaining that "for kids' parties, there's no need to order fancy food that is expensive and won't be eaten." Another money-saving tip from Amanda: "Go for 2-liter sodas and cups instead of cans of soda; it's way cheaper overall."
What to plan for 2-3 weeks ahead of the party
Reserve park space if necessary
Plan to make reservations for any public spot 2-3 weeks in advance of the party. When you plan a birthday party at a public park, you definitely will need to reserve a spot. You can usually find this information on the park's webpage. However, if that fails, the parks and recreation department in your city should be able to help. You may also have to reserve space in an apartment complex, whether that is a pool, green space, or other common area.
Handle decorations and personalized party favors
What do you need to buy for a party?
In addition to food and cake, you might like to buy decorations, party favors, and supplies for games and/or activities. Some items for birthday decorations include banners, streamers, balloons, and signs. And easy birthday decorations don't have to be generic! In fact, we have some great free printables to help you make inexpensive personalized party décor.
DIY party decorations you can personalize
Our favorite inexpensive DIY party decoration is a personalized banner. All you have to do is buy or make a cheap banner, then dress it up with a personalized message. Simply print out the letters on round labels and apply!
Another easy (and inexpensive) way to add a personal touch to your party décor is to print your own custom signs. It's always helpful to guide guests where they need to be or to the restroom. Why not make it fun and fit your birthday party theme?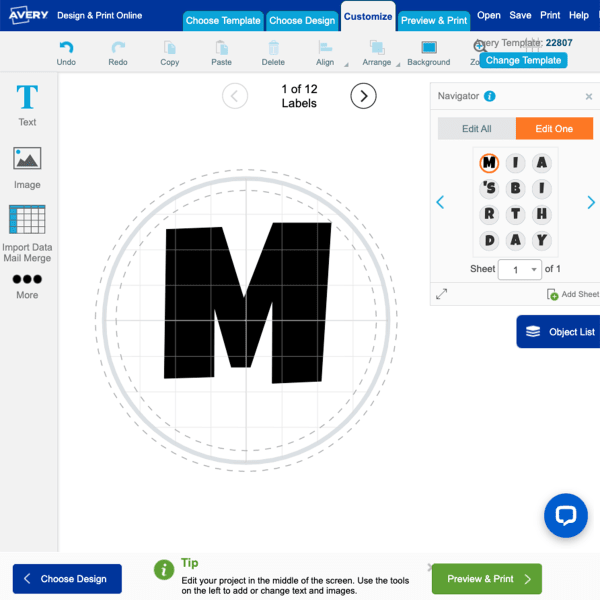 First, click "customize" to open the blank template for Avery 2-inch round labels (22807). Then, type in each letter you need, save the project, and print them out. Finally, apply the labels to the banner.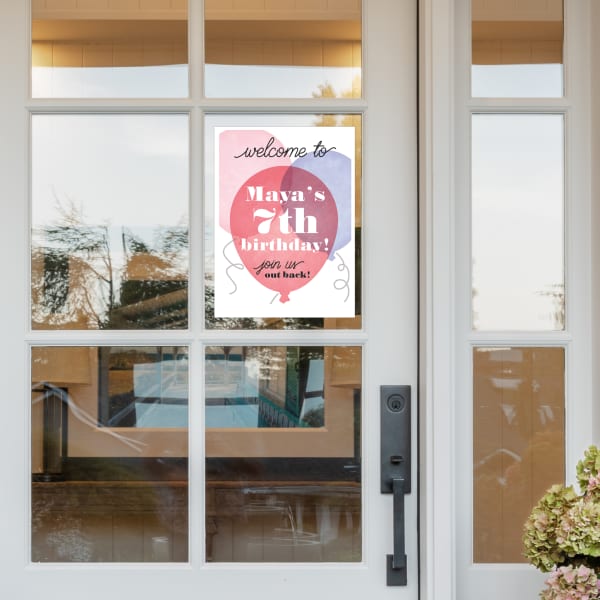 Print this design on Avery 61512 Surface Safe decal sheets. Our decal sheets are 8-1/2″ x 11″, stick to walls without damaging them, and work with laser and inkjet printers.
After the party, simply peel your wall decal off, and your drywall, painted walls, and windows will still be perfect! Our decal sheets don't leave behind sticky residue, either.
What to put in party favor bags
Party favors and favor boxes don't have to break the bank. All you really need are a few small toys or treats for each kid. Firstly, nothing has to be name-brand. Secondly, dollar stores can be great resources for small items to fill favor bags and boxes. Needless to say, buying in bulk is going to be your budget's best friend. Cute erasers, fun pencils, party-sized bubbles or Play-Doh, dollar-store toys, and individually wrapped candy are some of our favorites.
Or, you can skip bags and favor boxes altogether for something a little more unique. We might be biased, but we absolutely love this charming idea that Alexandra Fung, co-founder of Upparent (a parent-to-parent recommendation-sharing site), witnessed in the wild:
One of my favorite ways that I've seen Avery labels used for a kids' birthday party was to write a "thank you" message from the birthday kid to his guests and stick it on the inside cover of the books he was giving out as party favors. I loved both the useful party favor (which has been read countless times at our house over the years) and the personal touch added by the message, which has served as a sweet reminder of our friend anytime we pick up the book to read.

Alexandra Fung, co-founder of Upparent
How to make a party favor
The key to making cute party favors or favor boxes (especially on the cheap) is to add a personalized detail. Start by gathering really simple items and containers. Then, add a fun, personalized label that matches your theme, and voilà! You have memorable favors that look like they cost way more than you actually spent.
Free printable party favor ideas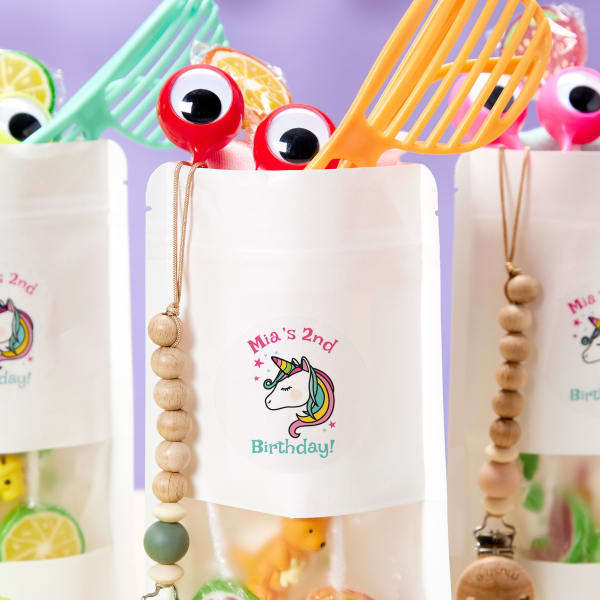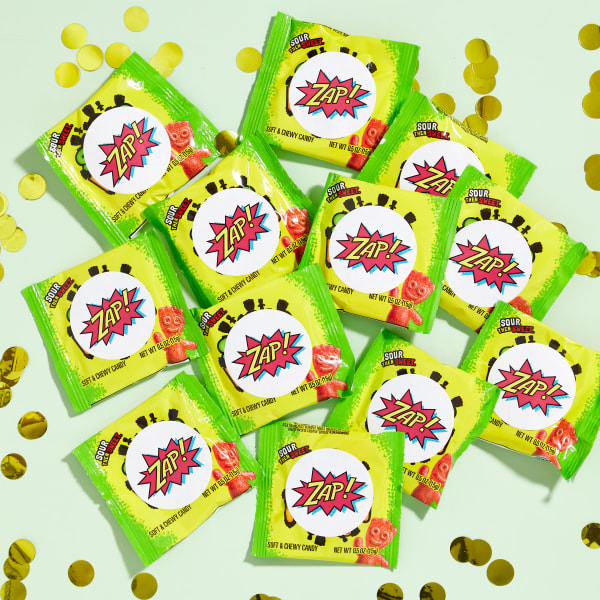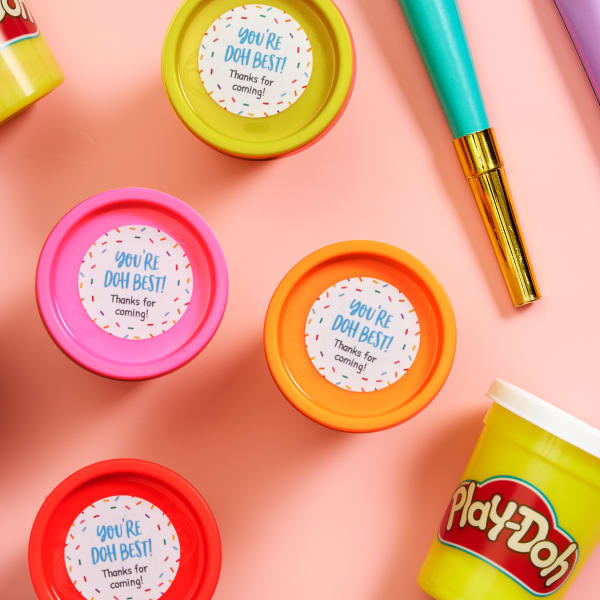 Party planning tasks to tackle 1-2 weeks ahead
Plan birthday party games and activities
Unsure of what games to play at a party for kids? Party professional Seth routinely sees parties with budgets on the pricey side. However, he maintains that some of the best party game ideas are inexpensive classics.
We love the classic games all children know and love, like: tug of war, musical statues, sack racing, egg and spoon racing, pin the tail on the donkey, three-legged races, red light, green light, and limbo. A piñata although not technically a party game, is also a really fun activity.

Seth Van Oudtshoorn, Managing Director of Yombu Events and former kids' party entertainer
Fun party games and activities are one of the best parts of a birthday. They're also a great way to keep kids entertained on a budget. For more inspiration, check out this list of classic kids' party game ideas from childhood101.com. Another useful resource is our list of rainy day activities for kids, which will keep them entertained both outside and inside.
Order the birthday cake
For most custom birthday cakes, 1-2 weeks before your party is the best time to order. From our experience, it's always a good idea to provide a message request in writing when ordering a cake. Especially if you're ordering over the phone, things can easily get misheard, vastly increasing the chance of spelling errors, etc.
What you should do the week of a birthday party
Clean house: how to be a good party host
Often, getting the house ready for a party at home is the biggest challenge when hosting. Blogger Amanda has great advice to make it more manageable. She says, "Make sure to plan ahead of time and clean sections of your house in the days leading up to the party."
Aside from cleaning, a good party host also thinks ahead to anticipate what guests might need to feel comfortable. One great idea for hosting a birthday party is to prepare a "quiet room" for tuckered-out kids to take a nap or watch a movie. Stocking the bathrooms with fresh hand towels and soap is another good hostess move to accomplish the week of.
Shop clean-up supplies & perishable groceries
No matter where you're hosting a DIY party, there are two things to tackle during the week before. Firstly, shop for clean-up supplies for after the party. This includes things like trash bags, zip-top bags, plastic containers, aluminum foil, and/or plastic wrap. Secondly, shop for any perishable groceries needed if you're making homemade party food.
Party planning tasks for hosts the day before
The day before (at home)
When you're hosting a party at home, it's a good idea to get as much done the day before as possible. Start by tidying the party areas, whether that's inside, outside, or a combination of the two. Next, arrange tables and chairs for the party. Once you have the tables and chairs in place, decorate! Then, set out trash bins, cover tables with disposable tablecloths, and make space in the fridge for leftovers. Finally, prep DIY food and drinks so all you have to do is set them out.
The day before (at the park)
If you're partying in the park (or another public area), you won't be able to set up the day before. However, that doesn't mean you can't do some things the day before to make hosting the party a little bit easier. For one thing, you can assemble decorations and pack up all your party supplies. You can also pack up non-perishable food ahead of time. All of these items can be loaded into the car the day before or the night before.

Host tasks for the day of a birthday party
What do you do before guests arrive?
Most likely, you'll begin the day by decorating the party area in a park or common area. Whether at home or in the park, the next step is to set up games and activities. It's also good to get drinks into ice chests as early as possible so they have a chance to cool. Finally, right before the party, set out food and snacks so they're not sitting out too long before guests arrive.
It's also worth mentioning that it's okay to accept help! Many of us feel like we have to do everything on our own, but that's simply not true. Indeed, Sarah M., founder of Dog Training Boss and mom, urges party hosts to "accept help from family and friends with the smaller details, like bringing drinks and ice or helping set up decorations."
Sarah insists that it's okay to even get help during the party, adding, "Ask for help taking photos, passing out food, or any other details that can be easily managed."
Best ways to clean up after a party
In all honesty, the best way to clean up after a party is to be prepared and proactive. We've seen it proven every time: the more you do before and during the party, the easier it will be. As mentioned above, cover the tables with disposable tablecloths and set out trash bins so guests can use them. That alone will significantly reduce the amount of time spent cleaning up after the party. During the party, be prepared for accidents with things like hand sanitizer and cleaning wipes.
Additionally, be prepared with leftover labels and containers for party food. Some candy, chips, and veggie trays can be left out for the duration. However, hot foods, cold foods, meat, cheese, and dips should not sit out the whole time. In fact, in this article, the Mayo Clinic recommends chilling hot and cold food after two hours, or one hour if the temperature is above 90 degrees Fahrenheit.
Free, printable leftover label template
For our office parties and potlucks, we like to preprint leftover labels ahead of time for anyone taking food home. Below is a template we've used often for dissolvable labels, which are great for reusable containers. It's so easy to just write the use-by date on it with a marker, so that information doesn't get missed. We've also rounded up great printable templates for meal prep here, which make amazing leftover labels for parties.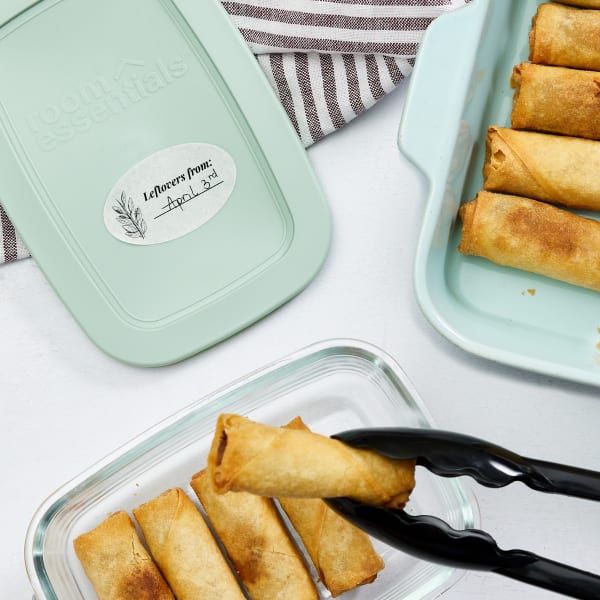 Plan to wrap up final tasks 1-2 weeks after
Send thank-you cards to attendees
First, let's get the big questions out of the way: Firstly, do people still send thank-you cards? The answer is yes, of course! Just like physical invitations, physical thank-you cards make your guests feel extra special. Secondly, how long should you wait before sending a thank-you card? In general, etiquette suggests that you send a thank-you card within 1-2 weeks after a party.
Tips for sending thank you cards after a party
To begin with, if you made address labels in ADPO and saved your project, you can simply reprint them. What's more, you can print them from any smart device connected to a printer and the internet. Secondly, you can totally apply your invitation design to a new project if you want the cards to match. And it's so easy. All you have to do is sign into your Avery account and go to My Projects. Click on the project design you want to copy, then click "Apply Design to Another Product." Next, enter the product number for the thank-you cards you want to print on, and you're all set.
Alternatively, you can choose a different thank-you card design. Below are free printable templates you can customize with the birthday kid's name, a thank you message, and more.
Thank you card templates for birthday parties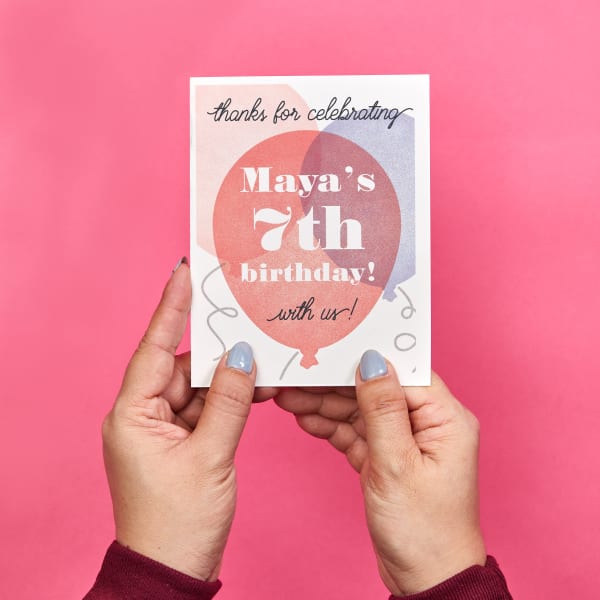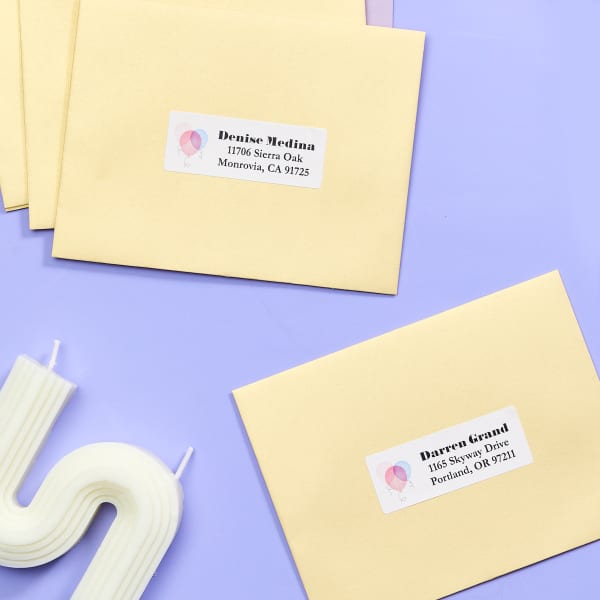 What to write on a thank you card
When you add a personal touch to birthday thank-you cards, it feels more meaningful. All you have to write on a thank-you card is a simple message of gratitude; that being said, keep it short and specific. "Thank you so much for attending Aiden's birthday party" or "Thank you for the lovely gift; Sydney loves puppies!" are both great examples.
Party-planning takeaways
The best way to plan a birthday party is to get started early and organize your tasks. Your planner, a checklist, a binder—all of these things are great tools for organizing your party planning tasks. In addition to our free printable PDF checklist, you can also use Avery labels and our free template to print your own party planner stickers.
Once you've got a plan, there are a few easy DIY details you accomplish along the way that add a personal touch. Our free online tools coupled with our printable cards, labels, and tags make it easy to create everything you need. Personalize your party invitations, décor, favors, and thank-you cards right from your own desktop.
Planning ahead can also help you save money, especially on DIY personalized details. However, most importantly, don't put too much pressure on yourself to do everything all at once. Make all the big decisions up front, then follow the party planning timeline to avoid last-minute stress.
Do you have a great tip for planning a birthday party? Shout it out in the comments. You can find more party planning ideas on our Pinterest page, or follow us on Instagram for inspiration and share your own projects using #averyproducts.