How to make cute and cozy Christmas gifts in a jar
Share a little happiness with these DIY Mason jar gifts for everyone on your holiday shopping list. From friends and family to neighbors, co-workers, and even your kid's teacher.
Mason jar gifts are unique, practical, and fun holiday gifts that are easy for busy moms to get done fast. Get ready to spread some holiday cheer with these DIY Mason jar gifts you can personalize using our free customizable design templates and Avery Design & Print Online software.
More articles you might like:
Supplies for making Mason jar gifts
Canning jars with lids
Round or oval printable labels
Printable gift tags with strings
Decorations: Ribbon, string, twine or yarn, burlap, etc.
Fillings for your Mason jar gifts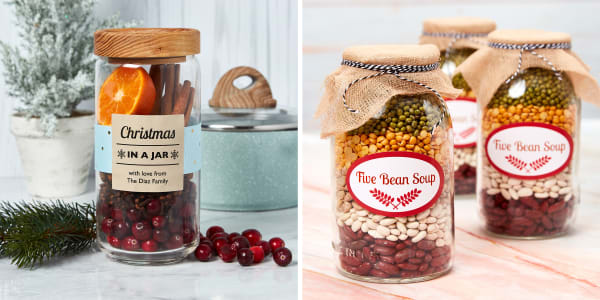 Nothing says "home for the holidays" like the scent of pine and bellies full of hearty winter soup. Send your friends and family Mason jar gifts that evoke nostalgic sense memories. 
Cozy Mason jar gifts that feel like home
Sending cozy vibes is always welcomed during the holiday season, but even more so if you have loved ones that can't make it home this year. Mason jar gifts that capture the scent of Christmas or the taste of a hearty soup on a cold winter day can help your friends and family feel at home wherever they are.
Christmas in a Jar stove potpourri
Ingredients:
3 sprigs of fresh pine
3 sticks cinnamon
1 mandarin sliced
1 cup fresh cranberries
2 tablespoons whole cloves
Instructions:
Add all ingredients to your Mason jar
Apply the Christmas in a Jar Label to the front
Apply the instructions label to the back
Use these templates:
Christmas in a Jar Label (Front)
Christmas in a Jar Label (Back)
On these labels: 2-1/2″ x 2-1/2″ Square Kraft Brown Labels (94104)
Hearty five bean soup Mason jar gift
Ingredients:
24 ounce Mason jar
Plastic re-sealable bag
1/2 cup green lentils
1/2 cup yellow split peas
1/2 cup pinto beans
1/2 cup great northern beans
1/2 cup red kidney beans
2 tablespoons dried basil
2 tablespoons dried parsley
2 tablespoons dehydrated onion
1 tablespoons dehydrated garlic
4 cubes of organic vegetable bouillon
2 bay leaves
Instructions:
Add 1/2 cup of red kidney beans to your Mason jar, gently tap to settle contents
Repeat with each additional four types of beans
Combine all seasonings in a bowl and mix well
Print or write out the cooking instructions on a half-sheet of paper,* roll it up and push it down into the beans
Fill plastic re-sealable bag with seasonings, tuck into the top of the jar
Cover the lid with burlap and decorate with a string or twine
Decorate the front of your Mason jar gift with a label
*Cooking instructions:
Rinse beans in a strainer
Combine beans and 6 cups water, bring to a boil
Turn off heat and let stand for 1 hour
Repeat rinsing beans in strainer
Add beans back to pot with 7 cups water
Add seasoning mix and 14 ounces canned diced tomatoes
Bring to boil
Reduce heat, let simmer for 1 hour.
Use this template: Five Bean Soup Labels
On these labels: 2″ x 3-1/3″ Glossy White Oval Labels (By the package: 22820 / By the sheet: 94506)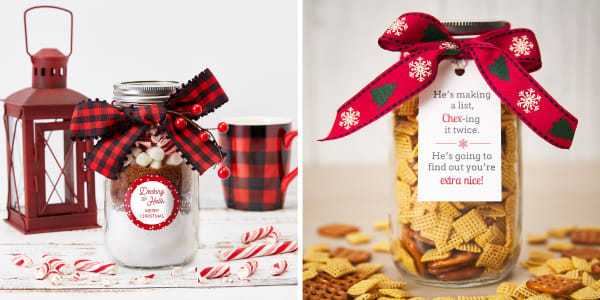 It's the most snack-able time of the year! Send Mason jar gifts full of the festive treats your family and friends love most.
Yummy Mason jar gifts for holiday treats
Cookie mix in a jar, festive colored holiday candies, different types of seasonal teas and trail mix blends are all great gift in a jar options. Here's a couple yummy Mason jar gift ideas with matching templates so all you have to do is print them out and fill the jars.
Hot cocoa Mason jar gift
Ingredients:
Classic hot cocoa mix
Marshmallows
Optional: White hot cocoa mix, candy cans or other toppers
Instructions:
Fill the Mason jar three quarters of the way with powdered hot cocoa mix (Optional: layer in different flavors of hot cocoa mix)
Fill with marshmallows to the top (Optional: leave room to garnish with crushed candy canes or other toppers)
Decorate the lid with ribbon, yarn, twine or string
Apply your Mason jar gift label to the front of the jar
Use this template: Festive Peppermint Stripe Labels
On these labels: 2″ Round Glossy White Labels (By the package: 22807 / By the sheet: 94501)
Chex-ing his list Mason jar gift
Ingredients:
Instructions:
Simply fill your Mason jar with the mix
Attach your Mason jar gift tag with the string
Cover with a pretty ribbon tied in a bow
Use this template: Red and White Holiday Tags
On these gift tags: 2″ x 3-1/2″ Printable Tags with Strings (22802)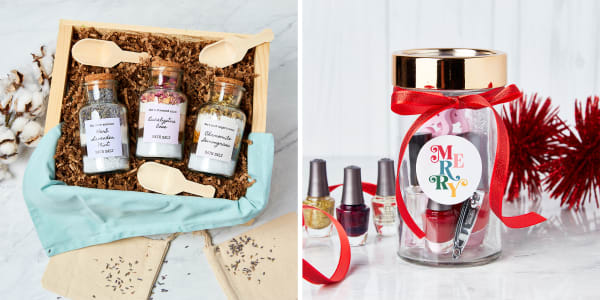 Give your loved ones a little TLC with self-care jar gifts. From soaking to polishing, these beauty and grooming gifts are all about feeling relaxed and refreshed.
Merry "Me Time" Mason jar gifts for self-care
Crisp winter winds, cozy warm heaters and lots of staying indoors can be lovely during the holidays, but they're also a recipe for dry winter skin and cracked cuticles. Give your loved ones beauty and grooming themed Mason jar gifts so they can relax, refresh and pamper themselves at home.
Tub tea Mason jar gift set
Ingredients:
Epsom salts
Pink Himalayan salt
Powdered milk
Chamomile tea and dried petals
Dried rose petals and rose tea
Dried lavender
3 Mason jars
Disposable tea bags
Optional: small wooden scoops and crinkle cut gift filler
Instructions:
Since you'll be making 3 separate tub tea blends, set out all three jars in front of you
Add about an inch of Epsom salts to each jar, gently tap to settle the contents
Repeat to add an inch of powdered milk to each jar
Sprinkle a light layer (about half an inch) of Chamomile tea and petals in one jar
Repeat with lavender in the next jar and the rose petals and rose tea in the last jar
Repeat steps 2-5 until you have about an inch left at the top
Label each Mason jar according to blend and add a tag with instructions
Optional: Add 5-10 tea bag pouches and wooden scoops to complete the gift
Use this template: Tub Tea Blend Labels
On this label: 2″ x 2″ Square White Labels (By the package: 22806 / By the sheet: 94107)
Mani-pedi Mason jar gift
Ingredients:
Nail polish
Top coat
Nail clippers
File or emery boards
Toe separator
Optional: cuticle cream, mini bottle of polish remover and cotton balls
Instructions:
Fill your mason jar with all "ingredients"
Optional: top off with cotton balls
Add a festive label to complete your nail-care Mason jar gift
Use this template: Merry & Bright Labels
On these labels: 2″ Round Glossy White Labels (By the package: 22807 / By the sheet: 94501)
Try another easy project for the holidays
Explore Christmas projects you can do at home with free Avery templates and printable tags, cards or labels. Pick one to complement your Mason jar gifts, for example wrapping tips or making your own holiday cards. Or treat yourself and try something totally new!