By Julie Perrine, CAP®-OM, MBTI® Certified, Certified Productivity Pro® Consultant
Managing a project doesn't have to be complicated. If you know the basics of organization, you can establish a system to help you organize all the moving parts down to the details. Julie Perrine, an administrative expert and procedures pro, will share her tips and insights on how to create a procedures binder for big projects that may involve other members of your team.
To get her tips on creating a procedures binder for individual projects covered in part one, click here.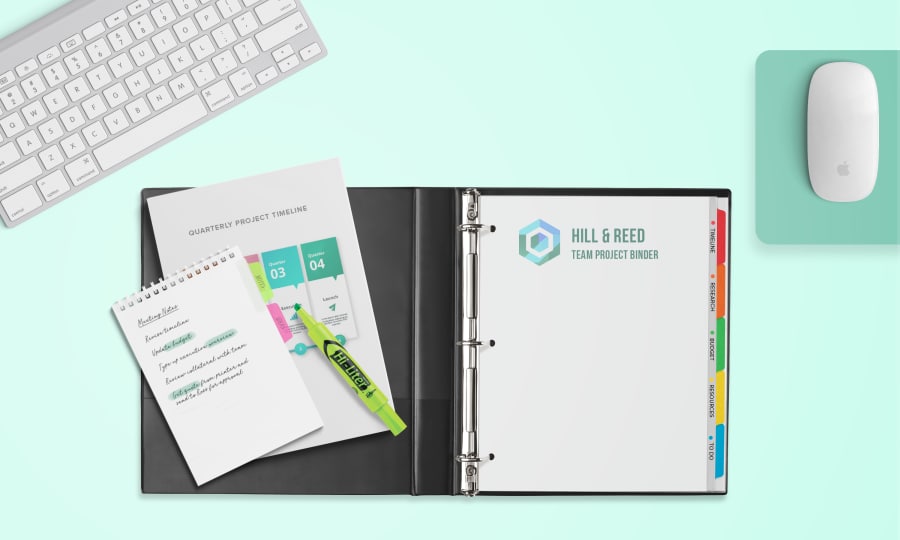 Team Projects: Marketing, Sales, H.R., and More!
Not every project is as easy to manage as creating your procedures binder. The more team members you need to collaborate with, the more difficult the project becomes. As your projects get bigger, so does your need for organization.
When I worked for an insurance company, my team developed life insurance policies for the banking industry. We were responsible not only for generating the products, but also creating the marketing materials, making sure they remained compliant, supporting and training the sales team, and supporting the banks as they began to implement the products.
When I coordinated human resources duties for my company, I needed to maintain several different binders for things like attendance, benefits, new hire orientation, training, personnel files, etc.
Even if you do use project management software for these types of projects today, you still need a system for managing the paper materials that cross your desk. This typically means plenty of three-ring binders, tabbed dividers, and detailed forms and checklists.
When choosing dividers for bigger projects, here are a few tips to consider:
How often do you need to update or add to the binder contents? Avery Customizable Table of Contents Dividers with Ready Index Section Title Pages are fantastic because you can keep adding sections without having to reorganize the entire binder.
Do you need extra space for graphics, logos, or want to include colored text? Avery Big Tab Printable White Label Dividers with Easy Peel® are an excellent choice. These work nicely for marketing materials or compliance projects because they provide the extra printable space on the tab, making it easy to find what you're looking for at a glance.
Do you need a quick, hassle-free option for throwing a project binder together? The Avery Clear Easy View Plastic Dividers are the answer. They have no tab inserts or labels – just a single sheet of paper with the section names that gets inserted in a sheet protector at the back of the binder. And they're durable enough to make it through long-term projects without having to be replaced.
Big projects require effective systems. With systems in place, you can share them with others so they can benefit, too. It makes life at the office a lot less chaotic and keeps your projects running smoothly throughout.
© 2017 Julie Perrine International, LLC
Click here for more information on office professional solutions from Avery
About the Author
Julie Perrine is an administrative expert and all-around procedures pro. She is the founder and CEO of All Things Admin, a company dedicated to developing and providing innovative products, training, mentoring and resources for administrative professionals worldwide. Julie shares her proactive strategies for developing a plan, creating forward motion and achieving great results with an upbeat, step-by-step approach. She is the author of several books, including The Innovative Admin: Unleash the Power of Innovation in Your Administrative Career, The Organized Admin: Leverage Your Unique Organizing Style to Create Systems, Reduce Overwhelm, and Increase Productivity, and Become a Procedures Pro: The Admin's Guide to Developing Effective Office Systems and Procedures. She offers free templates at https://www.AllThingsAdmin.com/.