How to label food for a potluck, food tent card sizes, free templates and more
Whether you're a veteran of potluck parties or new to the experience, you're sure to walk away with something valuable from this article. Not only are we answering basic questions, we're also tackling how to label food and the best tent card sizes for a buffet table. Additionally, you'll find 10 festive and practical potluck ideas you can print out for free!
More articles you might like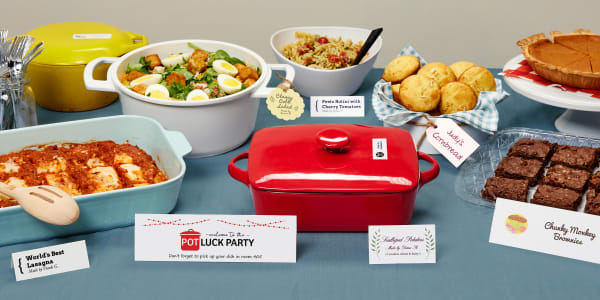 What is a potluck?
So you've been invited to a potluck at work; what does that even mean? In short, each employee contributes a dish, which is placed on a buffet table for all to share. Why is it called a potluck? Well, the word dates back to the 1590s, when the food you would receive as a visitor might depend on the "luck of the pot." In other words, you had no choice of dinner but rather had to settle for what was already in the cooking pot. Over time, the phrase transformed into "potluck."
However, by the 1930s, the term "potluck" had come to mean a gathering where each guest brought a dish. Significantly, potlucks became fixed in American culture when churches began organizing them to feed communities during the Great Depression. Today, a potluck is similarly a great way to distribute the food cost of having a company party.
Perhaps most importantly, a potluck is also a fantastic way to share culture. In fact, some say that food is the best way to understand a culture as well. Sharing culture and socializing are excellent team-building exercises. It's no wonder managers and team leaders continue to cook up potluck ideas for office gatherings.
How to label food for a potluck
In order to properly label food for a potluck, you should start by defining why you are labeling it. There are several reasons to label potluck foods that benefit other guests at the gathering. In general, describing the dish and/or ingredients is a must for office potlucks. This is because coworkers with dietary and allergy restrictions may not be able to partake if they can't identify the ingredients. For example, people who eat kosher, vegans, vegetarians, and folks with specific allergies Tent cards and tags are perfect for labeling potluck dishes with ingredient information.
Another reason to label potluck food is simply to make sure your personal serving vessels and utensils make it home with you. More often than not, labels are the best way to identify your personal potluck dishware. Removable labels are one great option. However, our favorite type of labels to use for potlucks are 1-1/4″ x 2-3/8″ dissolvable ones that you can print yourself. They're the perfect size and are awesome for dishware because they come right off with soapy water or in the dishwasher.
Of course, another reason to label food is to bring your potluck ideas to life with themed or decorative labels and tags. Regardless of why you're labeling food for a potluck, you'll need a way to personalize your labels, cards, and tags. Luckily, Avery Design and Print Online (ADPO) is free cloud-based software that you can use on any smart device with an internet connection. Not to mention the hundreds of free printable designs you can personalize with ADPO.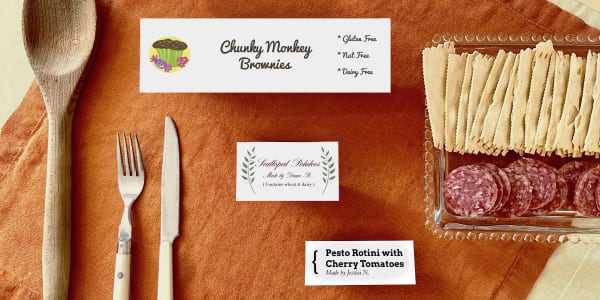 What size are food tent cards?
Food tent cards typically come in three sizes: place card size (1-7/16″ x 3-3/4″), small (2″ x 3-1/2″), and large (2-1/2″ x 8″). There's no set rule about what size you have to use. Instead, you should pick a size based on how much information you want to include. For example, a small tent card or place card is fine for a simple dish name à la "Mac n' Cheese." Small tent cards and our 2″ x 3-1/2″ printable tags are both a good size for quick dietary and allergy alerts like adding "dairy-free," "vegan," or "gluten-free."
Conversely, if you want to provide more robust ingredient information, a large tent card will give you the room to do so. Large tent cards are also fantastic for labeling sections on a potluck buffet table, for instance, desserts or side dishes. No matter what size you use, tent cards are a great way to make potluck ideas pop with a cool theme.
Potluck ideas for an office Cinco de Mayo party
Complete your Southwest theme with more templates and ideas in our article about throwing the perfect fiesta.
Western office barbecue potluck ideas
Get more Western theme ideas in our article with tips and templates for throwing the best Western-style party.
Thanksgiving potluck ideas for the office
Discover many more designs in our roundup of over 50 different printable Thanksgiving place cards, which can be easily personalized for your office potluck.
Ideas for a winter & Christmas potlucks
Potluck ideas for labeling your dishware
Potluck ideas for your next office gathering
Potlucks are a practical way of sharing the food cost for an office party because each employee contributes a dish to be shared. Moreover, they're an opportunity for coworkers to share their cultures, which is great for team building.
When labeling food for a potluck, the most important thing to remember is to be considerate of allergies and dietary restrictions, especially when bringing food to the office. Tent cards and tags are perfect for labeling food with ingredient info, while labels are best for labeling your personal serving items.
Furthermore, labels, cards, and tags that you can personalize help add some flavor to your potluck theme. Specifically, Avery Design and Print Online software and free Avery printable potluck ideas make it easy to personalize labels, cards, and tags.
Are you planning an office potluck? Connect with us on Facebook or LinkedIn to get more ideas for office events and share your potluck projects on Instagram using #averyproducts.